As one of Europe's pricier destinations, Sweden can be a tough place to find souvenir bargains. While I always make a point to check out foreign supermarkets when I travel, in spendy places like Stockholm, the local supermarkets can be a great resource for the thrifty shopper.
Fortunately, well-stocked Swedish supermarkets aren't hard to find in Stockholm. Check out Stockholm's central train station– along with other great shops and quick bite dining options, there is a decent-sized supermarket downstairs (right behind the escalator). While I passed over some familiar Swedish goods available at my local Ikea back home (like Sweden's famous pearl sugar) there were still plenty of new Swedish grocery store items to discover.
1. Swedish loose candy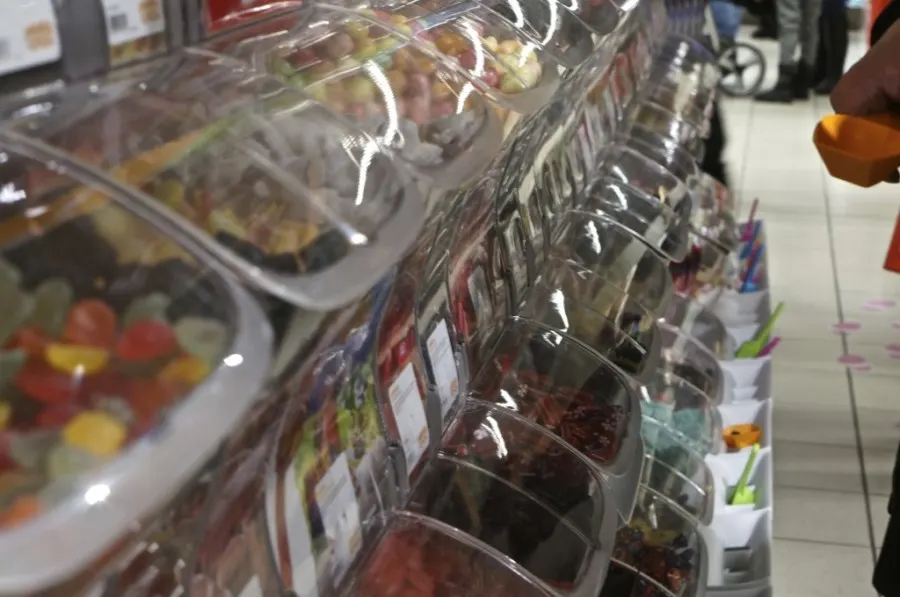 The first things I noticed in the Swedish supermarket were the huge bins of Swedish candy, given prime real estate directly in front of the checkout registers. The loose candy bins brought back memories of childhood, when I would beg my mom to add handfuls of Brach's Milk Maid Royals to our cart (sadly, most US supermarkets have done away with candy bins). But while in the US it is the children who swarm candy bins, in Sweden, adults of all ages jockey for space and load up on the sweets for themselves.
Most Swedish candy is licorice or jelly-based, but you'll find other yummy goodies mixed in.
2. Swedish packaged candy and candy bars
If you haven't gotten your fill of Swedish candy at the loose candy bins, you can always pick up some packaged Swedish candy bars. Even with the diverse foreign food selection at my grocery store back home, I'd never seen of any of these candy bars before.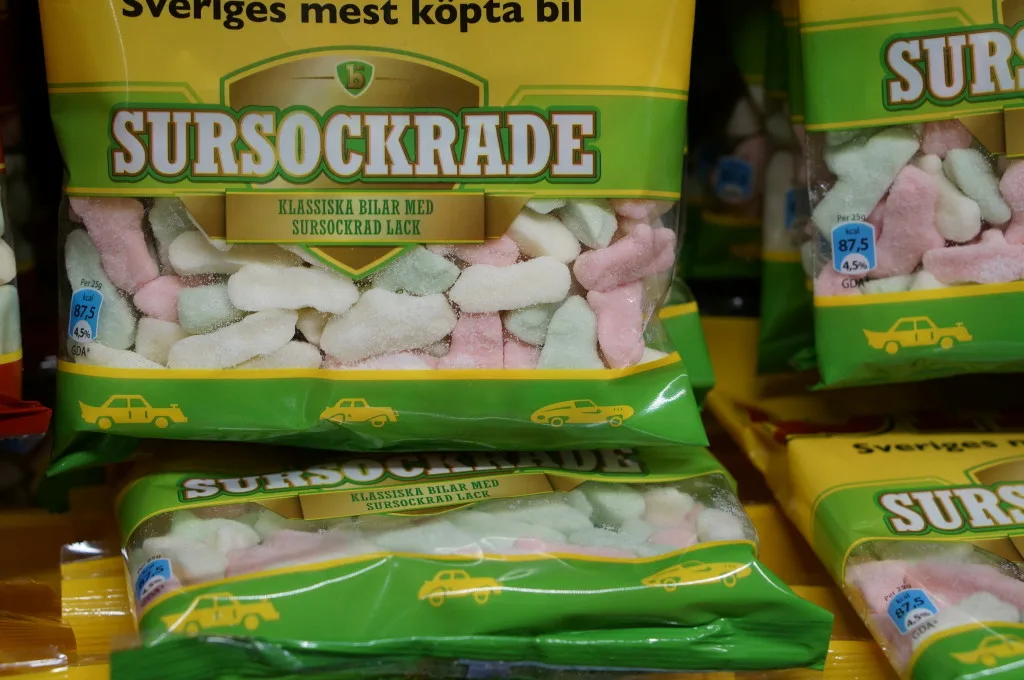 I also became addicted to this Swedish gummy candy and was sorry when my supply ran out.
3. Swedish Condiments
With the huge selection of Swedish mustards available, this bright yellow tube that caught my eye– Slott's original mustard, established in 1919. This grainy and zesty mustard from Skåne in southern Sweden has a nice bite to it, perfect to make the mustard crust on the Swedes' Christmas ham (and for leftover ham sandwiches).
I also saw many different kinds of creamy Swedish dressings, remoulade and burger toppings.
4. Swedish Jams
Sweden is known for its delicious strawberries so strawberry jam is an ideal souvenir. I also noted many apelsin (apple) jam and compote products.
5. Swedish hazelnut spreads
While Nutella– the hazelnut spread most of us are familiar with in the US– is Italian, I find that most European countries have their own version of this tasty hazelnut spread.
6. Swedish pickled everything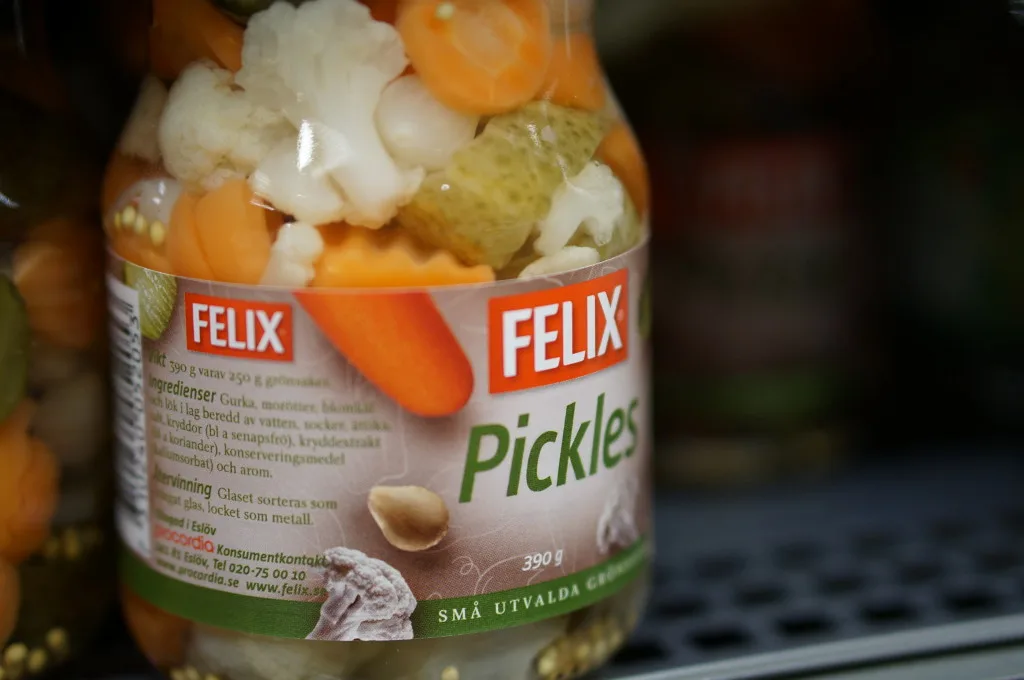 Sweden is well-known for their pickled salads. This extra chunky veggie salad looked interesting.
7. Swedish Cookies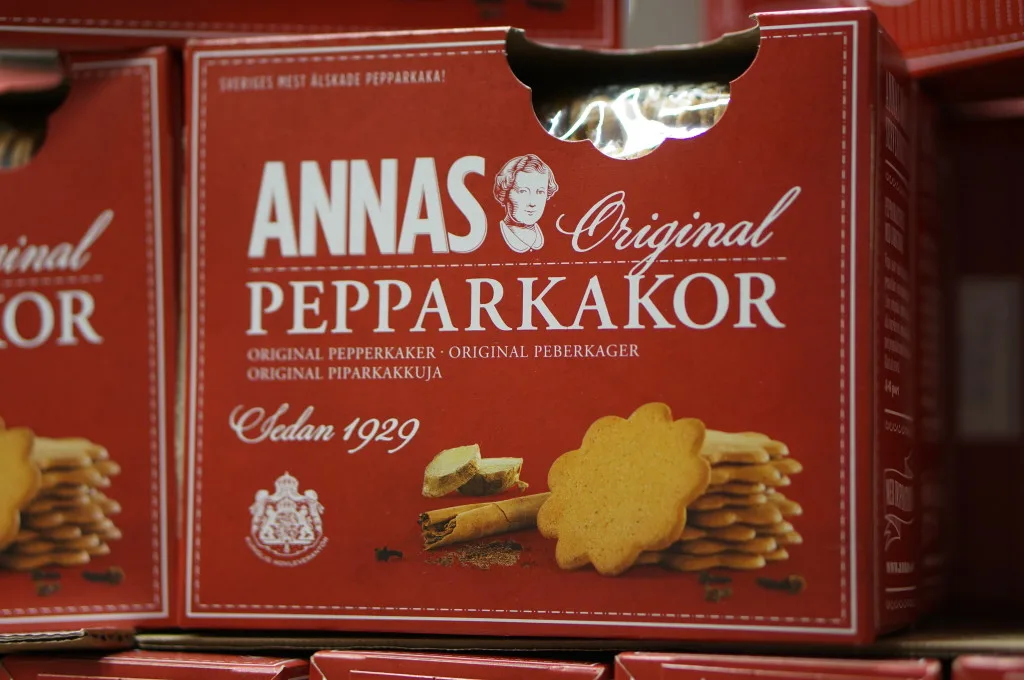 Rolled Swedish ginger cookies, like these from Annas Pepparkakor, fill Swedish supermarket shelves.
8. Swedish crisp bread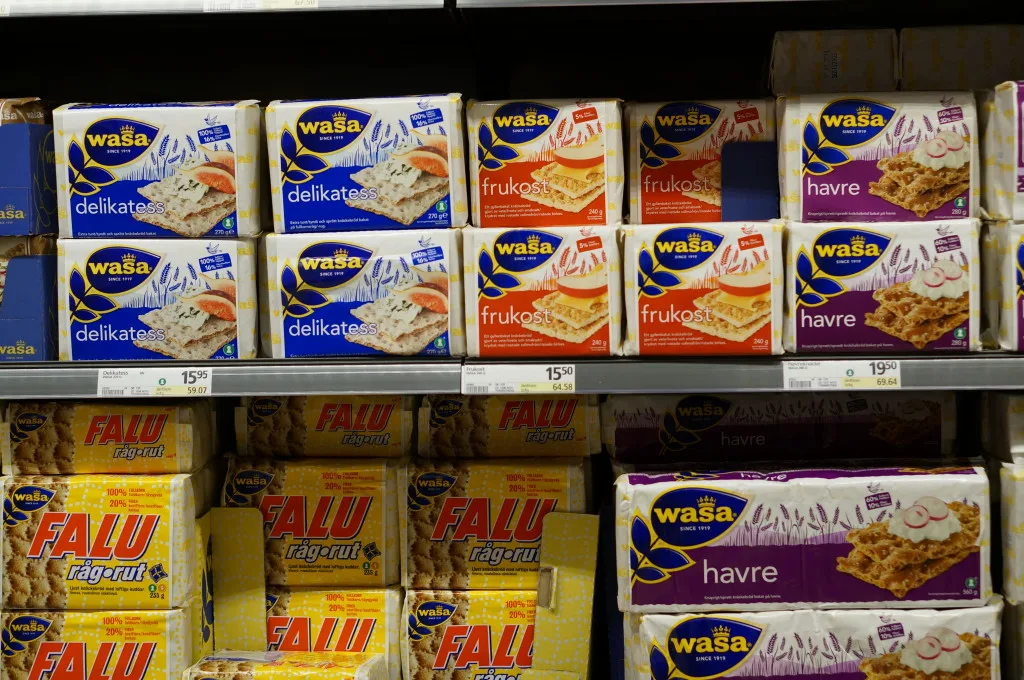 Crisp bread, a flat and dry cracker made mostly of rye flour, is popular throughout all the Nordic countries (Denmark, Norway, Finland). Crisp bread was first baked in Sweden in 500 A.D. and for most of its history was considered a poor man's bread. In modern times, crisp bread, with its high fiber content, has enjoyed a renewed interest from the health food crowd.
Although you'll find many crisp breads back home, the variety on offer in Sweden is astounding. They make a great Swedish souvenir because they keep forever and can be eaten with pretty much anything (cheese is my favorite topping).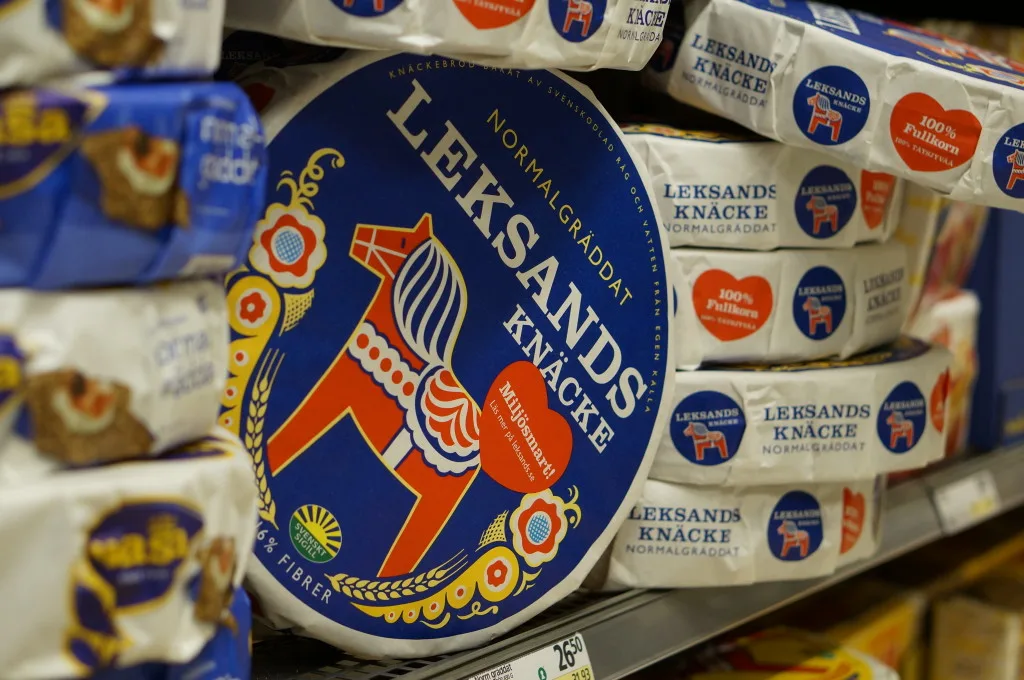 I loved the packaging of this Swedish round crisp bread, featuring the classic Swedish Dala horse.
9. Pre-packaged Swedish Cake mixes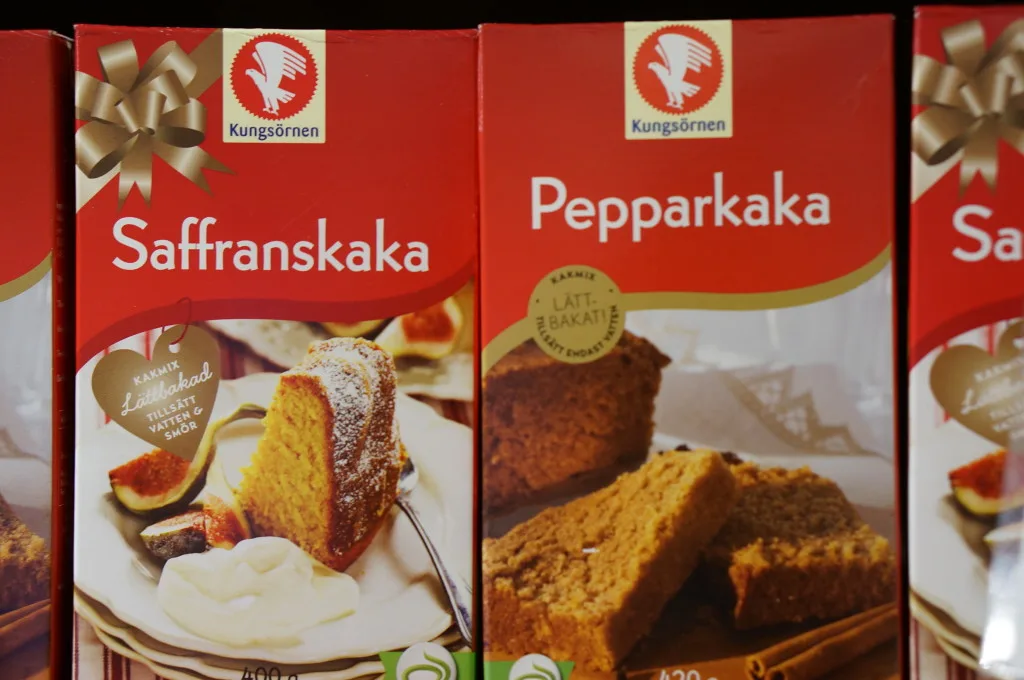 I'm not much of a baker so I love the instant gratification of pre-packaged cake mixes like these tempting Swedish mixes. My google research tells me Pepparkaka is a Swedish spice cake. Tracking down an exact translation for Saffranskaka was a little more difficult– I think this is a type of Swedish bundt cake?
10. Swedish toiletries
I have no idea if these Swedish toiletry items are anything unique, but I like the pretty packaging. The shampoo and conditioner set would make a nice gift…for me.
Not US Customs-Friendly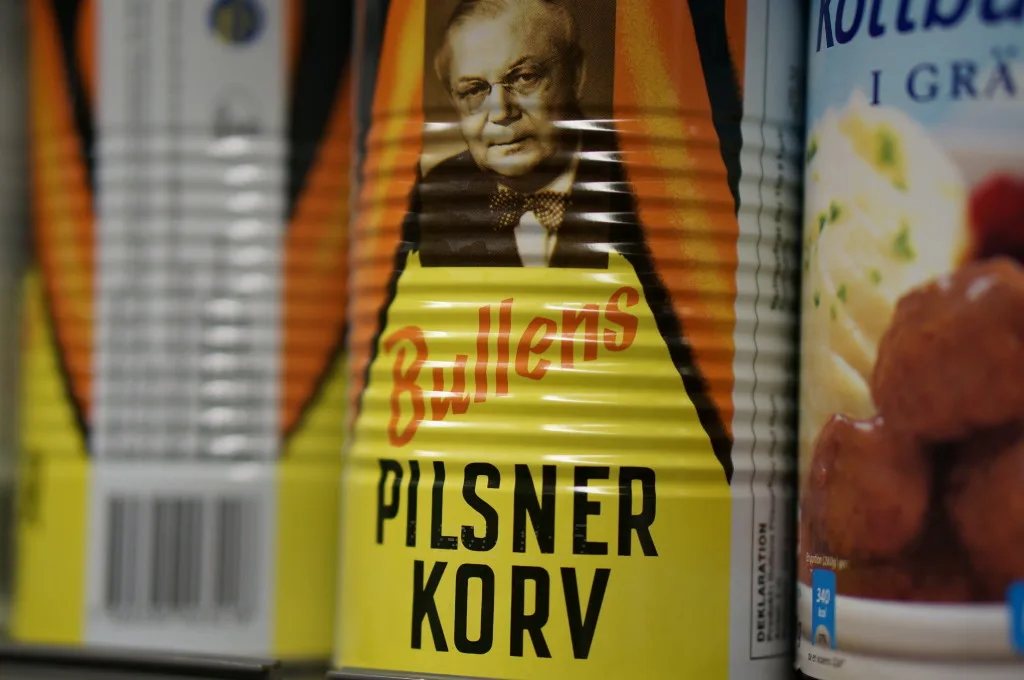 I couldn't help but notice this striking can of Bullen's Pilsner Korv mini sausages. I had no idea what these little sausages were about, but since I couldn't bring it home, I had to settle for snapping a photo and googling it later. Bullen's sausages turned out to have an interesting backstory– it's actually a cult item in Sweden, dating back to 1953 and named after famed Swedish actor Erik Berglund. According to wikipedia, the sausages must not be grilled, but cooked in the broth that comes in the can. Intrigued? Check out the Bullens' instagram account here.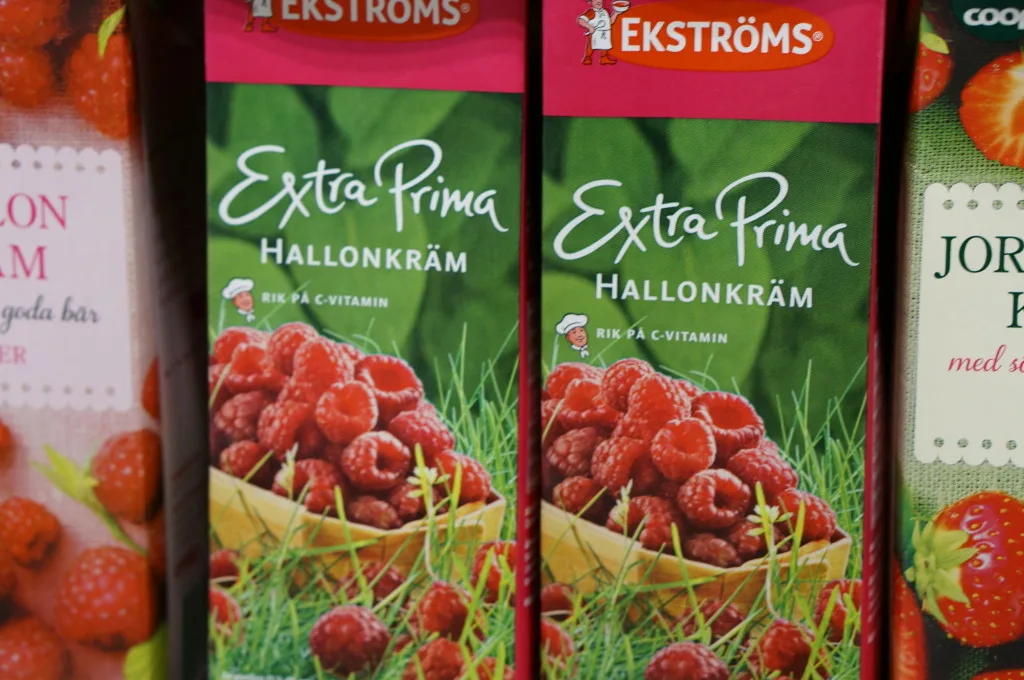 Yes, I could technically put this raspberry juice in my suitcase, but I reserve all my larger liquids for alcoholic beverages. I did love the packaging though.
A tour through a Swedish grocery store would not be complete without at least a look at the Swedish meatballs available— both canned and frozen.
Have you visited a Swedish supermarket? What are your favorite Swedish food souvenirs?