The Dala Horse, a classic symbol of Sweden
If you are obsessed with Swedish design like I am, you are probably familiar with the wooden Dala horse (Dalahäst) — it's often used as a colorful accessory in Swedish decor. Although the originals are hand carved and painted in Dalarna, you can find Dala horses in shops all over Stockholm.
The Controversial History Behind the Famous Dala Horse
Why are Dala horses so famous? Where did they come from?
In my research, I learned that there is some controversy surrounding the origins of the Dala horse. There is no doubt that Dala horses were first carved hundreds of years ago, deep in the Swedish woods, as a way to pass the time during long winter nights. But could there also have been a more sinister reason for their creation?
According to British author Chris Mosley, Dala horses may have been used in 17th century devil worship rituals. Mosley points to wooden horses found in Viking graves and theorizes that when Christianity took root, wooden horses were made covertly as links back to the old pagan religions.
The horses are even referenced in Swedish witchcraft trial documents. I was surprised to learn that not only does Sweden have a history of witchcraft trials, but also that these trials, witnessed by none other than Salem's Cotton Mather, may have served as the "inspiration" for the Salem trials.
I would have loved to read more in Mosley's book, The Magic Horse "Devil's plaything" that became a national symbol, but the $359 price tag on the out-of-print book halted further research. (Tip: do not try googling "Dala horse" and "devil worship" unless you want to be directed to questionable websites, including several wiccan communities).

The Dala Horse Today– a Popular Swedish Souvenir and a Symbol of Good Luck
But those days of pagan worship are long forgotten, and now the Dala horse is nothing more than a beautiful craft and a popular a symbol for good luck. Dala horses can be spendy, running up into the hundreds of dollars, depending on the quality and size.
One way to save is to buy a naked Dala horse and paint it yourself.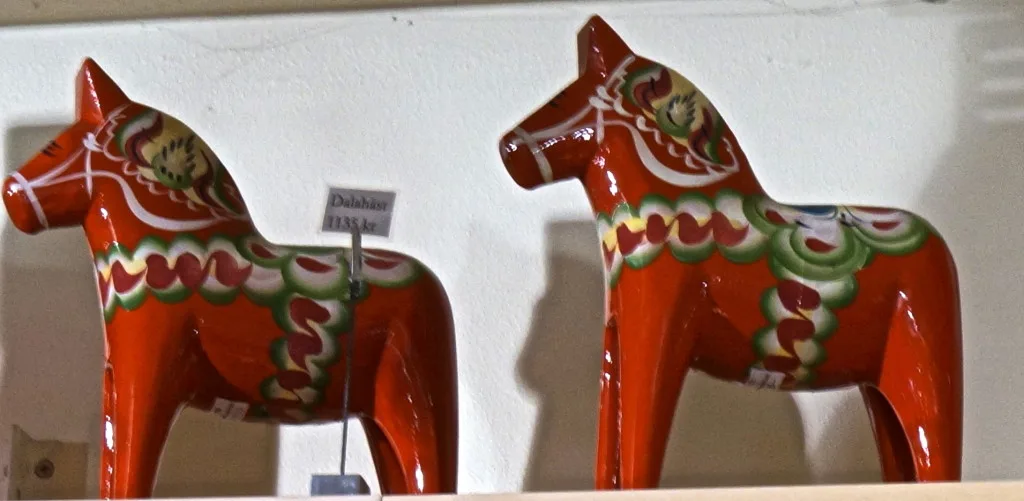 If you are in the market for a painted horse, they come in many colors. Red is the most traditional.
If a Dala horse sculpture doesn't fit in with your decor or budget, you can also buy Dala inspired objects. Some of the items I found in Stockholm:

You'll even find the colorful horse adorning grocery store items, like this Swedish crisp bread.
Have you bought a Dala horse in Sweden? Share in the comments below!
For more on Sweden check out this post:
Live a Swedish Fairytale at the Christmas Market
All photos by Souvenir Finder, copyright 2014 and may not be used without express permission.