Shopping Tourism: Are you Missing out on the Next Global Trend?
Kristin at Souvenir Finder is available to work with your destination, accommodation, tour, shop or travel attire/accessories. Contact us at [email protected].
Advertise on SouvenirFinder.com.
Inquire for specific rates
Options include sponsored posts with photos prepared by the advertiser or by me, reviews, inclusions in "Best of a Destination" posts when relevant.
Additional options: social media (Facebook, Pinterest, Twitter, Instagram/Stories)
Travel Fashion/Accessories Advertising
SouvenirFinder.com has a high conversion rate for travel fashion/accessories. Options include:
Travel Consultant Services Available
Want to better understand how shopping tourism can promote your destination? Hire Kristin as a consultant or to speak at your next conference.
Destination/Tour Marketing
Kristin is available for press/marketing trips to feature shopping tourism on SouvenirFinder.com and social media at your destination or as part of your tour. Inquire for rates.
---
More about Shopping Tourism
Our latest statistics as of October 2015:
135,000+ monthly page views (60% in the US)

105,000+ monthly unique visitors
2 million+ monthly viewers on Pinterest
15,000+ social media followers
Don't underestimate the power of shopping in attracting potential visitors to your destination, accommodation or tour– shopping tourism is the next trend in global travel. In the May 2014 the UN's WTO Global Report on Shopping tourism detailed the significance of this global phenomenon in a 60 page report. Some of the reports insights:
Shopping is now considered a determinant factor affecting destination choice, an important component of the overall travel experience and, in some cases the prime travel motivation.
Destinations have thus an immense opportunity to leverage this new market trend by developing authentic and unique shopping experiences that add value to their touristic offer while reinforcing, and even, defining their tourism brand and positioning.
More importantly, shopping is one of the major categories of tourists' expenditure, representing a significant source of income for national economies both directly and through the many linkages to other sectors in the economy.
In the US alone, 76% of all US travelers visiting overseas destinations list shopping as a top recreational activity Learn how to tap into this often neglected segment by working with us. To see the full report, link here: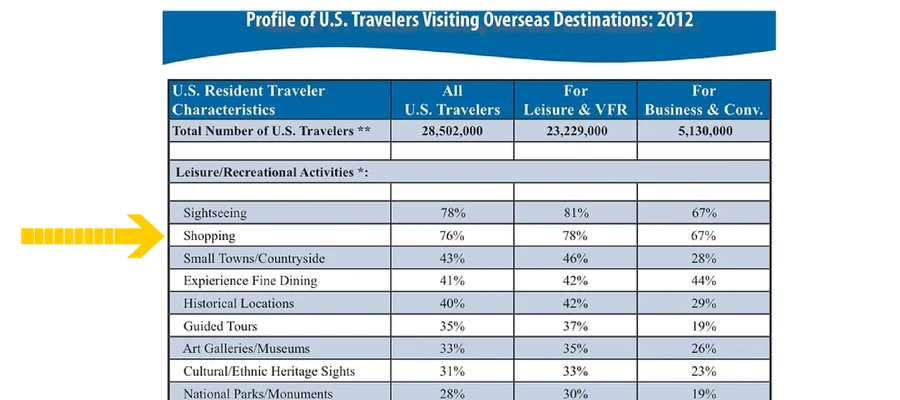 Souvenir Finder: the only resource dedicated to promoting global shopping tourism
Souvenir Finder can help tell the story of your destination, accommodation or tour through the window of shopping tourism. Reach our fast-growing audience of shopping loving travelers.
Read all about us and how we can help you in our media kit (see top of this page for updated stats):