When in Vienna, I always make sure to visit a supermarket to pick up some of my favorite Austrian items that aren't available in the States. On my last trip, I checked out two typical Austrian supermarket chains, Billa and Spar.
While in many cities you'll have to trek to the outskirts to find a supermarket larger than a 7-11, in Vienna you'll find well-stocked grocery stores right in the center. A central location makes it easy to slip in a supermarket stop with the rest of your itinerary– we hit this Billa after visiting the Stephansdom, just a couple of blocks away.
Visiting an Austrian supermarket can be a refreshing break from the tourist sites and is an easy way to join the locals in their day-to-day activities.
What typical Austrian food items can you buy at a Vienna Supermarket?
1. Mozartkugel –Mozart Balls, a classic Austrian Souvenir
Love them or hate them, there is no denying that Mozart balls are the souvenir of choice for many tourists.
What exactly is a Mozart ball? Conveniently, a visual is provided right on the packaging. A green pistachio, marzipan core is covered with layers of nougat and chocolate, then wrapped up in shiny foil featuring Mozart's portrait.
While you can only find the original Furst Mozart balls in Salzburg, you'll find the copycat versions everywhere else in Austria– at gift shops, train stations, the airport, and of course at the supermarket.
An alternative to the ubiquitous Mozart ball are these Sissi Talers– a combination of fruity apricot-marzipan on truffle cream, covered in milk chocolate. We had these tasty treats placed on our pillow each night at our hotel, the luxe Bristol.
2. Austrian Mustard and Mayonnaise in a tube
Mayonnaise in a tube is perfect for squeezing out just the right amount of mayo, no clunky utensil required.
But what if you like your sandwiches with both mayo and ketchup? Recognizing the extra labor involved in squeezing out both condiments separately, the Austrians have come up with a brilliant, time-saving solution. This ketchup and mayo combo pack dispenses separate ribbons of ketchup and mayo in one colorful, striped twist.
Colorfully packaged mustards of every possible variety lines the shelves. It was all I could do to resist the urge to squeeze them right then and there. Some of the mustards were easy for a non-German speaker to identify– like this "Englischer" and "Grill" mustard.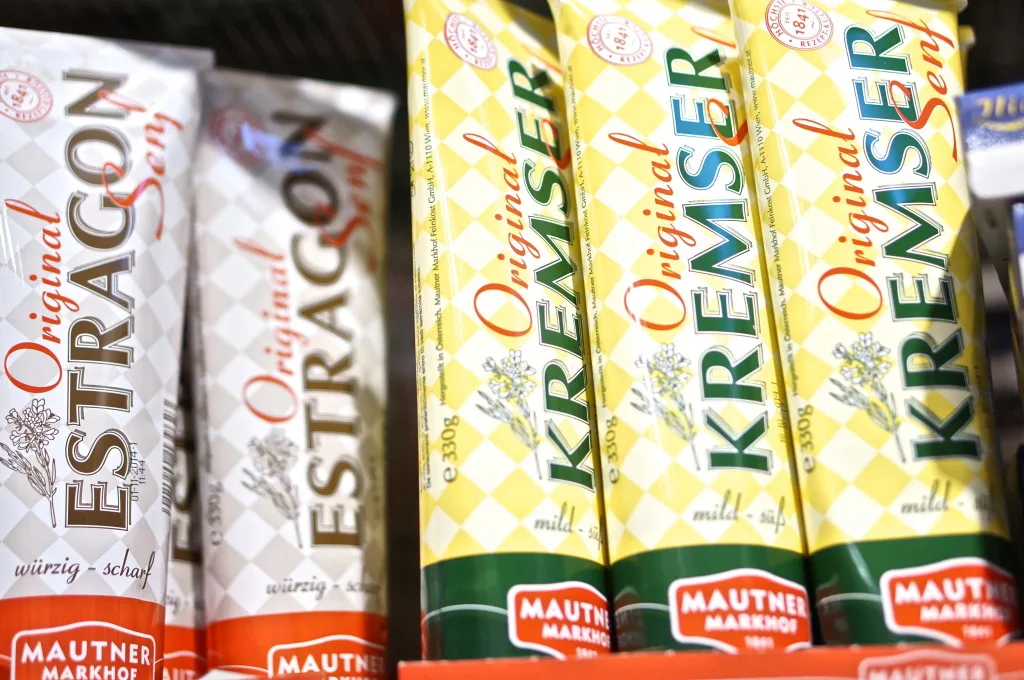 For others, I had to rely on the translation assistance of a helpful local browsing the aisle. I never would have guessed that "estragon" mustards are made with tarragon and are an Austrian best-seller. Into my shopping basket they went. I also brought home some Kremser-senf mustard– a mild, but flavorful, all-purpose type mustard that's perfect on sandwiches.
[box]
SF Packing tips for condiments-in-a-tube:

Mustards and mayonnaise count as liquids and will be confiscated from your carry on.
When packing your tubes in your checked luggage, make sure to place them in a box first (I used a shoe box) to prevent pressure from your other items from bursting the tube. I learned this lesson the hard way on my prior trip when my mustard burst en route– fortunately the mess was confined to the Ziploc I packed my tube in.
[/box]
3. Cult items like Heinz Curry Mango
Austrian supermarkets have all sorts of highly specialized condiments to browse, like these sauces designed exclusively for dipping chicken nuggets or potato wedges.
Intrigued by the Heinz curry mango sauce, I brought it home with me. I later learned that despite the English label, the sauce is not distributed in many English-speaking countries and has a sort of cult item status on certain foodie boards, with forum posters swapping tips on where to replenish their dwindling supply.
4. Austrian Cookies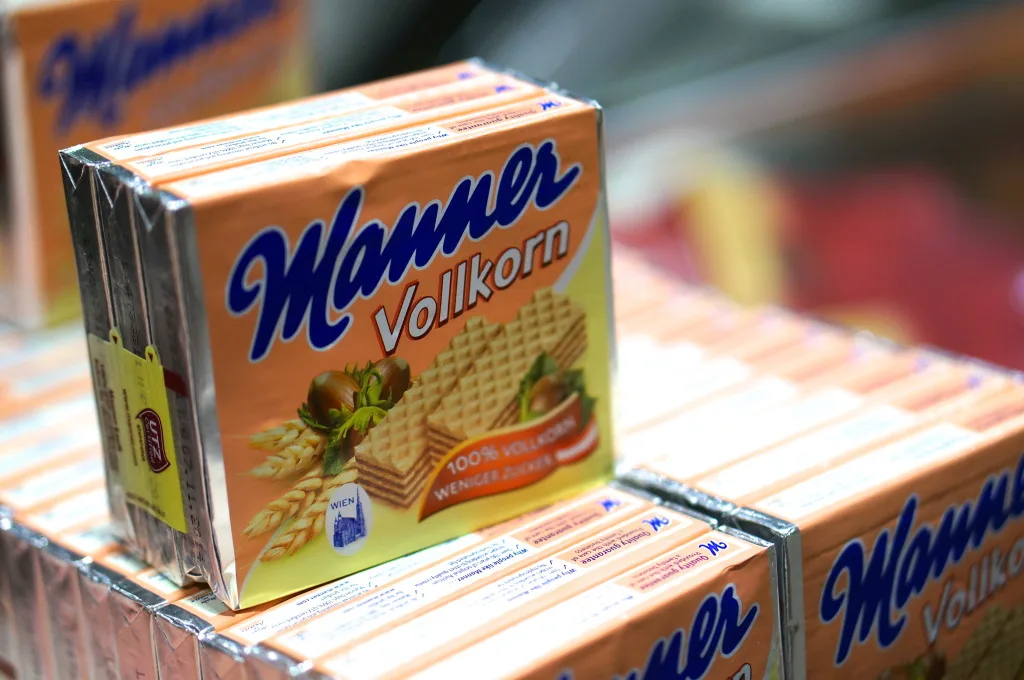 I didn't realize how much I would love these Manner wafer cookies until I brought them home, read about the cookies and my visit to the Manner store here.
I also picked up these Shoko-Banane cookies, made with real banana pulp and these "bedtime cookies" to be eaten right before retiring for the night.
5. Preserved and pickled vegetables
Austrians pickle all sorts of vegetable combinations. Look for interesting varieties from famous purveyor Staud's, which also has its own store in downtown Vienna.
6. Styrian Pumpkin Seed Oil
Austrian pumpkin seed oil is dark green and nutty and commonly used in dressings, soups and sauces.
7. Austrian Schnapps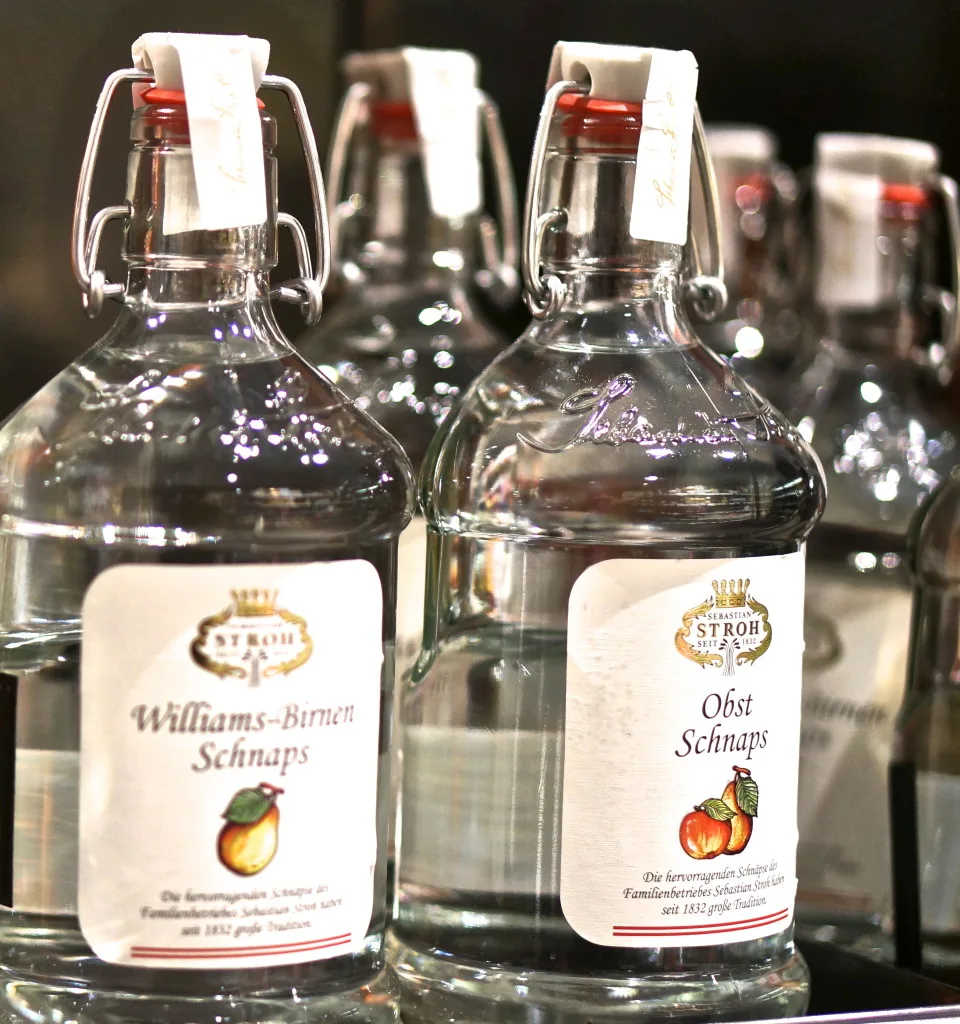 If you associate schnapps with the cheap peppermint stuff you may have drank at college parties, you haven't tried real Austrian Schnapps. Schnapps are a type of brandy made with fruit picked at the height of the season, often made in small batches by artisanal producers.
8. Austrian Jams and Honey
Jams and honey are my go-to grocery store souvenirs, for both myself and to use as gifts. Staud's, known for pickling, also makes excellent jams. Darbo, a 100-year-old Tyrolean company, is another great jam option.
Look for interesting honey varieties like this dark forest honey.
9. Pre-Packaged Austrian baked goods
While hitting a cafe is your best bet for take-home Austrian treats like the Sacher torte, that can get pricey if you have lots of gifts to buy. For an economical alternative, check out the abundant pre-packaged Austrian baked goods available at the supermarket.
You'll find all sorts of Austrian classics like Linzer tortes, strudels and punschkrapfen. These are usually made without artificial ingredients and preservatives so you may be surprised at how delicious they are.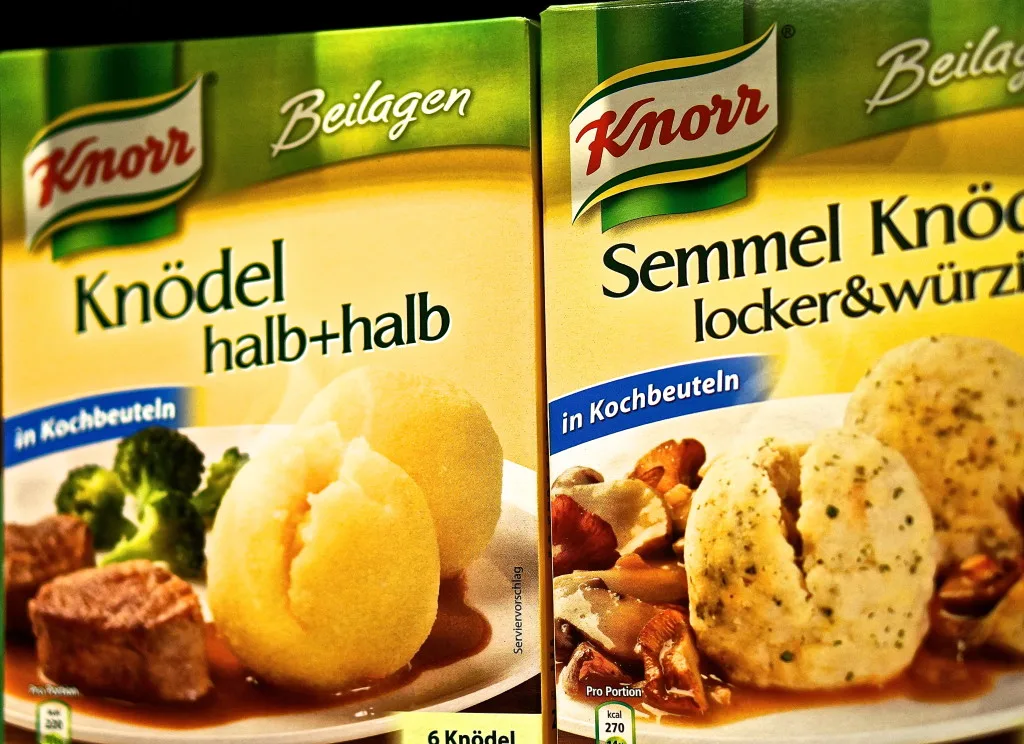 Loved the sweet dumplings you had at a Viennese cafe? Just heat and eat this ready-made version at home.
10. Austrian baking mixes for DIY goodies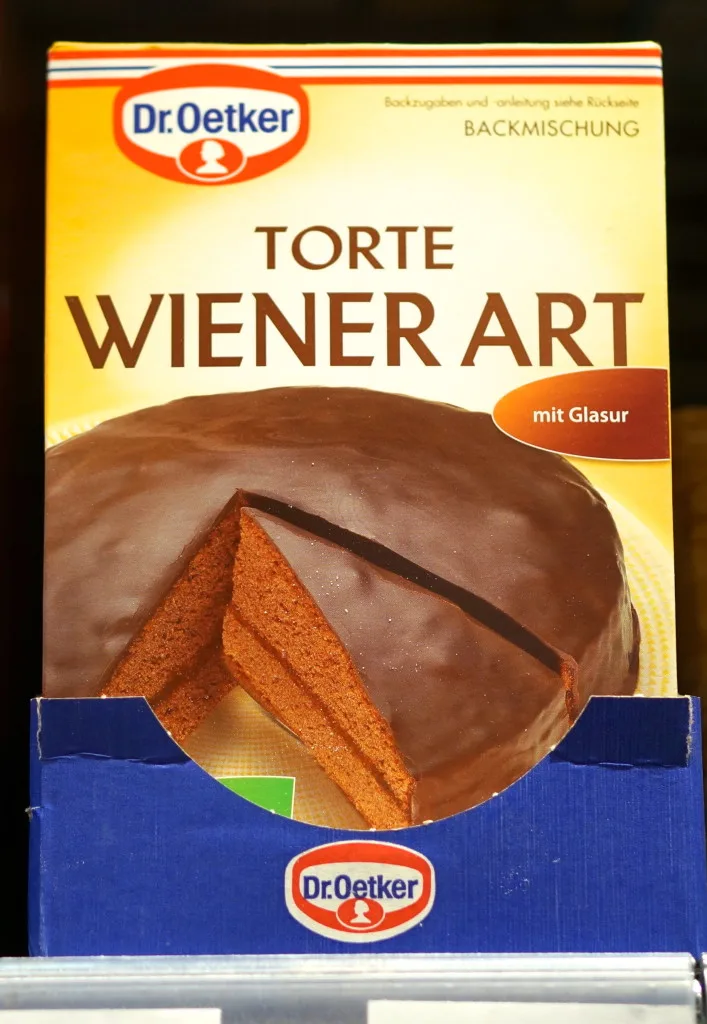 Daunted at the prospect of baking a Sacher torte at home from scratch? At an Austrian supermarket, you can buy everything you need to make your own. Start with a packaged Sacher torte cake mix.
Heat and pour this ready-made chocolate ganache topping over your cake.
Then finish with traditional Austrian schlag (unsweetened whipped creme).
11. Knorr packaged items
Want to replicate your favorite savory Austrian treats? Knorr isn't an Austrian company but their products do vary country by country.
In Austria, you'll find Knorr sauces for your favorite Austrian dishes like Rahmschnitzel, and ready made packaged side dishes like spatzle and savory knodels.
12. Coffee
Remember not to ask for "Viennese" coffee in Vienna– it's just called coffee here. If you are looking for Austrian coffee specifically, make sure to check the label, as most of the brands they carried at the stores I visited were actually from Germany.
13. Not souvenir friendly, but still interesting
Depending on where you live, customs or sheer inconvenience might prevent you from bringing home certain items.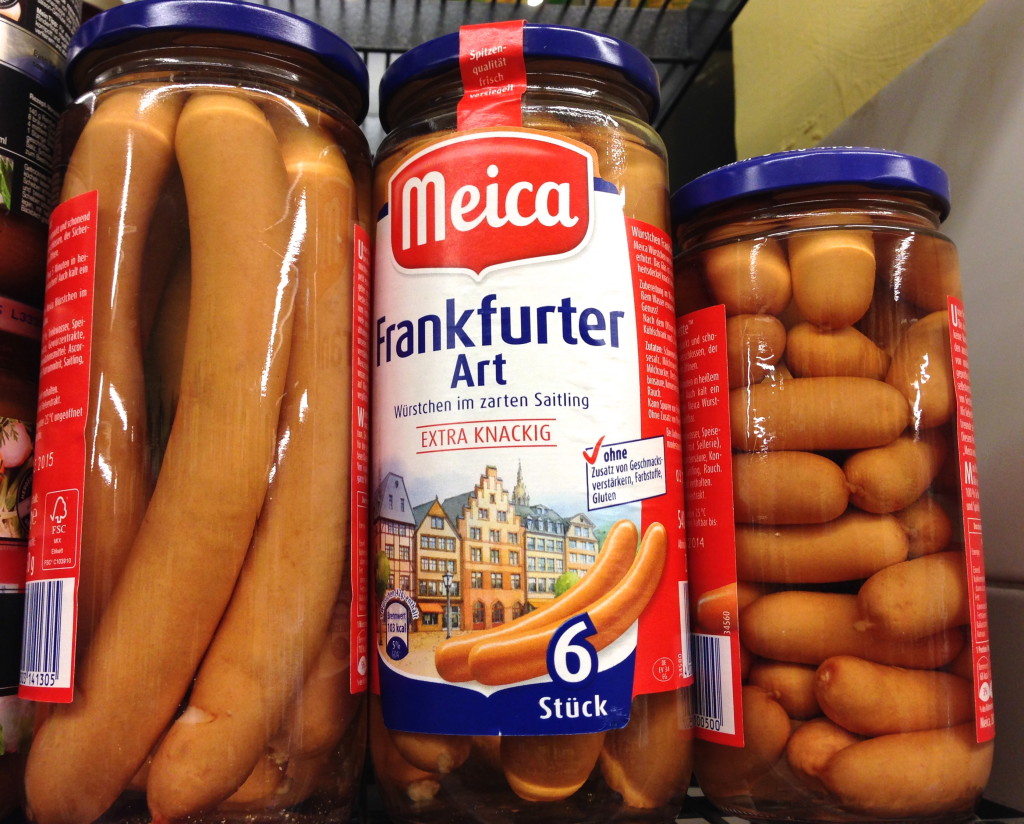 Jarred Austrian frankfurters.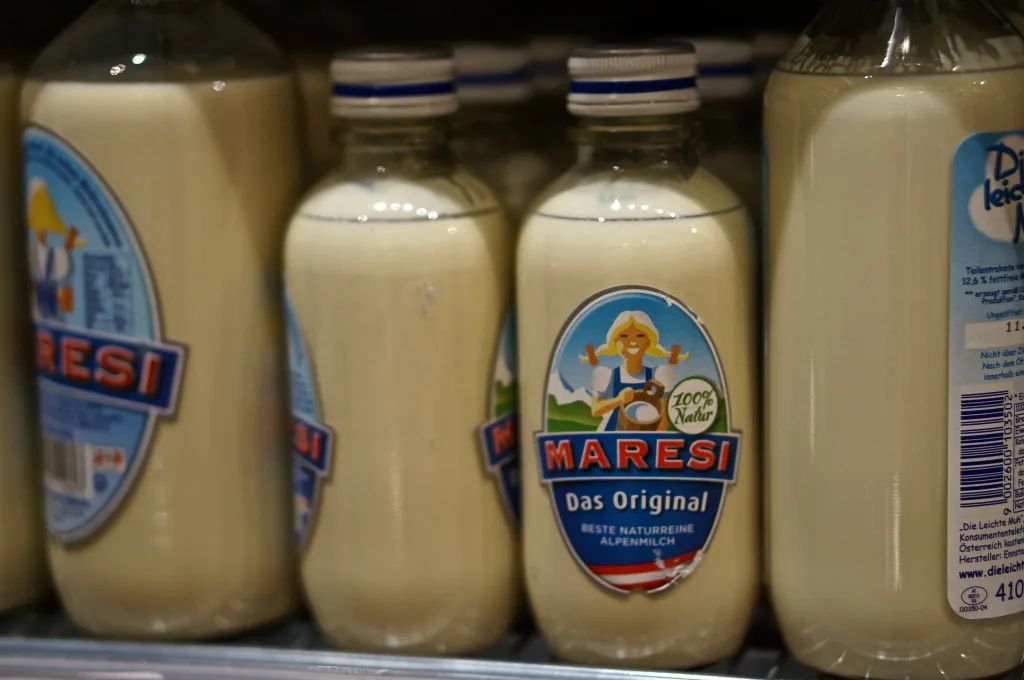 Coffee creamer (all natural "double milk") in these adorable glass jars.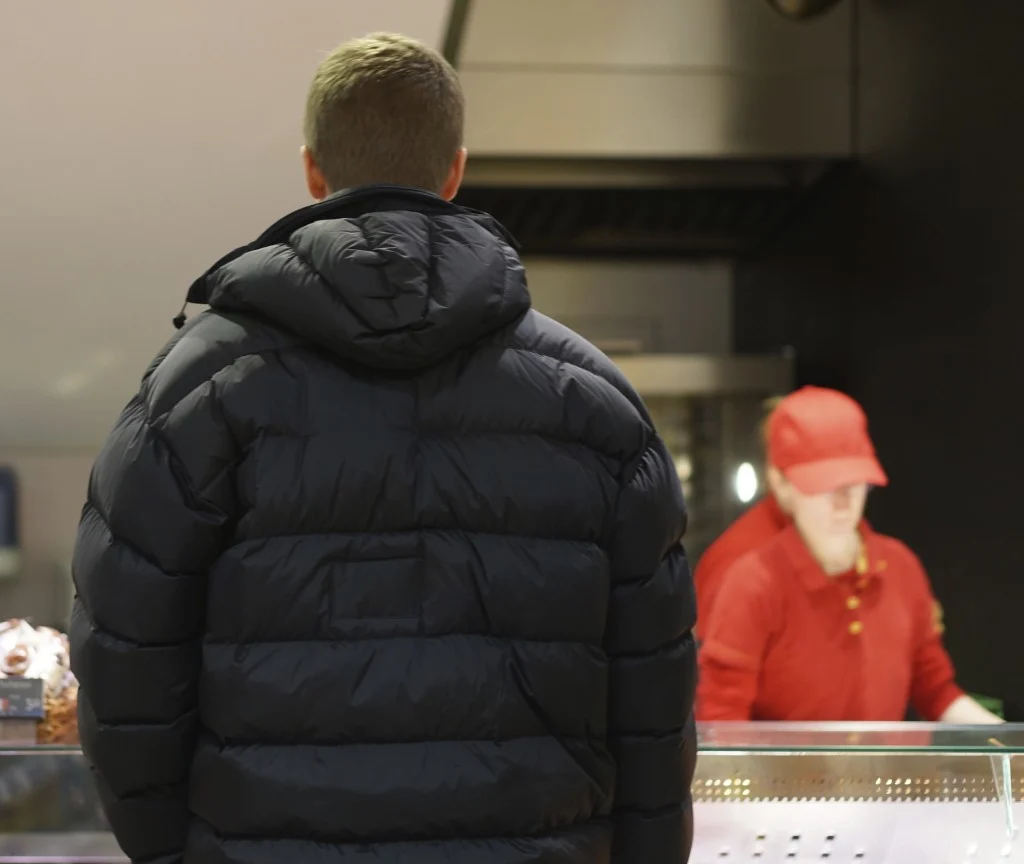 Austrian hams from the deli.
Bringing home your Austrian Supermarket Souvenirs

Depending on how many items you plan to buy, you may want to make the supermarket the last stop before you head back to your hotel. We left with heavy bags full of our great souvenir finds.

Have you shopped an Austrian supermarket? Did we miss any of your favorite Austrian food items? Share in the comments below!
Want to read more souvenir shopping posts about Austria? Check out these posts:
The Elegant Dogs of Vienna– warning: cute dog photos!
How Austrian men stay warm and stylish
Manner cookies– better than homemade
My favorite Christmas Market in Vienna
The best and worst of Vienna's Christmas markets: my unfiltered guide
All photos Copyright 2014 by Souvenir Finder and may not be reused without express permission.