Contributer Kristen Mankosa, based in London, provided photos and her personal commentary for this post. Thanks Kristen!
Ever wonder what it was like to be in London during the royal wedding of Prince Harry and Princess Meghan? Guest contributor Kristen Mankosa was there and reports back on the chaos, fun and of course the royal wedding souvenirs.
As an American living in London, Kristen was intrigued by the hoopla surrounding the royal wedding. She notes that all the shops were done up with window displays and the streets lined with British flags. Tourists were seen toting miniature flags and wearing paper crowns.
Kristen observed that majority of the Brits were not out watching the procession out in the streets, but rather at home or in the pub watching on television, slightly annoyed they didn't get an extra bank holiday.
Royal Wedding Souvenirs Everywhere
Now that the spectacular royal wedding of Prince Harry and Princess Meghan is said and done, souvenirs to commemorate the occasion are all over London. In a prior post, I wrote about the the thrill of bringing home royal souvenirs from the gift shops affiliated with the royal palaces (Queen's gallery was my favorite).While you can certainly find Harry and Meghan wedding souvenirs in the royal palace shops, you don't have to make a special trip there. As Kristen discovered, Prince Harry and Meghan souvenirs are everywhere in London– from street vendors to specialty shop to toy stores and even in supermarkets.
Kristen photographed a selection of Prince Harry and Meghan wedding souvenirs
London Department Store Souvenirs
As a rule British department stores all seem to have tasteful souvenirs. I wasn't surprised to see that several of my favorite British department stores also carried a variety of Royal Wedding souvenirs.
Fortnum and Mason
Fortnum's is one of my favorite London stores for food souvenirs and hampers (check out my prior posts here). As Fortnums is well known for their tea, the best souvenirs to pick up here are th special blend tea or an elegant china tea cup and saucer.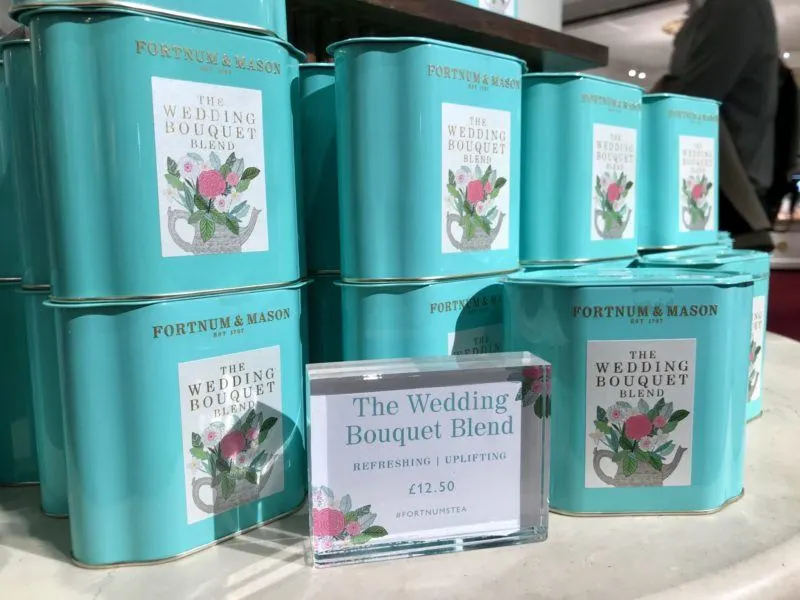 Harrods
Kristen's favorite department store for Meghan and Harry souvenirs was Harrod's– cute, stylish, and the prices aren't outrageous.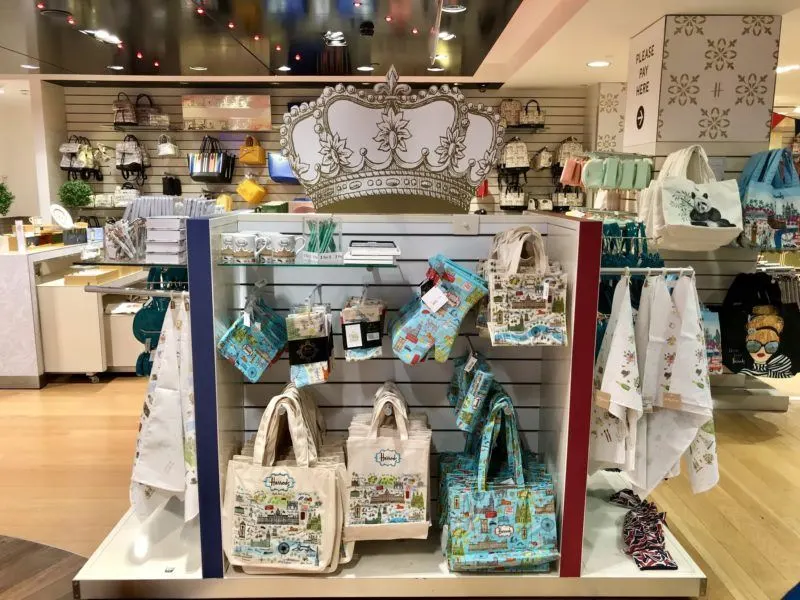 Liberty London
Liberty London is always worth a visit on my London shopping trips. The distinctive mugs were probably the best Harry and Meghan souvenir here.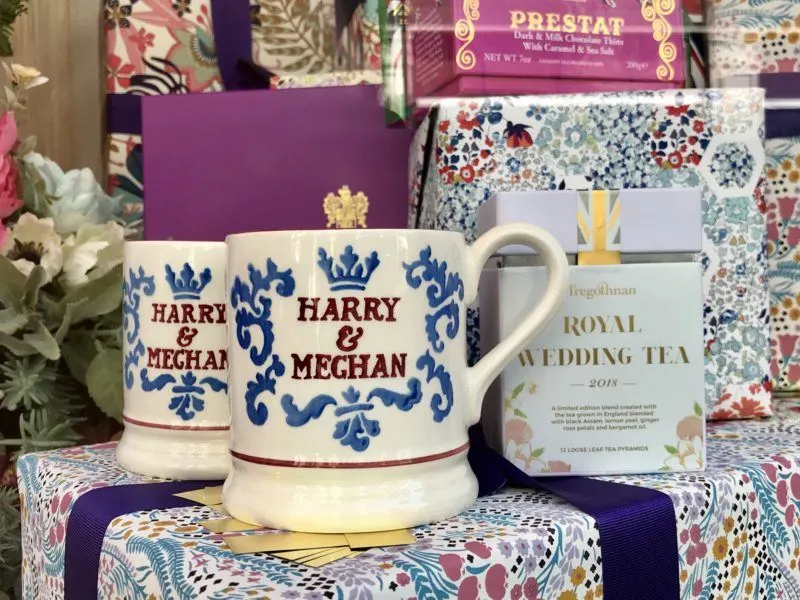 Supermarket Royal Wedding Souvenirs
Supermarket souvenirs are always my first pick for bring it home bargains.
Not only does Marks and Spenser have an ample collection of royal wedding souvenirs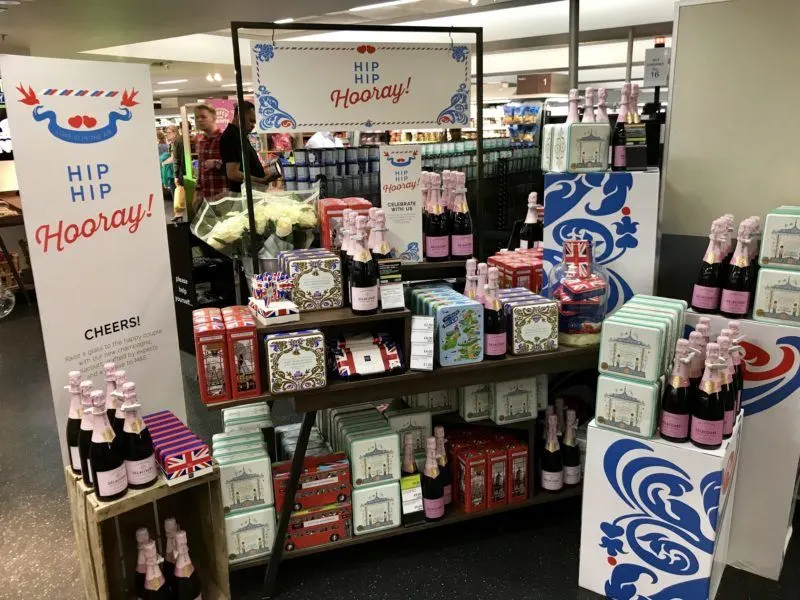 Whole Foods
Who would have guessed even Whole Foods got into the souvenir business with these cute shopping bags.
Sweet Royal Wedding Souvenirs from Street Vendors
If you're looking to get in on the celebrations but aren't really feeling the "I love Harry" T-shirts, there are plenty of cafes, bakeries, and so on who are offering tastes of wedding cake and specially made treats for the occasion.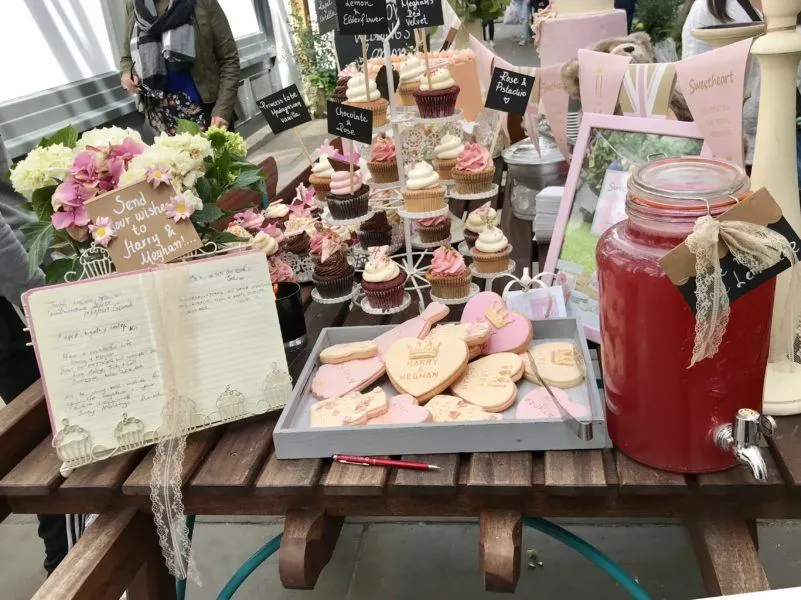 Hamley's Toy Store Wedding Souvenirs
Yes, even London's famous toy store has gotten in on the royal wedding hoopla.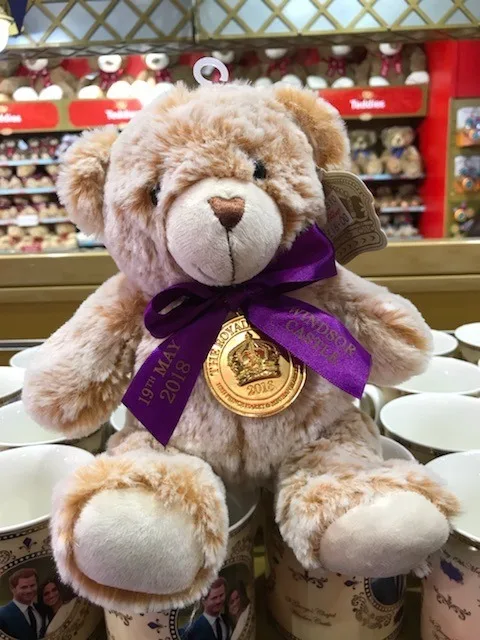 [box]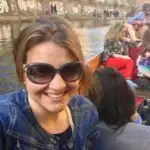 Thanks to our London correspondant Kristen Mankosa for this post. Follow Kristen on Instagram @ManRuiTian and Twitter @ManRuiTian.
[/box]