Iceland has some of the best, most unique souvenirs in the world.
Maybe it's because of its isolation–a rock in the middle of the ocean, with Greenland as its only neighbor, Iceland is mostly free of outside influences. Standing alone, Iceland has been able to maintain long-standing traditions that can be seen all over the country.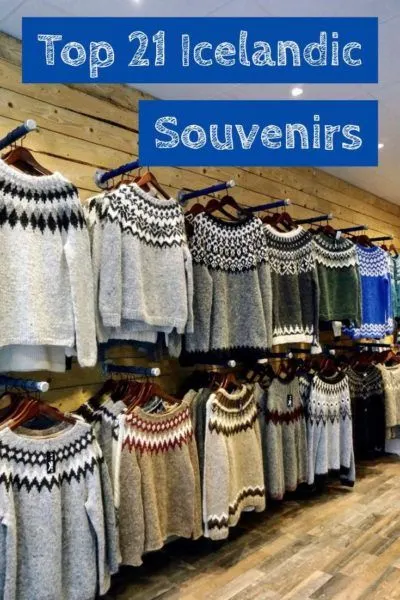 Sheep dot Iceland's hillsides as they have for centuries, yielding lush wool that local knitters whip up into sweaters.
The hot springs around the country inspire healing beauty products made from geothermal sea water and silica. The vikings that once sailed here inspire the sagas (legends) along with some unique souvenirs.
I've visited Iceland twice now, a full ten years apart, and have had the opportunity to souvenir shop the streets of Reykjavik and beyond on both occasions.
I'm happy to report that not much has significantly changed. Back in 2006 Iceland certainly had less tourists and prices were in a free fall because of the banking crisis– this made souvenir shopping both a bargain and delight.
But even ten years later, the huge increase in tourism isn't terribly noticeable. It's not exactly crowded and you won't find too many tourist traps or street hawkers selling cheap stuff from abroad.
This means that Iceland is still mostly the same place, with many only-in-Iceland souvenirs and bargains if you know where to look.
While the following list of the top and best Iceland souvenirs is limited to those I found in Reykjavik, I hope to drive the ring road soon and find souvenirs at every pit stop (if you know of any, please leave a comment!).
1. Icelandic Hot Dog Topping Souvenir
Icelandic hot dogs are pretty delicious, a cheap way to eat well in this pricey country. One of the best hot dog stands is located right in downtown Reykjavik, Bæjarins Beztu Pylsur.
The hot dog itself is tasty with nice snap, but it's the toppings that make the hot dog– ketchup, crispy fried onions, and the piece de resistance, a sweet brown mustard called pylsusinnep.
You can pick up the mustard as a souvenir at any Icelandic supermarket, and it is also available at the airport.
2. 66 North Fleece Souvenir
Reykjavik can be chilly, even in the fall (I haven't had the chance to visit in the summer yet). With whipping winds and rainy days, a snuggly fleece is always welcome. My favorite fleece souvenir ever comes from the 66 North shop in Iceland.
66 North is an outdoor clothing brand based in Iceland, designing active wear for its very active population. While everything is not necessarily manufactured in Iceland, the brand's designs often have an Icelandic feel to them.
Also, they know how to make warm clothing to fend off the chilly local weather. While 66 North may be available outside of Iceland, its availability in the US is very limited (and way more expensive, though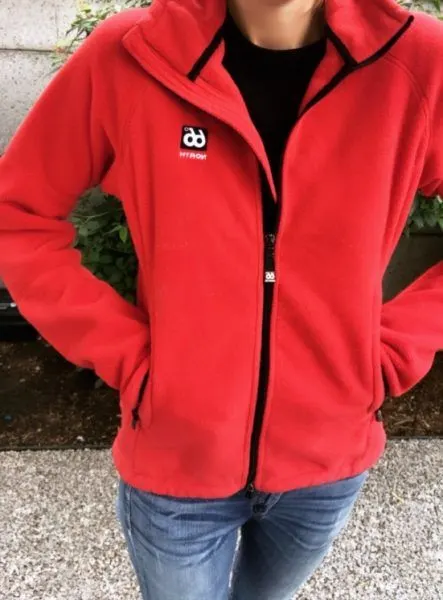 3. Blue Lagoon Skin Care Product Souvenirs
Unlike other geothermal springs around Iceland, the Blue Lagoon has top notch amenities that make it incredibly easy and convenient to visit.

Because it's between the airport and Reykjavik, it's not only doable but advisable to hit the lagoon before or after your flight (read all about my tips for visiting the Blue Lagoon, including my all important guide to preventing Blue Lagoon hair, here).

What makes Blue Lagoon skin care products unique are that all of the products contain a combination of the same elements that exist in the lagoon itself– the silica mud, the algae and the healing minerals.

Their products are designed for sensitive skin, so with my fussy, easily irritated skin, I was a perfect guinea pig to review them.

My absolute favorite product was the silica body scrub– anytime a friend makes a trip to Iceland now, I beg them to pick me up a tub.
4. Icelandic Puffin Plushy
While collecting plush toys isn't really my thing, I had to mention the puffin plushy souvenir because I saw them everywhere around Iceland. There is even a shop dedicated to everything puffin. If you travel beyond the city, you'll find many real puffins out in the wild.

For those of you who don't mind eating cute animals puffin is also a popular menu item in Reykjavik restaurants.
5. Volcanic Jewelry Souvenir from Gullkunst Helgu
Iceland is known for its volcanos, with one eruption disrupting air travel years ago, and rumors of a potential impending Katla eruption.

Volcanos can be hiked (I highly recommend this) but are also stunning viewed from the road if you're driving. A bit of volcanic rock is a great souvenir, especially if it's fashioned into a gorgeous piece of jewelery you can wear every day.

While some volcanic rock jewelery can be tacky, I loved the elegant designs at Gullkunst Helgu. The store was gorgeous, a bit of a splurge, but worth it for the quality and designs. While they had many items incorporating volcanic rock, they also have other pieces with unique, tasteful designs.
6. Traditional Icelandic Wool Sweater Souvenir
With sheep dotting the hills, it's easy to see why Icelandic sweaters have become such a ubiquitous souvenir. While other regions around the world may have their own wool sweaters, Icelandic sweaters are especially unique because of the isolation of the country.

The sheep here have been bred in complete isolation, and as a result have a wool unlike anywhere else. Icelandic sweaters are characterized by a traditional circular yoke pattern.

For traditional (and some non-traditional) sweaters made by hand visit the Handknitting Association of Iceland. For a more modern twist, I loved the Farmers Market brand, available at local and airport shops.
7. Icelandic Fashion Souvenirs
Icelandic fashion, at least from my walk through of some local shops, definitely has a unique spin. You'll find much wool and easy to wear boho styles. I saw lots of capes and hats, the perfect thing to roam the streets of Reykjavík while battling the gusty winds.
8. Other Top Icelandic Wool Souvenirs
If you're not in the market for a chunky Icelandic sweater, there are plenty of other woolen items to take home as a souvenir.

Fingerless gloves, perfect for those addicted to their phones, can be found everywhere.Other options include jewelry, blankets, pillows and all sorts of arts and crafts items. If you're a DIY person, there is plenty of yarn available to buy and bring home.
9. Icelandic Chocolate and Candy Souvenirs (Lakkris)
On my first trip to Iceland, I recall excitedly scooping up tons of different chocolate bars at the local drug store. I specifically picked different brands of bars in case I didn't like one, certain there would be at least one I would enjoy.

Imagine my horror when I opened up my first chocolate bar, anticipating the flavor of pure luscious chocolate instead was taken aback by the unmistakable flavor of black licorice. Sure it was sheathed by a thin layer of chocolate, but make no mistake this was a licorice bar, not a chocolate bar.

I checked the remainder of my bars, and guess what– they all had licorice in them! I should have done my homework and learned the Icelandic word for licorice is lakkris– the bars clearly say this on the packaging.

I can only assume this combo is an Icelandic specialty so if you aren't a fan make sure to memorize that word so you can avoid it when buying candy! On my next trip to Iceland, I was able to avoid the offensive ingredient and can confirm the non-licorice candy is absolutely delicious.
10. Icelandic Viking Beer Souvenir
I did not research Icelandic beer, so perhaps there are some excellent microbreweries to check out (please comment if you know of any). I had no intention of bringing home Icelandic beer, but when I saw cans of bright gold Viking beer available to purchase by the can at the airport, I couldn't resist picking up a couple of cans.

The Viking beer was a fun novelty item to surprise a friend with, but I can't say it was memorable beyond that.
11. Top Icelandic Alcohol Souvenirs
The most popular bottle of Icelandic alcohol to bring home is Brennivín, a seasoned schnapps with a distinct flavor. Reyka Vodka also has its fans, as do various local brands of Scandi favorite Aquavit.
12. Icelandic Artisan Crafts
Reykjavik is filled with independently owned shops carrying all sort of artisan made goods. There are so many shops and types of souvenirs it's difficult to categorize them all. Look for an upcoming, in depth post on the specific shops in downtown Reykjavik (I took a lot of photos!).
13. I don't speak Icelandic T Shirt
I admit I was suckered into buying this T-shirt on my first visit to Iceland, when visitors were far fewer and it seemed like a clever thing. On my return visit, I saw a lot more of these t-shirts, but it's still a fun inside joke for anyone who has ever been to Iceland.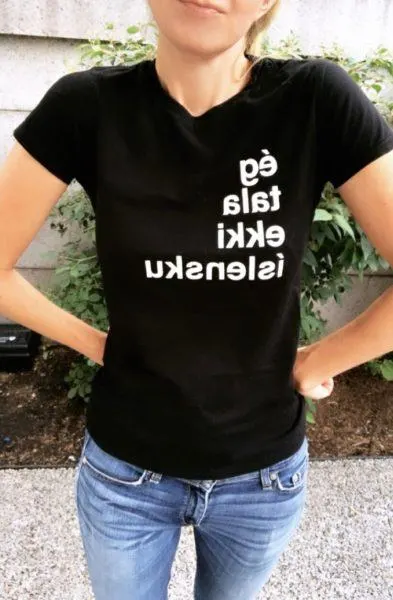 14. Icelandic Book Souvenir
I think I read a stat where about ten percent of the population of Iceland is a published author (see the Geography of Bliss, one of my favorite books). I love how there is no cultural elite here, pretty much everyone creates one type of art or another.

If you're used to reading online, browsing a local bookstore for coffee table books will change your mind. I especially love stunning photography books here.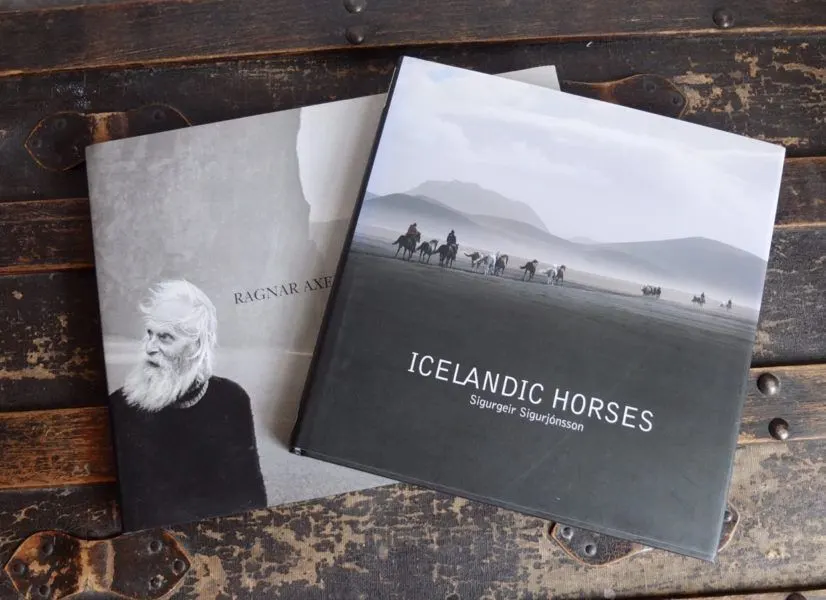 15. Box of Icelandic Frozen Cod Souvenir
This next Icelandic souvenir might sound ridiculous, but my mom actually did buy a box of frozen cod at the airport and brought it home. She reported back the cod was delicious. On my most recent trip, I check to see if frozen cod was still available at the airport (yes).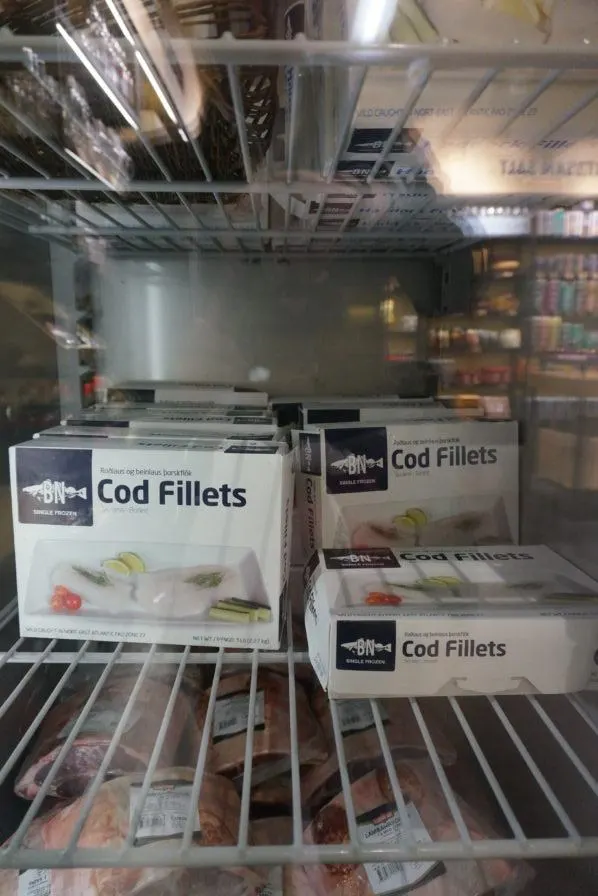 16. Smoked Icelandic Salmon Souvenir
If frozen cod fish is a little too daunting to bring back, an easier way to bring seafood home is to pick up Icelandic smoked salmon.
17. Icelandic Skyr Souvenir
This souvenir is probably best for your plane ride back, unless you have a few freezer packs. While visiting Iceland, you probably became addicted to the skyr like I did. At the airport, I scooped up a bunch to enjoy on my flight home.

You also may as well throw in some Icelandic butter, which will easily make the trip home.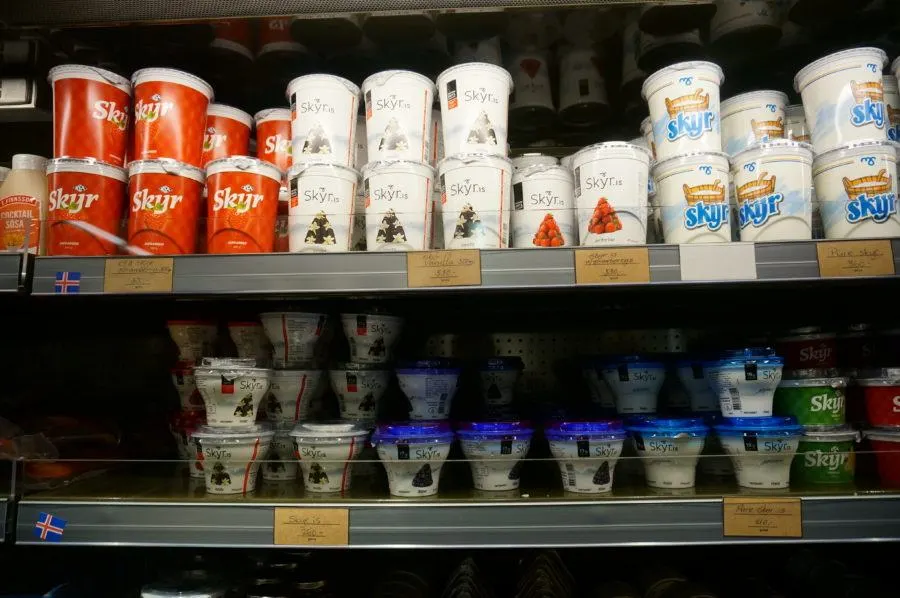 18. Reykjavik Viking Souvenirs
Similar to Norway, Iceland also has a Viking history and culture. There is even an entire museum on the Reykjavik harbour dedicated to all things Viking. The museum has some of the best shopping in Reykjavik, filled with both fun campy items and cool interpretations of the Viking culture.

I did come home with a horn to be used as a drinking vessel and some fun beads expertly chosen and strung by the lovely shopkeeper.

Another favorite top Reykjavik shopping stop is Listvinahus, a ceramics studio where everything is made on site. You'll find many viking souvenirs here.
19. Icelandic Elf Souvenir
Iceland is a sophisticated country, highly educated and tech savvy. But ask any Icelander if they believe in elves, and you might get an answer like I did "Of course not! Except for the one that lives in my backyard."

Icelanders take their elves seriously and are careful not to disturb their habitats. One town even designed its roads to ensure no intrusions were made on elf territory.
20. Icelandic Baked Goods Souvenirs from Sandholt Bakery
There is nothing I love more after a trip than savouring a cup of coffee my first morning home and enjoying some (still fresh!) baked goods picked up last minute from a local bakery abroad. I came upon Sandholt Bakery on my first visit, and made a point to head back on my next trip.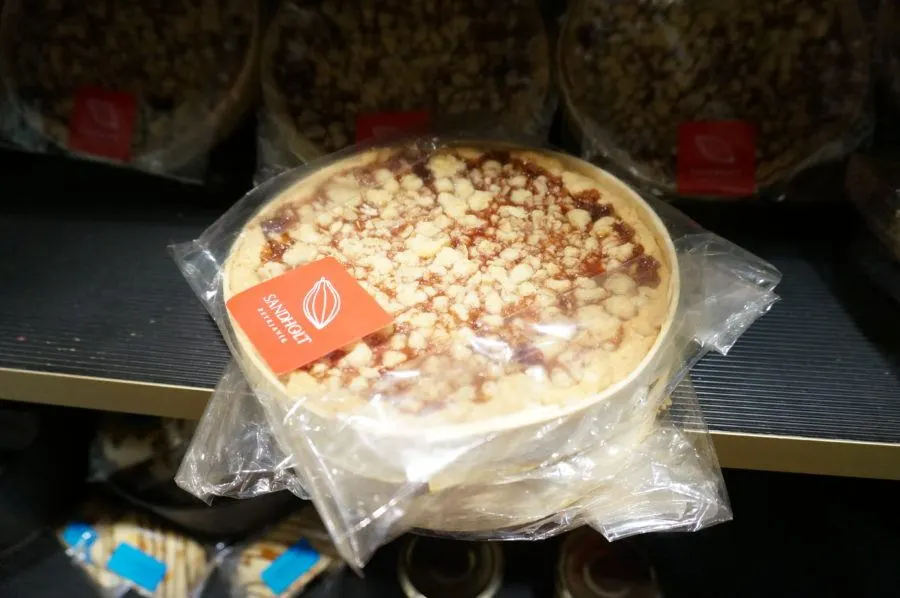 21. Icelandic Souvenir Recipe: Famous Lobster Soup
Once you try the lobster (langoustines really) soup at Saegreifinn (Sea Baron) in Reykjavik's harbor you will want to make it back home, it's that good. With a little googling I found a recipe online that I hope to test out soon.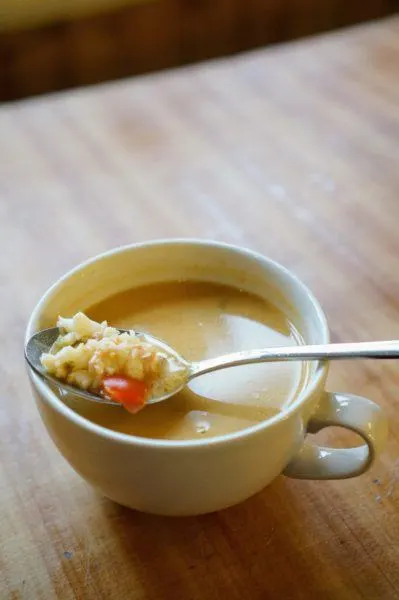 Pin it for Later!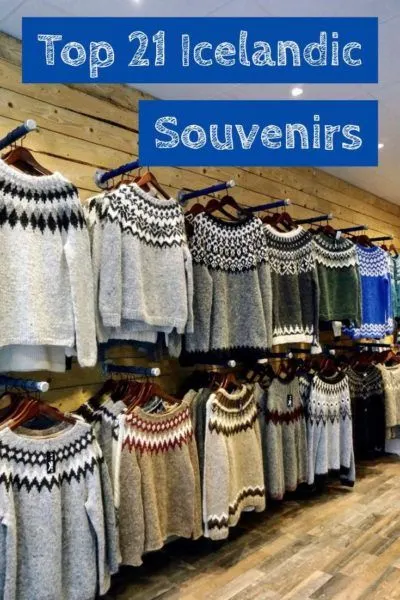 Have you been to Reykjavik, Iceland? Tell us about your favorite souvenirs!

Disclosure: Please note that SouvenirFinder is a participant in the Amazon Services LLC Associates Program, an affiliate advertising program designed to provide a means for sites to earn advertising fees by advertising and linking to (amazon.com). As a full-time blogger, using my links helps keep me writing at no cost to you, thank you!