It's not surprising that Mexico is by far the most popular international destination for American tourists. It has everything an American tourist could want– sandy beaches, lush jungles, colorful villages, cultural attractions, delicious food, local artisan shopping and authentic souvenirs and gifts– all within easy proximity to the United States.
Considering how popular Mexico is among my readers, I thought it was time to create a sort of master guide to the top Mexican souvenirs you might expect to find on your next vacation. Whether you're shopping for yourself or for gifts from Mexico you can bring home for the kids or friends, this list should tip you off on what to look out for.
You may not be able to find all the souvenirs on my list everywhere in Mexico (Mexico is, after all, a big country, with marked regional differences, along with unique artisan crafts and food specialties for each region).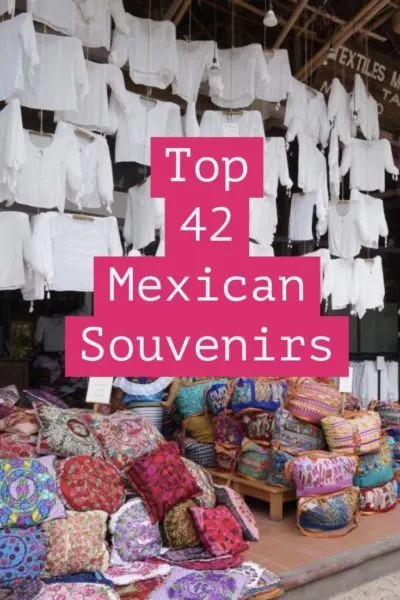 Instead, this best of Mexican souvenirs list is intended to provide a broad overview on the more popular/typical Mexican souvenirs, both authentic and some just for fun.
For a deeper dive into regional souvenirs, check out my prior posts focusing on Tulum, Valladolid and Playa del Carmen (and stay tuned for upcoming posts on more areas).
In no particular order, here are some typical along with unexpected and unique Mexican souvenirs. If you have a souvenir I've missed, please let me know in the comments below!
1. Mexican Chocolate Souvenir
Chocolate has been enjoyed in Mexico since pre-Columbian times. Fortunately, it's easy to participate in the time-honored tradition (and certified cultural activity!) of drinking chocolate like the early Mayan and Aztec cultures did.
You can buy the chocolate drink mix to bring home, along with other chocolate and cacao souvenirs (like bars, cookies and other edibles). Chocolate is also an ideal souvenir for gifting, as you won't have to worry whether the recipient will use it (they will).
2. Molinillo Souvenir
After you've picked up your Mexican chocolate, make authentic hot chocolate with your souvenir molinillo. A molinillo is basically a wooden whisk for your hot chocolate, aerating it perfectly. If you know someone who loves kitchen gadgets, this is a unique one to gift.
3. Handmade Mexican Hammock Souvenir
You can buy ultra cheap hammocks from street vendors, or handwoven hammocks from local Mayans (in the Yucatan peninsula, where it is said the best hammocks are made).
While saving money might be enticing, I personally would not want to risk it on something that is supposed to keep me supported in mid air. Expect to pay $50-$100 for a high quality hammock.
4. Mexican Prescription Drugs Souvenirs
Hoarding your pricey supply of Viagra? Why not save a few bucks by picking some up while on vacation in Mexico. US Customs will let you bring most prescription medication through as long as i) it's available in the US ii) it's for personal use and iii) it's within the allowed supply limits (definitely check the FDA site for specifics as there are lots of parameters and exceptions to this confusing rule).
I have friends with second homes in Mexico who routinely pick up their dermatological scripts for a fraction of the price back in the US.
5. Mexican Huaraches Souvenirs
If you're staying in the Cancun area, a spectacular day trip which can be combined with visit to Chichen Itza is a visit to the gorgeous colonial city of Vallodolid (see my post about it here).
While ambling around the city we came across a sandal shop where everything was made onsite (I snuck into the backroom and watched the cobblers in action).
Huarches have been around in Mexico since pre-Colombian times. These sandals are easily identifiable by their woven look, and gained popularity worldwide in the 1960s.
Along with leather huaraches, which I bought for about $20, you'll also find other simple leather sandal styles. I'd recommend buying huaraches in bulk, while mine lasted for two seasons (I wore them to death) I wish I had some backup pairs.
Mexican Jewelry Souvenirs
One of my favorite things to buy while on vacation is unique, locally made jewelry, as I can wear it every day and be reminded of my travels.
Perusing other "best of Mexican souvenirs" lists online, the only kind of jewelry I saw mentioned was taxco silver jewelry. But on my many visits to Mexico I've come across several different types of distinct jewelry styles, so if you aren't crazy about silver jewelry there are still plenty of other options.
6. Mexican Crochet Jewelry
While I was aware of intricate Mexican embroidery (see below in my section on textile souvenirs), all the beautiful Mexican crocheted jewelry items was a surprise to me.
7. Taxco Silver Jewelry Souvenir

Taxco silver originates from the central Mexican town of the same name where the silver is mined, but you can find examples for sale all around Mexico. Along with straight up silver pieces, you'll also find silver embedded with semi-precious stones native to the area like turquoise, malachite and onyx.
8. Huichol Beaded Jewelry Souvenir
The Huichol specialize in creating elaborate pieces out of tiny beads. While larger items like sculptures of jaguars and skulls can get pricey, smaller items like bracelets are a bargain for a piece of this intricate craftsmanship.
9. Mexican Woven Friendship Bracelets Souvenir
While it might be a stretch to call these woven string friendship bracelets "jewelry," they are a fun and dirt cheap way to bond with your trip mates (on our group trip, we all bought these string bracelets together). Expect to pay under a dollar per bracelet. These also make great gifts for kids.
10. Lucha Libre Masks
Wrestling masks ((called lucha libre masks) are a thing here in Mexico, and a fun item to bring home as a souvenir. Modern lucha libre masks come in bright colors and designs include gods, animals and other mystical creatures. Find these at any street side market.
11. Mexican Candy Souvenirs from a Dulceria
I'm always surprised to learn some countries have a serious sweet tooth and are known for their candy shops. Mexico has specialty store (complete with large shopping carts) where you can get your candy fix and bring home sweet souvenirs. We wrote all about visiting a Mexican Dulceria here.
12. Mexican Day of Dead Souvenirs
The Day of the Dead (Día de Muertos) is a Mexican holiday that focuses on praying for and remembering friends and family members who have passed. The holiday spans several days, starting on October 31. Parades and parties are held, complete with costumes and day of the dead decor.
The classic item is the Calvera Catrina (translated as elegant skull). Day of the dead decor has crossed over to American Halloween– you'll find knock off items and party supplies in the US featuring those roses and skulls. Why not get the real thing on your next trip to Mexico.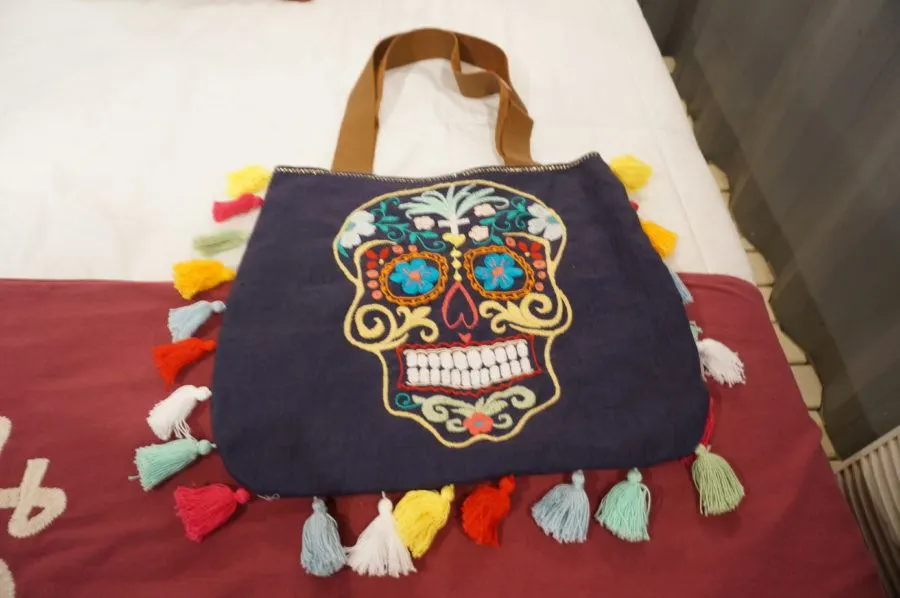 13. Mexican Huipil Souvenirs
The huipil is a traditional cotton fabric blouse, etched with beautiful embroidery. You can find ultra traditional versions at local markets at bargain prices, or updated chic versions at local boutiques.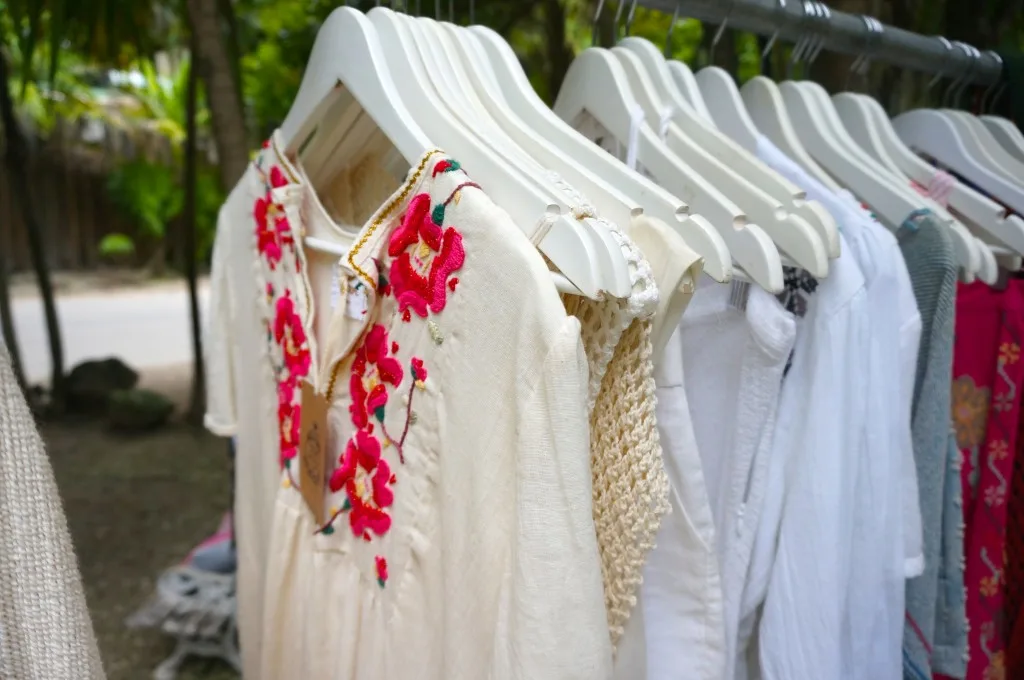 14. Mexican Folk Art Souvenirs and Gifts
I love the deceptive simplicity of Mexican folk art. There are too many types of items to list here, but you'll have the best luck browsing market and small shops.
15. Mexican Papel Picado Souvenirs
Now you can decorate your home with the same fancy banner papers you've seen gracing your favorite Mexican restaurant. Translated as "pierced paper" papel picado is a stack of colored tissue paper with laser cut outs. This souvenir could be fun for a party or rec room.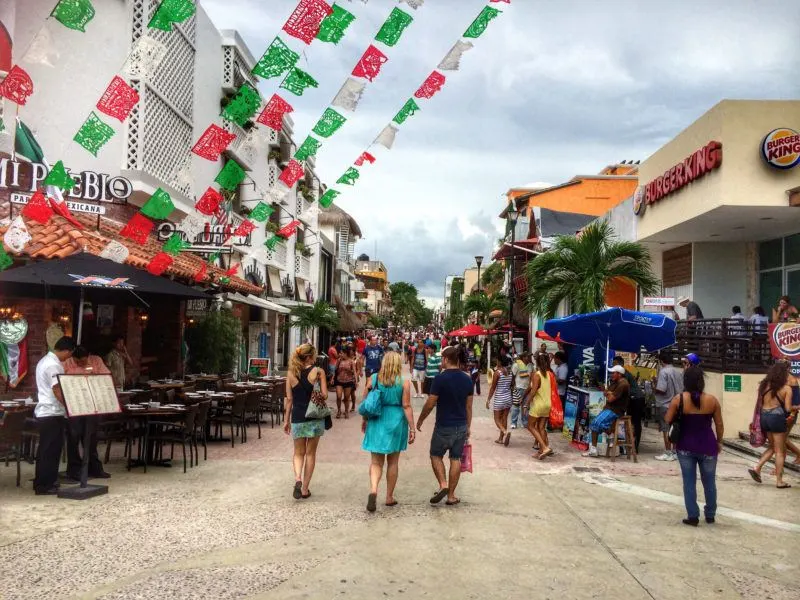 17. Mexican Musical Instrument Souvenirs
You'll find a variety of musical instruments, from handmade Mexican guitars to inexpensive maracas.
Best Mexican Textile Souvenirs
Mexico is well-known for its high quality textiles– you can find everything from housewares to accessories.
18. Mexican Tablecloths and Runners
The best Mexican textile souvenirs here are those that are easy to fold up and pop into your suitcase– like the colorful, intricately embroidered pillow cases and table runners. I was amazed at all the unexpected color combinations available– it definitely changed my perspective on what I thought I knew about traditional Mexican folk designs.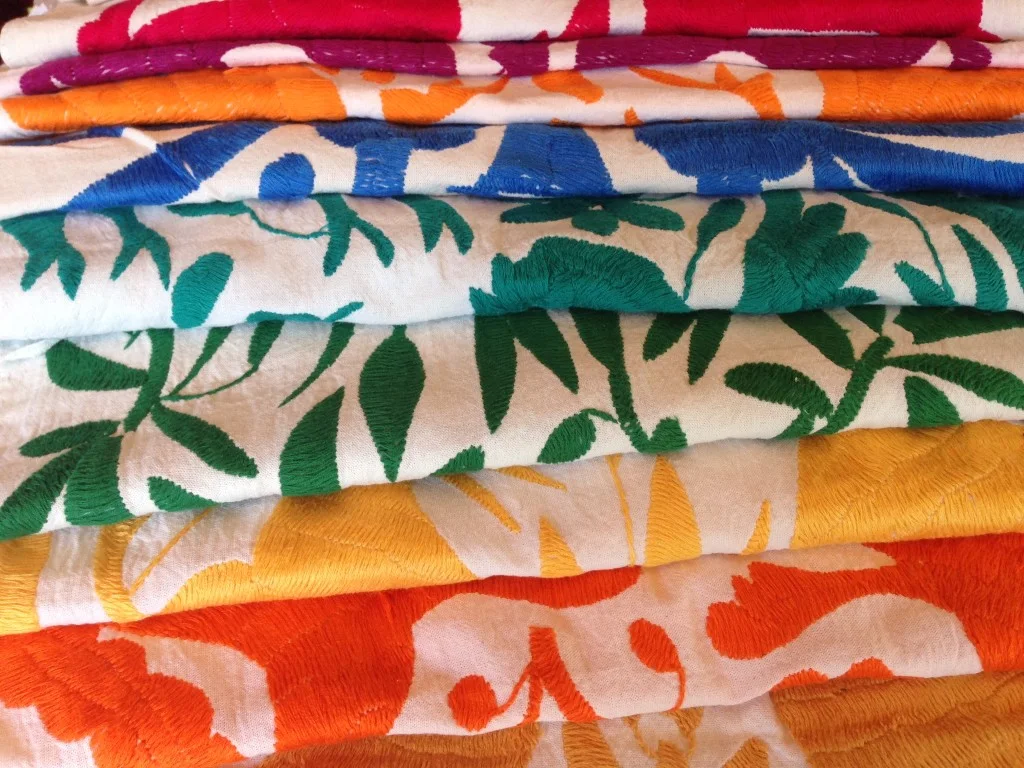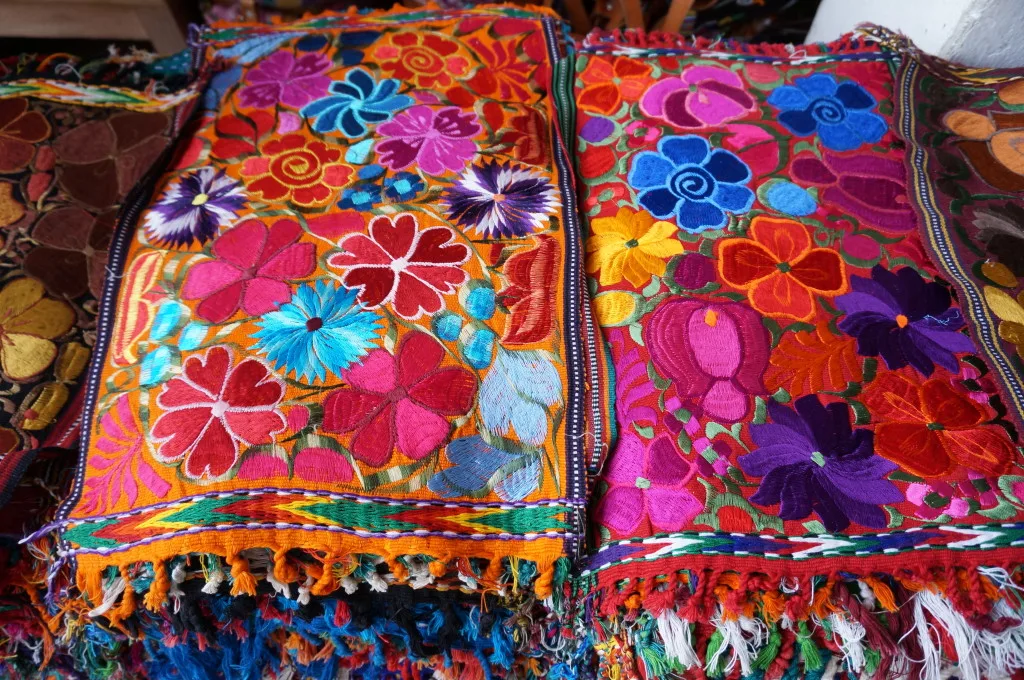 19. Stitched Mexican Toys/Decorative Items
I'm not sure if these stitched adorable animals were intended to be toys or decorative pieces, but I adored them just the same. I saw these in many places around Mexico.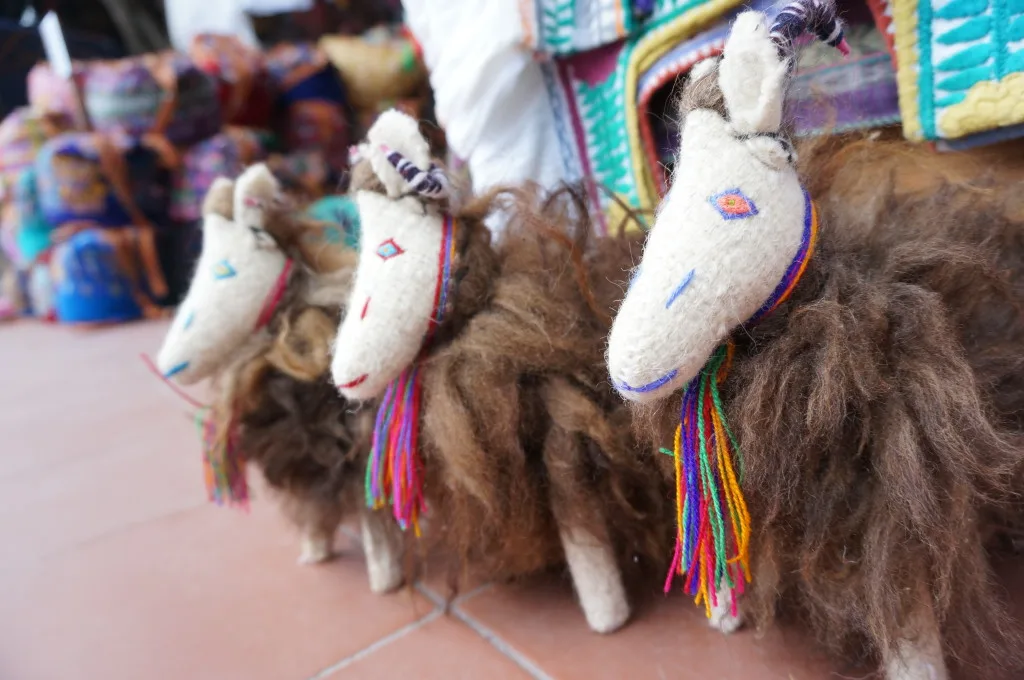 20. Mexican Embroidered Handbag Souvenirs
I adore the colorful embroidery used in many Mexican textiles and find the best way to incorporate the look into my everyday wardrobe is with an embroidered handbag. I carry mine all summer and always receive compliments.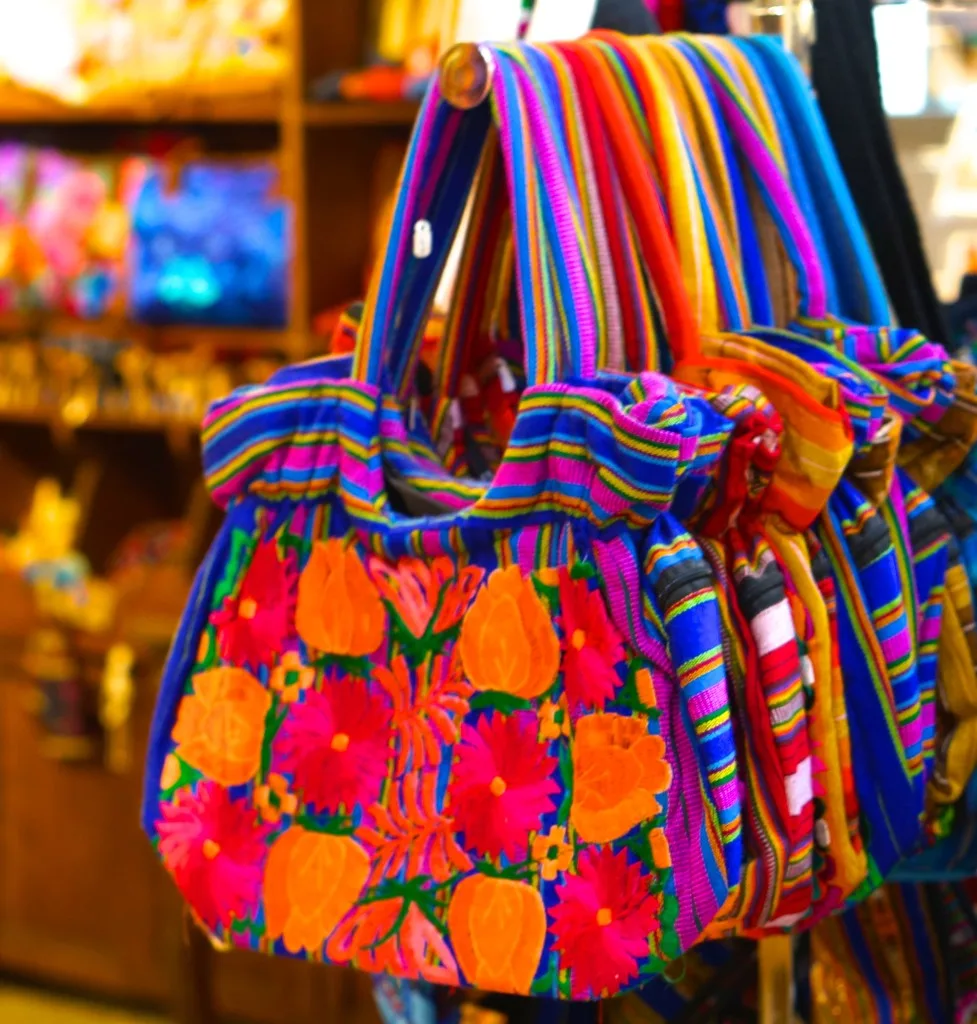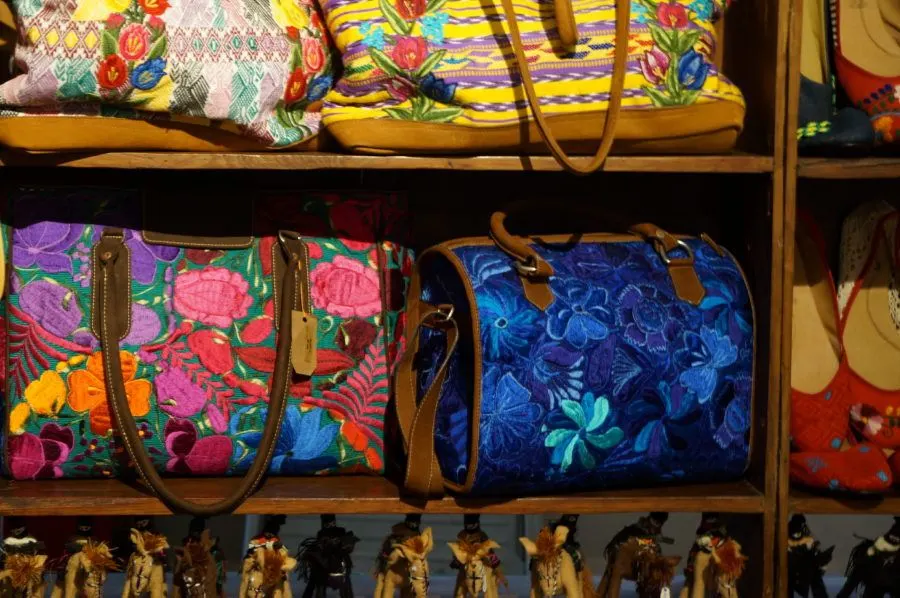 21. Mexican Embroidered Pillows
I find pillows an easy way to change up your decor, and flat pillow cases (minus the stuffing) can be easily packed.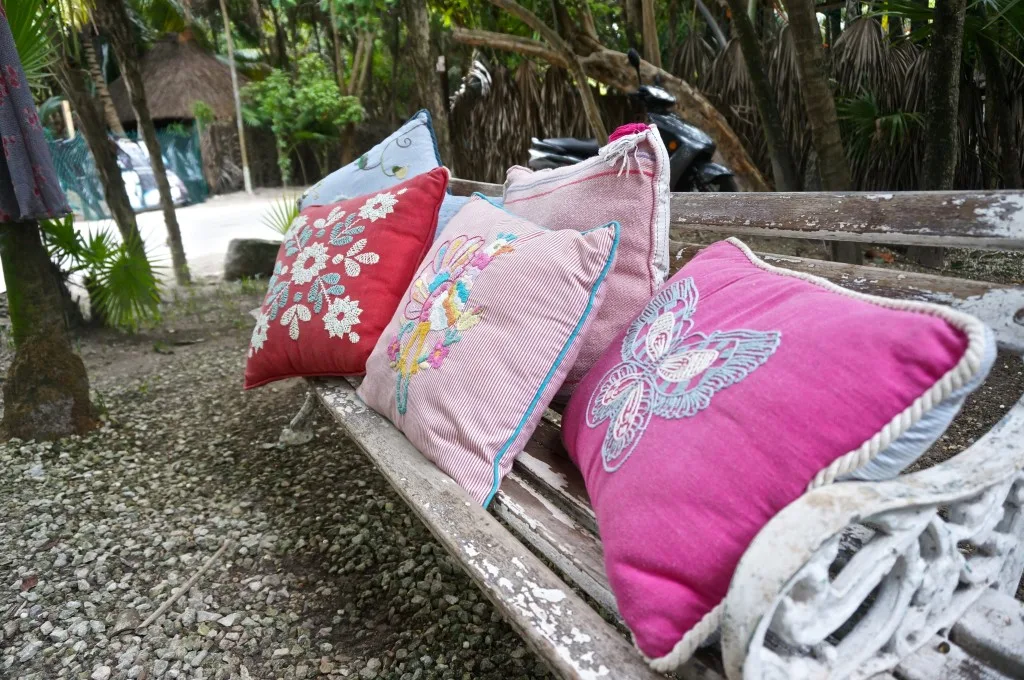 22. Mexican Blanket Souvenirs
When you hear "Mexican blanket" you might think of those scratchy cheap blankets, the staple of every college dorm. But at various boutiques I saw baby soft embroidered versions that I wanted to bring home.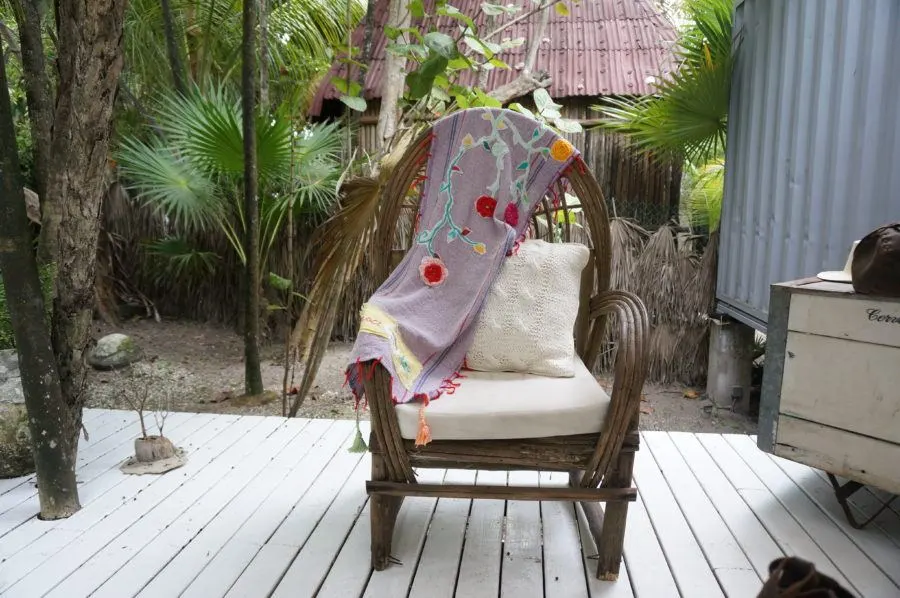 23. Local Designer Beach dresses
At any beach side town, you're sure to find gorgeous locally made beach dresses, perfect for throwing over a bikini or wearing to an outdoor cafe back home.
24. Guyabera Souvenirs
Guyaberas are popular linen and cotton shirts, mostly worn by men. In many central and South American countries a guyabera can substitute for a business suit.
We bought ours at Guyabera Jack's in Merida. I picked out a red linen guyabera that was a little big– the in house seamstress nipped it at the waist for a custom fit. No waiting required. Unfortunately, my cute red guyabera was somehow lost in one of my many moves.
25. Mexican Small Leather items
We found lots of interesting artisan items made from leather. Small, inexpensive and easy to pack these make great mementos or gifts.
26. Dried Grasshoppers
Not considered a delicacy but a staple, pick up a jar of dried grasshoppers at any supermarket.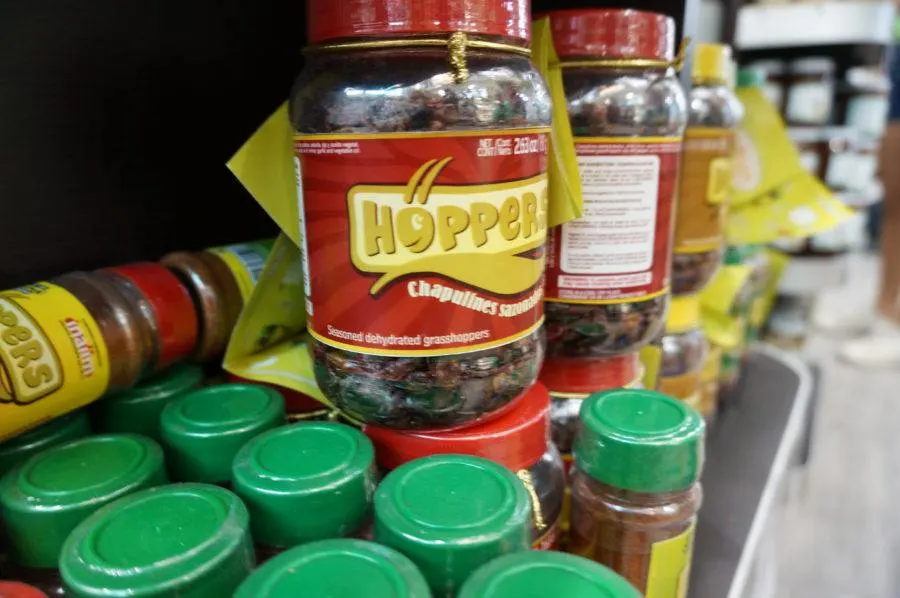 27. Worm Salt Souvenir
You may want to skip the worm in the tequila bottle, but to get the same idea minus the ick factor, try lining your shot glass or lime wedge with some worm salt (we tried it, it was tasty).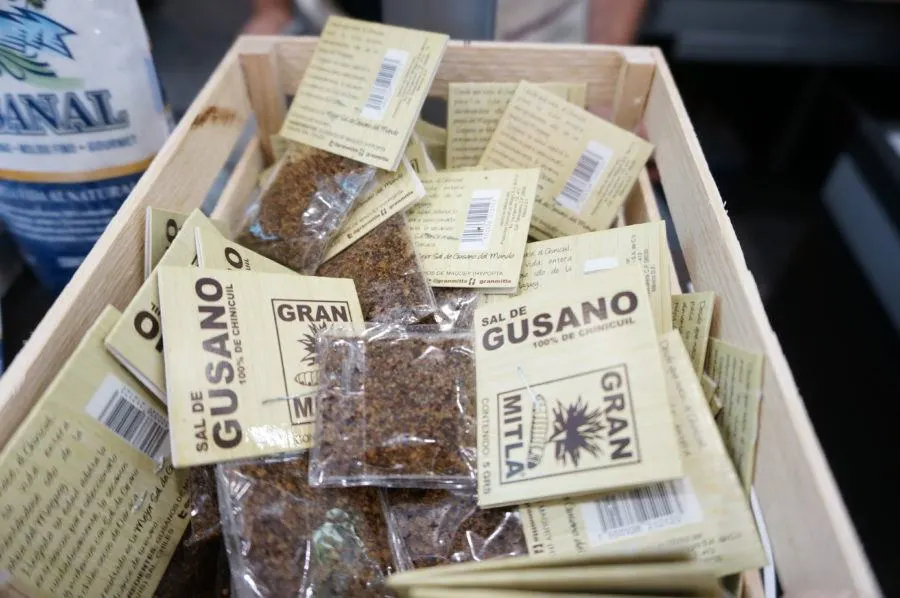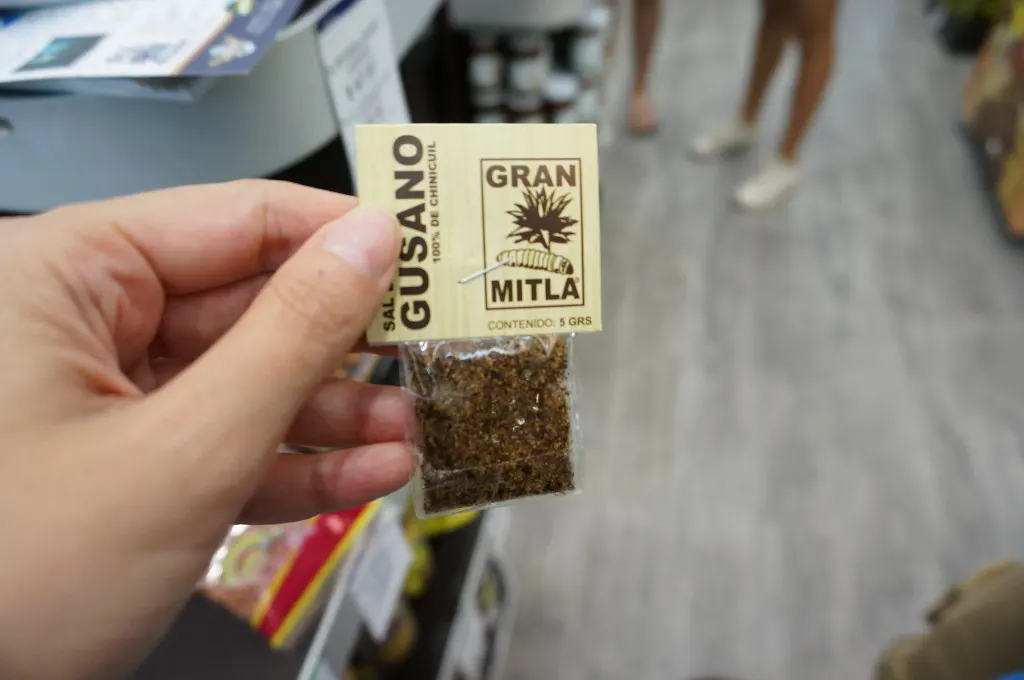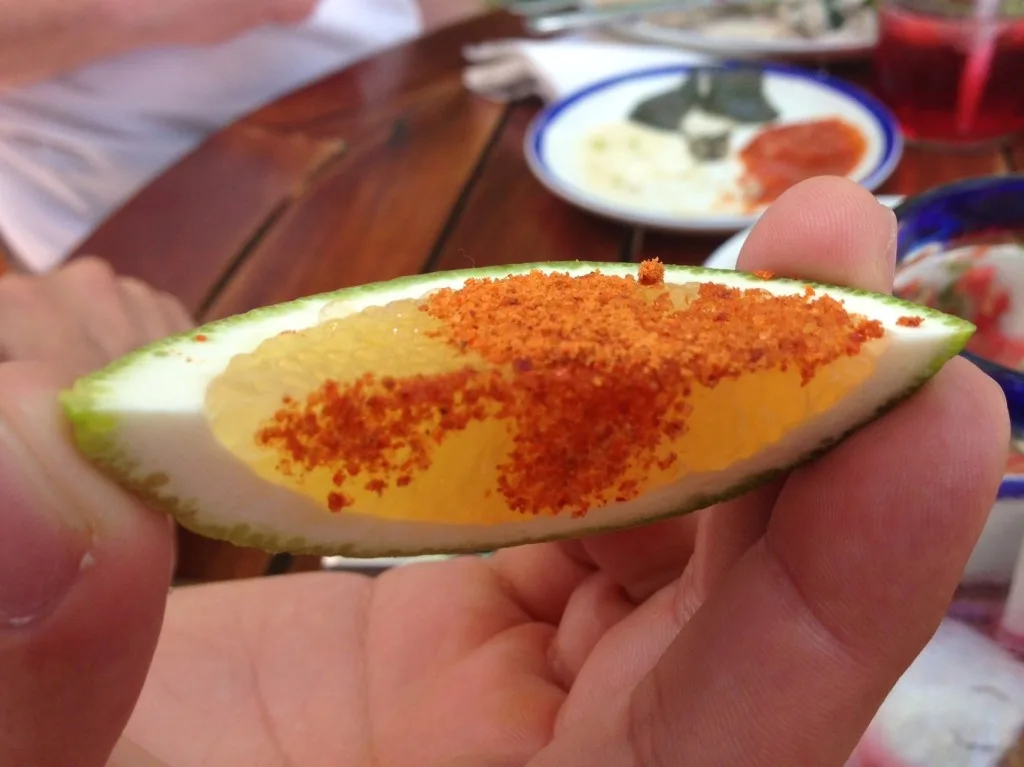 28. Mexican Pinata Souvenir
I always wanted a pinata as a child and never got one (sigh!). You'll see inexpensive pinatas at market stalls. Hop over the to Dulceria to fill them with local Mexican candy.
29. Mexican Hot sauce
It's true– Tabasco sauce doesn't actually come from Tabasco, Mexico. Despite this misnomer, there are plenty of local Mexican hot sauces to choose from that aren't mass-produced.
Mexican hot sauces can be made from any of a variety of single chiles, or a combination. They generally have less vinegar than their US-made versions. Street vendors are known to be a great source of hot sauces.
Mexicans are creative and generous in their uses of hot sauce. Hot sauce might be doused on everything from potato chips to salads, and I've read that Mexican movie theaters have bottles of hot sauce next to the popcorn.
30. Mexican Margarita Glass Souvenirs
While fragile, classic margarita glasses make an excellent souvenir.
Mexican Spices/Food Item Souvenirs
31. Dried Hominy
Look for local dried hominy in markets, especially if you want to make delicious Mexican dishes like posole back home. The "sin cabeza" corn has the fiber removed, so soak and cook.
32. Mole Powder Souvenir
If you've ever attempted to make mole from scratch, you understand what an ordeal it is (made from over 20 ingredients, requiring multiple steps, toasting spices, etc).
But those ready made bottled sauces at the supermarket rarely have the depth of flavor of a real mole. A good compromise is freshly ground mole powder, available in large bags at markets.
33. Mexican Salsa
Mexican salsa, everyone's favorite condiment, comes in a wide variety of flavors and heat levels. The standard salsa ingredients generally include garlic, onion, tomatoes, cilantro, peppers, and lime. Look for tomatillo salsa, chipotle salsa, red "roja" salsa or a fiery habanero sauce.
34. Mexican Vanilla Souvenir– Only if You Shop Carefully
I was surprised to learn in my research that real Mexican vanilla is said to be the best in the world. Note that I used the word "real" here– much of the Mexican vanilla you'll find in tourist shops is fake, synthetic and contains ingredients banned in the US like coumarin.
You won't have much better luck shopping where the locals do, for example at a Mexican supermarket. Artificial vanilla saturates the market because much of the local Mexican population cannot afford real vanilla.
To find real Mexican vanilla, look for specialty and spice shops– and let price be your guide. In the alternative, consider vanilla pods, you can't fake these.
Mexican Spirits Souvenirs
To find some specialty Mexican liquor souvenirs, you'll need to hit a larger liquor store with a big selection.
35. Xtabentun Liquor Souvenir
The crafting of this liquor—distinctive of the Yucatan region—has been perfected by the Mayans for the last 1,000 years. Xtabentun is a liquor that's wholly unique to the Riveria Maya region. Xtabentun is made from fermented honey and anise and rum, best enjoyed straight over ice.
36. Mezcal Souvenir
The difference between Mezcal and Tequila can be confusing. While both liquors are made from the agave plant, tequila is only made from one specific kind of agave, whereas Mezcal can be made from any of 11 varieties.
And unlike tequila, which is uncooked, the agave used in mezcal is roasted, giving the spirit its characteristic deep, smoky flavor. Read my post on Mezcal here.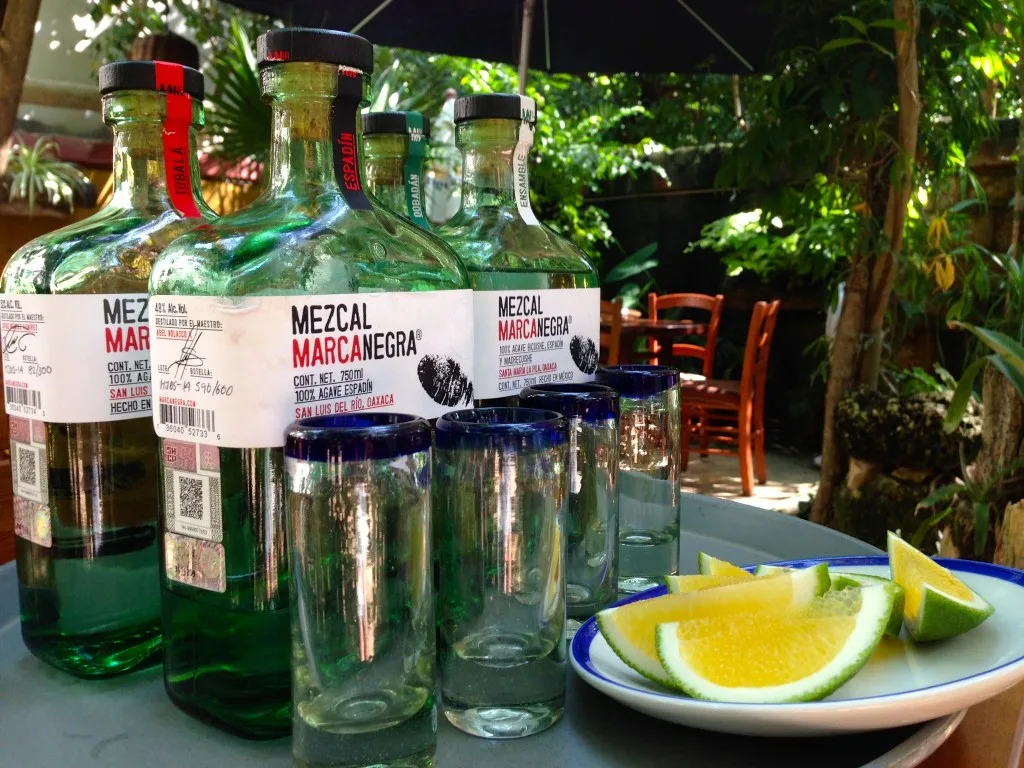 37. Mexican Tequila Souvenir
Of course Mexican tequila is ubiquitous in the States as well as around much of the world, so to find a truly unique souvenir, look for artisan small batches that aren't widely exported.
38. Mexican Pottery
Brightly colored plates, vases and mugs are a staple of Mexican pottery. If you plan to use them as tableware, ask to ensure they are food safe.
40. Mexican Coffee Souvenir: Maybe
I recommend buying Mexican coffee with some hesitation and qualifiers. If you are a coffee connoisseur and just pick up random beans to grind back home you may be disappointed.
Roasting methods and freshness can vary considerably, and I've read that much of the best coffee gets exported out of the country. My advice here would be to find small roasters and buy directly.
41. Woven Souvenirs: Fans, Baskets, Bags
I'm not sure of the origin of these woven souvenirs, but they are lovely and readily available at markets and high end boutiques alike.
42. Mexican Coca-Cola "Souvenir"
I threw Mexican Coca-Cola in here because tourists often wonder why it tastes so much better in Mexico. Mexican coke is made with real sugar, not that fructose syrup that is used in the US version.
While it may not make sense to pack it up in suitcase (and you can often find it back in the US at Mexican supermarkets), it is a quirk worth pointing out, and something coke lovers might want to stock up on to enjoy during their Mexican vacation.
Pin it for later!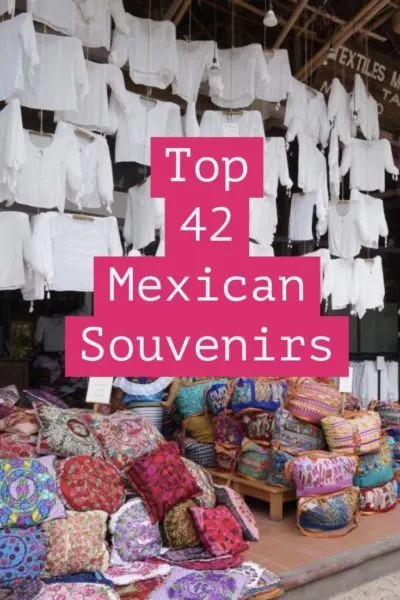 What are your favorite Mexican souvenirs? What did I miss? Tell us in the comments!