Take the Buckingham Palace Tour then Hit the Queens Gallery Gift Shop
Admit it– you always wanted to be a princess (or prince). Perhaps you aren't shooting as high as second to the throne (spots are pretty limited after all) and a distant royal will do?
For the girl or guy who loves all things royal, London– home of kings, queens, coronations and beheadings– is a fabulous place to visit.
The first stop on any royal hunter's itinerary should be the Buckingham Palace tour. In the summer you can visit the Buckingham Palace state rooms (still in use by the royal family) and discreetly scope out your future digs (for when you snare that royal).

Next up is the changing of the guard ceremony at Buckingham Palace (happening every other day at 11:30 am, or every day in the summer). Even if you miss the actual ceremony, it's still fun to watch the bearskin-capped Buckingham Palace guards marching to and fro on the palace grounds. If crowds aren't your thing, try visiting Buckingham Palace at dusk or evening– you'll be rewarded with some breathing room and great light.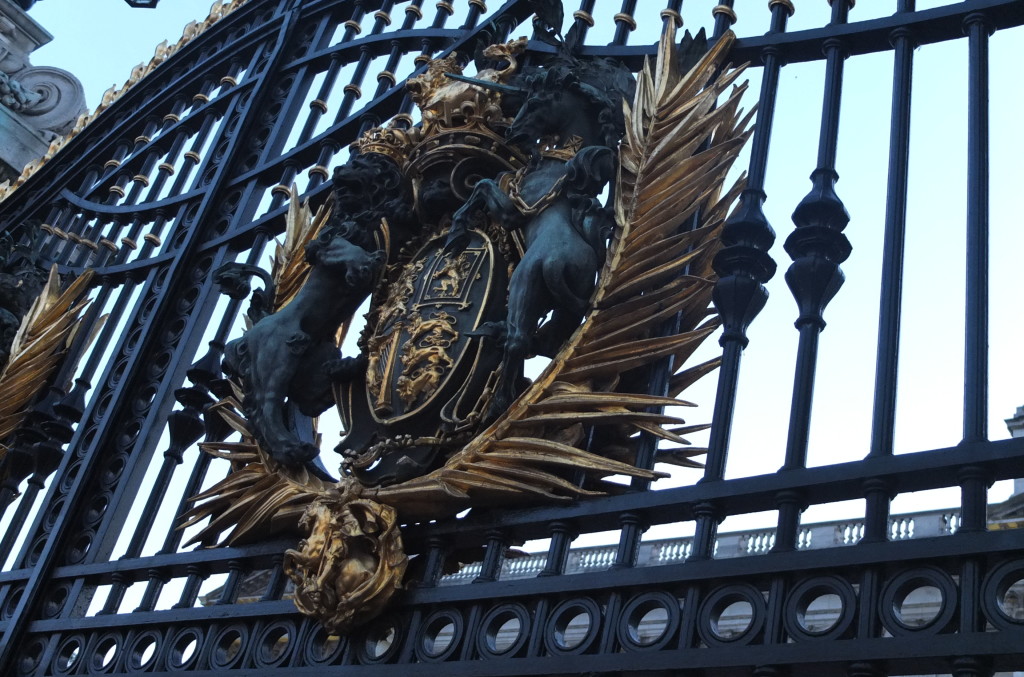 Whenever you decide to visit, keep in mind that as tempting as it may be to hurl yourself over the palace gate, claim that you were switched at birth, and reclaim your royal birthright, it is not recommended. The British have a very medieval idea of barbed wire. Time to move on and hit the gift shop with the rest of us commoners.
Buckingham Palace Gift Shop at Queens Gallery– bring some royalty home with you.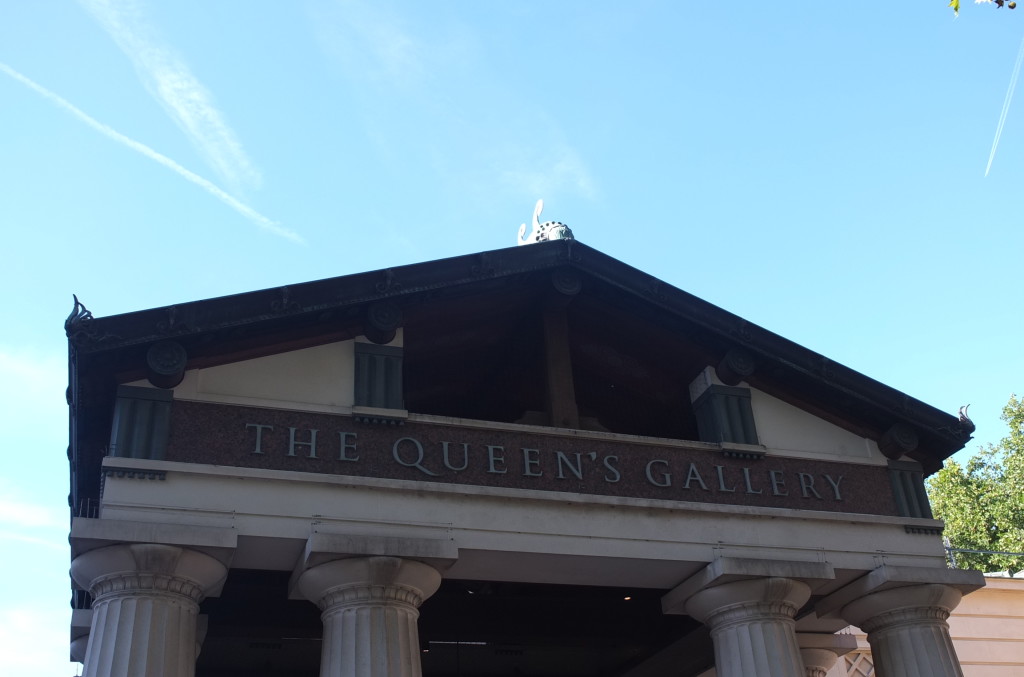 Even if you don't come back from London with a title, at least you can bring back some great souvenirs, perfect for the royal watcher stalker.
For the best selection of elegant, not tacky, royal-inspired gifts and souvenirs, hit one of the Buckingham Palace's gift shops– my favorite is the Queens Gallery shop (open year round). Some favorite Buckingham Palace shop souvenirs you'll find:
Put these Buckingham Palace shop soaps into a guest bathroom and hint to your guests that you may have been a guest of the queen (and pocketed these soaps). Complete the ruse with these fluffy Buckingham Palace shop hand towels, embroidered in gold thread with the Buckingham Palace Lion and Unicorn emblem.
I would love a cup full of these cherry-red pencils, topped with a gold crown, for my desk. £2.50 each. Piles of shiny gold Buckingham palace shop key chains tempted me.
Want the Queen of England's China? Well you can't have it. At least not the Queen's current set. But you can buy the next best thing– this exquisite pattern, part of the Minton service purchased by Queen Victoria at the Great Exhibition in 1851.
These cotton tea towels, featuring the Buckingham Palace Lion and Unicorn emblem, are a best-selling souvenir. Or pick up this pair of cotton towelling slippers, embroidered with a golden lion and unicorn, presented in a matching storage bag.
But if you really want to feel like a princess, head to the jewelry counter.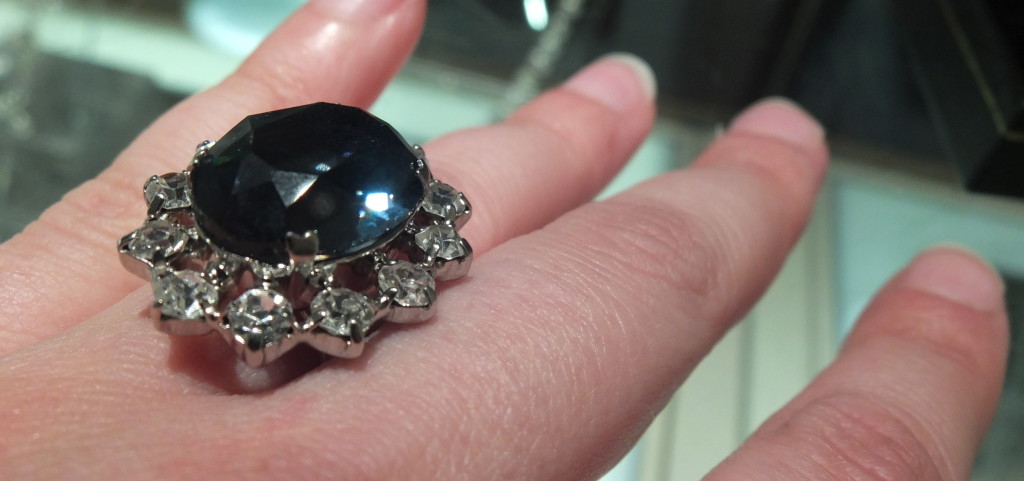 The Queens' Gallery gift shop attendant was careful to explain that this faux sapphire ring was only "inspired" by Kate Middleton's engagement ring— they would never be so gauche as to offer an exact replica. Even for the non-princesses out there, this bling-y piece would be fun to wear as an oversized cocktail ring– and a bargain at £35.
I never thought I'd wear a bedazzled t shirt, but I like to think the "Diamonte" details are subtle on this crown?
[typography font="Trocchi" size="24″ size_format="px"]Pinterest-Friendly Images[/typography] [pinit size="large"]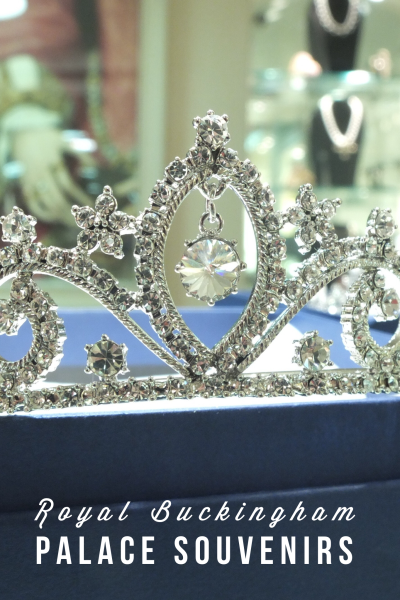 Have you shopped for royal gifts while visiting London? What are your favorites? Share in the comments!
Buckingham Palace and Queens Gallery gift shop details:
Buckingham Palace Tour Opening Times (Summer only!):
August 2-31, 2014; Open daily 9:30 a.m. -7:00 p.m. (last entry 4:45 pm)
September 1-28, 2014; Open daily 9:30 a.m.-6:00 p.m. (last entry 3:45 p.m.)
Queen's Gallery Gift Shop:
Open daily 9:30 a.m.-5:30 p.m., year round

Thanks to royalty expert and author Jerramy Fine for recommending her picks. Check out Jerramy's entertaining books, Someday My Prince Will Come: True Adventures of a Wannabe Princess, (her true story about moving to England to follow her dream of landing a royal) and her follow-up, Regal Rules for Girls, a spot-on etiquette guide on how to blend in with the royals.

All photos Copyright 2014 by Souvenir Finder and may not be reused without express permission.