I first discovered the delicious and very souvenir worthy Lloyd's Carrot Cake while living not too far away on Manhattan's Upper East Side.
After enjoying the upper part of Central Park, I would head due east, crossing the tracks at Park Avenue. There I found an adorable area filled with cute coffee and sweets shops, restaurants and taquerias.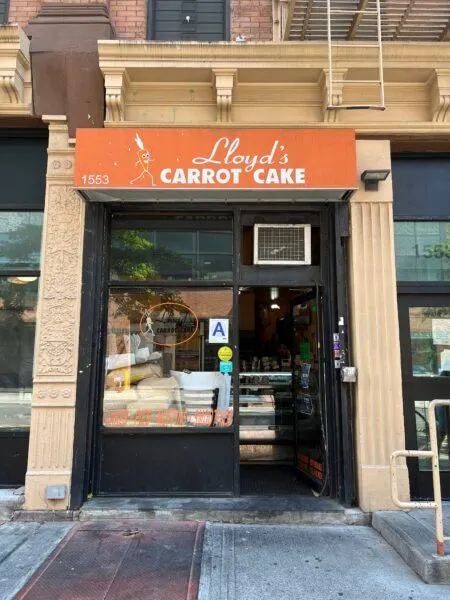 Why Lloyd's Carrot Cake is Worth a Visit and Makes a Great NYC Souvenir
We will get to the taste test of Lloyd's in a moment, but I want to touch on why this spot is special and worth the trek uptown. Manhattan has so many bakeries and many of them are delicious– but few of them are truly unique as Lloyd's.
First, I love a bakery that specializes in doing one thing and doing it well. While cupcake shops are now a dime a dozen, this was the first time I ever heard of a carrot cake bakery.
Second, Lloyd's Carrot Cake is black owned business, located in an area of Manhattan that gets less foot traffic than most bakeries. I enjoy supporting exceptional businesses that get less hype than the typical corporate owned tourist spots like Magnolia Bakery.
Third, Lloyd's has been family run since the 1980s. While the original location was started in Riverdale in 1987, the East Harlem location has been here and thriving for years. According to their website, Lloyd tweaked his mom's carrot cake recipe to perfection while living in his Harlem apartment.
Fourth, price– a hefty serving of a plain slice of Lloyd's carrot cake is only four bucks. This is absolutely unheard of in Manhattan bakeries, where prices start at $8 and just go up from there.
Cake Options Available at Lloyd's Bakery: What to Get
It's a no brainer to come here for the famed carrot cake, the best in New York City. But what kind? Lloyd's actually offers multiple variations on the classic carrot cake. Thankfully, there is a raisin and nut free version, as well as a fully loaded traditional version (while I don't mind nuts, I was relieved I wouldn't have to pick out raisins like I do with some carrot cakes).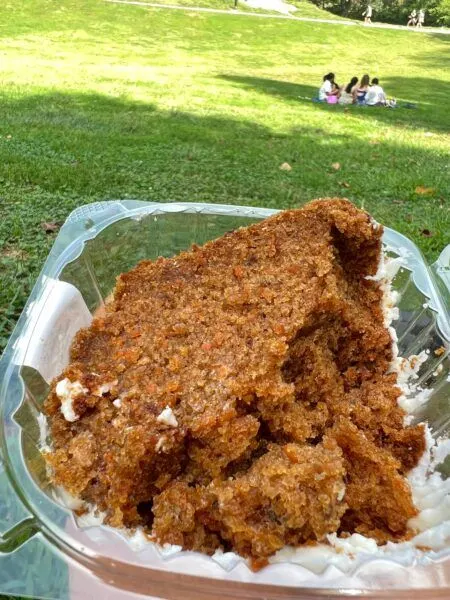 Lloyd's also offers many unexpected twists on the classic carrot cake, including a scrumptious tropical pineapple version. And finally, for those who prefer chocolate over everything else, there is a very tasty and fudgy chocolate cake available.
You can purchase a whole cake, or just a slice or even a cupcake (I definitely recommend an actual slice over a cupcake to get the full experience).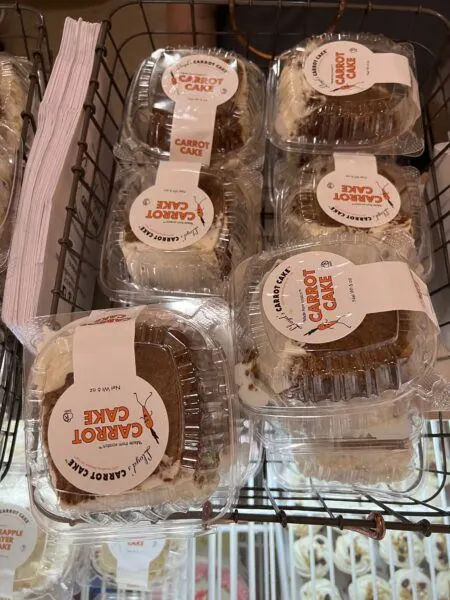 Before heading to Lloyd's, double check their hours on the website (as of this writing they are closed on Sundays, open 9-7 during the week and 10-6 on Saturdays, but this can change).
Lloyd's is a tiny storefront, takeout only. They were well stocked on this visit, but on a prior visit late in the day they had no slices left.
Taste Test Your Carrot Cake in Enjoy in Central Park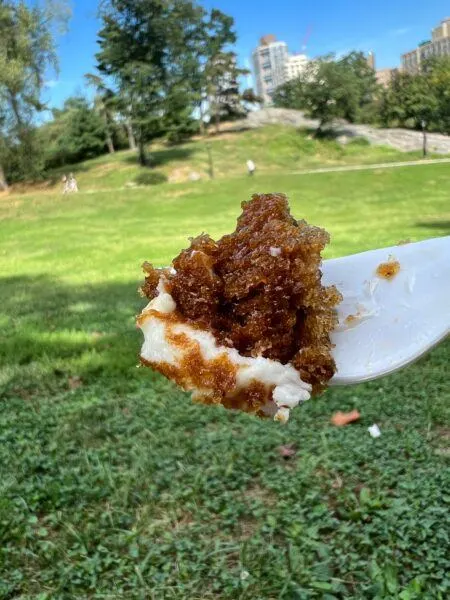 Well of course you are going to want to grab a few slices to bring home as a souvenir, you will likely also want a slice to eat right away. There is nowhere to eat in the shop or in the immediate area, so I recommend heading to the park and setting up camp by the meer or conservatory gardens.
It is here that I enjoyed my first slice of Lloyd's. While the low price and backstory might be enticing, a great edible souvenir must also taste good. Like really, mind-blowingly good. Fortunately, Lloyd's delivers. First, they are not stingy with the frosting, a must for me. Second, the cake is incredibly moist and very flavorful– you can definitely taste the different spice notes– brown sugar, cinnamon, ginger, and nutmeg. There really isn't much else to say other than try it for yourself. Tell us about your favorite carrot cake in the comments!