As a New York City local, I am always recommending must-see attractions, restaurants and of course souvenirs in my home city.
But if I had to choose only one place to visit in New York City that will give you an experience unlike any other, along with unique souvenirs to remember it by, I would tell you to get yourself to the Bethesda Terrace in Central Park. (For the rest of Central Park, check out my guide here).
Bethesda Terrace has it all– art, romance, nature, architecture and a sense of community, complete with a stirring soundtrack by local buskers.
Before we get to my favorite souvenirs, if you aren't familiar with Bethesda Terrace, we'll give you a run down of the best way to get there, when to visit, and what to see while you're there.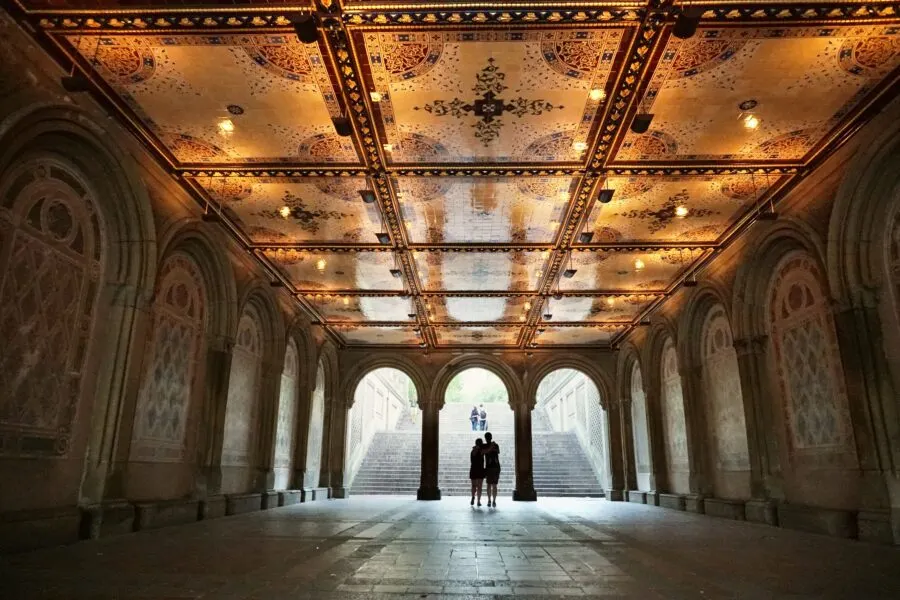 Check out my video above, which I shot over time across all four seasons at Bethesda Terrace. As it's difficult to capture a sense of space in a photo, the video gives you a better idea of what a walk through of the terrace feels like. For videos of each performer, please see my tiktok.
What is Bethesda Terrace?
You've likely heard of Bethesda terrace– or at very least will quickly recognize it from the many movies and tv shows filmed here (Gossip Girl, Dr. Who, the Avengers, Elf, Home Alone 2 and Annie Hall among many others).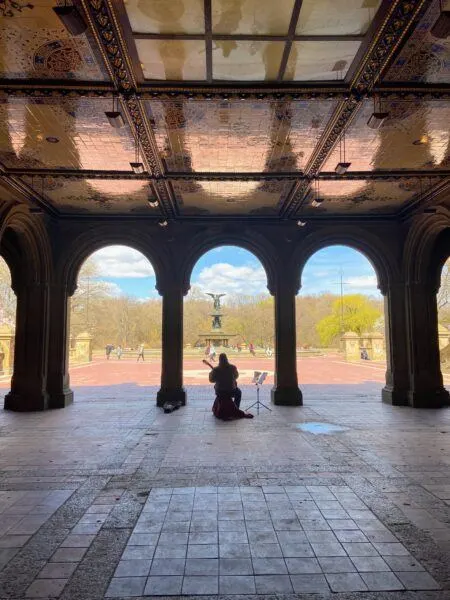 But what is it about Bethesda terrace that makes it such a symbol of New York, loved by film makers, tourists and locals alike? While the spectacular architecture and design are unquestionably a draw, it is the people who gather here that make the terrace come alive.
The Terrace was designed by Calvert Vaux in 1858 as a gathering place for people visiting the park. With multiple levels and views, stairwells, paths and seating areas, it's great spot for people watching.
On any given day, you will come across tourists getting their signature snaps, proposals and weddings, photo shoots of all kinds, dog walkers, locals strolling, and talented musicians offering free performances.
Before we get to the specifics on the musicians (and their souvenirs) that make this space so special, a few details about the set up and location of the terrace itself.
How to Get to Bethesda Terrace
Bethesda Terrace is conveniently located in the mid-park, about equally close from the East or West side, or a nice walk up from the Southern end of the park.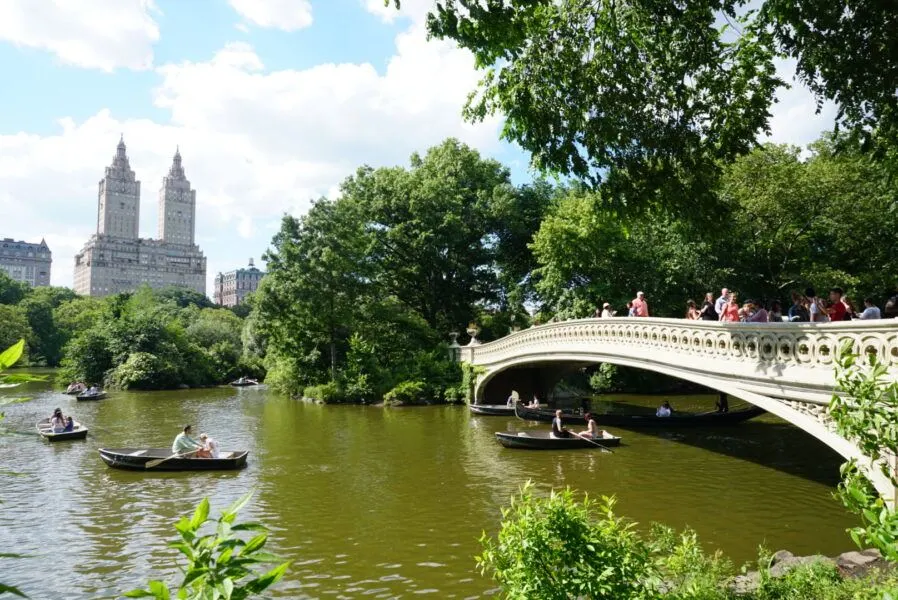 If coming from the West side, enter at West 72nd street and walk along the southern end of the lake and over the iconic Bow Bridge for the most scenic route.
If coming from the East side, enter at East 72nd Street and stop by the Conservatory Water (model boat pond) en route.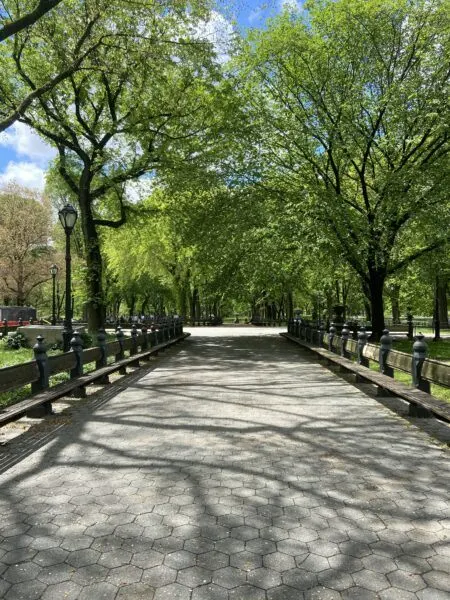 If coming from the Southern end of the park at 59th Street, walk straight up the center, starting with the Literary Walk through the gorgeous American Elm tree-lined Mall. You'll dead end into the stairwell leading down to the Arcade's passageway.
What is there to See and Do at Bethesda Terrace?
First off, visiting Central Park and in particular Bethesda Terrace is one of the best, absolutely free things to do in Central Park. You can visit in any season and you don't need a reservation or tour guide (though I would recommend using the map feature on your phone in case you get lost).
Bethesda Terrace is also one of the most romantic destinations in Central Park, making it an ideal spot for a picnic date, proposal or even wedding (we not only witnessed an impromptu wedding one afternoon, but were even invited to the reception!)
Bethesda Terrace is easy enough to see on quick visit, or if you're a local like we are, you can visit time and again and slowly peel back the layers of this incredible space, there is always something new to explore and discover.
Despite its name, Bethesda Terrace is not one terrace but a collection of spaces and structures spread over multiple levels.
The Upper Terrace
From this vantage point you have a view of the lower terrace, the fountain and the boaters on the lake.
Angel of the Waters
From the upper level you will have a view of the terrace below overlooking the lake. The focal point of the terrace is the ethereal Angel of the Waters sculpture and fountain, one of the most recognizable structures not only in the park, but in all of New York City.
Created by artist Emma Stebbins in 1868 and unveiled in 1873, this iconic fountain features the eight-foot-tall Angel of the Waters, holding a lily, signifying the fresh water system that was brought to New York in 1842.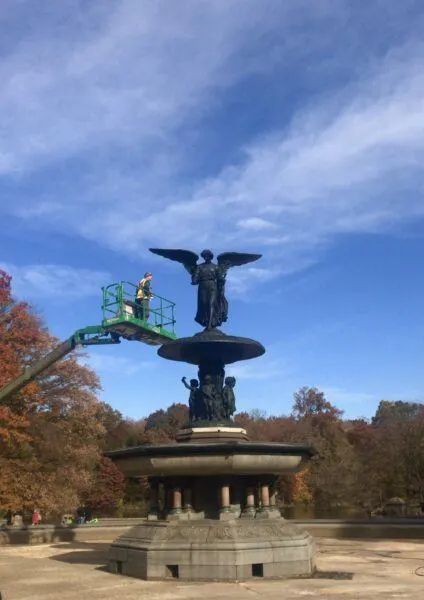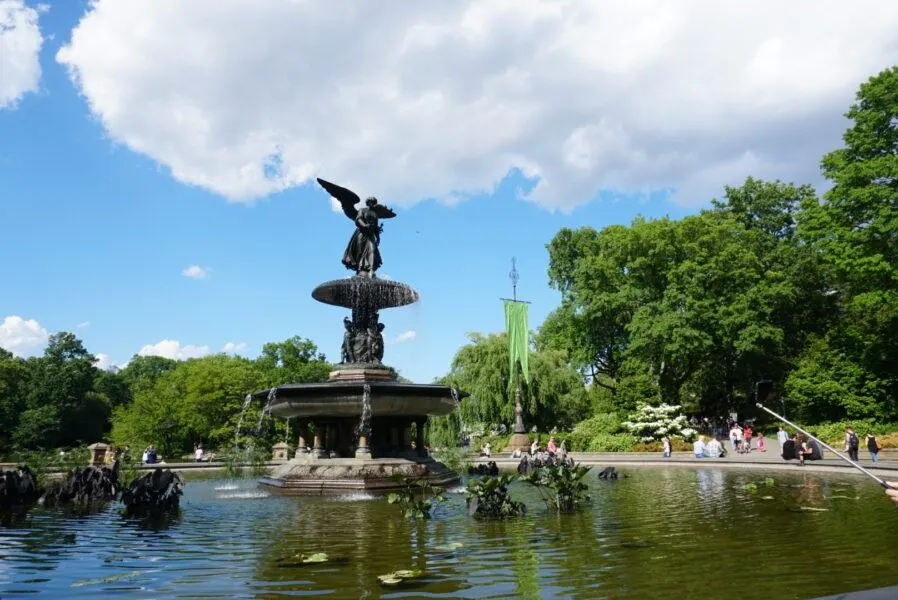 The Grand Arcade
My favorite part of Bethesda Terrace is the majestic arcade, a passageway that connects the upper and lower terraces. The arcade was designed to be an "open air hall of reception" and to this day continues to be the refuge that welcomes visitors and locals in from the bustle just outside.
Prepare to be dazzled as you walk through the archways and gaze up at the elaborate ceiling, made up of 16,000 inlaid tiles (the only ceiling of its kind in the entire world!).
The sandstone side walls are painted with trompe l'oeil panels of Botticino marble. While the ceiling has been refurbished over the years and the panels (based on original sketches) added in the 1990s, the arcade looks much the same as it did in the nineteenth century.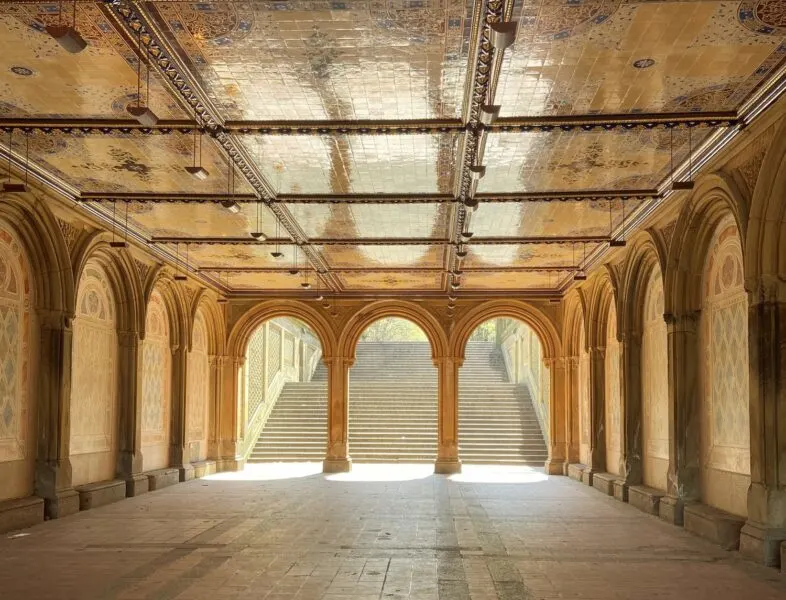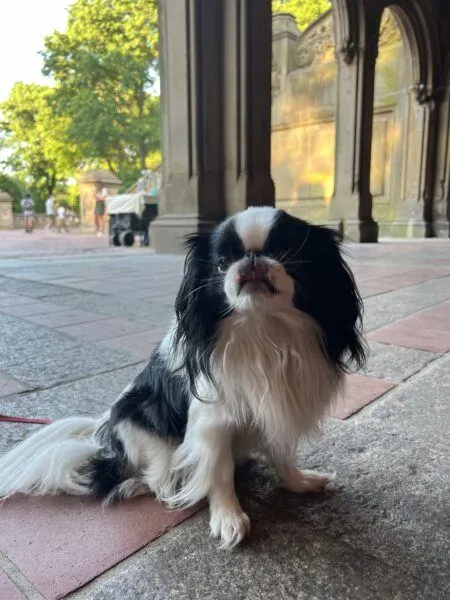 Bethesda Arcade feels like a new episode on each visit, with a changing cast of characters and happenings. Come early to catch the first light of day and less crowds. To feel the energy of the space, come on busy weekend days. For a moment of calm, come after dark to linger and decompress.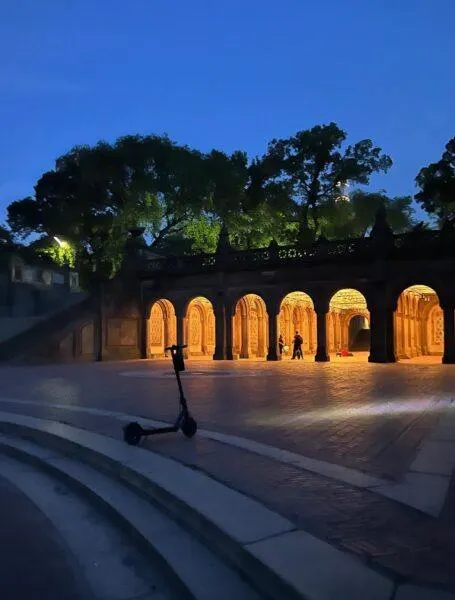 Because the Arcade provides shelter against rain, wind and the frigid temperatures, it is a year round destination (though you will definitely want to dress warmly in the winter).
Safety at Bethesda Terrace has never been a concern, even at night, as there are always late night strollers and dog walkers to keep you company.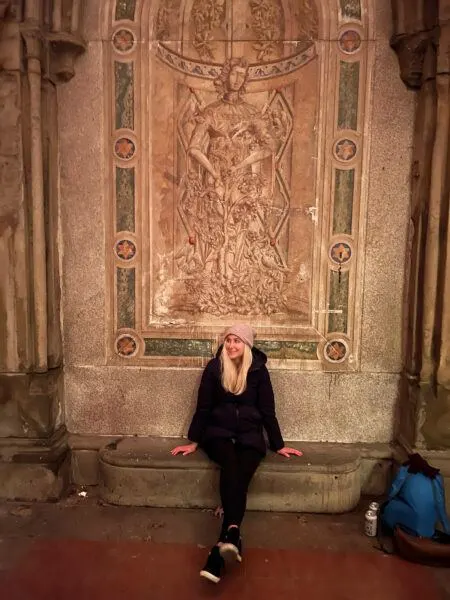 If you want to hang out for awhile like we do, you'll want to bring your own snacks as there aren't really any food options nearby. For our impromptu Central Park picnics, we pack up some charcuterie, fruits and cheeses along with wine and drinks (canned is the easiest, least breakable, and most discreet way to bring in wine).
Meet the Musicians who Busk at Central Park's Bethesda Terrace Arcade: Music Makes the Moment
If the body of the terrace is its dramatic architecture, then the beating heart of the terrace is its passionate musicians.
Music expresses that which cannot be said and on which it is impossible to be silent.

-Victor Hugo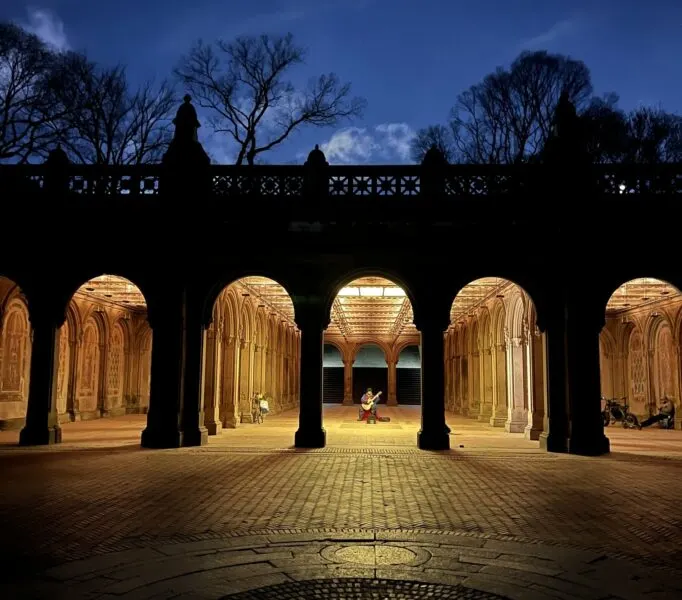 At night, the experience of an open air concert at the terrace is like no other. With the din of the crowds gone, the arcade transforms into a sanctuary from the outside world. We sit along the edges, lean against the sandstone walls and and take in the stillness.
On sweltering summer nights, we sip cool drinks as the music competes with the chorus of cicadas tuning up for their own performance. In the winter chill we huddle together under a cashmere throw, the frigid air casting a haunting quality to the music.
The terrace is more than just music, it is our refuge, the place where we come to celebrate, to heal and to fall in love over and over again. Come here to awaken all your senses, and create new core memories on every visit.
The ear is the avenue to the heart.

-Voltaire
While buskers perform all over Central Park, the Bethesda Arcade is the premier busking spot for its central location and unmatchable acoustics.
I had always wondered how busking worked at Bethesda terrace– can anyone just show up and play? After some googling, I learned via the Central Park website that no permit is required unless audio equipment is used. However, the website provides no details about who "owns" the various spaces around the park.
I learned that some rules are unwritten. In Central Park, most of the locations operate on a first come first serve basis.
Busking at Bethesda Terrace, however, is an earned position, with priority given to the regulars who have been performing here for years. Each musician is allotted a rough time frame, subject to change, and keep in touch with each other to ensure they don't overlap.
For the most part, other buskers respect these unwritten rules. Others, however are either not aware of the protocol or they just don't care. There is nothing worse than trying to enjoy a performance in the arcade, only to be interrupted by an earsplitting wailing into a microphone, amplified by a illegal, permitless speaker out on the terrace. Side note: these interlopers are usually mediocre at best.
The interruptions aren't easy for the buskers either. According to one musician, "it really is mentally challenging when you're playing and all you hear is [the other busker] and you hope you are being heard. Plus when people bring PA systems and DJ equipment it really does hurt the heart when you're trying to share art that the space was meant for and a lot of people don't understand the impact."
After silence, that which comes nearest to expressing the inexpressible is music.

-Aldous Huxley
Note: If you want to perform at the terrace yourself, your best bet would be to come very early in the morning or very late at night (after 10 pm), outside of the spoken for time slots. You'll likely have to bring your own audience, so come for your love of performing, not for the tips.
Meet the Buskers
Meet the Bethesda Arcade buskers, the select few whose love of performing defies inclement weather, financial incentives and cumbersome equipment transport. The dedication of the buskers to their craft is incredible.
On the steamiest summer days and nights they will be swatting mosquitos between guitar strums. In the winter the musicians bundle up and brave the elements even in freezing temperatures.
My gift is my song and this one's for you.

-Elton John
The Central Park musicians must carry all their equipment with them in and out of the park each time they perform. Keep in mind that you can't just drive in and park at the terrace, you have to walk or bike in. Speakers, seating, instruments (even a giant bass), refreshments and whatever else they need for the day are loaded on a bicycle sherpa style or walked in.
These buskers are so dedicated that they perform even when there is a sparse audience or none at all. During the heartbreaking spring and summer of 2020, at least one musician kept showing up and performing, often to an empty space.
But to the few people (ourselves included) who did see these performances, they gave us so much hope and happiness during an otherwise trying time. (I've included some videos and photos of Carlos performing in April 2020 throughout this post).
Show Love to the Central Park Buskers by Tipping and Buying Souvenirs
While the Central Park musicians are not here strictly for financial incentives, they certainly appreciate your contributions. The musicians are the force that makes this place come alive, so why not express gratitude for these magical moments.
I find it confounding that tourists will spend hundreds of dollars on a broadway show, but flinch at tipping a hard working, passionate busker braving the elements. And it's even more maddening that said tourist will enthusiastically watch several songs, take photos and videos (sometimes even asking the busker to pose with them) and then walk right past the tip basket without dropping a dime.
There is no pressure to give (this is my angst, not theirs), the musicians are happy to play for everyone, so don't let finances keep you from visiting. But if you do have the means, drop a $5 or $20 bill in to show your support and help keep this longstanding tradition going. Some buskers, but not all, accept venmo, so to be safe bring cash.
I prefer to drop in my tip when others are around so they "get the idea" to do the same. It usually works.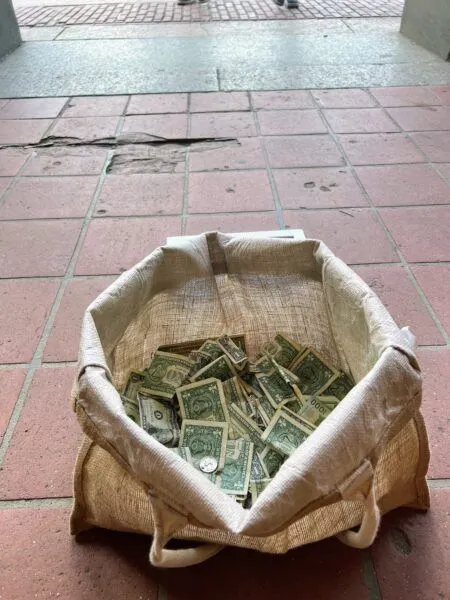 Abraham Boyd, the Booming Bass-Baritone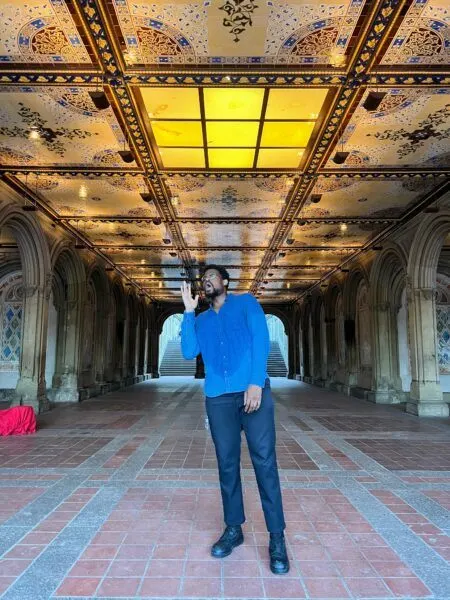 You will hear Abraham before you see him. And that's saying quite a lot for someone that stands a full 6'6 feet tall. His projection abilities are bar none, and all from his voice alone– the nearby speaker is used only for his background music.
I can confirm Abraham can be heard from the top of the nearby grassy hill. On nice days when we would picnic there, we didn't have to check to see if he was performing below. If we listened carefully, we could hear the distant melody of his powerful vocals rising from below.
Fill my heart with song…

-Sinatra
Abraham Boyd (Instagram @abrahamboyd) is a talented musician with a growing musical career. He has released several popular records with his family's amazing soft rock band, Infinity Song (@infinitysong), specializing in gorgeous lush harmonies,
The Boyd family has a long history of playing at the Terrace, going on fifteen years. Over the years they've been approached at the terrace during performances by several big names in music, resulting in various projects. These days it's mostly Abraham who sings solo, though he is sometimes accompanied by a brother or sister.
Even though Abraham is a successful up and coming musician in his own right outside the park, he still comes back to his roots to busk on many weekends (times vary, but typically late afternoon/early evenings). At the arcade, Abraham leaves nothing on the table, giving his all to every performance.
Abraham is fun to watch not only for his vocals, but also for his theatrical performance. Abraham always looks the part, dapper and pulled together, even in 100 degree heat. Abraham puts on a show, using his stature to his advantage, and practically glides across the terrace. His expressive, wide gestures on his already long body make him look like he could touch the sky (or at least the roof of the arcade).
Abraham has written many catchy original songs, but at the terrace he performs crowd pleasing covers that are well suited to his massive vocals. When Abraham sings certain covers (Shallows and All of Me for example), the traffic in the terrace comes to a standstill and people literally gasp. Unsurprisingly, he repeats these show stoppers songs often.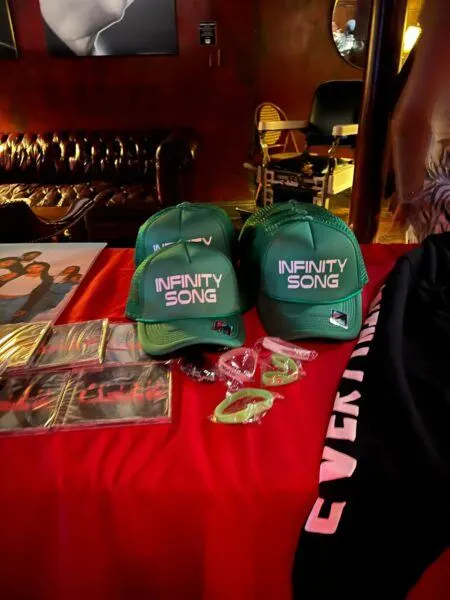 If you want to support Abraham and his band Infinity Song, catch one of their live shows (we can attest they are incredible, and usually sold out as they have an exrtemely dedicated following). You can pick up a souvenir at the show or on their website here.
You can also venmo Abraham @Abraham-Boyd.
Carlos Konig, the Classical Guitarist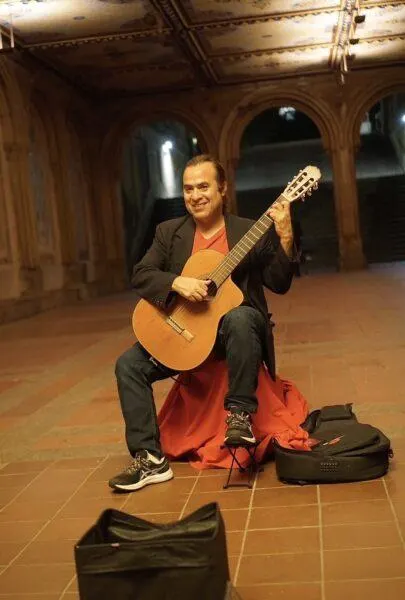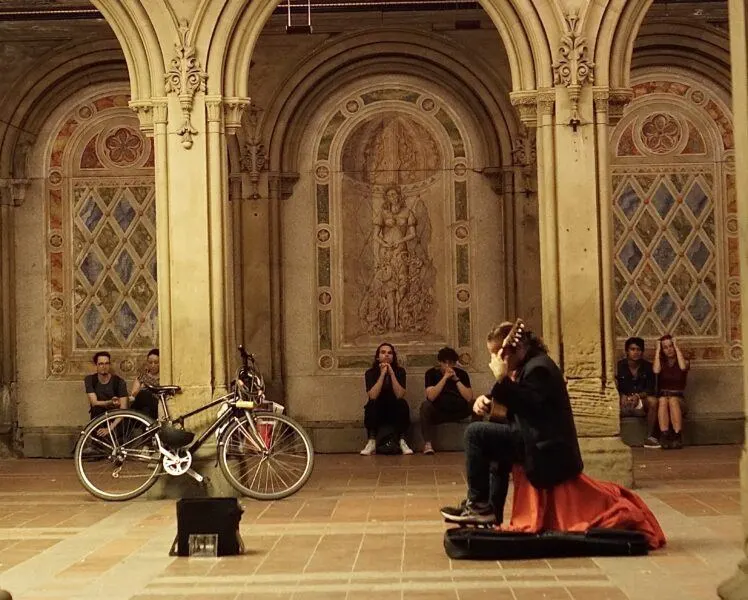 If you've walked through Bethesda Terrace on a busy weekend you may recognize the melodic strumming of classical guitarist Carlos Konig.
Carlos is a frequent performer and mostly maintains a regular schedule, which includes several evenings during the week, and weekend days in the park. You may not realize though that behind the unassuming facade of this humble musician is a massive talent.
Born in Santiago de Chile, Carlos König is a trained classical guitarist, playing professionally and teaching music for over twenty years. Interestingly, he is world renowned not only for his classical guitar skills, but also for his salsa dancing. During the summer, he leads free salsa dancing classes at the nearby Naumburg Bandshell.
But despite his prodigious talents, Carlos seeks neither fame nor fortune. Carlos comes to Bethesda Terrace for the pure, unadulterated joy of performing. It doesn't matter if it's sub freezing or steaming hot out, his presence and beaming smile is a constant.
It's not only adults who love Carlos, he is also a pied piper of sorts to children. Maybe it's because Carlos sits on a stool at their level, but toddlers often gather around him, their little legs clumsily but adorably stomping a jig around his guitar.
I am still amazed that Carlos rides his bicycle in from the boroughs for each performance. I've watched Carlos load that bike up and it is an impressive feat. I kept thinking there is absolutely no way he's getting all that stuff on his bike. But yet he does, strategically balancing his stool, speaker, guitar and accessories and riding off into the darkness like it's the easiest thing ever.
Carlos does not use venmo or social media so bring cash and tip generously.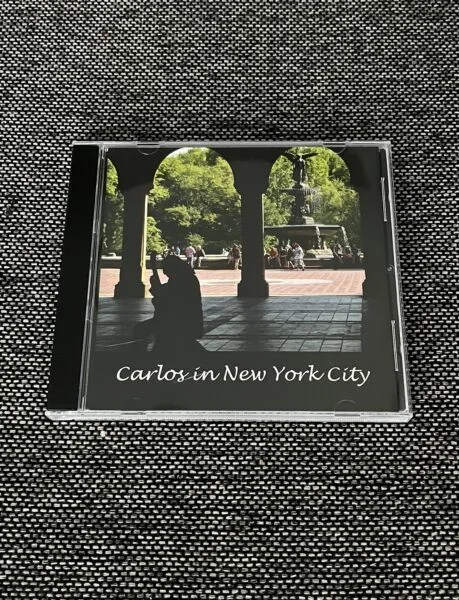 For a souvenir to enjoy at home, pick up one of Carlos' CDs, which he sells onsite. I know for some of you a CD may seem like an ancient artifact, but I'm sure somewhere you have a device that can convert it if you don't have a player. Listen while you work or relax back home to transport yourself back to that moment under the terrace.
Jess Thompson, the Operatic Angel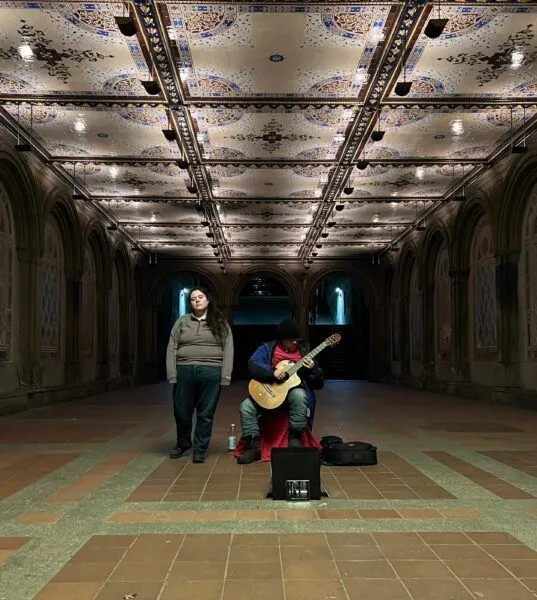 When I first heard Jess at the terrace, I had to do a double take. Was that voice for real?
Jess is classically trained as an opera singer and has been busking at the terrace for more than ten years. She usually performs on the weekends. As times may vary, she recommends DM'ing her on Instagram (@lifecadences) for specifics. While opera is Jess' specialty, she sings all genres and even takes requests.
Jess hails from a small town upstate and moved to the city to pursue music. After a stint in corporate management, she decided to pursue music full-time and when not at the terrace, performs at places like the Apollo Theatre in Harlem, among others.
I asked Jess why she spends her weekends at the terrace, performing for free.
Jess replied, "the terrace and the people there give back to me immensely! The space gives me acoustics that people dream of and when it's warm or cold, full of people or empty the sound changes. It's also why I move, so my voice bounces differently."
If you can't get to the terrace, you can support Jess' music by following her on IG and also send her support on venmo: @Jess-T-1
Music is a moral law. It gives soul to the universe, wings to the mind, flight to the imagination, and charm and gaiety to life and to everything.

-Plato
Mike, the Reclusive Night Bassist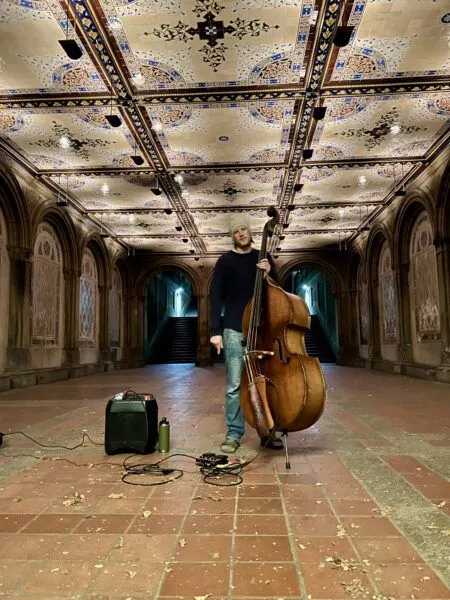 Finally, there is Mike the bassist, a lovely guy who keeps to himself for the most part. Mike performs on select nights (we usually see him there on Thursday evenings). While he does also perform in the winter, he is finished for remainder of this winter but will be back this spring. He has no social media or venmo and has no interest in being online in any capacity.
Mike usually plays later at night when the arcade is mostly empty.
When Mike plays in the empty arcade, with those strings reverberating throughout the space, I guarantee you will get chills. Bring cash, and lots of it, as he doesn't have a steady flow of listeners stopping by at these later hours.
Music is moonlight in the gloomy night of life

Jean Pau
Have you been to Bethesda Terrace and heard one of our buskers? Tell us all about it in the comments below!