I love taking day trips from my home city of New York. When deciding which town to explore, distance from New York is key– I prefer to keep day trips to under a two-hour drive, otherwise it's more of a weekend trip. My perfect day trip spot has interesting shops to browse, a homey spot for lunch, and leafy path for a good ramble.
Lambertville, New Jersey hits the day trip trifecta so I find myself defaulting to this quirky town anytime I need a quick respite from the city.
How to Plan your Day Trip to Lambertville
Since Lambertville is only an hour and a half drive from New York, there is no need to ruin your Saturday by getting up at the crack of dawn. I recommend leaving around 10 am for an 11:30 am arrival time. Here are my recommendations on how to plan your day in Lambertville:
1. First, Hit the Flea
When you arrive in Lambertville, don't head for the town center. Make your first stop the Golden Nugget Flea Market on the edge of town (see our last post for flea market shopping tips). After spending a couple of hours browsing the market, you should be ready for a late lunch.
2. Lunch in Lambertville
Lambertville has a ton of dining options– some spots have a great views of the canal or river, others are well-known among chowhounds (including some great ethnic eats). I sought out a quick bite option so I could get on with the rest of my day trip. Annie's Gourmet turned out to be just what I was looking for– a cozy atmosphere and simple, but delicious soups and sandwiches.
3. Work off Lunch with a Ramble or Ride Along the Canal in Lambertville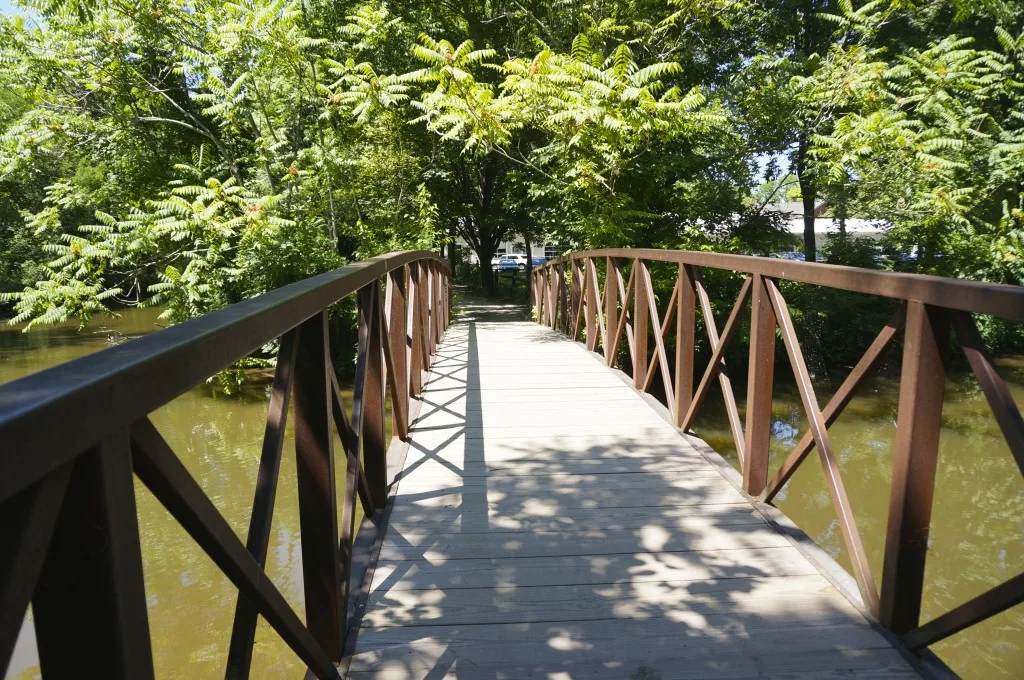 The historic 175-year-old Delaware & Raritan Canal runs through Lambertville. Grab your bike off your car rack or slip on some walking shoes and head for the towpath that runs along the canal. Fortunately, the path isn't overrun with competitive cyclists so it's perfectly safe to stroll the path as a pedestrian.
4. Time to Shop Lambertville
Even if you're not a shopper, the town center of Lambertville is still worth a walk just to check out the original federal townhouses and Victorian homes lining the streets. It's a bonus that these charming streets are lined with interesting, independent shops. While there are too many great shops in Lambertville to list them all here, we've included some of our favorites:
Lambertville, the Antiques Capital of New Jersey

Lambertville's many antiques shops are minded by real experts who know their stuff (an appraiser for the Antiques Road show even runs an auction house here). While you're unlikely to unearth a crazy antique bargain in Lambertville, you also won't have to sift through a lot of clutter to find the good stuff– because it's mostly good stuff. Locals recommend the People's Store for its open, airy atmosphere and huge variety of antique dealers.
Used and Rare Books
I love almost any bookstore, but Lambertville's Panoply books is a great find, offering offbeat, rare and out-of-print used books, textiles, and artwork.
Home Decor and Lifestyle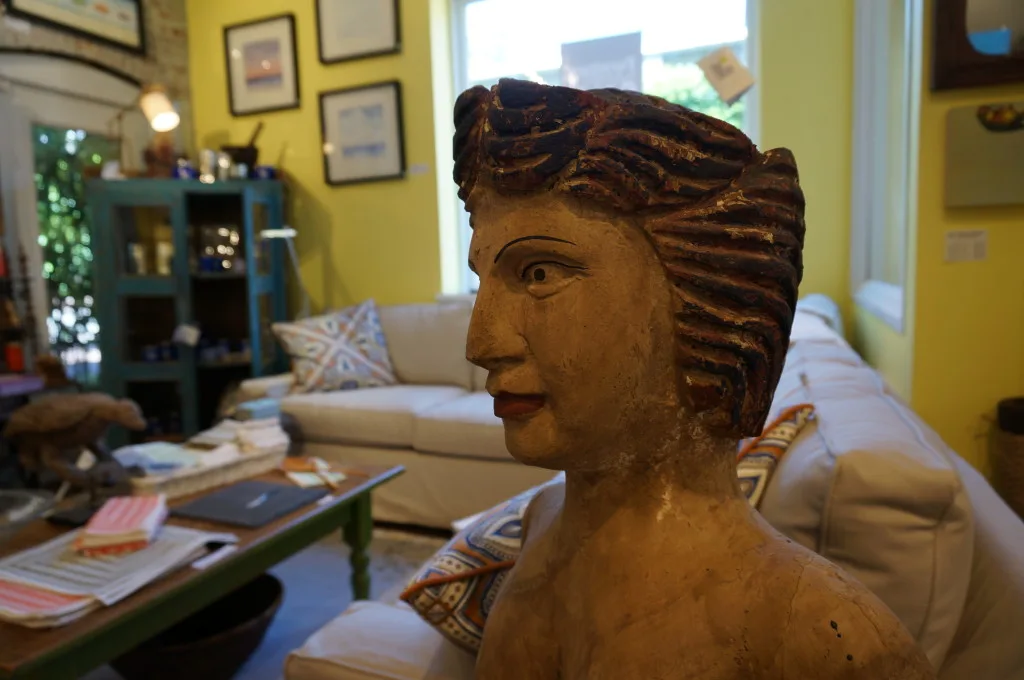 Blue Raccoon Home Furnishings is a fun shop to browse for home items and decorating inspiration.
ade-to-order upholstery selection
lend cottage and modern
A Local Chocolate Shop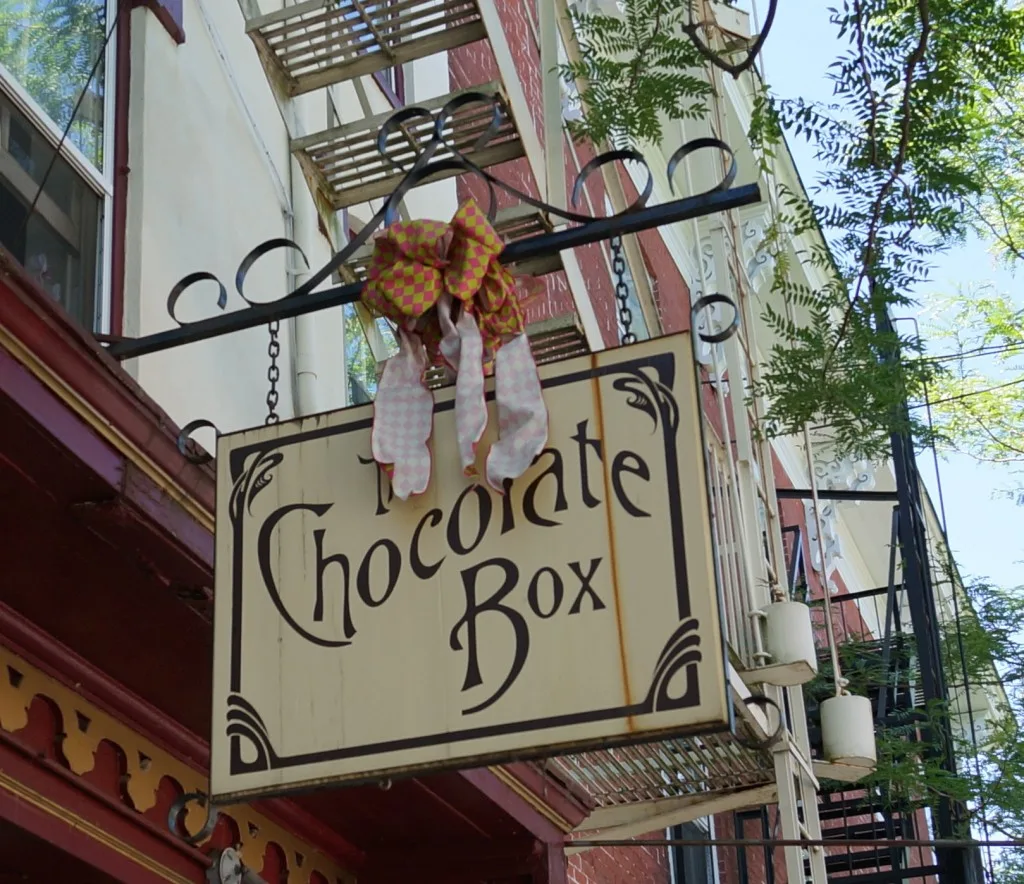 My last stop in Lambertville is the Chocolate Box, which along with European brands, offers locally-crafted chocolates– perfect for nibbling on the car ride home.
Have you done a day trip to Lambertville? Where are your favorite spots?
[box type="info" style="rounded" border="full"]Souvenir Finder Shopping Tip Sheet

What to Buy: Antiques are the main draw here, but used books, home decor and local chocolates are also worth checking out.
Where to Get it: The People Store Antique Center (28 N. Union St.); Panoply Books (46 N. Union St); Blue Raccoon; Chocolate Box (39 N. Union St)
What to Know: The tow path along the canal is a great spot for a bike ride or stroll. Lambertville has many fantastic dining options– for a quick sandwich, we loved Annie's Gourmet (5 N. Union Street).[/box]