Made in Japan Souvenirs– the perfect way to remember a perfect day trip to Arashiyama
Arashiyama is a mountainous village on the outskirts of Kyoto, and is a perfect day trip out of the city, hitting the trifecta of scenery, sights and shopping.
Great scenery? Bamboo Grove, mountains, river, bridges. Check.
Great sites? Temples, monkey forest (yes, you heard right, monkey forest). Check.
Great shopping? Streets lined with ramshackle shops, authentic, made-in-Japan crafts, sweets galore, street vendors. Check.
You arrive from Kyoto via a quick 30 minute train ride. Take a breath of mountain air as you step into this lantern lit station, then make your way to the nearby village.
Although you will be passing the shops en route to the mountain, it's always better to shop after touring, so you aren't weighed down by all your purchases.
Check out the Sights
You'll have to read your guidebooks and favorite blogs to find out about all there is to see in Arashiyama, but we can tell you not to miss the bamboo forest. Yes, this is really what it looks like.

One thing I noticed is that Japanese tourist sites are not flooded with signage or "you are here" maps. If you don't come prepared with your own maps, it is pretty easy to get lost. After passing that same sign a couple of times, we decided it was time to head back down the mountain for some shopping.
Japanese Sweets Smorgasboard
Some of the best sweets shops in Japan have their outposts here. The sweets are so beautifully packaged that you can go overboard on your purchases. This would be a mistake. Despite their precious appearance, Japanese sweets (in particular anything baked like cakes or cookies) do not always taste as a Westerner might expect them to. When will I learn that tempting dead ringer for chocolate cake is actually red beaned flavor?
Japanese Silk Crafts, Pouches and Trays
You can't miss the Chiri-men Craft Museum, right on the main drag. Despite its confusing name, this a store, not a museum, specializing in using all local Kyoto textiles in their crafts, with everything made in Japan of course. Items are made with textiles woven via the namesake chiri-men traditional weaving technique, dating back to the 16th century.
What's special about these Japanese textiles is the texture– the cloth has soft wrinkles, created by alternating two types of silk thread, giving it a slightly puckered appearance. You'll be able to tell the fine quality of these crafts right away. If they appeal to you, don't wait, get them here– the versions you'll find elsewhere will be slightly cheaper in cost but considerably cheaper in quality.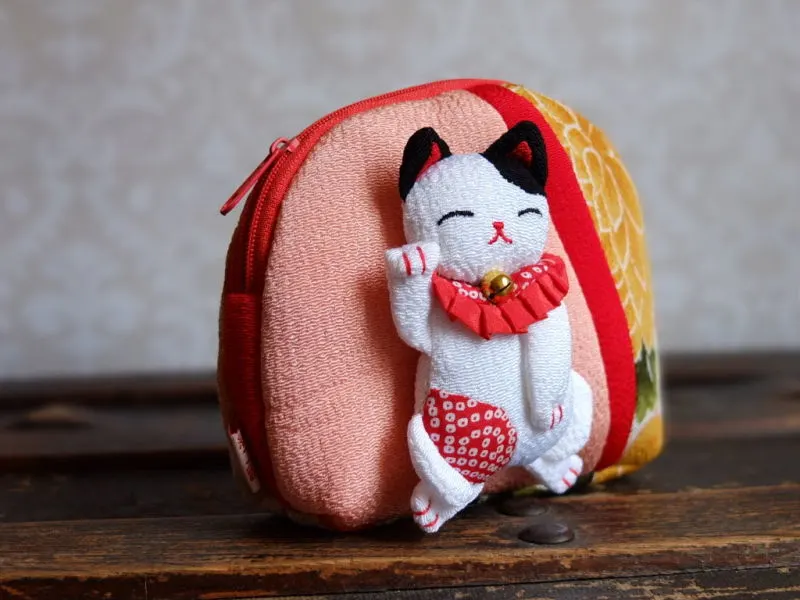 I use this handmade Japanese silk pouch as a little makeup bag.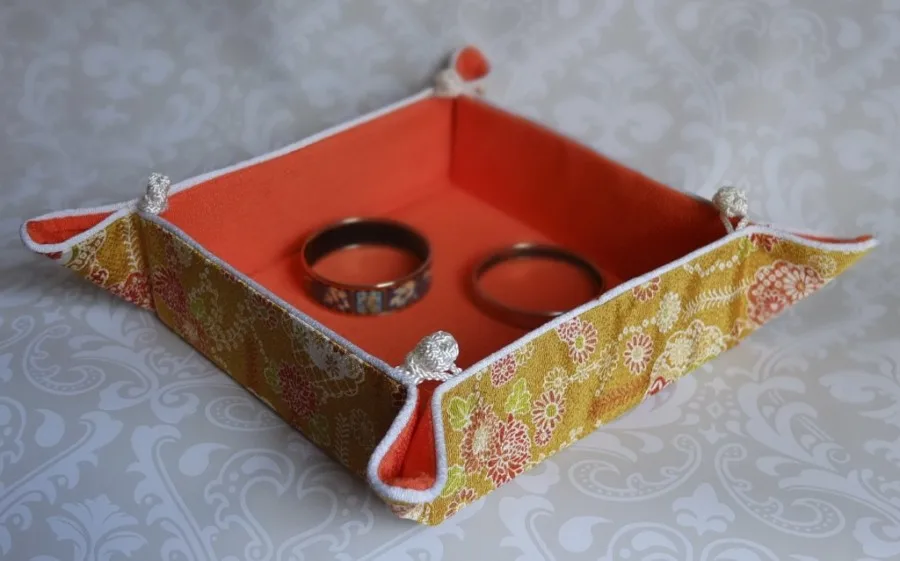 I also bought several of these Japanese silk trays, made from the same chiri-men silk. These trays make great gifts for yourself or friends who travel.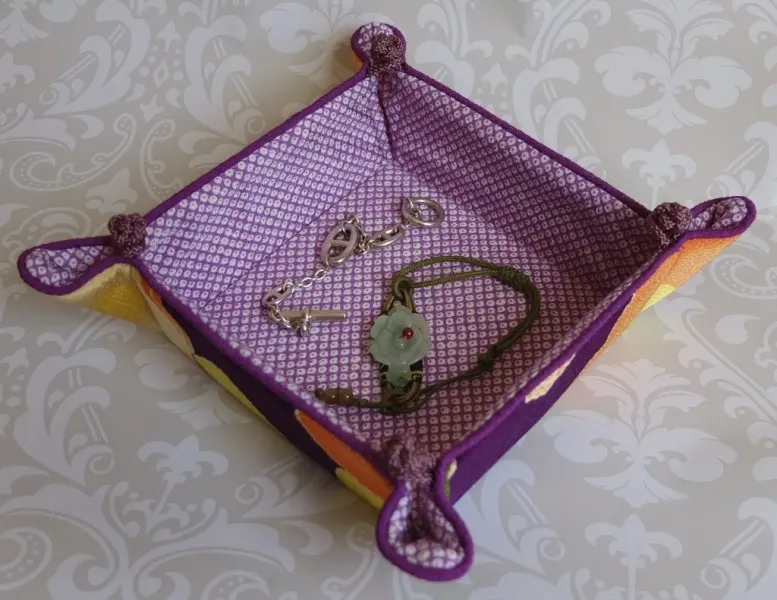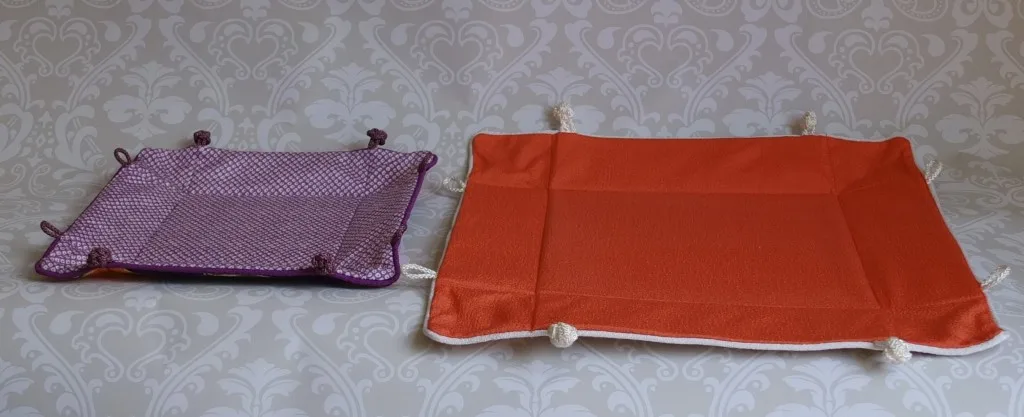 The Japanese silk trays are perfect for travel because they fold completely flat. I always put one on my nightstand in hotel rooms to keep track of my room key, chargers, and coins. At home, I use them on my dresser to hold jewelry.
Do you have a favorite spot like Arashiyama, where you can do your sightseeing and shopping all in one place? Tell us about it in the comments!
Japanese Souvenir Shopping Details:
Chiri-men Craft Museum (everything made in Japan)
Hours: 10:00-18:00
Address: 19-2. Tsukurimichi. Saga Tenrvuii. Ukvo-ku, Kyoto.
Looking for more posts about Souvenir Shopping in Japan? You may want to read these next:
Souvenir shopping Kyoto, Japan. Why Japanese customer service is the world's best.
Kyoto, Japan. Don't slip on this Imperial era shopping street or you'll be dead in 2 to 3 years.
Kiyomizu Temple, Kyoto, Japan. The road to spiritual enlightenment is paved with shops.
Souvenir shopping Kyoto, Japan. Tourist Tat Alert Cute edition.
Guide to Souvenir shopping for made in Japan kimonos and yukatas: what to buy
Souvenir shopping Kyoto, Japan. Furoshiki, some assembly required.
Souvenir shopping Kyoto, Japan. Yes, gift please.
Kyoto, Japan. Shopping Fail: Philosopher's Path
All photos by Souvenir Finder copyright 2013 except as attributed below
#2, 5, 6 by Tripping Blonde, used with permission (thanks Linds!)
#4 oishii green tea baum Japanese cake flown in in by our friends from Japan! japanese-cake-20120315-2.jpg / CC BY 2.0