Walk into the accessories section of any Japanese store and you will be floored by the trays of carefully arranged, high-quality hair pins, barrettes and costume jewelry, all sparkling enticingly like the little gems that they are.
Are Japanese women hoarding these little treasures? They must be, as I've never seen them on our shores. I took my time ogling the pretties, and wondered why I felt so…relaxed.
Then I realized that unlike in certain New York City department stores, no attendant came over to harrass me under the guise of "helping" before I'd even had a chance to look around. Instead, I was left to freely browse at my leisure, and even pick up items without fear of them being snatched away by an overly eager attendant.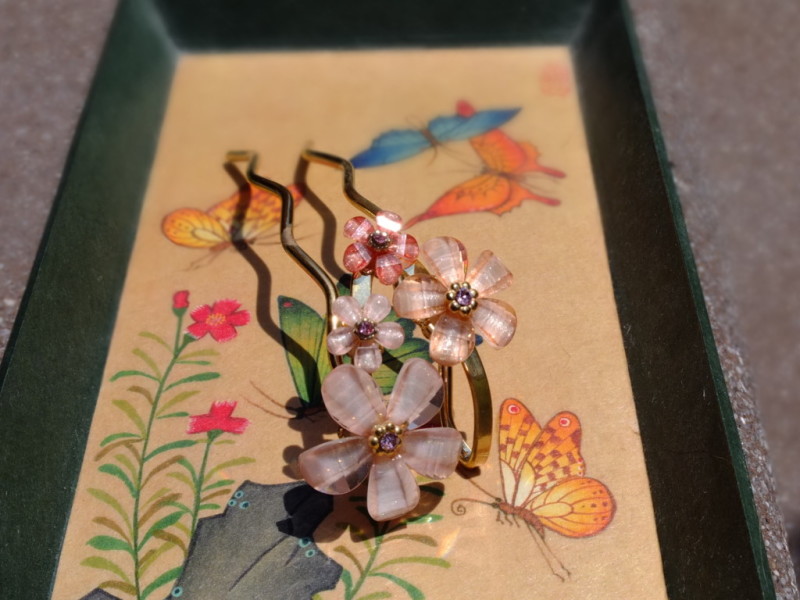 Yet despite this refreshingly unobtrusive approach, the moment I touched a hair pin I had a question about, some sixth sense was triggered and the shop attendant instantly materialized. Through a series of pantomime gestures, the attendant patiently explained the purpose of the pin.
Then, with a flurry of meticulous twists and loops, she whipped my hair up in this adorable style. Was this simply the Japanese way, taking pity on me, a hopeless foreigner, unable to master the fine art of Japanese hair design?
Nope, Japanese women all around me received similar treatment, this was just an example of everyday Japanese customer service. In other shops I watched attendants affix flowers to buns and set necklaces on clavicles with equal care.
Like this post? Keep up with the latest posts by liking us on Facebook!
Have you found fantastic customer service in your travels? Tell us in the comments below!
Japansese Souvenir Shopping Kyoto Details:
Hairpin, about $8 US.
Find similar hair pins in the accessories section of any Japanese department store or accessories boutique. Many of these products are made in Japan.
Looking for more posts about Souvenir Shopping in Japan? You may want to read these next:
Kyoto, Japan. Don't slip on this Imperial era shopping street or you'll be dead in 2 to 3 years.
Kiyomizu Temple, Kyoto, Japan. The road to spiritual enlightenment is paved with shops.
Guide to Souvenir shopping for made in Japan kimonos and yukatas: what to buy
Kyoto, Arashiyama, Japan. The trifecta of scenery, sights and shopping.
Souvenir shopping Kyoto, Japan. Tourist Tat Alert Cute edition.
Souvenir shopping Kyoto, Japan. Furoshiki, some assembly required.
Souvenir shopping Kyoto, Japan. Yes, gift please.
Kyoto, Japan. Shopping Fail: Philosopher's Path
Photo credits:
#1 Tripping Blonde, used with permission
#2 Souvenir Finder