Made in Japan Kimonos, Yukatas or bathrobes–what's the difference?
If you browse the Japan travel forum of well-known website you'll find plenty of questions from would-be visitors looking for the perfect Japanese souvenir, asking questions like, "where can I find a reasonably priced, easy-care kimono to lounge around in?"

The answer is nowhere– a kimono is not a substitute for your comfy sweats. If this visitor was imagining herself spending Sunday morning lazing about on the sofa in her easy-care kimono, ready to toss it in the washer after dribbling pancake syrup on it from that morning's breakfast, she might want to think again.
Kimonos– Not a tourist friendly souvenir
A kimono–that is, a real kimono– is an elaborate, formal, traditional robe, comprised of many separate parts, usually of hand-dyed silk, and reserved for special occasions like weddings and festivals. It is always made in Japan. As a foreign tourist, you should not consider buying a kimono unless:
You plan to attend traditional Japanese ceremonies or weddings.
You have access to a professional dresser to help you put on the up to 12 separate pieces.
You are prepared to have limited range of motion as the robe is wrapped around you in a mummy-like fashion.
You have several thousand dollars to spare.
"Dressy" yukatas– great for attending festivals and yukata parties…if you can score an invitation
After realizing a kimono is not really a suitable japanese souvenir choice, tourists then turn their focus to the yukata. A yukata is similar to a kimono in that it is worn on special occasions and is tricky to pull together, cinched by an obi belt and often requiring the assistance of a professional dresser. The difference between the two is both the degree of formality and the price. While a kimono is more like a fancy wedding dress, a yukata is more like an elegant sundress, made of cotton and topping out at only about $200 US– considerably less than the kimono, where prices can hit tens of thousands of dollars. Formal yukatas are also nearly always made in Japan.
Beyond summer festivals and strolls through certain traditional neighborhoods, there are not many opportunities for the Japanese to wear their beautiful yukatas these days. To remedy this, my friend Karen, a long-time resident of Japan, has been throwing annual "yukata parties" for the last 20 years. Karen and her friends get decked out (with the help of grandmothers, mother-in-laws or the local beauty shop), hit an atmospheric venue like a Japanese garden, and enjoy socializing over beers on summer evening.
Sadly, since I didn't anticipate getting any invitations to yukata parties back home, I reluctantly skipped this more lavish version.
"Bathrobe" yukatas– the reasonable Japanese souvenir choice.
Fear not, there is yet another version of a yukata (confusingly, it still just called a "yukata"). This yukata is is designed more like a bathrobe, with a thin tie in lieu of an obi sash. These are same the yukatas you will be given to wear if you stay at a Japanese ryokan or hot spring resort and are intended to be worn after a bath or as loungewear. While ryokan's yukatas stick to traditional blue and white patterns, Japanese shops usually have lots of vibrant colors and patterns to choose from.
Tips for yukata shopping in Japan
If you visit Japan during the summer, you're in luck– yukatas are a seasonal item and any department store will be well-stocked. If you come any other time of year, you'll have to stick to the tourist shops.
While shopping at designated tourist shops is not nearly as fun as shopping in a Japanese department store, you can still get a quality yukata there. Just make sure it's 100% cotton and is labelled made in Japan. But because I was determined to get the "best" yukata available, I bypassed perfectly acceptable yukatas to hold out for what I had read was the holy grail of yukatas– Kyoto's Nishjin Textile Center.
Unfortunately, the Nishjin experience was a bust– inconveniently located, drab and grey– it looked more like an office building than a crafts center. Inside the building was not much better, it almost reminded me of those popular warehouse type stores– except packed with bus loads of tourists. Yes, there was a weaver or two you could watch at work, and everything there was undoubtedly made in Japan if not made right there in the center, but the dreary atmosphere made it less than appealing.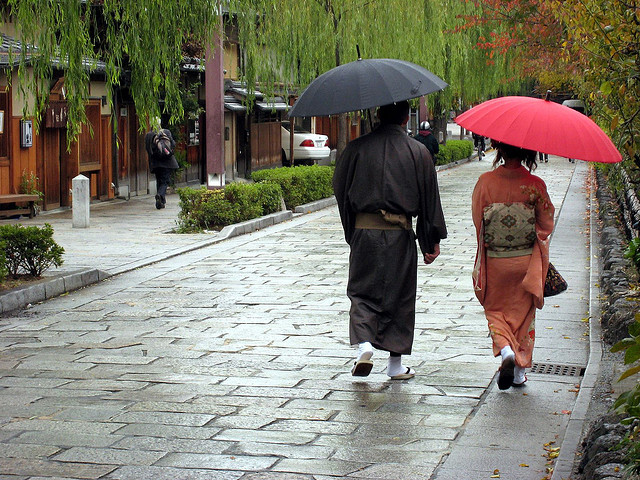 It's much more fun to watch the real life fashion show on the streets of Kyoto, where you might see locals wearing their yukatas on a day out, or kimono-clad geishas on their way to work. And while the quality and selection of the yukatas at Nishjin was better than other shops, it was only marginally so, and definitely not worth the two hour detour. Disappointingly, the other textile items at Nishjin seemed dated and overpriced compared to other places we'd visited in Kyoto and Arashiyama.
Although I wouldn't recommend the Nishjin as a detour if time is tight, I was still happy with the yukatas I came home with. I bought both a woman's and a men's yukata (about $45-50 US each, both made in Japan). I wear mine like a regular, lightweight bathrobe.
Keep in mind that although your options will be limited and prices will be slightly higher, for convenience's sake, you can always pick up a perfectly adequate yukata at the airport on your way out.
[box type="info" style="rounded" border="full"]Souvenir Finder Tip Sheet
What to buy: yukatas (not kimonos)
Where to buy:


Tourist shops like Oriental Bazaar, 5-9-13 Jingumae, Shibuya-ku, Tokyo, about $35 (check the label to make sure it's made in Japan)
Nishjin Textile Center, Horikawa Dori,Kyoto $40-$60 (lots of Japanese souvenirs but not near any Japanese tourist attractions)
NRT airport (check the label to make sure it's made in Japan)
What to know: Make sure to find a yukata that comes with its own tie if you want to wear it casually around the house– more formal yukatas require an obi tie.[/box]
Special thanks to Karen Stafford for her insider information on the world of kimonos and yukatas and for sharing her lovely yukata party photos.
Photo Credits: Credits: All photos by Souvenir Finder except for those used with permission or under the terms of creative commons licenses, as indicated. Attributions available by clicking on photo and repeated below:
#1 Kimono / http://creativecommons.org/licenses/by-nc-sa/2.0/
#2, 3, 4 Karen A. Stafford
#6 Nishijin obi / http://creativecommons.org/licenses/by-sa/2.0/
#7 IMG_0435 / http://creativecommons.org/licenses/by-sa/2.0/
#8 IMG_0432 / http://creativecommons.org/licenses/by-sa/2.0/
#9 cc licensed ( BY SA ) flickr photo shared by Steph Gray
#10 Kyoto Stroll / http://creativecommons.org/licenses/by/2.0/