Hungarian Supermarket Shopping: Lost in Translation
I loved shopping the Hungarian supermarket for souvenirs– the packaging, flavors and type of items were all so different looking than anything I'd seen in other European countries. But while being unable to read foreign labels can be a fun adventure, full of surprises, it's also a risk. Sure it's not a big deal to get a dud item now and then, but accidentally bringing home meat through customs? Not a great move. I also wanted to make sure the items I was photographing and buying were in fact from Hungary instead of imported from neighboring countries (yes, my lack of comprehension of Hungarian was so terrible that I couldn't even recognize words like "made in Hungary.")
Fortunately, Hungarians are super friendly, so when I reached the all-important candy aisle, I recruited a stylish young local to help me out. For the rest of the market, I was on my own and just snapped photos of what looked interesting and hoped I would be able to figure out what they actually were later (I ended up having to post several photos in a Hungarian forum with a plea for translations– as a bonus, I got some great tips from locals along with the translations).
What Food Souvenirs to Buy in a Hungarian Supermarket
1. Paprika
If you haven't already bought your fresh Hungarian paprika from the Central Market (read our shopping tips here) or other local farmers market, the supermarket is a decent alternative. While the paprika won't be market-fresh, it will still be better than anything you'll find on your grocery store shelves back home.
2. Goulash paste
Goulash paste comes in two versions– as a delicious condiment for sandwiches and as an easy shortcut to make your own goulash. I bought both versions at the Central Market, but saw similar options at the supermarket.
3. Other Hungarian Condiments
While I stocked up on plenty of paprika and goulash paste in Budapest, I regret not trying some of the other Hungarian condiments. Here's a sampling of the huge variety of the Hungarian condiments lining supermarket shelves.
4. Hungarian Candy
Hungarians must have a sweet tooth because the shelves were packed with different types of candy. So I was relieved when a local woman helped me sort through the shelves, picking out the best and most popular Hungarian candy bars. I went home with a stack of candy and enjoyed it all. I can't put my finger on what is different about Hungarian chocolate, but it definitely has a distinct flavor from chocolate you'll find elsewhere in Europe.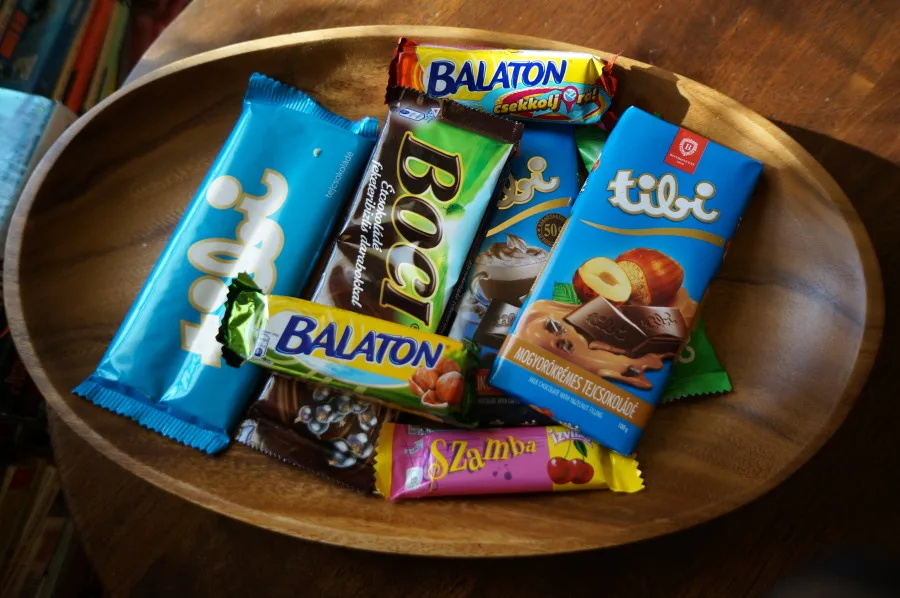 Popular Hungarian Candy Bars:
Balon–

Named after a Hungarian lake, these tasty chocolate covered wafers.

Sport Bar– despite its athletic sounding name, these chocolate bars are noted for their rum flavor.

Tibi– a popular brand of standard chocolate bars, available with different nuts, coconuts and other variations.
Cerbonna– like a granola bar.
Szamba– chocolate-rum candy bar
Túró Rudi– a chocolate covered cream cheese bar, inspires strong opinions– you either love it or hate it.
5. Hungarian Jam and Preserves
6. Hungarian Honey
I was surprised to learn that Hungary is one of the European Union's largest producers of honey. Look for Robinia pseudoacacia (flower honey).
7. Canned Meats
When I put these photos up pf canned meat items in a Hungarian forum and asked for help identifying them, one local expressed concern about what outsiders would think about Hungarian supermarkets. Just to clarify– these are not necessarily the most popular Hungarian items– just the most unusual.
From left to right:
"various meat stews" featuring innards (something like a haggis)
beans with sausage
"hamburger-flavor toast spread."
8. Spices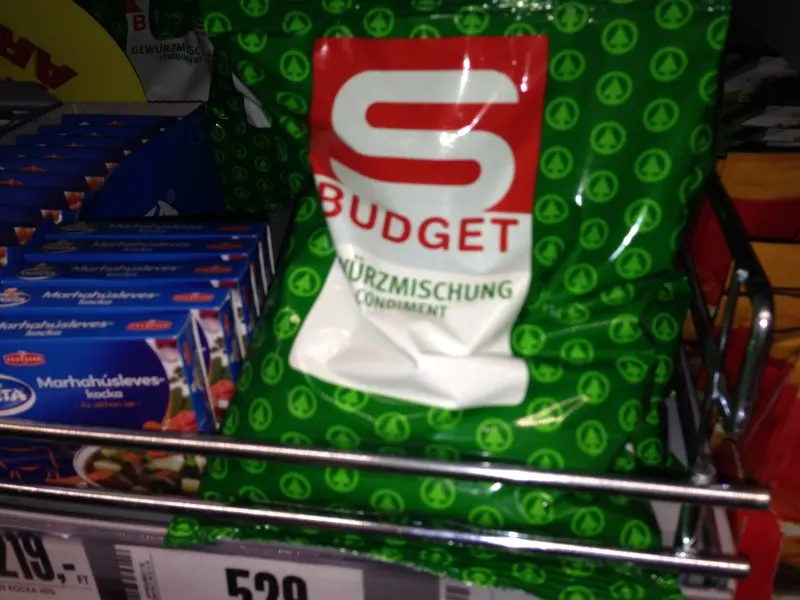 I was curious about this bag of "Würzmischung condiment." Turns out it's a spice mix– combining nutmeg, coriander, pepper and bay leaves and is often used to season vegetables.
Have you visited a Hungarian Supermarket? Share your favorite finds in the comments!