If you haven't had enough of Bangkok's spectacular markets (see my two posts on Chatuchak here and here), consider visiting a slightly different Thai market– in Bangkok's Chinatown. While it might not seem obvious to visit Chinatown in Thailand, Chinatown is very much a part of the local Thai culture. I've visited Chinatowns in New York, San Francisco, London and Yokohama, so why not Bangkok? Afterall, Bangkok's Chinatown is one of the largest in the world, dating back to 1782 when Chinese merchants settlers started selling their wares here.
What I loved most about Bangkok's Chinatown is the sense of place. Wandering Bangkok's Chinatown is a sensory experience– narrow alleyways, steaming pots and colorful exotic fruits make the area a photographer's dream. Street vendors will tempt you with dumplings, noodles and other Chinese specialties. And for bargain shoppers seeking interesting but incredibly cheap souvenirs, Chinatown is the place to go.
What Souvenirs to Buy in Bangkok's Chinatown
My souvenir guide is just a sampling based on a quick walk through– there are so many vendors here it would be impossible to list them all. Head to Trok Issaranuphap. This ancient lane feels like a time warp and is perfect for shopping and photography.
Beads, Necklaces, Bracelets and other Baubles
We saw several vendor shops and stalls selling strings of beads (ready to be crafted into necklaces or bracelets, along with ready-made costume jewelry.
Hair Combs
I find Asian countries always have the best hair accessories– I loved the sparkly display of hair pins here.
Durian
In many Southeast Asian countries you'll be able to find that controversial fruit, Durian. The odor has been said to be so obnoxious that eating the fruit it banned on some countries' public transportation systems.
I've read the flavor of durian described as innocuously as "cream-cheese, onion-sauce, sherry-wine, " while or as horrendously as sewage, stale vomit, skunk spray and used surgical swabs. As someone with a weak stomach and a long memory for unpleasant flavors, I decided to skip the taste test.
But if you'd like to bring back Durian to try with friends back home, packaged is the way to go. I actually brought home innocently packaged Durian stuffed cookies for a friend and did not tell them of the contents. My friend nearly wretched but her husband munched them down, unaware and unconcerned.
Pink Century Eggs
These pink eggs are supposedly Thai, but a twist on the original Chinese version of century old eggs. The eggs are preserved (I've read that originally they were preserved in horse urine but are now preserved using more innocuous elements like lime, clay, salt, and rice hulls). Despite my exhaustive googling, I still can't really figure out why they are pink (presumably they are colored this way and not laid by pink hens).
Good Luck Novelty Items
I couldn't tell you what precisely all the assorted items mean (wrapped gold coins, etc) but many of them have a symbolic meaning, mostly designating some kind of good luck. The hanging toy cars, I'm not so sure.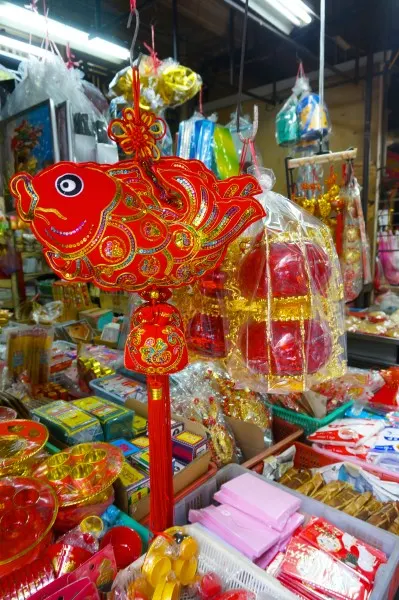 What to Eat in Bangkok's Chinatown: a Photo tour
We had a spectacular lunch ready for us at a nearby hotel, so we didn't have the chance to sample the delicious offerings here but the scents were heavenly.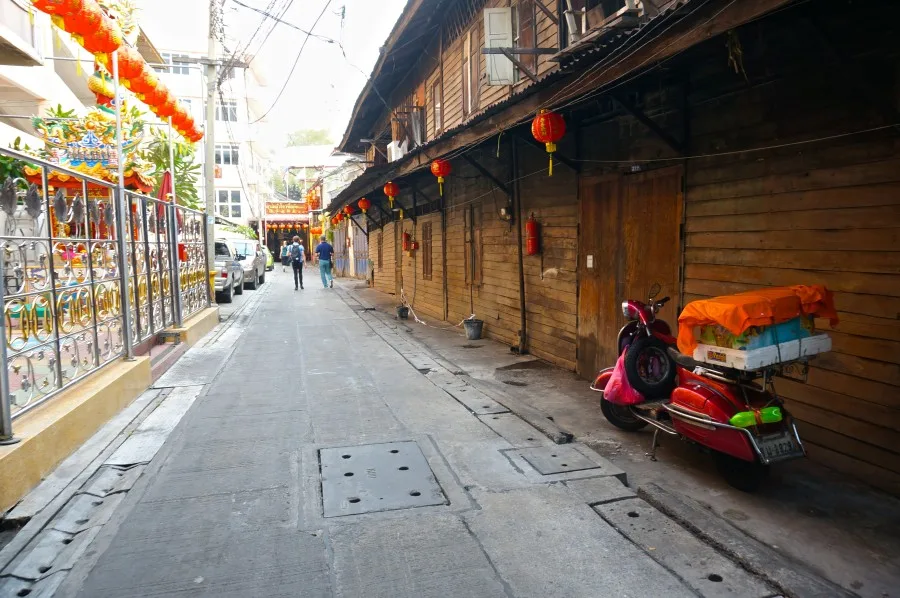 Have you been to Bangkok's Chinatown? What city has your favorite Chinatown?