In case you missed our last post, we featured all of the fabulous things to shop for at Bangkok's Chatuchak market (that's JJ market to you locals).
But it's impossible to just shop at JJ market. You can't walk more than a few feet without being tempted by lollipop-colored drinks, sizzling Thai specialties and luscious desserts. I only wish I had known about the market's incredible food stalls beforehand– maybe I wouldn't have had a such huge lunch before arriving. Consider yourself warned and come hungry.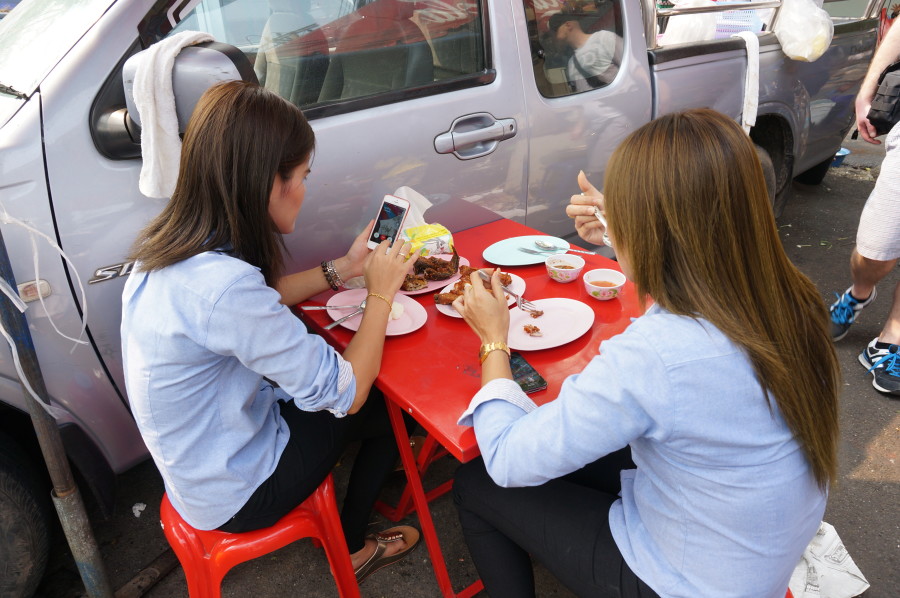 The Shopper's Guide to Eating and Drinking at Chatuchak Market
1. Thai Fried Chicken
"I couldn't possibly eat another bite" I told my friend Anne as she drifted over to the food stalls.
"But fried chicken!"
And then we saw this bubbling cauldron and realized that "full" was simply a state of mind.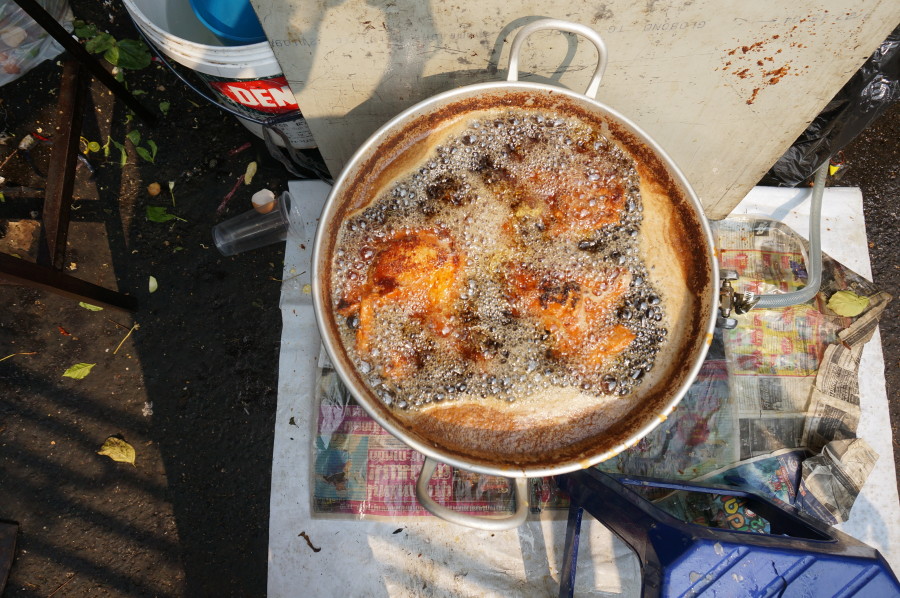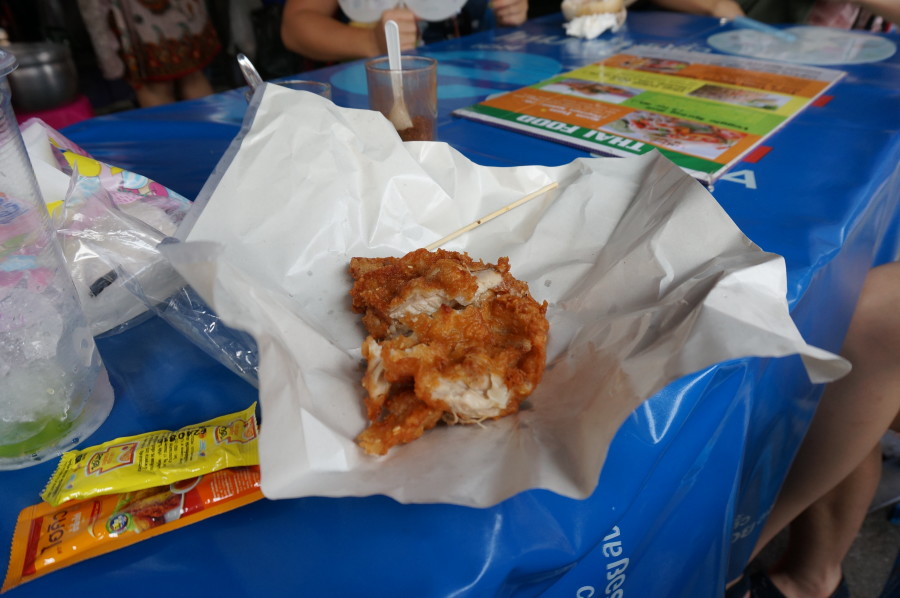 I've had Southern fried chicken, Korean fried chicken, Filipino fried chicken and Portugese fried chicken. Since I was clearly on my way to becoming a global fried chicken expert, I couldn't turn down the opportunity to add yet another country to that list.
Yes, the Thai fried chicken was as delicious as it looks– crunchy and tender, with a subtle kick heightened by the accompanying (and addictive) sauces in the little plastic pouches. Make sure to grab several sauces for dipping.
2. Thai Papaya Salad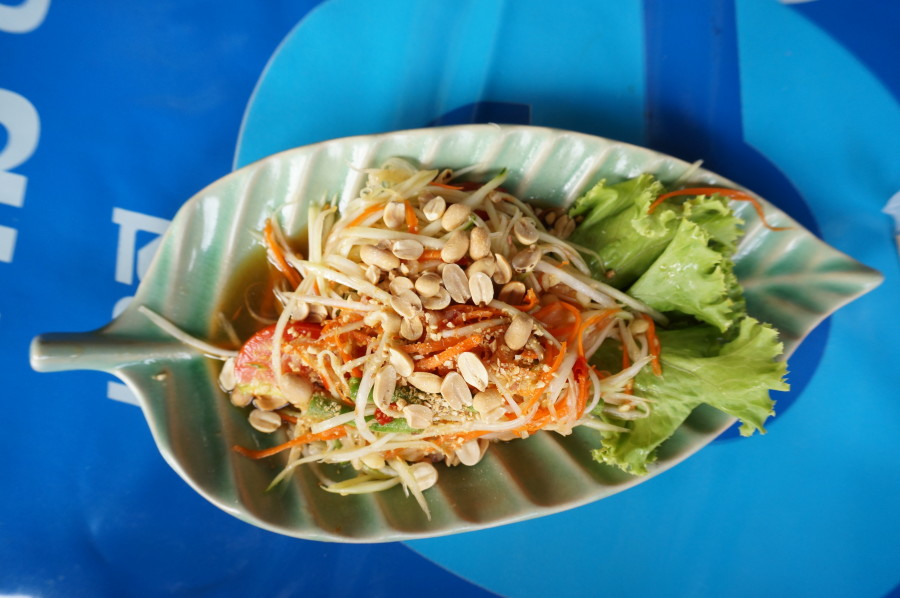 We sampled classic Thai papaya salad everywhere we went. I'm not sure if it was coolness of the papaya on a scorching hot day, or the fact that it had just the right bite– but this version was our favorite.
3. Meat on a stick
Every culture seems to have their own version of "meat on a stick." At Chatuchak market we saw look chin (beef, chicken and pork balls on a stick) as well as pong neng (fried wheat with sausage on a stick).
4. Seafood Snacks
It was fascinating to watch the Chatuchak vendor make these fish balls (which were pretty popular judging by the lines). Fresh prawns on the grill looked tempting too.
4. Refreshing Treats and Sweets
Luscious-looking strawberry yogurt parfaits.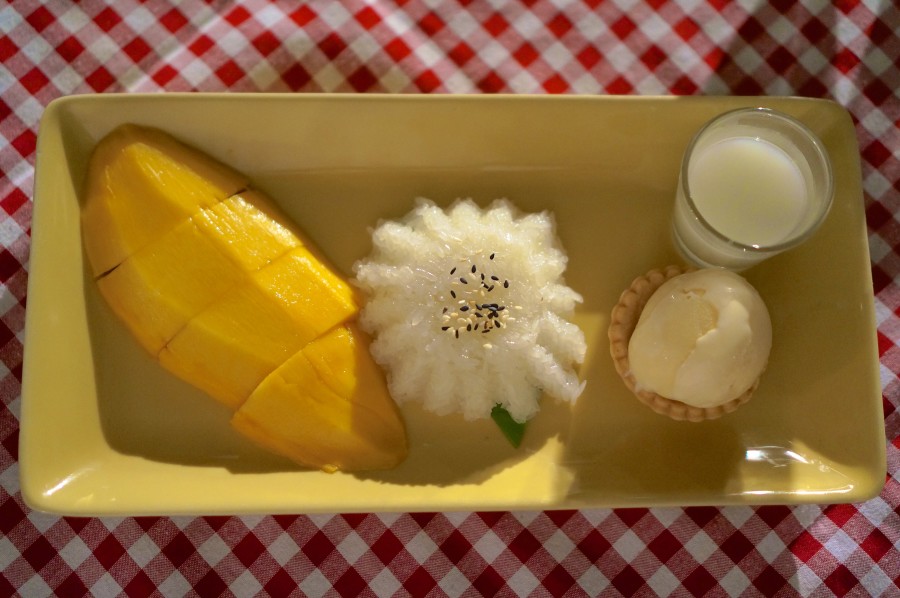 When I first heard of mango sticky rice I wasn't exactly sure of what it was– was it a side dish, a main dish, a dessert? While Thai mango sticky rice is most often eaten as a dessert, it isn't pure sweet like most Thai desserts. The savory, slightly salty rice mixed with sweet mango is what gives this dish that indescribable umami flavor that we just couldn't get enough of.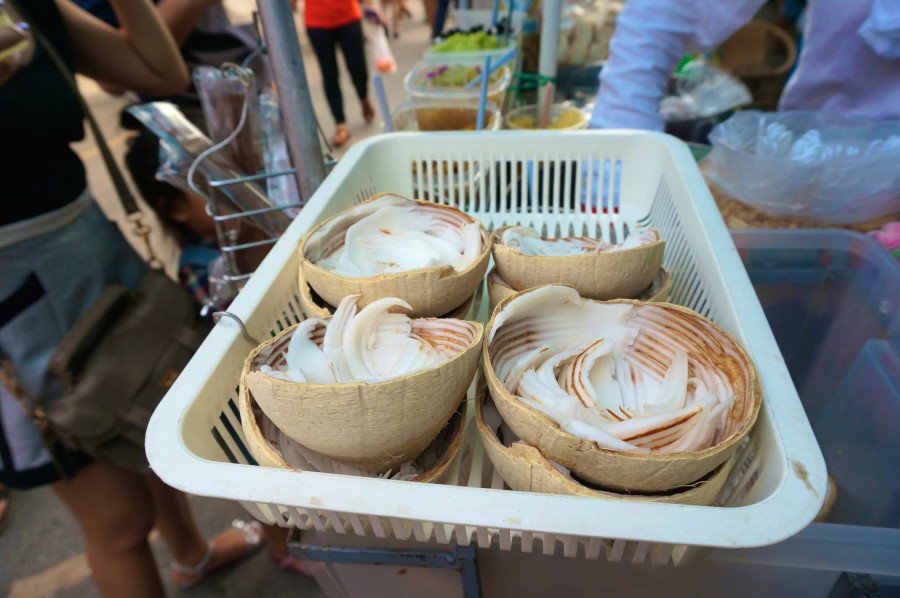 5. Cool Drinks
We kept refilling with these refreshing drinks– lightly-flavored served over slushy ice (we tried the coconut and lime flavors). A syrupy sugar is usually added to the cup, but if you aren't a fan of sweet drinks, ask the vendor to skip it.
6. Novelty snacks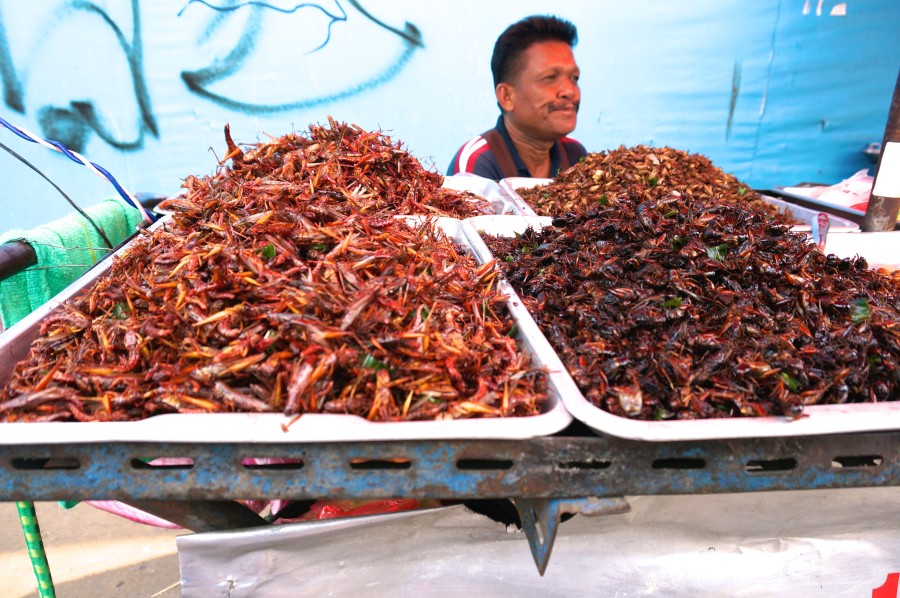 I'd read a lot about the famous Southeast Asian fried insects– but rarely saw them on my visit. This Chatachuk vendor had an ample supply, but we decided to skip it this time.
Have you tried these Chatuchak market street food favorites?
[typography font="Trocchi" size="24″ size_format="px"]More Pinterest-Friendly Images[/typography]