Where can you find a market filled with innovative, indie designers, pour-over coffee from just roasted beans, and unique, locally-sourced edible treats?
Nope, we're not talking about the latest overhyped Brooklyn market. At the literal other side of the world, in Bangkok, Thailand, sits a market so cool and so brimming with souvenir bargains that market junkies everywhere will want to book the next flight over. Welcome to Chatuchak market (known as "JJ market" by locals). At Chatuchak market you'll find no hipster attitude or inflated prices– just welcoming Thai smiles and prices so low you'll do a double take.
For some reason, Chatuchak market remains a hidden gem to those outside of Thailand. While I'd read about Chatuchak market before in other blog posts and guide books, nothing I read really distinguished it from any other market. Nearly every article I read about Chatuchak offered nothing more than generic advice like "come early" or "don't forget to bargain," accompanied at best by a couple of grainy photos, offering no insight as to why the market was worth a stop.
So in my excitement to share my love for JJ market and to remedy the lack of photos I found elsewhere, I may have gone a little overboard– get ready for a visual overload. And because you really can't shop Chatuchak market without stopping to rehydrate and snack every few feet, we've prepared a second post to supplement your shopping experience, focusing on all the delicious snacks and drinks at the market (look for our eating guide coming up next).
[box type="info" style="rounded" border="full"]Shopping tips for Chatuchak Market
Opening hours. Chatuchak Market is only open on the weekends, 6 am to 6 pm.
Navigating the Market. Chatuchak market is enormous, with over 15,000 stalls covering 70 acres. You can plot your course via map in advance, or you can just wing it like we did. Once you arrive, you can pick up a map at the information booth. Fortunately, the market is divided into sections (eg women's clothing is in one area, handmade goods in another), so it's not as overwhelming as it might seem at first.
Bargaining. Like all markets, bargaining is expected at many stalls, especially those selling mass-produced goods. When shopping for artisan goods directly from the craftsmen, bargaining is less common. But the prices are so low anyway that you'll find that you want to pay full-price to these talented and hard-working craftsmen.
When to visit Chatuchak market. While it would be better to come early to avoid the heat of the day, don't let that deter you from visiting later in the day if that's more convenient. On our visit, we were both suffering from serious jet-lag (I flew in the night before and Anne literally just got off a flight from San Francisco that same morning). We ignored all advice to hustle over there first thing and instead took the morning to relax, then indulged in a famous Thai massage before heading over to JJ in the early afternoon. After reading all the reports, I was expecting to be choked by the heat, but didn't find it any worse than a New York City heat wave. I'm used to navigating crowds so that didn't really phase me either– the market is so large that if a particular section is packed, just move on to a less crowded one.
Transportation to JJ Market. Sure you can take the sky train to save a little money and avoid traffic, but don't rule out the comfort and convenience of an air-conditioned taxi. We paid only 150 baht ($4.50) each way from our hotel straight to the market's door.
Bring cash.
Come hungry. You'll regret having eaten beforehand once you see the delicious food and drink here– more on this in our next post.[/box]
What to Buy at Chatuchuk Market
With over 15,000 stalls, you'll find a little of everything at Chatuchak market– it is really a souvenir shopper's dream. While my favorite stalls carried handmade goods made by local artisans, I'm an equal opportunity shopper. I loved sorting through even some of the less artisanal (and dare I say, even mass-produced) goods. Unlike New York flea markets, where mass-produced means piles of tube socks and hair conditioner, the more mass-produced items here were not only cheap, but also diverse and even downright cute. We were tempted by cheap but pretty frocks, colorful strings of beads, and sporty backpacks– none of them handmade– and bought an assortment of both local and who-really-knows-where-it's-from souvenirs.
1. Thai-made Home Goods, Decor and Accessories
Most of the markets I've been to are made up of rows of collapsible card tables, each table indistinguishable from the next, other than by the varying goods littering the tabletops.
But JJ market is different– you'll find no hastily propped up card tables– each vendor is set up in an individual stall. Some of these stalls are barebone, with goods stuffed into every nook and cranny. But other stalls could pass for a chic city boutique, complete with custom lighting, tasteful decor and well-thought out displays. Perhaps the most "boutique-y" of all the stalls were predictably, those selling home decor.
We noticed the use of natural materials and earth tones dominated the home decor selections.
Looking for decor with a more exotic Thailand bent? I think this gilded throne does the trick. You'll also find plenty of Buddhas here, but be warned– Thai consider it culturally offensive for foreigners to buy buddhas for decorative purposes (not to mention you might need an export license to take one out of the country).
2. Women's Colorful Clothing: Dresses, Skirts and Tops
We found a mix of high-quality women's clothes (like these gorgeous elaborately embroidered skirts) and cheap but cheerful frocks that I wanted to buy by the armload. The cute sundresses above are about $6.00 each.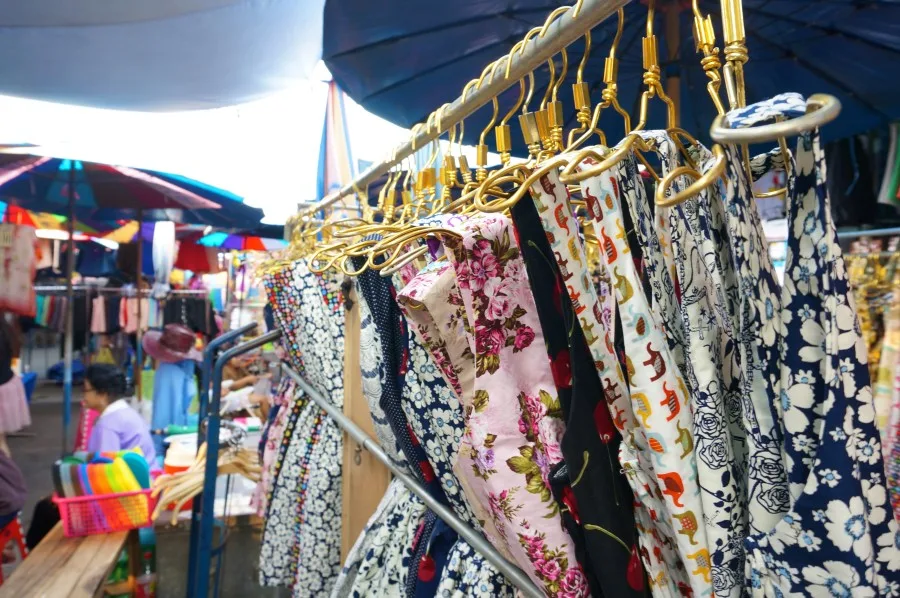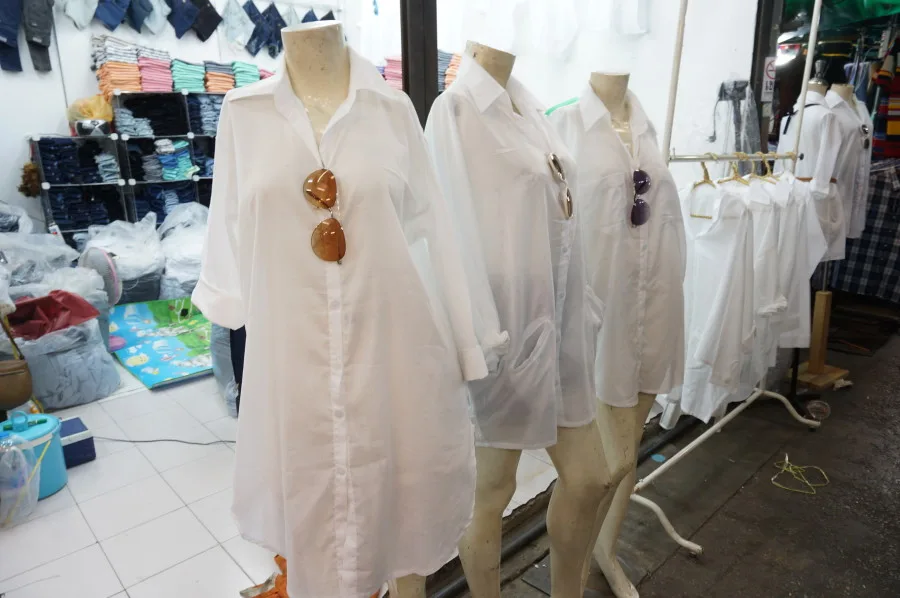 While the cotton dresses were my favorite, we also found silky soft tee shirts (these $4 shirts reminded me of my $80 Splendid tops I buy in New York) and fun finds like these elephant tees.
3. Thai Art and Prints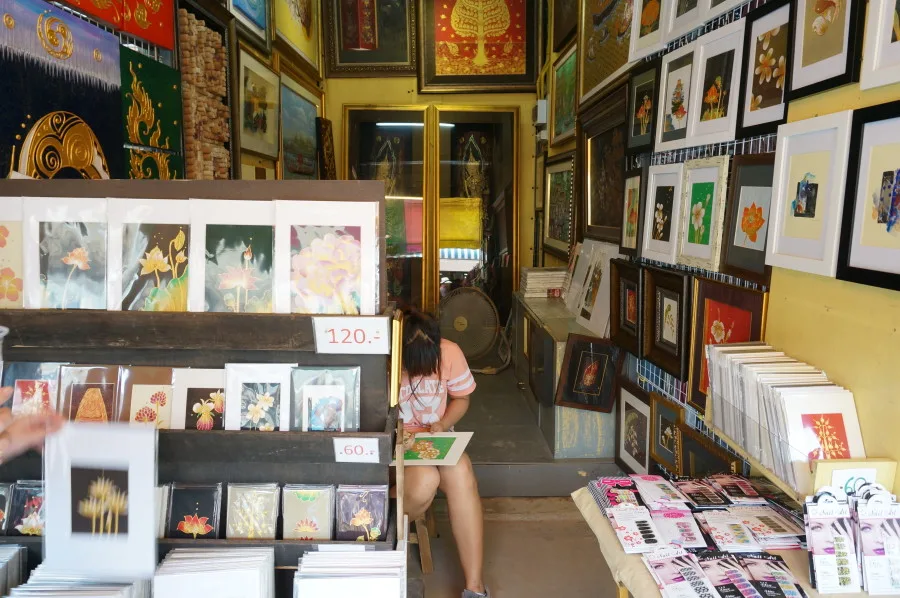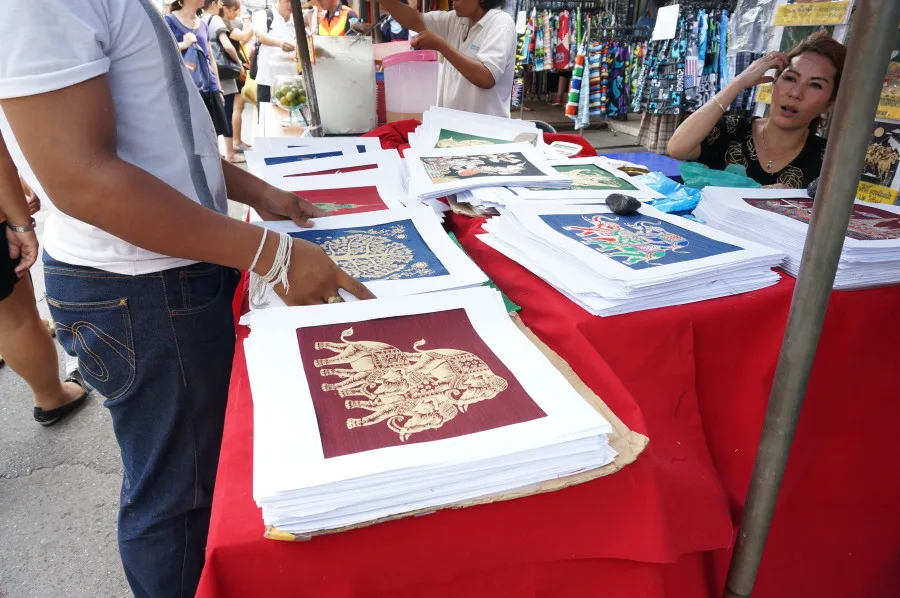 Shopping for art abroad can be tricky. Depending on the piece, it might be hard to work back into your decor back home. But the Thai art we saw at Chatuchak not only reflected the themes of the region, but also was simple enough to easily mesh with any modern decor. We loved the colorful lotus flowers and bright, graphic elephant prints. Not every piece of art is handmade here (price can be an overall guide), so if that's important be sure to ask (vendors are generally honest about their wares).
4. Thai Scents and Essential Oils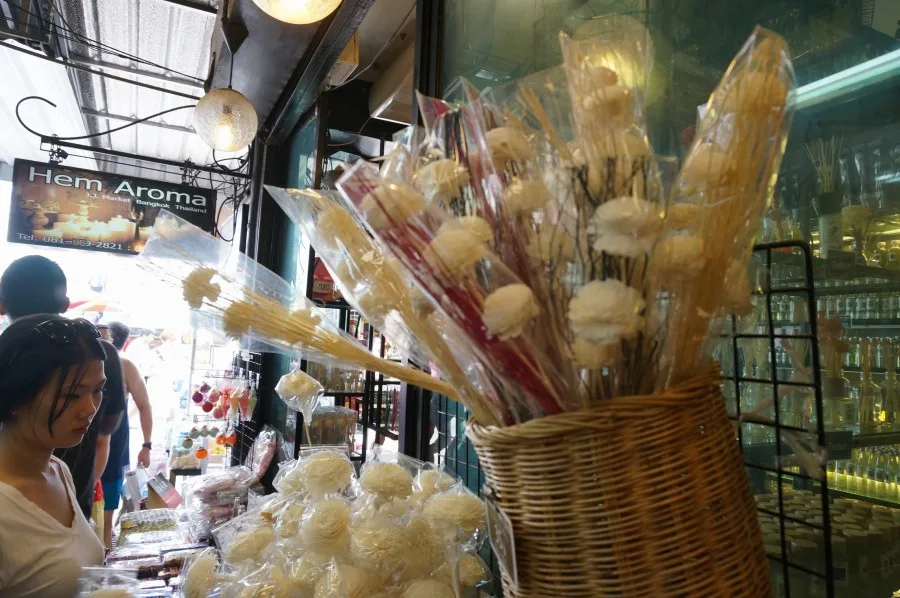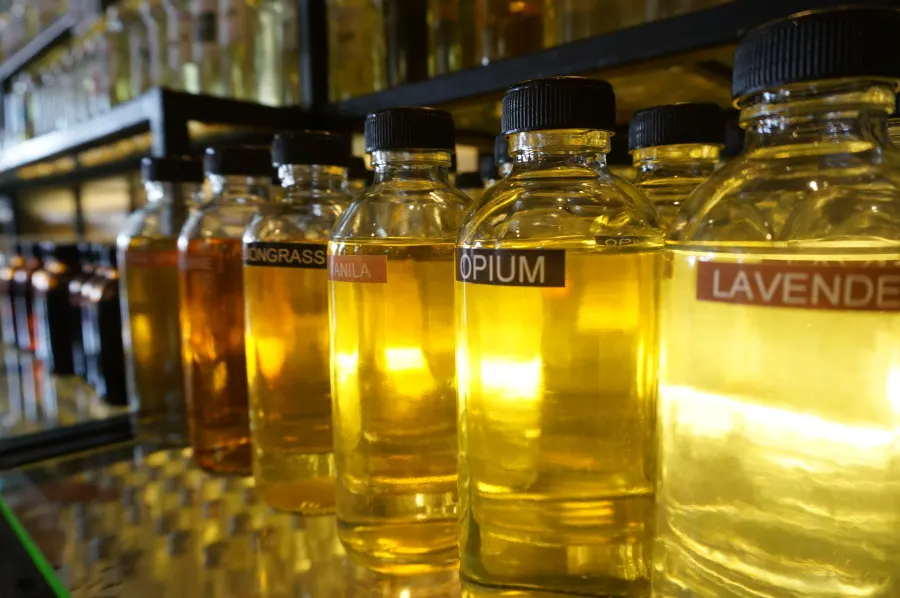 At JJ market, you'll be enticed into these fragrant oil stalls by their intoxicating scents. Inside you'll find every kind of incense, scented oil and perfume imaginable, in exotic scents you don't typically find back home.
5. Carved and Scented Soaps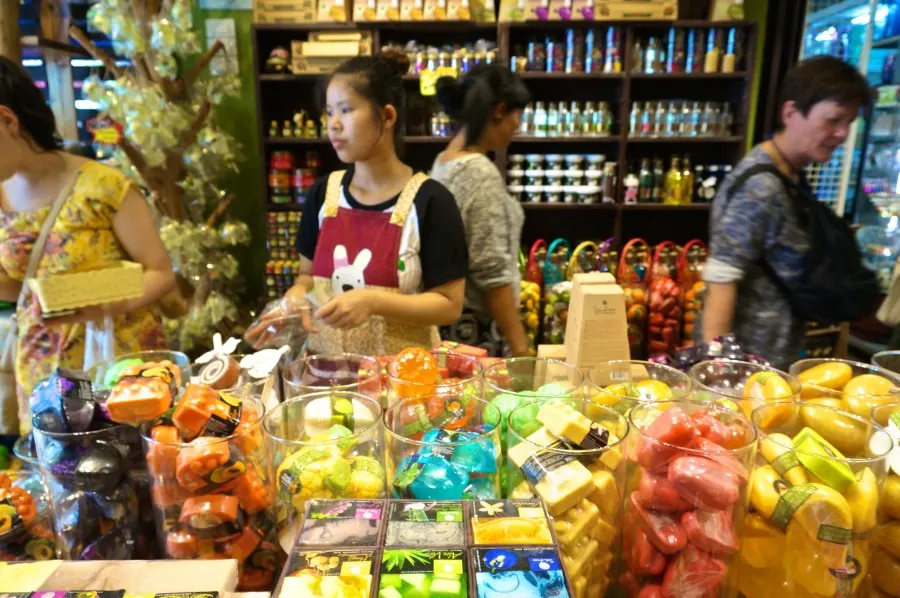 Thai soaps are a perfect souvenir or gift for the person who has everything. You'll find beautifully carved soaps and unusual scents you won't find anywhere else– green tea, grape, even turmeric. At $1 a soap, it's easy to scoop these up by the dozen.
6. Local Thai Coffee Beans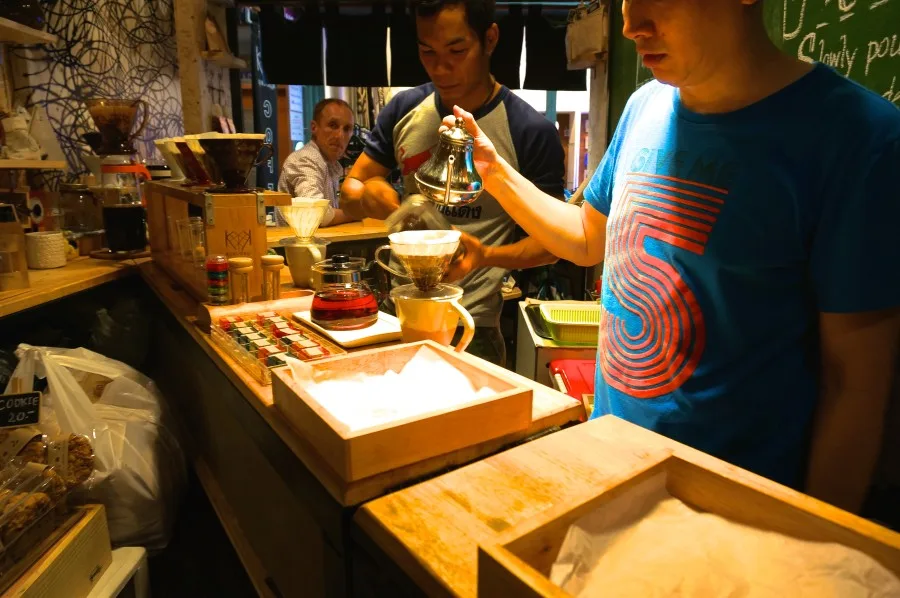 You may be surprised to learn (as I was) that Thailand has its own coffee plantations. After sampling the insanely delicious local coffee here, it was a no brainer to pick up several bags for home (stay tuned for an in-depth future post on Thai coffee).
7. Thai Elephant Pants
If you aren't yet familiar with Thailand's ubiquitous elephant pants, you will be after visiting Chatuchak (or pretty much any market in Thailand).
8. Handmade Asian Paper and Stationary
There's a long and fascinating history of paper-making in Asia. Paper can be made from rice, mulberry bark or other indigenous materials. At JJ market, you'll find handmade paper from Thailand (and other Asian countries), wood-cut post cards, and general paper products in a rainbow of colors.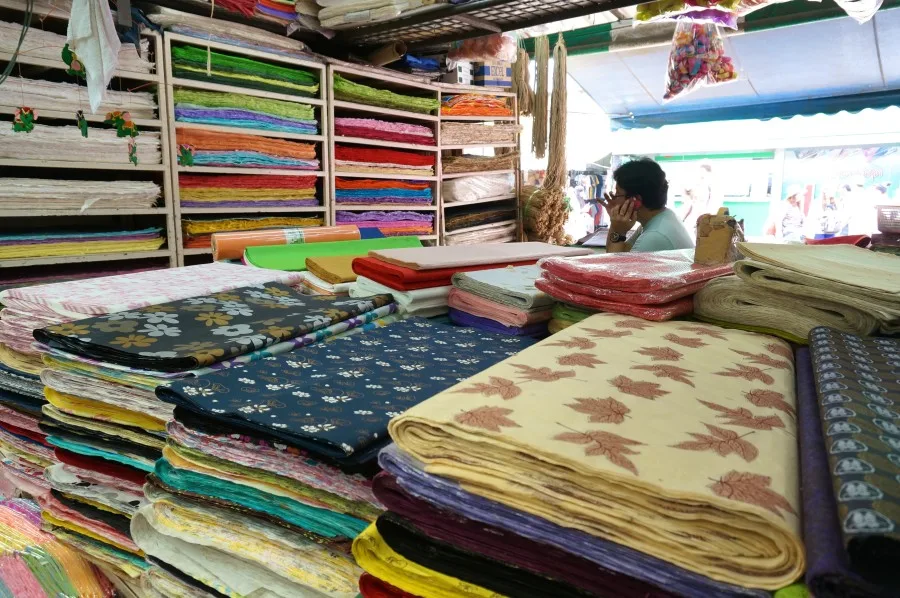 9. Kids Toys, Clothes and Thai Gifts
Chatuchak Market is a great place to stock up on little gifts for your favorite kids back home– especially if they love elephants.
These Thai elephant bags were so adorable I seriously considered buying one for myself.
10. Bags and Wallets
I felt like I hit a goldmine when I spotted this family's stall featuring handmade wallets, zip-out tote bags, journals and more.
11. "Pashmina" scarves
You'll see so-called "pashmina" scarves everywhere in Bangkok, including at Chatuchak market. Are these scarves really genuine cashmere as the label denotes? My take is that at $3 a scarf, who cares. The colors were bright and pretty and if they last a season I would feel satisfied that I got my money's worth. Personally, I doubt they are pure cashmere– my best guess is a mix of cashmere/wool/viscose. Lightweight and easy to pack, I snared three of these.
12. Costume Jewelry, Beads and Glitz
The costume jewelry fan could spend hours in these stalls. The prices were about 75% to 90% less than what I would find at my local accessories store.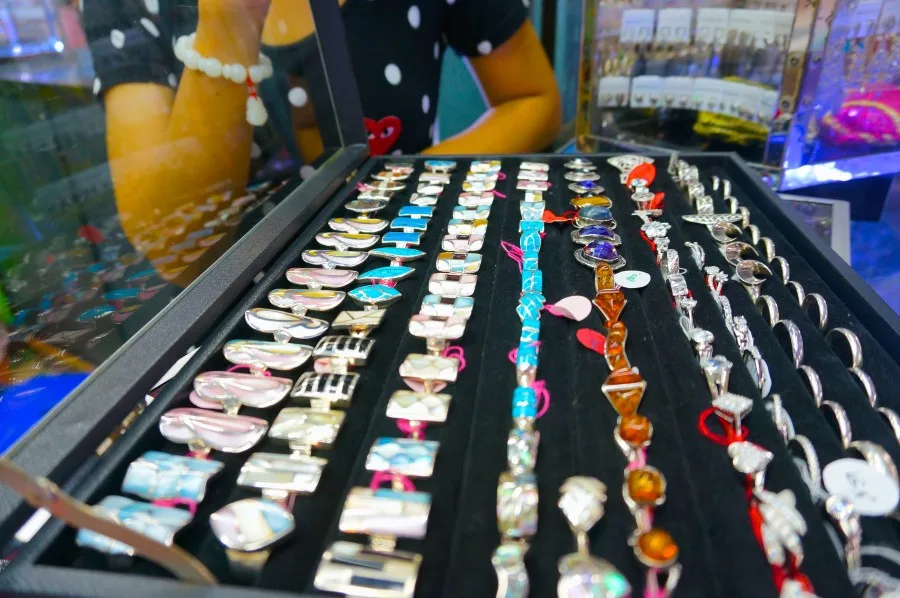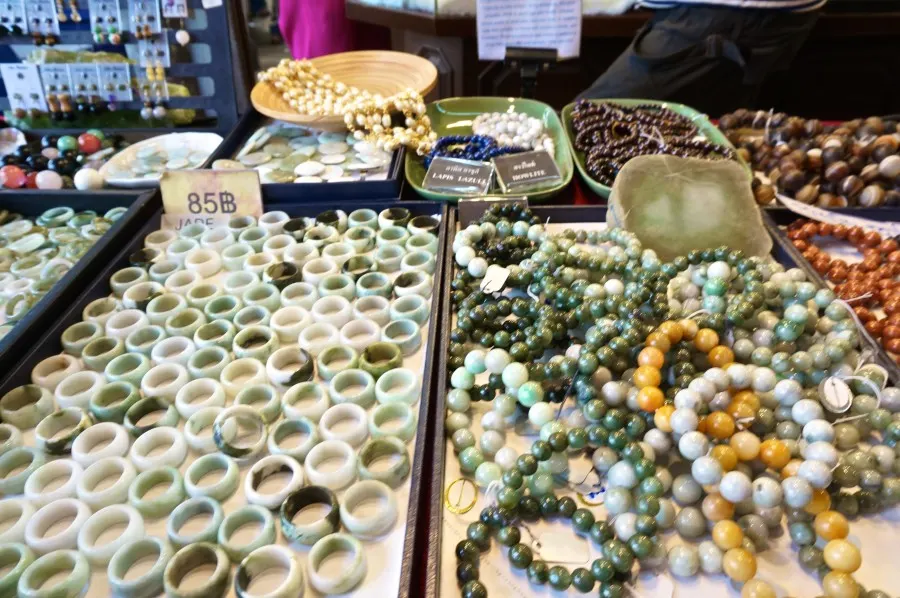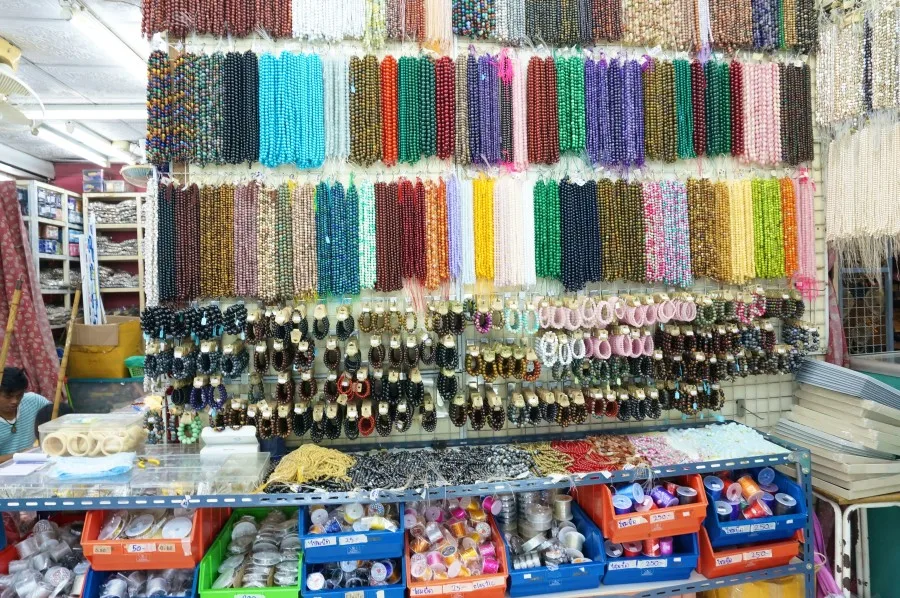 13. Everything else
While I would love to call this guide to Chatuchak comprehensive, we barely scratched the surface of this amazing market's 15,000 stalls. A few (ok a lot) more photos below, if you still haven't hadn't enough.
This slideshow requires JavaScript.
Since no shopper can make it through Chatuchak market without multiple pit stops for snacks and drinks, look out for our food and drink guide in our next post.
Have you been to Chatuchak/JJ market in Bangokok? Tell us about your favorite finds!
* Disclosure – I visited Thailand courtesy of TBEX and Tourism Authority of Thailand.