I somehow end up traveling to Europe a lot in the winter, so I've become quite the expert on reviewing the best women's winter travel and puffer coats (which have to be stylish, slim, warm and packable).
Scroll down if you prefer to skip to my recommended coats. Links updated as of 11/19
There's no Paris in the springtime for me, no wearing flowers in my hair for Sweden's summer solstice, no balmy days sailing around Greece. Nope, instead you'll find me wearing five layers of clothing and a puffy (but slim fitting!) coat in subfreezing temperatures at Stockholm's Christmas market.
Or bundling up in my chic faux fur coat over a steaming cup of goulash in a Budapest cafe. Or strolling the Marais on a blustery, grey rainy day in my brightly colored travel raincoat. Despite the chill I wouldn't have it any other way– there is no time to visit Europe like the winter.
It's not that I try to avoid Europe in better weather, but my love of European Christmas markets, cheap winter fares and thin crowds somehow means I travel to Europe in the winter often. It also means I've gone pro on figuring out what to wear for a winter vacation to Europe.
While I'll cover other women's winter travel essentials (gloves, hats, long underwear) in a future post, and have already covered my favorite stylish women's winter travel shoes in this post (click here), this post is all about the best winter travel coat for women.
What to Consider When Purchasing a Woman's Winter Travel Coat
You might think "oh I have a winter coat, I'll just bring that on my travels."
But, my extensive winter travels have taught me it's best to plan a bit more on finding the ideal coat. A coat for traveling is a bit different than for everyday– while you might trudge your city streets in a giant unflattering parka and take it off immediately at your destination, when you're traveling to a new city chances are much of your time will be spent outdoors.
And most of your photos will be featuring that winter coat, so you may as well find one that looks cute enough for those Instagram photos.
Is your winter coat actually warm enough. What might be warm enough for the short walk from your heated to your heated car might not be warm enough for walking all day in a cold city. Keep in m,ind that when the sun goes down the chill factor goes way up.
If you have to carry your winter coat around (at a museum, in shops) is it cumbersome and heavy?
Does your winter coat fit easily in your suitcase?
Is your winter coat stylish enough that you don't mind wearing it in photographs?
For convenience, I've divided this post into two sections:
Winter Travel Coats for When it's Really Cold
Winter Travel Coats for When it's Kind of Cold
Since I'm currently shivering here in New York City, let's start with really cold.
Note: all coats that I am wearing in the photographs are in a woman's size xs
I'd also like to point out that any coats that I'm wearing I selected and paid for myself. I do have affiliate links to my picks at no cost to you to my favorite retailer, Zappos– free shipping both ways (360 day return policy), lots of sales right now on the coats I am featuring.
Women's Travel Coats for when it's Very Cold (45 degrees and below)
I picked the following winter travel coats and jackets based on portability and style. I choose varying warmth levels, because there's a big difference between 45 and 25 (or even colder!). Any of these winter travel coats can be made way warmer without extra bulk with layers of silk long underwear, smartwool, or thin cashmere sweaters.
My Review: Woman's Super Slim Puffer Jacket for Travel in the Winter
I love slim puffer jackets for traveling. For one, if you get the right puffer jacket, they weigh next to nothing and are ridiculously warm. Puffer coats squash into a little ball or can be used as a pillow on the plane. A well-fitting puffer has a sporty-chic appeal that works just as well in a city as in the countryside.
These days you can find puffer jackets everywhere, including your local discount store. While it might seem like one puffer is interchangeable for the next, I tried on and reviewed a slew of puffer jackets and learned this is not the case. Most run of the mill puffer jackets are well, puffy, and warmth can vary.
For this reason I prefer to go with sporting goods type brands because they are specifically designed to stand up to long use outdoors in inclement weather.
My very favorite puffer jacket is so light and slim cut that I'm shocked that it is actually warm– the North Face Thermoball. When I first tried on the Thermoball I thought it was a joke– it seemed impossible that a jacket this slim could be warm at all. But I wore it with just a thin t-shirt on a day in the low to mid 40s and was completely warm.
I also loved the vibrant Thermoball colors– I went with the pink but also tried on a blue that I loved (and will probably end up ordering).
This top rated North Face jacket is perfect to use as a pillow on the plane.
According to the manufacturer, the Northface thermoball is equivalent to 600 fill goose down without the bulk.
I've had my white Moncler puffer jacket (pictured above) for about ten years now– it's roomier and more substantial than the North Face thermoball, so I wear it for different occasions. But since it's torn up from years of use, I need to replace it with a less spendy option (Moncler jackets start at about $1000 and up).
So after trying on a dozen or so jackets, I put this Columbia Voodoo falls puffer jacket on wish list– a similar style to my Moncler, but a fraction of the price. It's super warm with a combo of down and synthetic insulation and is baby soft.
Columbia puffers are cute and practical.
For a sleek looks, this warm but fitted and slim Mountain Hardwear Ghost Whisperer Down Hooded Jacket puffer looks super cute on.
The Best Longer Slim Woman's Puffer Jackets/Parka
While a short waist-length puffer jacket is the one I reach for time and again, I also love the look (and warmth) of a slightly longer but still slim and flattering puffer jacket for traveling. A longer puffer coat is perfect for throwing over a dress or leggings while still feeling covered up.
I had two favorites but ended up going with the Arc'teryx Nuri Coat for its great slim and nipped, comfy fit.
Alternative thinner parka
The other main contender for this category of lightweight puffer parka is the longer version of the North Face Thermoball (see my review of the short style above), which was also cute and warm. I went with the Arcteyx just to try a different brand but would have also been happy with the Thermoball parka as well.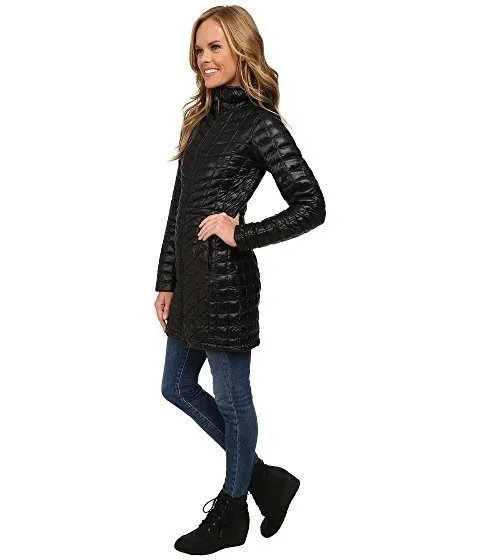 The Thermoball parka– slim and warm.
I affectionately call my long puffer coat my "nyc trash bag coat", because well, it looks like a trash bag. If you are walking on the streets of New York City in the dead of winter, 90% of women will be wearing some version of this black puffy parka.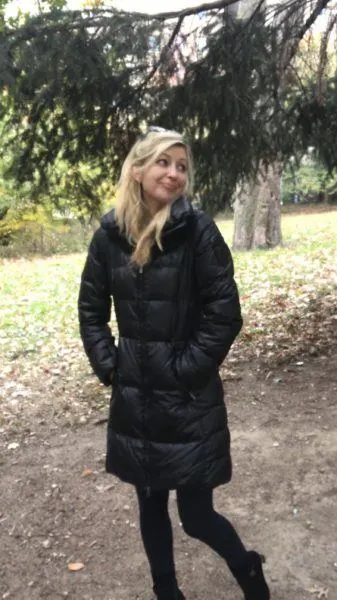 My puffy parka is old and in need of replacing, so I scouted out the most flattering options for potential upgrades.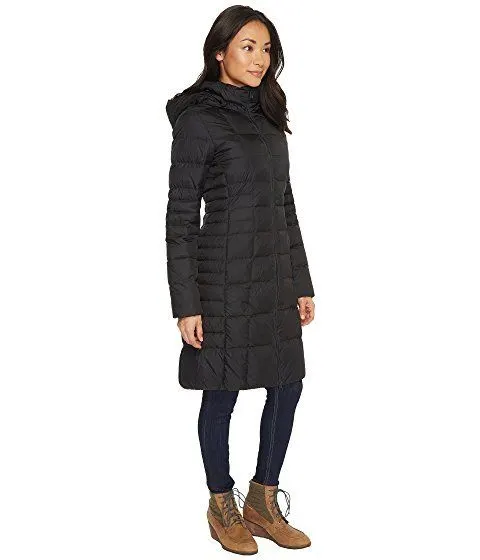 I tried on all the different versions of the North Face puffy parka coats to review them, and found the Metropolis to be the most flattering and super warm.
The Absolute Warmest But Still Slim Women's Parka
If the puffy parka coat is still not warm enough for you, you'll need to go high tech and somewhat heavier and bulkier. Fortunately, bulky parkas have slimmed down since I last bought one for a trip to Iceland.
The latest version of my parka, the North Face Arctic Parka, is thankfully slimmer cut but unbelievably warm. This parka is much warmer than any puffy coat or other jacket– the outer material is completely windproof so no sudden gusts will chill your bones.
This is the parka I'll take to Christmas markets in Europe, snowy weekends in Vermont, or on the streets of New York on bitter cold days. Take the hood off for a less bulky look or put the hood up to stay impossibly warm (and look cute bundled up). Sure this parka is heavier, but frankly it's worth it to stay warm and actually enjoy your winter vacation.
The North Face Arctic Parka is available in a slew of colors– mine is the dark grey.
An alternative parka that I did not try on and review but looked cute online and super versatile is the Ugg Adirondack parka. What I love about this Ugg parka is that it has it all: slim fit, flattering a-line shape, removable fur-trimmed hood and the big selling point– a detachable vest! So it's really three jackets in one, and for the traveler, you can't get much better than multipurpose clothes.
The multipurpose Ugg Adirondack parka.
Coats for Traveling in Winter when it's Not that Cold (40ish-55 degrees)
Depending on where you're traveling to, and even the particular day (temperatures as we know can vary widely these days), you may not want or need to lug around a warmer coat. If the weather cooperates and it's "not that cold" your options for winter jackets and coats just multiplied. Since milder weather winter coats and jackets are less bulky, you may even want to bring along several if you're checking a bag anyway.
Note: any of the "not so cold" weather winter coats can be made warmer with strategic layering.
To Look like a Fashion Blogger: the Faux Fur Coat for Winter Travels
I don't always wear puffer jackets– to mix it up but still stay warm my favorite showstopper coat is the faux fur jacket. Faux fur jackets are fashion bloggers secret weapons– they look fantastic in person and in Instagram photos, with a "wow" factor that can't be matched.
This is especially important when you're on a winter vacation and your coat will be in ninety percent of the photos– it may as well be a cute one. This coat is the warmest of the bunch in this category.
I scouted out some chic faux fur jackets that would be perfect to bring on your winter travels.
I love this reversible coat (fur on one side, plain on the other!). In green leaf and black.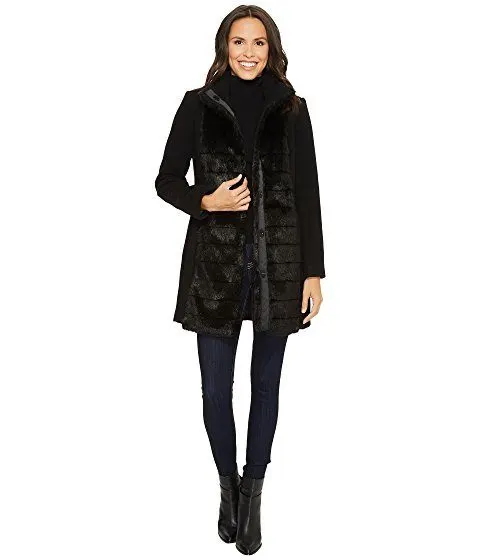 If a full faux fur coat feels over the top, this coat is a bit more restrained with fur just on the front
These faux fur coats are the bargain option.
Can't decide between a fur and a puffer coat? Guess what now you don't have to. These coats come in a variety of colors and patterns and are pretty adorable.
Lined Barbour Jacket
Barbour Women's Cavalry Quilted Jacket
This is the jacket I grab without thinking. It goes well enough with everything and always looks good. Barbour jackets are made for walks in the English countryside but I take mine on walks on Manhattan streets.
Best Travel Rain Coat
I've been searching for a rain coat that is completely waterproof, has a hood big enough to fit my big head, and a feminine fit (with plenty of room for layers). Looks like I found it in this top rated rain coat from Columbia. It comes in a range of colors but I like the red and black best.
I adore this Hunter rain coat, especially this baby blue color and the duck yellow. This coat is actually cotton but still 100% waterproof. This would go perfectly with my Hunter Wellie boots (sadly the boots are just too bulky for travel).
Leather Jacket for Travel
Just because you're traveling doesn't mean you have to go all outdoorsy, ready for anything. I still like to bring everyday jackets for a little edginess, and my favorite is a leather jacket. Leather (or well made pleather) jackets never go out style and always bring your outfit up a notch.
They are a little heavier than the other options here, but if you have room and the weather conditions are right, it's kind of the perfect in-between seasons jacket (or even on a warm winter day with the wonky weather we've been having).
Make any outfit look cool instantly with a little leather (or pleather) black moto jacket.
For the splurge but still a good value I love this moto leather jacket on the left. For the pleather but still adorable discount version, try this faux leather Free People jacket on the right.
Find this post helpful? At no additional cost to you, support the maintenance of running this website by using our Zappos affiliate links to shop, thank you! Souvenir Finder is a participant in the Amazon Services LLC Associates Program, and Zappos, affiliate advertising programs designed to provide a means for sites to earn advertising fees by advertising and linking to amazon or zappos, at no additional cost to you.