If you are visiting Tokyo on a short trip and need one-stop shopping for Japanese souvenirs, Asakusa market is the place to go.
For one, Asakusa is not just a shopping destination– it's also home to Tokyo's oldest shrine, Sensoji, which is absolutely worth a visit in its own right. Second, by shopping the centuries old market stalls lining the road to Sensoji, you'll be following the ancient tradition of shopping your way to the temple. Finally, Asakusa market has such a variety and wide selection of souvenirs, along with delicious snacks, that it is really hard to leave here empty-handed (or hungry).
I've now visited Asakusa twice on different trips and here is what I recommend– if you love to shop, plan at least half a day here, there are so many interesting stalls not just on the main drag Nakamise street, but also along all the side streets. Also, you'll want to save a couple hours for the Senssoji temple which is quite beautiful and photogenic. If at all possible, do not visit Asakusa on a weekend, the crowds can be insane (just take a look at my photos from a Sunday, below). Go early on a weekday if you can, the experience will be much more relaxed and enjoyable.
The best way to explain what Asakusa market is all about is to show you– here is my photo tour of the different types of stalls you can expect to find along the main street leading up to Sensoji shrine, Nakamise. I regret that I did not have time to explore the outlying side streets– a quick walk past a few suggested that the "hidden gem" type shops might lie in these random streets.
Lucky Maneki-Neko Cats
I am obsessed with these adorable little maneki-neko beckoning cats, promising good fortune to their owners. The raised paw beckons in customers, wealth, and overall good luck. I always pick up several lucky cats for gifts, and I have found that Asakusa market has a great selection. Prices will vary depending on size and quality. Another tip: make sure your lucky cat was actually made in Japan (cheaper cats are likely from China).
Japanese Souvenir Kimonos and Yukatas
I've written extensively about shopping in Japan for a kimono or yukata, check out my post here, or read about my experience dressing up in an authentic kimono here. While you won't find the high quality kimonos costing thousands of dollars at Asakusa market, you can find cheap imitations suitable for a Halloween costume or similar. Yukatas are far more practical than full-fledged kimonos and are great to use as a robe around the house. Children's versions are pretty adorable too.
Japanese Sandals
There are many different types of traditional Japanese sandals available at Asakusa market– including those clunky wooden platform sandals that are nearly impossible for we non-natives to walk in. For a more practical Japanese souvenir, look for colorful flat thong sandals– comfortable and wearable back home.
Japanese Fans
I didn't buy any Japanese fans because I wasn't quite sure what to do with them back home, but they are lovely to look at. You'll find gorgeous pricey handmade fans as well as more mass market types at a lower price point.
Japanese Cookies made in a Machine
In a tech savvy place like Japan, watching cookies being pressed and spat out of this old school machine is absolutely fascinating. I'm not sure what they are called, but you can't miss the stall which is close to the beginning of Nakasmise street. If you don't see the small you will surely smell the wafting scent of freshly made piping hot cookies.
Japanese Chopsticks
Who knew that entire shops could be dedicated to Japanese chopsticks. Now you know.
Japanese Towels
Japan has a large textile industry and is well-known for its absorbent and quirky designed towels. You'll find small wash cloths and slightly larger towels you can use for a bath.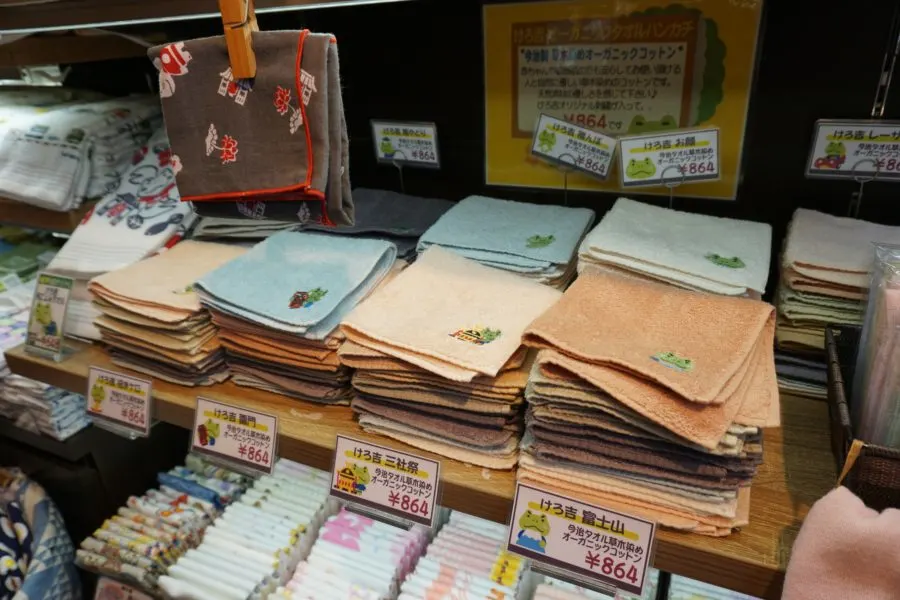 Random Japanese Kawaii Souvenirs
In Japan, kawaii, or "cute" is huge. [Note– pronounce kawaii like Hawaii– NOT like the island of Kauai– because that means dreadful, the opposite of kawaii. I might have learned this the hard way and never lived it down]. Kawaii is so ubiquitous throughout Japan that even the biggest curmudgeon will surely succumb to the cute– I mean how can you not. Fortunately, there are plenty of kawaii souvenirs to choose from at Asakusa market.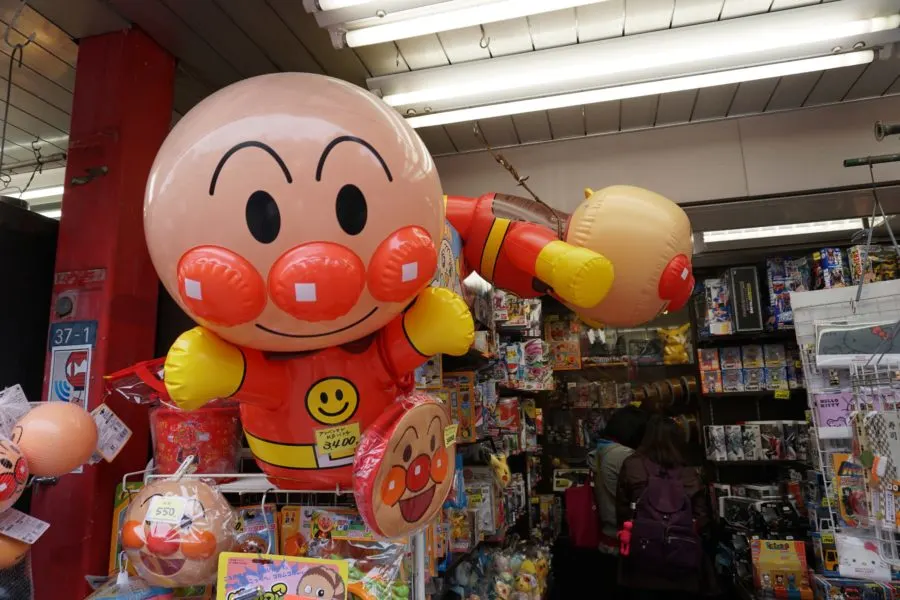 Japanese Parasols
Japanese parasols are very traditional, having been used for centuries. They can be intricately made and hand painted or simpler and utilitarian. They can be quite useful for keeping the sun off your face.
Japanese Green Match Tea Souvenirs
What is up with the Japanese matcha crowding my instagram feed? It seems like this trend is everywhere. Why not buy the real thing in Japan– you can buy an authentic kit (complete with whisk) to prep it yourself, or if you're lazy like me, stick with the instant version (I brought home both the instant matcha tea and the instant sweet matcha latte).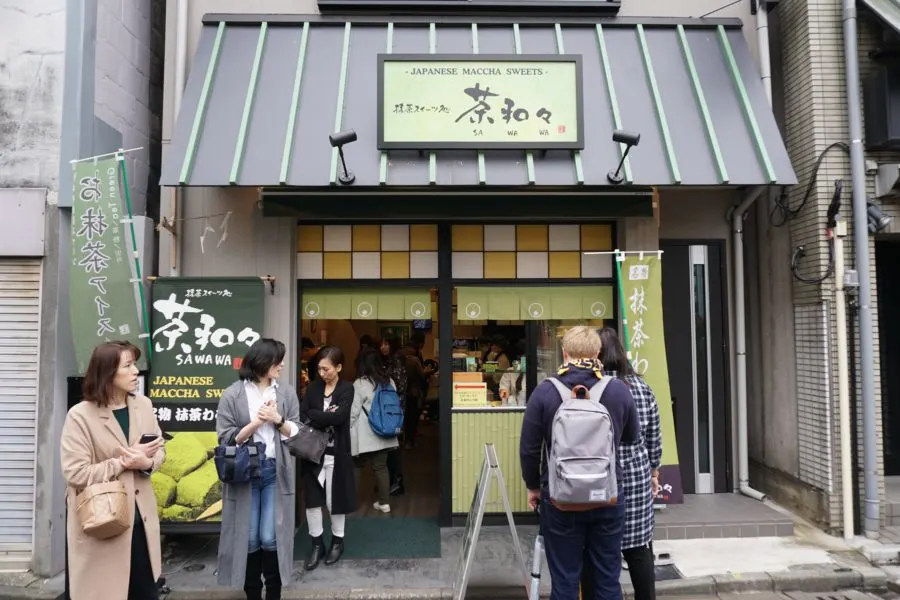 Traditional Japanese Masks
Traditional Japanese masks are used in festivals and theatres but can also make an interesting souvenir. There are several different types and styles of masks if you care to perform further research, or just go with one that calls out to you.
Other Shops and Stalls at Asakusa Market
Some more souvenirs and shops from my photos–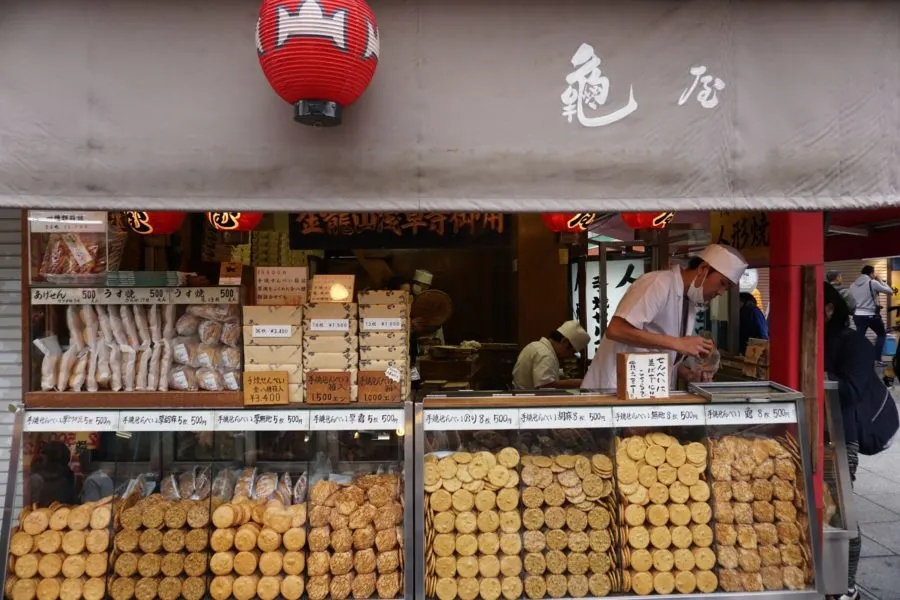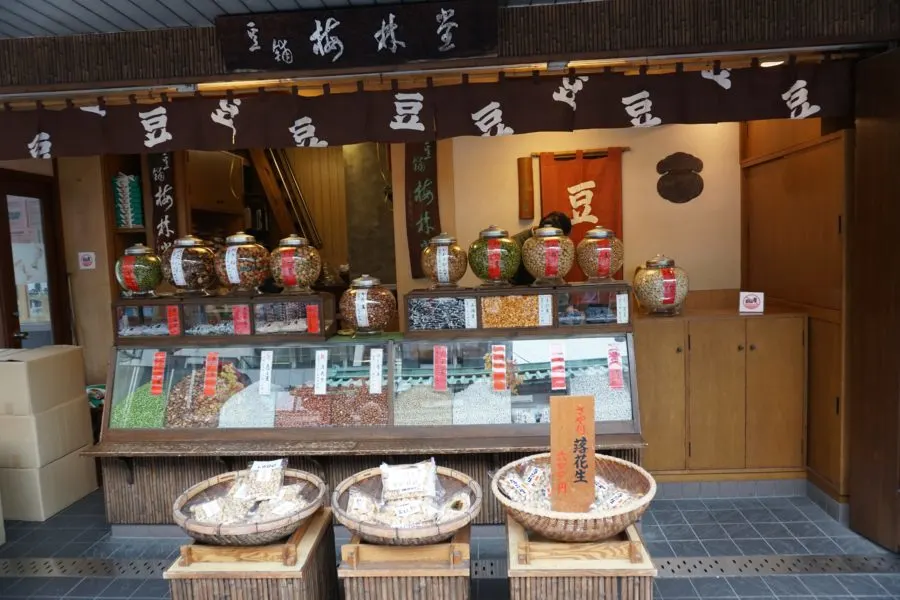 Off Nakamise Street and Around the Asakusa Area
We took a fun rickshaw ride around the Asakusa area. It was a great way to get an overview of the neighborhood, and I can now confirm that the entire area is filled with tempting shops. Unfortunately, because I was pressed for time, I was not able to fully explore this outlying area, so I'll have to report back on my next trip.
Have you been to Asakusa market? Tell us about your favorite stalls in the comments below!
Disclosure: my visit to Japan's Kanto region was courtesy of JTB. However, all shopping picks are my own.