Update: Looking for Fall or Winter travel shoes? We have a brand new post with our favorites, link here!
If you love to tour (and shop) in European hilltowns and adorable cobblestone road villages, you already know that comfortable summer travel shoes and sandals can mean the difference between a pleasant day exploring a city and day ruined by blisters (or even a sprained ankle).
But if you google things like "best travel shoes" you are going to find some awful recommendations– orthopaedic shoes better left to nurses, outdoorsy shoes perfect for backpackers, or just plain ugly shoes suitable for nothing I can think of.
It's time to debunk some popular travel shoe myths! Follow our tips for some chic travel shoe recommendations that are perfect for navigating those cobblestone streets on your next European summer vacation.
Myth: A sneaker-shoe hybrid is the perfect travel summer shoe solution!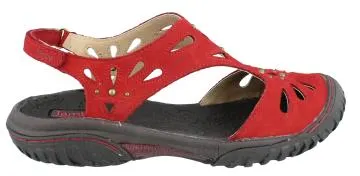 Truth: These travel shoes don't fool anyone– they aren't a shoe or a sneaker– and they are ugly.
Don't be tricked by travel shoes like these that can't decide if they should be a sneaker or a shoe. There are all sorts of problems with this sneaker/shoe hybrid– first are the embellishments (in this case the cut outs) that are trying to disguise the fact that these are "travel shoes." More important to consider is the fact that these clunky travel shoes can make your feet look wider, ankles thicker, and legs stumpier. And velcro is for children, not for adults visiting chic European cities.
Myth: Chic European women effortlessly navigate cobblestones in stilettos– so you may as well give up now.

Truth: Ok this is partially true. Yes, I did see some gorgeous Italian women strutting down the Florence's cobblestone lanes in their designer stilettos– but by no means did all women sport spindly shoes.
Just because you don't have the gait of a supermodel doesn't mean you have to resign yourself to frumpy shoes. Vacation is a time when you want to look and feel your best– so find a chic travel shoe option that will work for you.
Myth: You need hiking boots to walk European city streets.
Truth: Grubby hiking boots? Save them for the trails.
American tourists in Europe aren't the only offenders here, I see plenty of Europeans riding the New York City subway, decked out in full-fledged hiking boots, just to walk Manhattan's city streets.
Myth: Black travel shoes match everything and are the only shoe you need.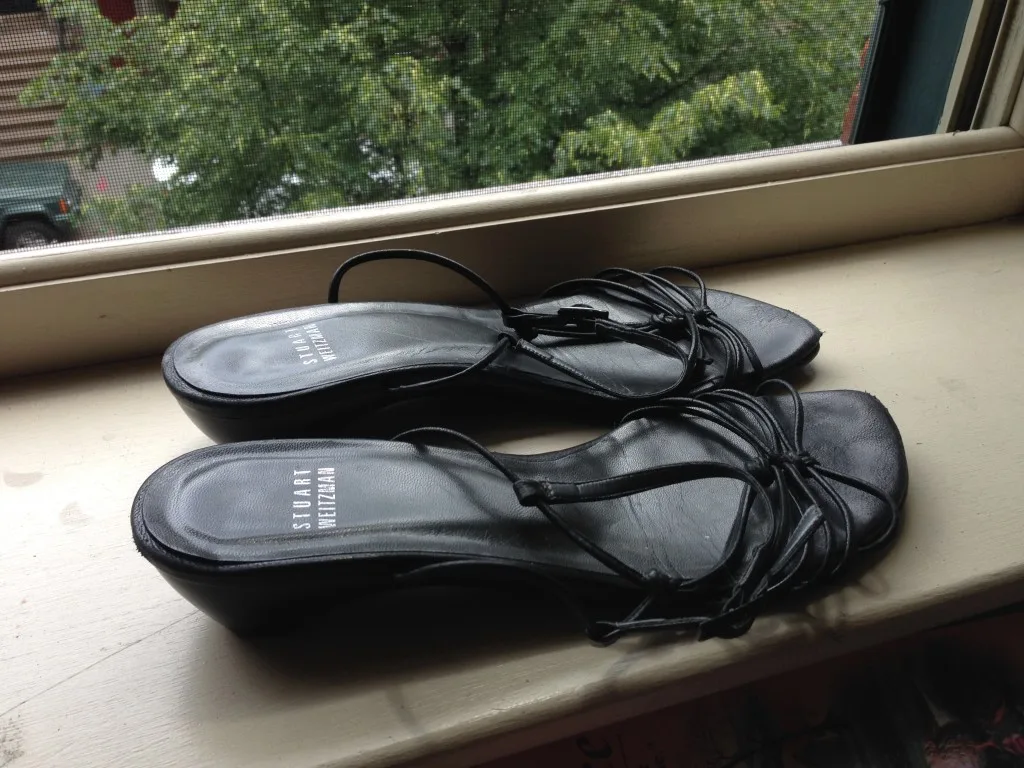 Truth: Black matches black.
Black travel-friendly sandals, if I bring them at all, are always my "spare" shoes. They look great with black– which I don't tend to wear much of in the summer.
If you don't have room for another pair of shoes, look for a summer neutral that goes with everything– a sandal that blends with your skin tone, whatever the shade.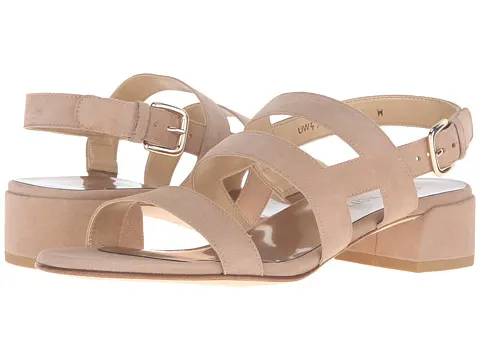 These neutral Stuart Weitzman sandals are a simple style like my black Weitzman sandals above– but a lot more versatile. I love this style to wear as travel shoes because ample straps means they stay on your feet, the thin straps are flattering on your feet, and the small heel is just enough lift for all day walking. I find Stuart Weitzman sandals to be the perfect blend of both stylish and comfortable– a little more expensive, but the looks are classic enough that you'll wear them for years.
Myth: If you wear sneakers in Europe in the summer you'll stand out as a tourist
Truth: If you wear clunky running shoes in Europe you'll stand out as a tourist.
Not all sneakers are big clunky running sneakers– and Europeans wear causal sneakers like Converse all the time.
Superga – 2750 COTU Classic (White) – Footwear
My preferred casual sneakers, that I've been wearing for the last twenty years, are by Superga (made in Italy, priced around $65). Supergas work well for my feet– I find them to be more substantial and cushion-y than most street sneakers. While you can't wear sneakers, even cute ones, with absolutely everything, they work with many summer pieces, like skinny jeans, linen trousers, shorts and even certain styles of skirts.
Make sure your sneakers are crisp and new, or at least freshly laundered– beat up tennies look awful. You can stick with basics like white and navy, or pick from a rainbow of colors. Superga – 2750 COTU Classic (Navy) – Footwear
Update: I've seen actual running shoes all over the runways and fashion blogs. Their clunkier profile makes them harder to pull off as a travel shoe to wear with "normal" (not workout) clothes. I gave in and bought a pair of New Balance old school running shoes– and love them.
A word of warning when you see those Nike free and other sneakers designed to be worn to simulate barefoot running– these are NOT good walking shoes, you will feel every pebble under your foot.
Myth: Ballet flats are a perfect travel shoe for Europe in the summer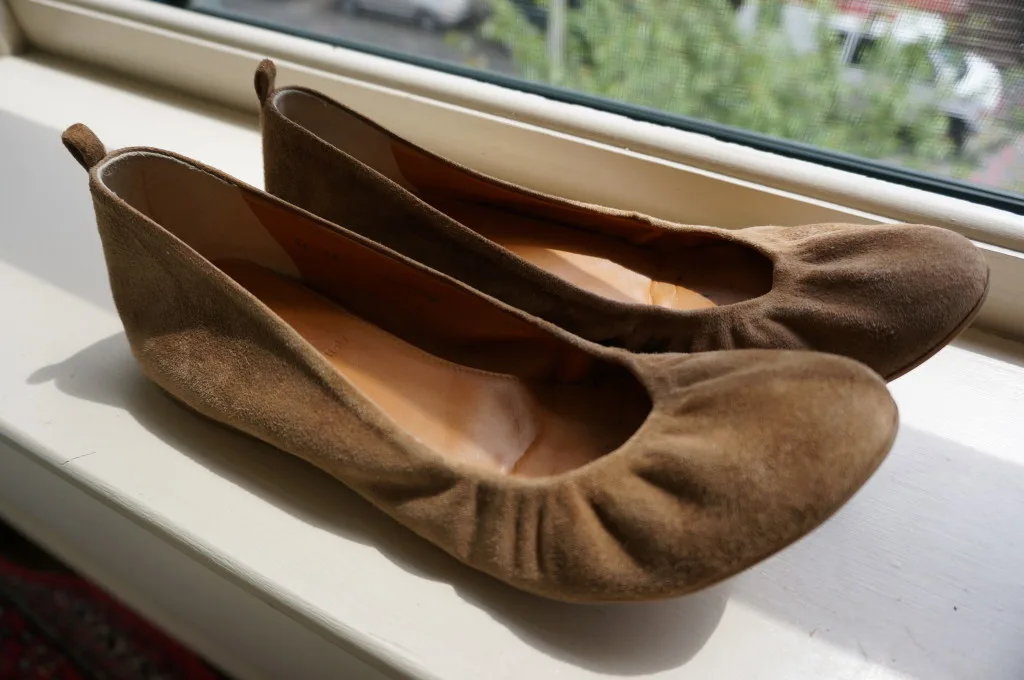 Truth: Ballet flats are ok summer travel shoes.
Time and again I see fashion magazines rave about "comfy" ballet flats. Perhaps this is true if you compare a ballet flat to 5 inch platforms. But on the spectrum of travel comfort shoes, ballet flats fall short, with zero arch support, leaving me with a backache. I do love ballet flats for airports– they are easy on/off through security and weigh next to nothing.
Myth: Birkenstocks are only for hippies
Truth: Birkenstock are the latest "in" shoe, on runways everywhere.

Birkenstock – Gizeh Birko-Flor (Metallic Silver Birko Flor) – Footwear
Can you believe that birkenstocks, those college throwbacks probably sitting in the back of your closet right now, are the latest fashion trend? It seems like every hot young celeb has been photographed in these Gizeh birkenstock sandals. Or some "designer" version of them at ten times the cost. The key to wearing birkenstocks without looking like a disheveled undergrad is the contrast– make sure the rest of your outfit is streamlined and modern chic (skip the tie-dye and baggy cargo shorts).
Myth: You need to pack heels for that special evening out while on your European vacation.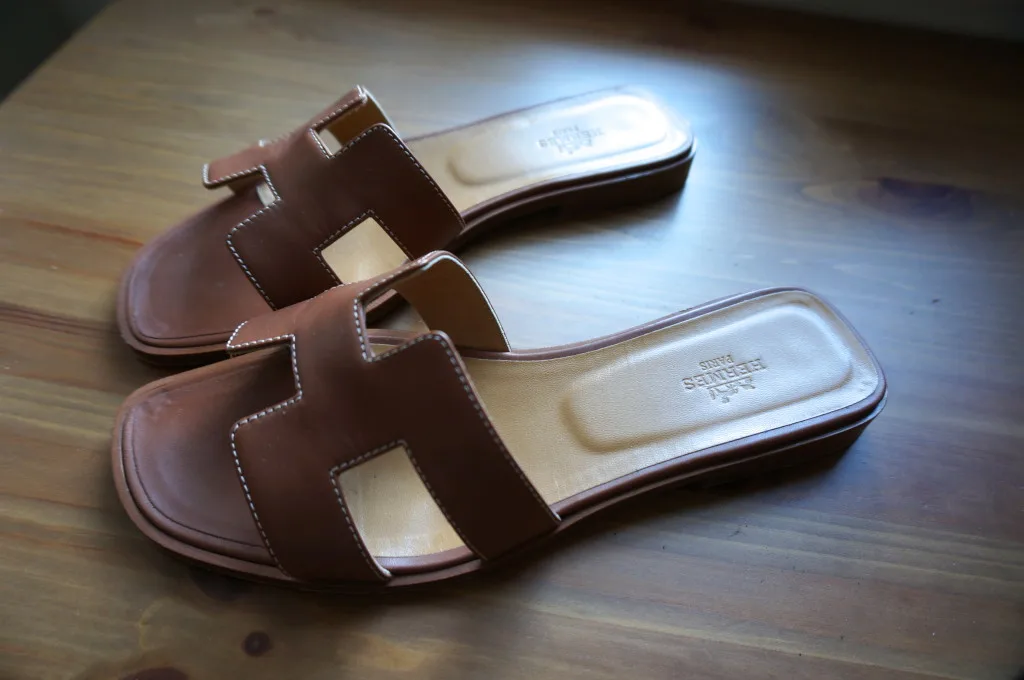 Truth: Unless you are wearing true formal wear, a perfect pair of very simple slides or sandals looks right with evening outfits.
Dressy doesn't have to mean fancy– I love wearing a pretty dress with very simple, chic flat sandals. While I wouldn't necessarily wear these backless slides all day, they are plenty comfortable for a relaxed evening walk to dinner.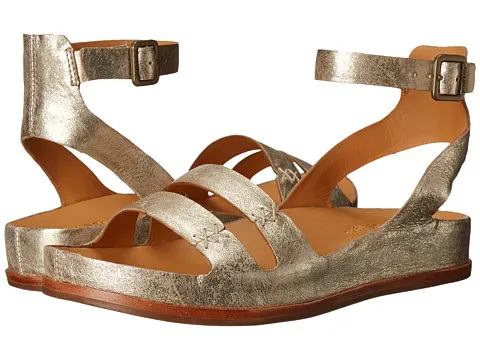 Gold and silver flat sandals like incredibly comforable sandals from Kork-ease are another great alternative for a "dress up" sandal that matches most everything– and looks great with a summer tan.
Myth: Forget platform shoes, you'll sprain your ankle.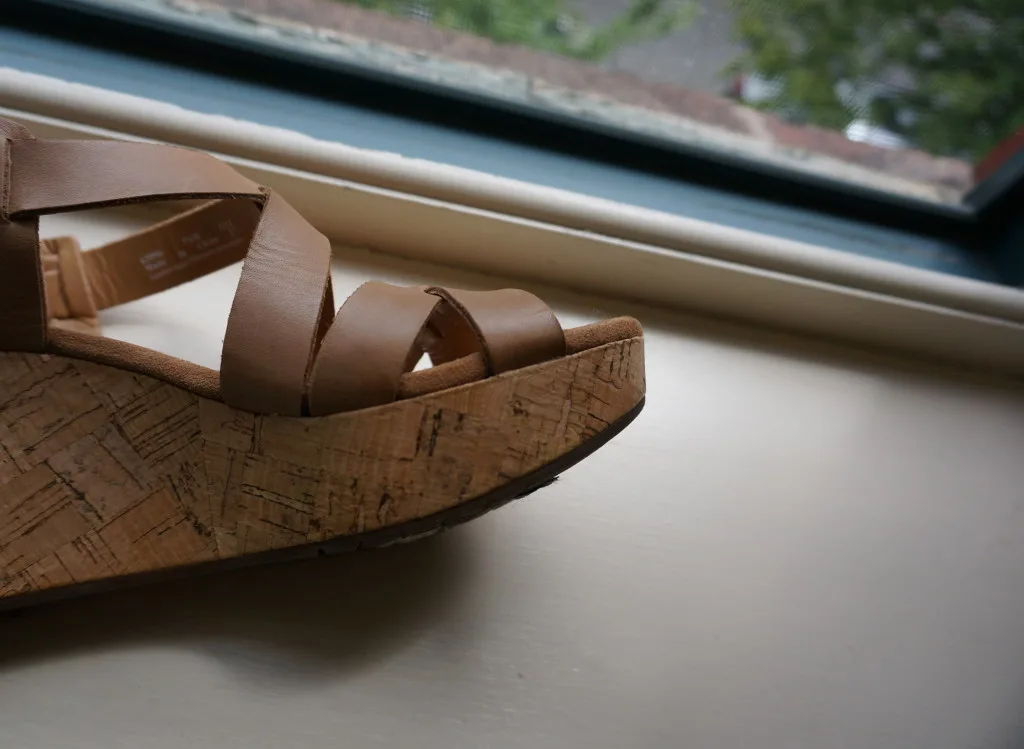 Truth: While this is 100% true for steep hill towns like in my photo above, platform sandals can be a very comfy travel sandal option for regular city streets.
The key is the actual heel angle when you factor out the lift of the platform– which can make the effective heel as low as an inch or inch and a half. In a sooty city like my home city of New York, I actually prefer to have some distance from the street when I wear open sandals. Super flat sandals that graze city sidewalks can result in black feet by the end of the day– requiring a scrub in the bathtub before getting into bed.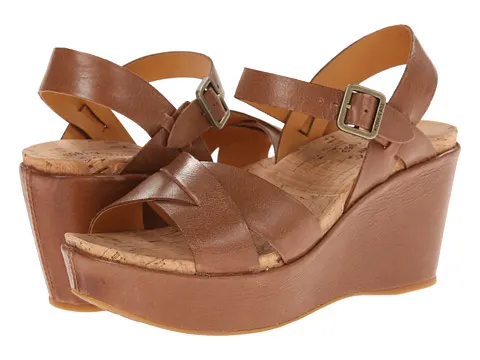 I actually bought the above kork-ease sandals for my five foot tall mom— she confirms they are comfy enough for all day wear and the price is a bargain for the value.
Myth: you have to spend a lot on summer travel shoes to get the perfect fit.
Truth: You have to try on a lot of travel shoes to find the perfect fit.
I try to hit a shoe store that carries multiple brands or just order a bunch of shoes online (sometimes five pairs at a time) and return the shoes that don't make the cut (make sure to use a shipper with free shipping both ways).
Myth: There is one perfect travel shoe to bring to Europe in the summer.
Truth: There is never going to be one perfect summer travel shoe or sandal that takes you from morning to evening, from tours of the ruins to an elegant restaurant.
It just doesn't work that way. Even your most comfortable shoes may feel less comfortable after days of nonstop wear– alternating shoes can make a big difference. Fortunately, since summer travel shoes and sandals are much lighter and smaller than winter shoe and boots, you have a lot more flexibility in throwing a few extra pairs into your suitcase.
Readers, we would love to hear about your favorite shoes for summer travel! Share in the comments below!
Note: the links in this post are affiliate links that help with the maintenance of this site but incur no cost to you! Thanks for your support!