Elsa Costumes and More: Where to Buy the Most-Wanted Frozen Disney Souvenirs
If you're a parent of a child of a certain age, you may be a witness to the serious affliction sweeping over innocent children everywhere– Frozen Frenzy. The symptoms of Frozen Frenzy are easy to spot–a feverish obsession with anything and everything having to do with the Disney movie Frozen.
The most obsessed-over Frozen items right now feature the two young animated Frozen stars, Princesses Elsa and Anna. According to the latest news reports, every Frozen-afflicted child dreams of twirling about in an Elsa or Anna costume while belting out an adorably out-of-tune rendition of the movie's popular song, Let it Go.
But what do parents do when the cure for Frozen Frenzy is just out of reach? With Frozen merchandise (including those coveted Elsa and Anna costumes) sold out everywhere, desperate parents have resorted to paying inflated prices on ebay or attempting DIY sewing projects. But there is no need to squander a grand on ebay scalpers, just follow our insider's guide and we'll show you how to buy Frozen merchandise right at the source– at the Magic Kingdom in Walt Disney World. (Ed. Note: Not heading to Disney anytime soon? Try your luck online at Amazon's Frozen Store
).
A Florida native and Disney World expert, our insider and photographer Kristen Mankosa knew the key to tracking down those sought after Elsa and Anna costumes was timing. On finding a depleted Frozen stock on her first Disney World visit, our reporter waited for news of the next Frozen restock and returned to the park right when it opened. Kristen was not alone at the park entrance– scores of Frozen-hungry parents, lined up hours earlier, were already waiting at the gates.
Kristen reached the Magic Kingdom gift shop in just enough time to capture photos of these holy grail souvenirs, the Elsa and Anna costumes, moments before they were snapped off the racks by eager parents.
Frozen Elsa and Anna Costumes and Dresses
Kristen used the word "desperation" many times over to describe the Frozen fueled mob scene at the Disney gift shops. With only toddler sizes left in the Elsa and Anna dresses (xxs-xs), desperate parents tried to force the tiny dresses over the heads of their much larger children. As Kristen reports, "it was a little nuts."
But instead of buying up all the remaining Elsa dresses and flipping them for a tidy profit on ebay herself, Kristen instead made her way through the mobs and photographed the best of the rest Frozen merchandise on offer for our readers. What did she find?
Frozen Character T-Shirts
Frozen Elsa, Anna and Olaf iPhone covers
Because every child should not only have their own iPhone, but also their favorite Frozen iPhone cover (Kristen found a selection of Olaf, Elsa and Anna character covers).
Frozen Karaoke CD (featuring Let it Go)
For budding singers who want their own moment in the spotlight (or on you tube), the Frozen karaoke DVD allows your child to sing their little heart out. Be warned, Frozen's title track Let it Go has been known to cause a drug-like hold on unwitting children, compelling them to burst into song at the most inopportune moments.
Frozen Sketches
Frozen sketches featuring Princesses Elsa and Anna, along with Snowman Olaf, by Disney artists.
Frozen Character Pens
These Frozen character pens were a relative bargain.
Frozen Product Limits
Frozen Merchandise at Epcot– Elsa Parasols and Umbrellas
Not all the Frozen merchandise was in the Magic Kingdom gift shops– Kristen found these frilly Frozen-themed parasols featuring Princess Elsa in the France Pavillion at Epcot.
Frozen Treats and Sweets at Disney
Kristen found these specialty Olaf caramel and white chocolate apples available at most of the different parks.
To cash in on the Frozen theme, Disney even placed edible Frozen stickers on otherwise ordinary rice krispie treats (and charged $7 a treat!)
Frozen Decor in the Gift Shop, Not for Sale
[box type="info"]Souvenir Finder Tip Sheet
What to buy: The Elsa and Anna dresses are the hottest ticket right now.
Where to get it: Walt Disney World, Orlando, Florida. Hit the Magic Kingdom, but also check some of the Epcot Pavillions like Norway and France.
What to know: Until the Frozen frenzy dies down, don't get your hopes up for the popular souvenirs– you may need to settle for a rice krispie treat.[/box]
Can't make it to Disney? Shop online at Amazon's Frozen Store
.
Has your child been afflicted with Frozen Frenzy? Tell us about it in the comments below!
Not a fan of Frozen? No worries, we have you Potterheads covered too– check out our romp through the Harry Potter gift shops at Universal Studio and at Platform 9 3/4 at Kings Cross here.
Special thanks to our photographer Kristen Mankosa for braving the crowds and taking all these fantastic Frozen photos!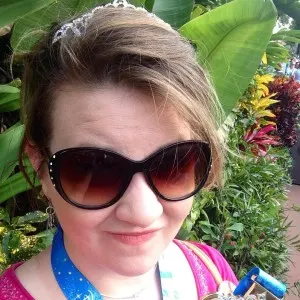 Kristen Mankosa spent six months studying, living, and working in Shanghai, where she learned the language, fell in love with the culture, and ate a few friend bugs along the way. She graduated from Virginia Tech with two Bachelor's degrees in both English & Communications, and minored in International Studies. Kristen is currently living in Florida, working as a freelance writer, before moving abroad to work and study in London. Follow her blog as she heads across the pond!