Looking for the best womens travel summer shoes? Check out our spring/summer post here!
When buying the best women's travel shoes and boots for upcoming fall and winter vacations, I am unswayed by the latest trends. After all, choosing which shoes to pack for travel is a little different from selecting shoes to wear to the office or for a night out back home. I might pick a pair of stylish, but uncomfortable heels to wear to that important client meeting– and swap them out immediately after the meeting is over. When planning a night out with friends in New York City, I factor in the venue and availability of taxis in neighborhood before deciding on the winning pair.
But just because some of my everyday shoes aren't suitable for travel doesn't mean I run out and buy so-called "travel shoes"– those ugly, orthopedic shoes with gummy soles that some "comfort shoe" company has marketed to desperate would-be travelers. Picking smart shoes for travel doesn't have to mean looking in the comfort shoe section and giving up all fashion sense. You can easily find shoes and boots that are chic, stylish and just happen to also work for travel. As a bonus, these classic shoes and boots are attractive enough to be worn back home, even when you're spending most of the day sitting at your desk instead of exploring a foreign city's streets.
Our travel shoe-shopping tips are intended for the average vacationer, looking for some comfy but stylish shoes and boots for a typical city vacation (adventure-based vacations will require more specific shoes that we'll cover in a later post). Here's what I look for in fall/winter travel shoes and boots:
The best women's travel shoes and boots are comfortable. This is non-negotiable. Those shoes that are only good for a few hours wear should stay home. Exception: I allow myself one pair of sky-high heels just in case.
The best travel shoes and boots are versatile. Travel shoes need to work with skirts and jeans, and be neutral enough to match multiple outfits.
The best travel shoes and boots are flattering. I want to look my best when I'm vacation– that means I pass over the flats that make my legs look stumpy or the clunky shoes that make my feet look big.
The best travel shoes are stylish, but classic. Finding travel shoes you can wear all day is hard enough. If I had to replace them every year to follow the latest trends I would go insane. Instead, I limit my travel shoe and boot wardrobe to classic looks that will work for several years.
The best travel shoes and boots are well-made. While I can sometimes get away with a cheaper pair, the travel boots and shoes that I reach for again and again are higher-quality, and pricier than the average wear-around-town shoe.
At least one pair of your travel shoes should be waterproof.
From boots to brogues to loafers and sneakers, here are the shoes and boots that have worked for my travels, whether exploring temples in Kyoto, Christmas markets in Germany, or shops and patisseries in Paris. All shoes are available at Zappos, my preferred online vendor for their free, no hassle shipping both ways and lenient return policy.
1. Boots are Hands Down the Best Shoes for Cold Weather Travel
I always get excited each year when the weather gets nippy enough to finally pull on my boots. Unlike flimsy summer shoes, boots by definition give your ankles more support. Here are my top travel boot picks by type:
Knee-Length Riding Boots for Travel
Tall riding boots, even when completely flat, are incredibly flattering and make your legs look long. They also fully support your ankles, making them a great choice for all-day walking. Some boot-buying tips:
For a sleek look, make sure the boots are fitted to your calf (it's best to stick with boots that have a stretch panel with enough give to work with both skirts and over jeans).
Show off slim ankles with boots that are nipped slightly at the ankle (or have an ankle strap).
I love the classic look of riding boots for chilly-weather travels. As a bonus, they add extra warmth to legs, which is great if you plan to be outside or long stretches of time (like exploring Christmas markets). The only downside is the extra room they take in your suitcase (I stuff my boots with socks and tee shirts to save on space).
Best travel riding boots for slim calves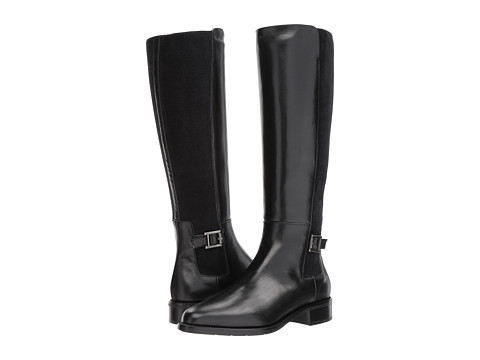 I love these gorgeous Aquatalia black riding boots. Their boot shafts are cut on the slimmer side so they're a great option for slender calves (and have an elastic panel for a precise fit). Boots usually look like golashes on my skinny calves so I'm always on the look out for slim styles.
Best travel riding boots for average calves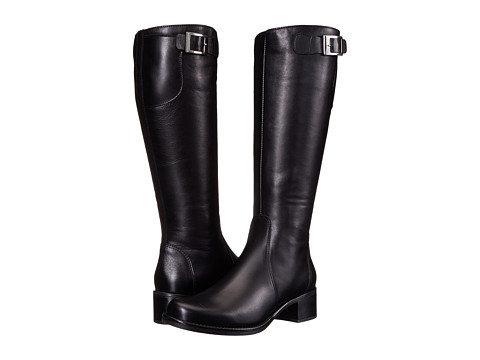 La Canadienne is one of my favorite brands for comfortable shoes and boots– like these beautiful black riding boots. These buckles though ensure a more custom fit.
Or try these Cole Haan classic black riding boots.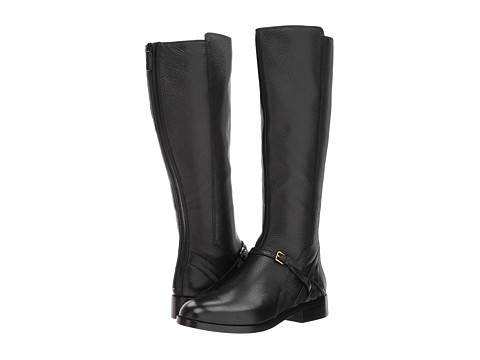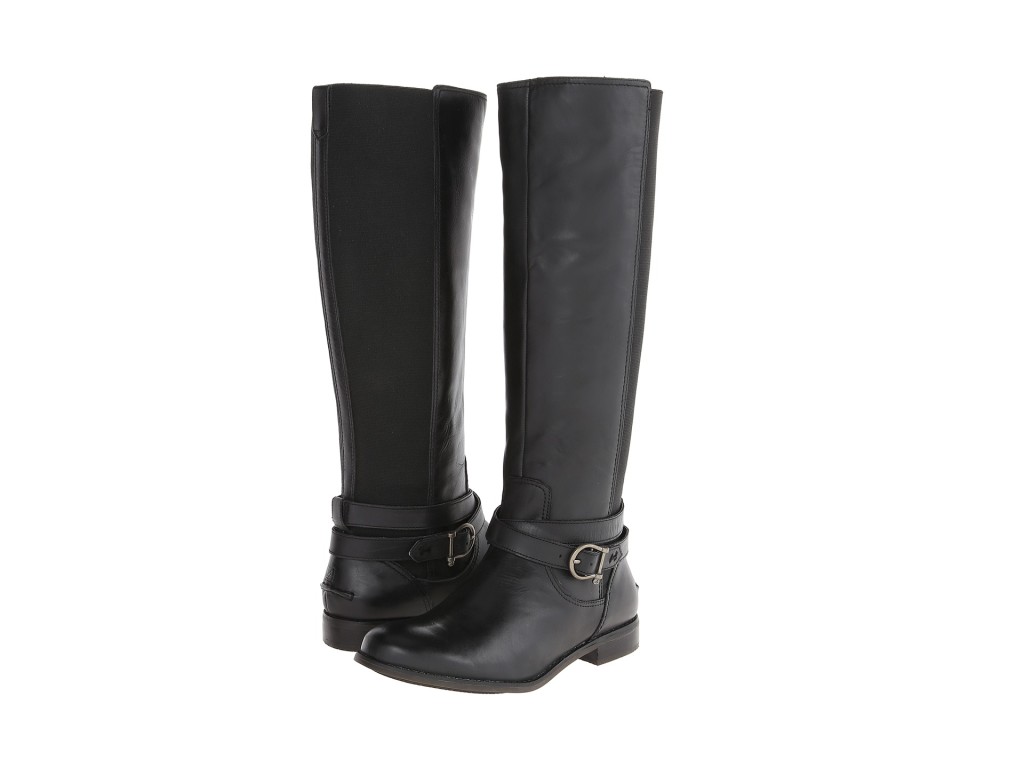 For a less spendy option, consider these very affordable black leather Sam Edelman riding boots (available in five colors).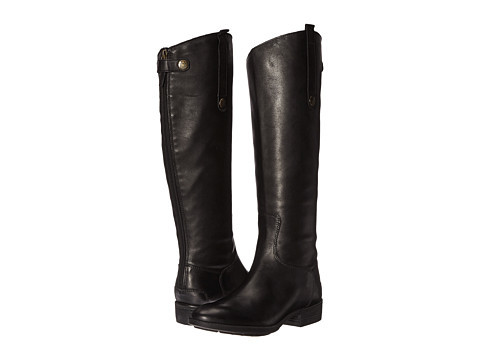 Best travel riding boots for wider calves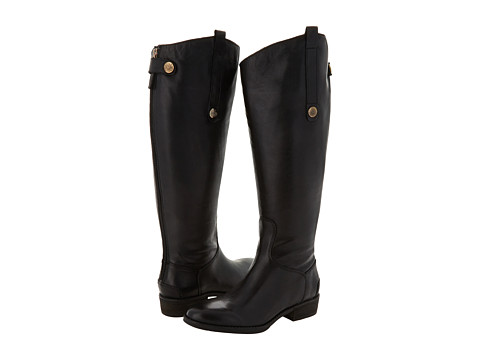 Sam Edelman has great riding boot options at every price point and different calf widths– perfect for travel or just lots of walking.
Best Over-the-Knee Boots for Travel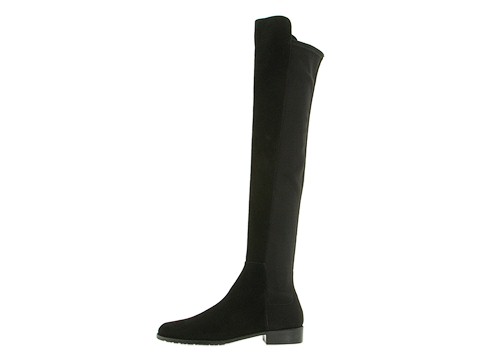 These Stuart Weitzman 5050 boots are a classic and a serious leg lengthener. Totally on my wish list.
Over the knee boots have been hot for the last few seasons– they've been around long enough that they're not just a passing trend but are here to stay. Over the knee boots are ideal for looking cute when you travel for a few reasons– most importantly, the longer the boot, the longer your legs look. But over the knee boots are also warmer than other boots, making them ideal to wear to cold winter climates (I could have seriously used these boots the sub-freezing Swedish Christmas markets). And when the weather is at that in between stage, when it's iffy whether you need tights with a skirt, over the knee boots are the perfect transitional piece and will make your bare legs feel more covered up.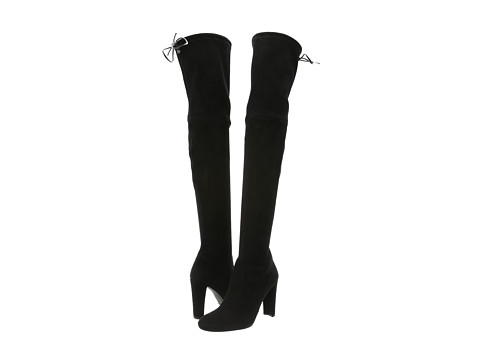 Although I always recommend investing in quality boots as you'll keep them for years, I recently shopped for over the knee boots to wear out at night but didn't have the budget to spring the for the Stuart Weitzman highland (if you do have the budget though, these boots are now on sale and so worth it!)
So I picked up less expensive version of the over the knee boot, made from microsuede, not actual suede. I bought the dark grey and found them more versatile than black (thought I later picked up the same pair in black too). The cheaper price means the boots aren't very substantial which actually makes them perfect for a spare travel boot, as they are incredibly lightweight and practically roll up in your suitcase.
While they don't make my exact boot anymore, I found a similar microsuede over the knee boot here. The heel is sturdier and slightly lower than mine which makes them easier to walk in.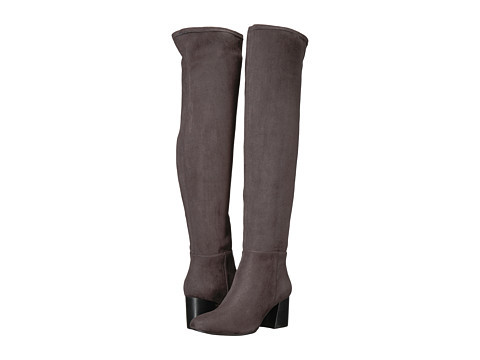 Best Moto Boots for Travel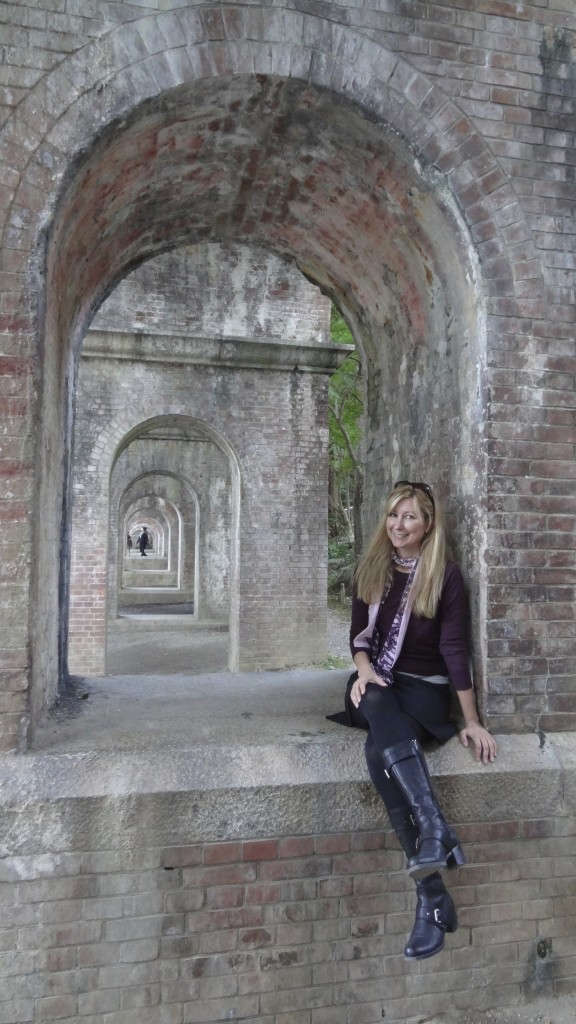 Today you'll find "moto boots" (also known as "biker boots") in any department store shoe section. The chunkier sole is great for traction, and the overall casual look dresses down any outfit for day.
Left, these Cole Haan leather moto boots are stunners. Right, Frye's engineer boots are the original moto boot– they'll never go out of style.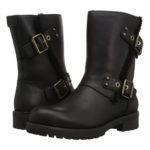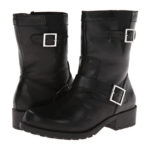 These cute biker boot styles are more budget friendly. Left, by Ugg. Right, these are actually called "soft walk" boots so they sound perfect for travel.
Frye Boots for Travel
My Frye boots have been one of my best shoe investments– virtually indestructible, the buttery soft leather only get better with age. They have a million styles to choose from but I love the classic "Veronica slouch," worn tall or slightly pushed down for a more casual look. While I consider Frye boots a classic staple rather than a fashion item, I was surprised when in Paris how many chic French women I caught sneaking a peek at my Fryes.
The only downside to Fryes is that they are pretty heavy. If you are hitting close to your weight limit you might want to wear them on the plane.
Update: I still wear my Frye Veronica boots all the time– including a yesterday for a trek through Central Park for leaf peeping! And thanks to the reader who commented below that she also loves her Veronica boots.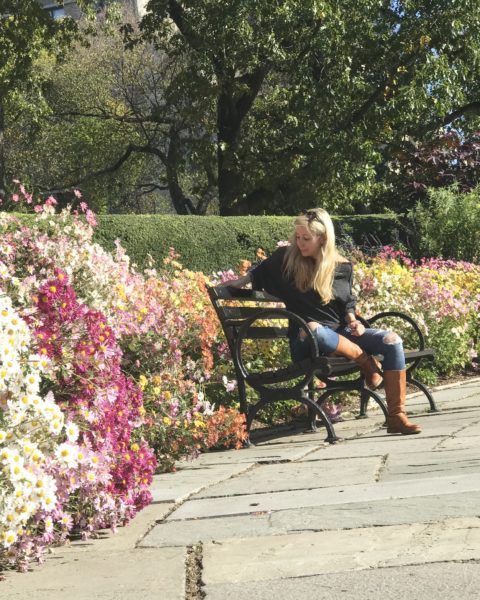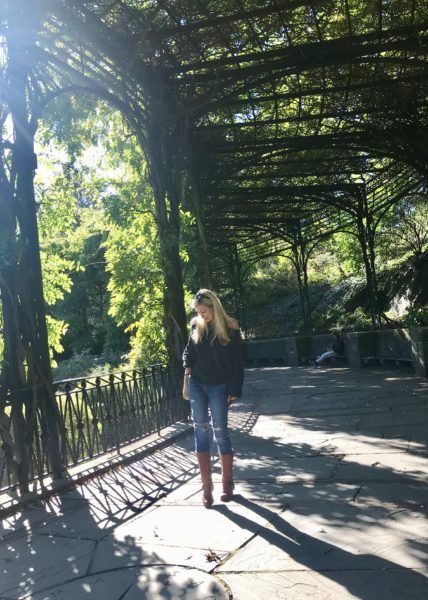 Best Waterproof Suede Boots for Travel (La Canadienne or Aquatalia)
Waterproof suede boots make awesome travel boots– they are soft, warm and perfect for hail storms or snowdrifts. Lighter and more chic than winter snow boots, you can take these boots through a snowstorm to a nice restaurant. (They are also great to wear to the office on snow days).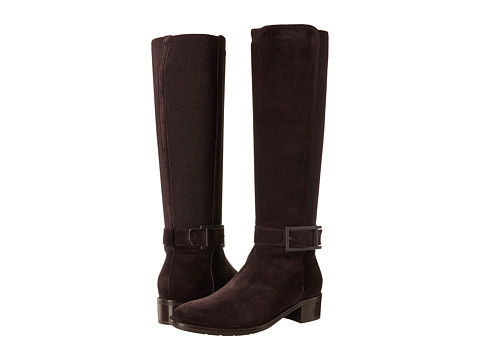 My Aquatalia boots are no longer available but I loved this similar Acquatalia waterproof pair.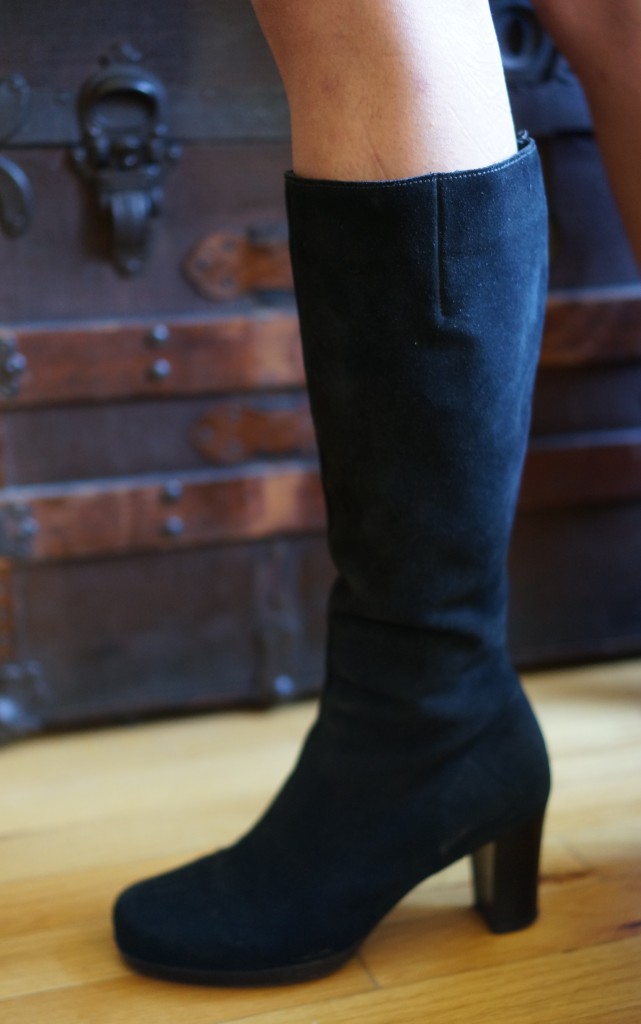 For a dressier pair of waterproof suede, these are my own boots from La Candienne— even though they have a heel on them, it is mitigated by the built in platform, so the effective height is very walkable. As a bonus, they not only make a good travel boot, but they are dressy enough to wear to the office on a slushy day and still look perfect several years later.
Best Women's Ankle Boots and Booties for travel
Flat or low-heeled ankle boots and booties
If you don't have a great pair of black ankle boots, an upcoming trip is a great reason to invest in a solid pair for travel. Ankle booties are so versatile for travel– they go great with leggings, tights and jeans.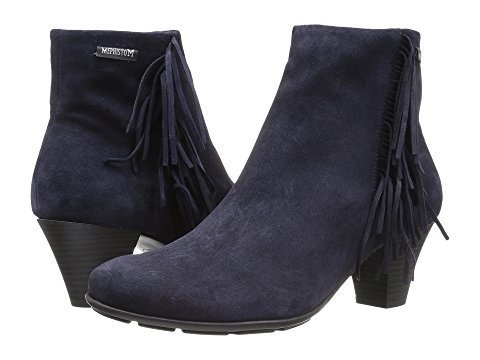 Mephisto nubuck ankle boots. Mephisto is a big reader favorite because their shoes are incredibly well made, waterproof and and supremely comfortable. I love the grey the cute fringe on these ankle boots (also in black and other colors). The slim opening is perfect for making the ankle look slender, and that tread ensure you won't slip on icy winter streets.
I used to wear clogs. A lot. These ankle boots give you the cute look of clogs with the durability of a boot that won't slip off your foot. I'm torn between the leather and suede versions Dansko boots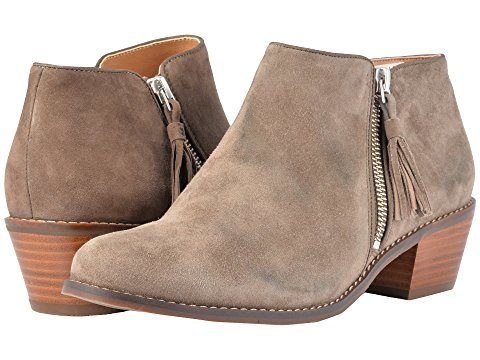 These best seller boots (#1 in comfort boots) are perfect to wear with just about anything. I love the taupe color (also available in black) and am ordering these for my next trip to Europe in December.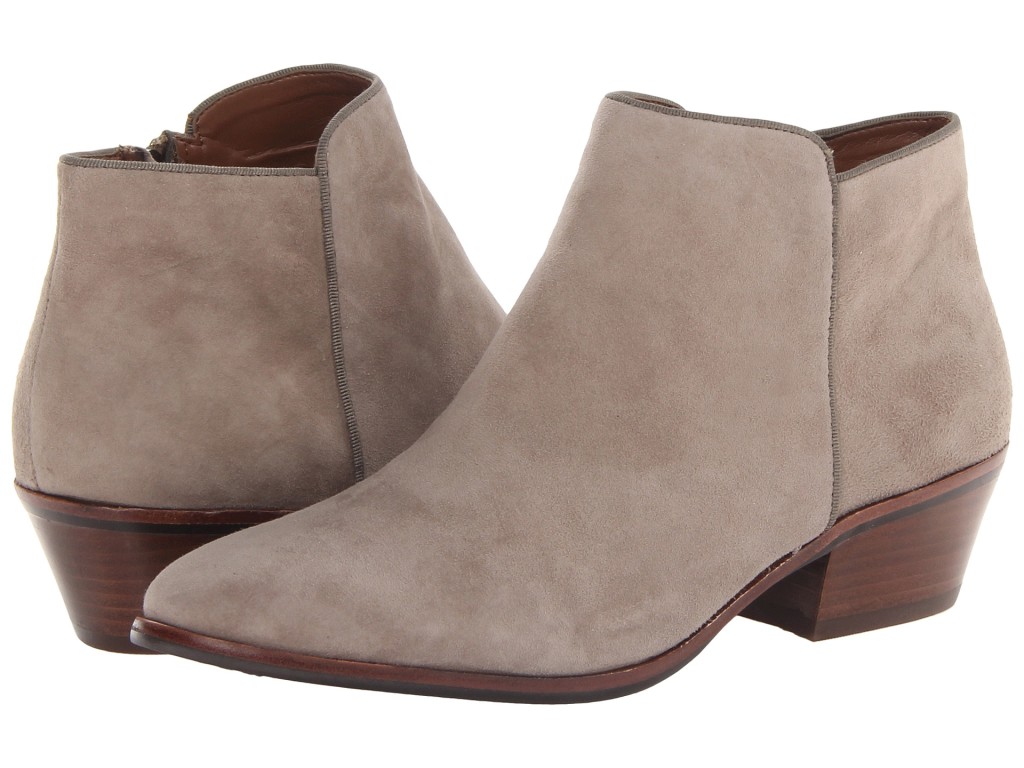 Another great option– these highly-rated Sam Edelman boots.
High-Heeled Ankle Boots for Travel– Just in Case
While I plan most of my travel shoe wardrobe for daytime walking, I do usually throw in one slightly inappropriate, "just in case" pair of heels. I was thankful to have my Sergio Rossie boots when invited last-minute to a fancy restaurant opening party in Vienna. I would also wear these out to dinner at night, especially if we were planning to take a taxi.
One the left, these boots have a similar look. Or try these Cole Haan boots for half off.
Best Heeled Boots for Travel: La Canadienne
If you're tired of wearing flats and want some oomph for a day out and the instant leg lengthening heels can add, I found the perfect boot for you. Year after year, La Candienne comes out with a version of these boots– the key is the buit in platform, which lessens the steepness of the heel. And the absolute cushiness of the soles. If there is such a thing as comfort heels, these are it. I can and have walked around all day in them. Personally, I couldn't spend a week in them nonstop straight, but they are great for mixing it up.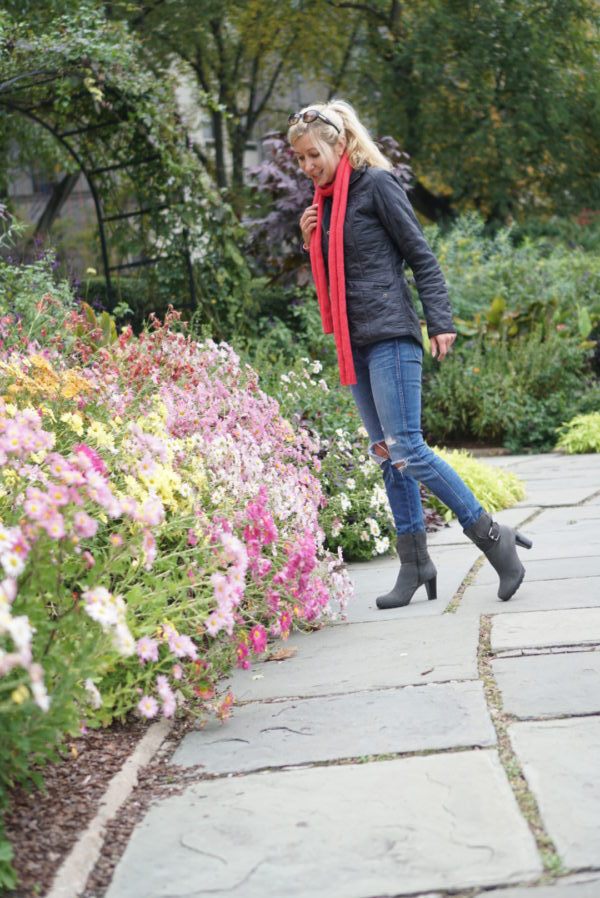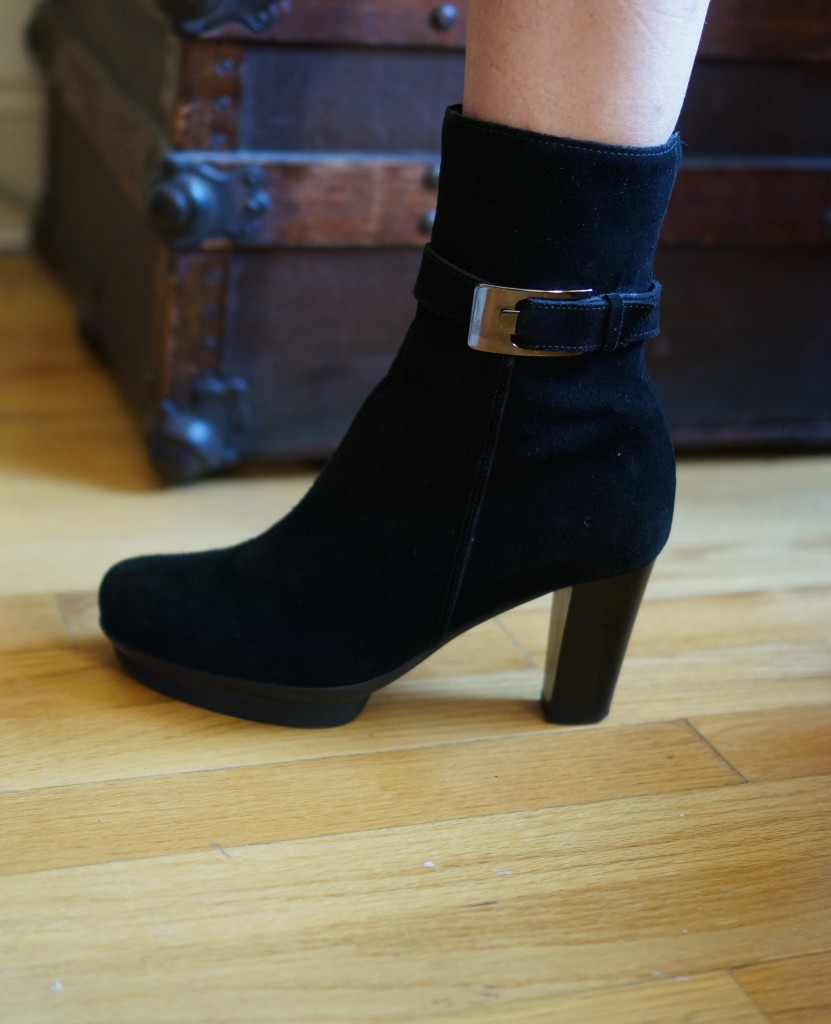 If you just can't do stilettos, I can also recommend these super comfy (and slightly more practical, as they are also waterproof) La Canadienne boots (I have them in both black and grey– this style is similar). They also have a built in platform and stable block heel.
Best Hiking Boots for Travel
If you are going out on the trails, you already know you'll need hiking boots. For light hiking I love classic styles over the sneaker style clunky hiking boots.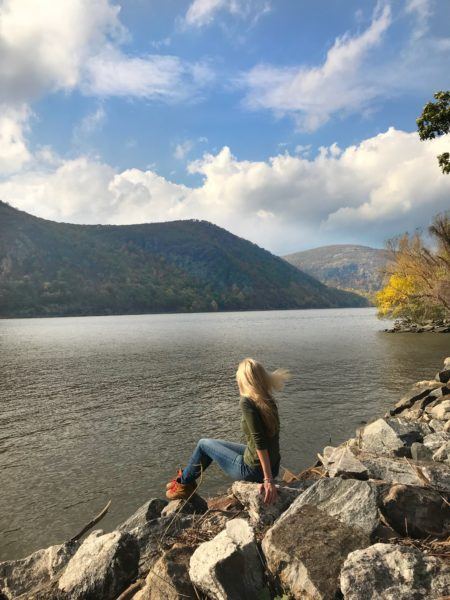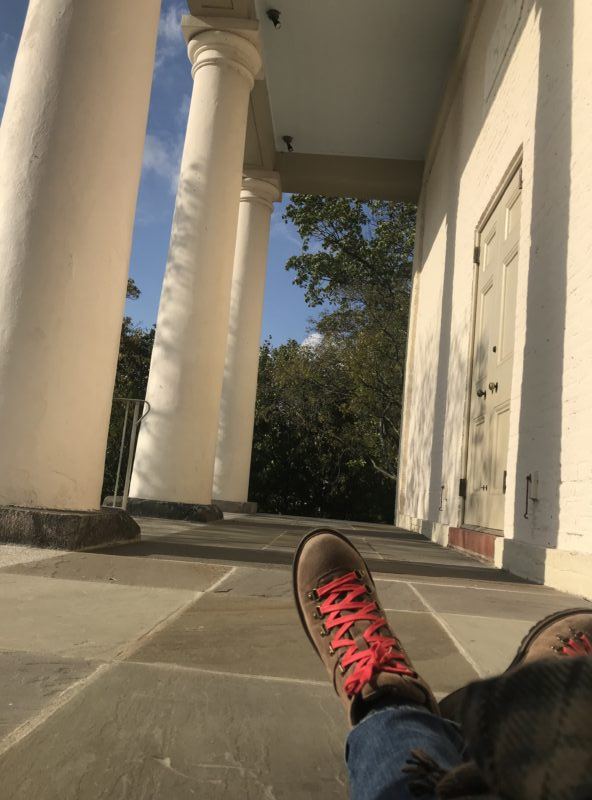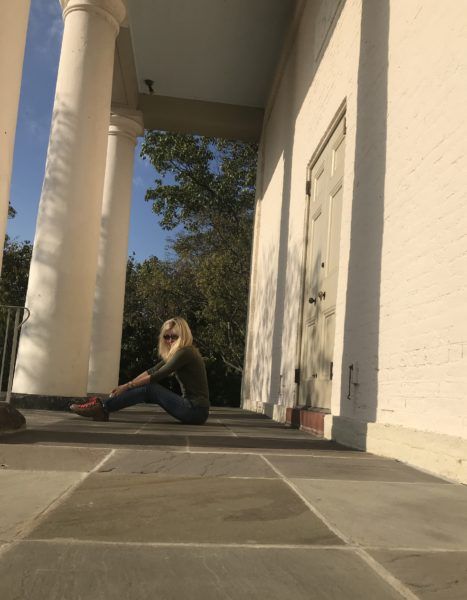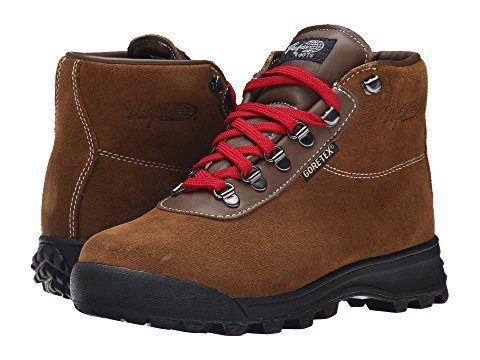 I adore these hiking boots, perfect for travel and on my Christmas wish list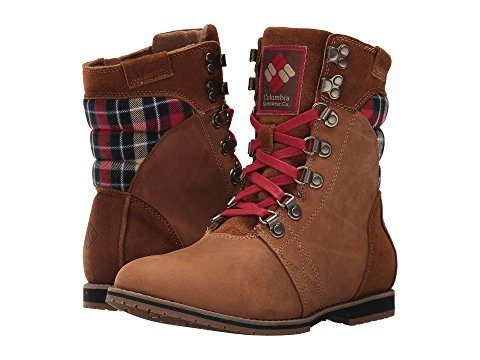 These adorable boots from outfitter Columbia are chic and well made.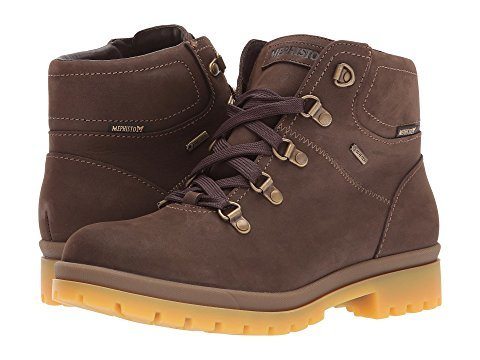 For a splurge option, I adore these Mephisto hiking boots, perfect for travel at home and abroad. Mephisto is known for their high quality footwear and a favorite among my readers, I just haven't had a chance just yet to get a pair and review them.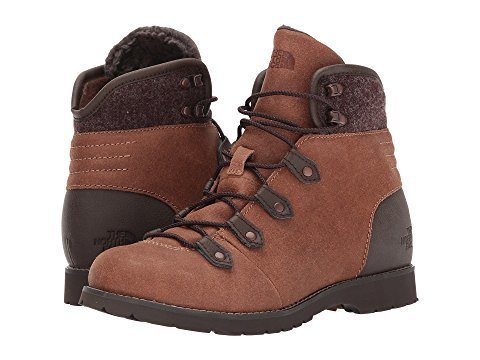 These adorably named "boyfriend boots" from Northface are the bargain pick of the bunch.
2. Best Women's Travel Shoes– Comfortable Loafers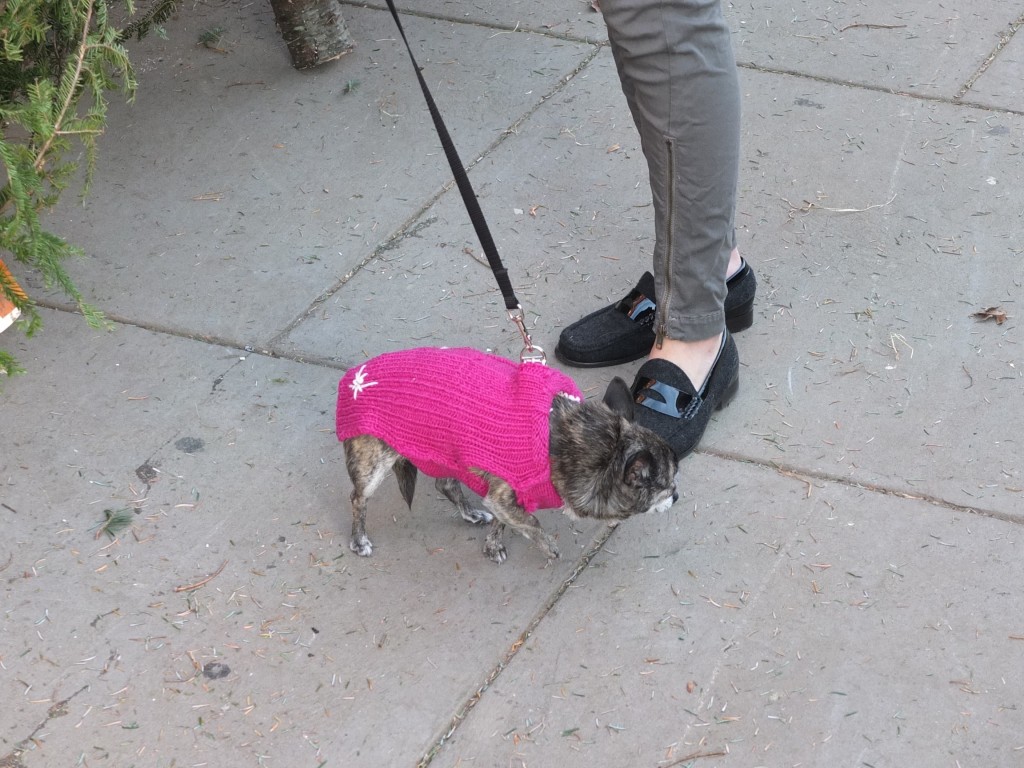 A great pair of comfortable, sturdy loafers is a must for both traveling and home. I love these loafers from Mephisto (left) and these cute brown suede loafers from La Canadienne (right),
Some more budget-friendly loafers that are still stylish and comfortable for walking and travel– left, these tassel loafers from Trotter. Left, these mock croc loafers from Ara. Center, these sturdy walking loafer from Clark, available in a range of spot on colors. Right, another cute best-selling pair of loafers from Clarks.
3. Best Women's Brogues and Oxford Shoes for Travel
More of the best women's oxfords and brogue shoe for travel: left, these shiny patent brogues from Earth, and right these sweet nubuck shoes.
4. Best Women's Travel Sneakers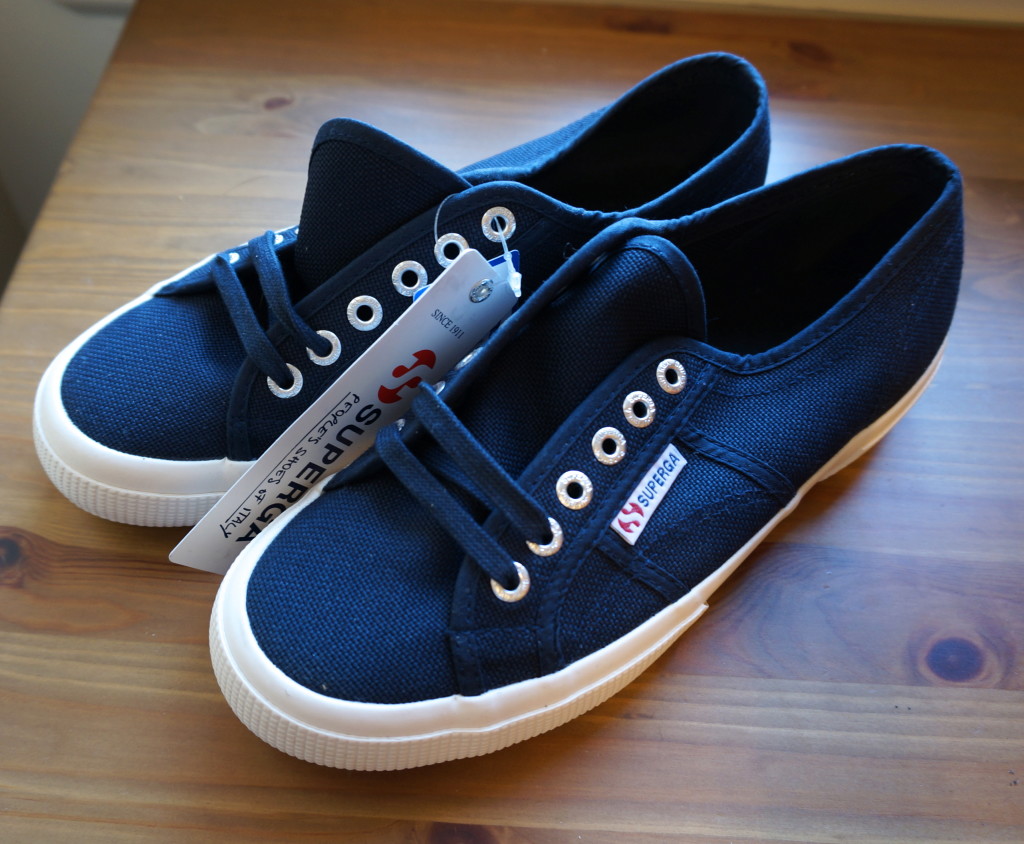 My tried and true Supergas– I wear these to death in every season
I already recommended these Superga sneakers in my best travel shoes for summer post. For a winter update, skip the bright white and pick a darker shade.
But my new favorites are these adorable and even more comfortable adidas sneakers (thanks to the reader who recommended I try them). These adidas sneakers are not only all day comfy, but they also look great with jeans, leggings, a dress– you name it. For proof, see my pics below.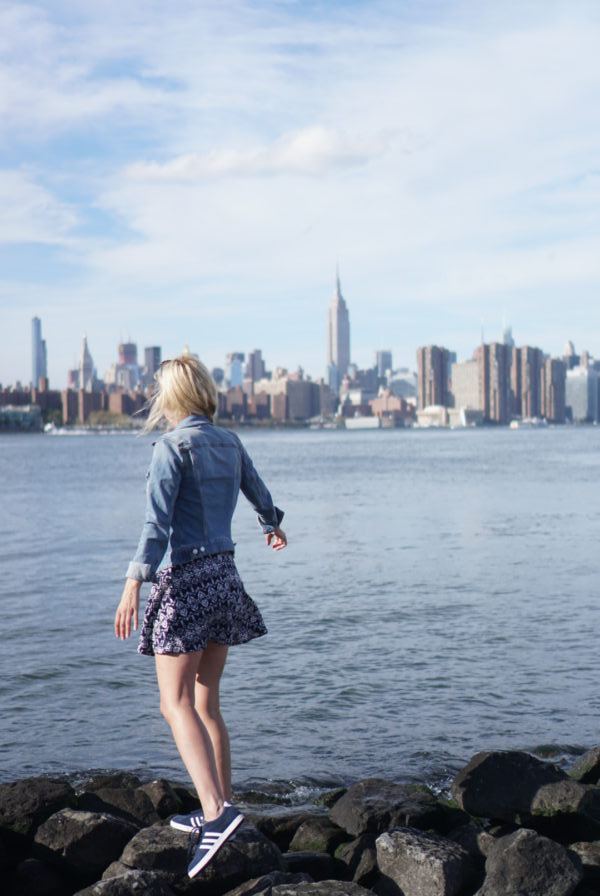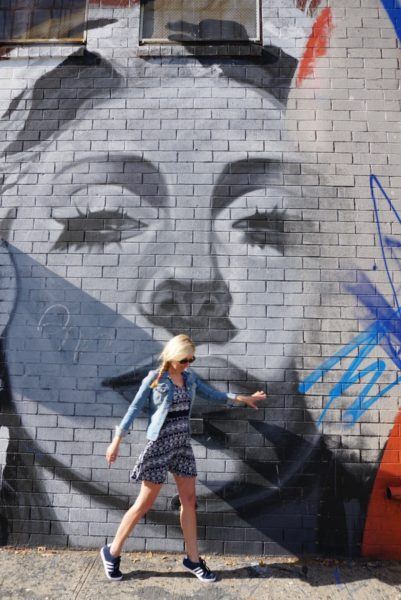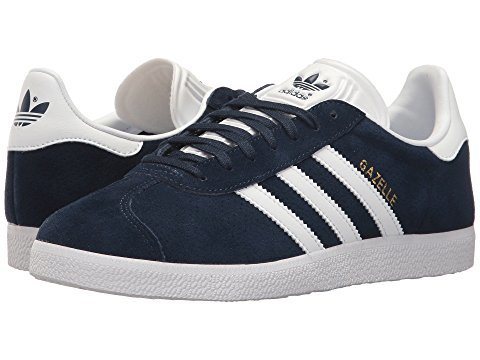 I wear these classic Adidas sneakers all the time (as you can see by all the photos above!)
If you need more support, these Mephisto sneakers are very popular and are recommended by readers.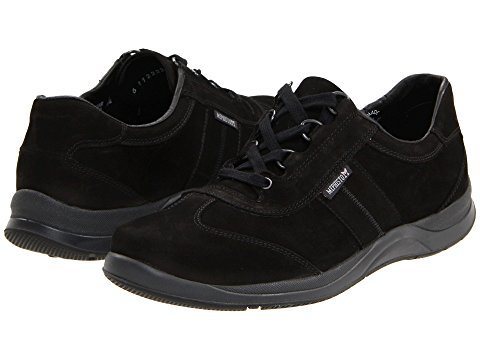 If you need more support, these Mephisto sneakers are very popular with my readers and pass muster for stylishly blending in. They come in a bunch of colors but I like the black nubuck best.
[typography font="Trocchi" size="24″ size_format="px"]Pinterest-Friendly Images[/typography]
[pinit]
Find this post helpful? At no additional cost to you, support the maintenance of running this website by using our Zappos affiliate links to shop, thank you!
What are your favorite travel shoes for fall and winter? Share in the comments below!