Everyone knows Mexico is famous for tequila, but have you heard of Mezcal?
I hadn't, but I quickly learned that while all tequila is mezcal, mezcal is not necessarily tequila.
Confused? I was, but this wiki article sheds some light on the difference for those who want an in-depth explanation. The short version: while both liquors are made from the agave plant, tequila is only made from one specific kind of agave, whereas Mezcal can be made from any of 11 varieties. And unlike tequila, which is uncooked, the agave used in mezcal is roasted, giving the spirit its characteristic deep, smoky flavor.
While you might find cheap imitations of Mezcal (complete with floating worms) making the rounds of college frat parties, true artisan mezcal is made in small batches via traditional processes, and can be pricey, running $45 and upwards.
Artisan mezcal used to be hard to come by in the US, but with the boom in craft cocktails, you can now find a few quality Mezcals served in specialty bars. But despite the recent interest in this trendy spirit, most small-batch mezcal never finds its way across the border. So it's worth it to seek out the huge variety of Mezcal flavors only available in Mexico.
Before you Bring Home your Mezcal Souvenir: Enjoy a Mezcal Tasting with an Expert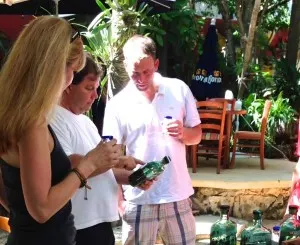 If the world of artisanal Mezcal is new to you like it was to us, it's best to get a lesson from an expert to learn about and sample all the different varieties. We recommend the charming restaurant La Cueva del Chango in the heart of Playa del Carmen as an ideal Mezcal tasting spot. Not only will one of the expert staffers guide you through the entire Mezcal tasting process, but you'll also have a chance to sample their decadent, authentic Mexican dishes (see our slideshow at the end of this post for some snaps of our meal).
At our tasting, we learned that Mezcal is best enjoyed straight up, and finished with a wedge of juicy Mexican orange, dipped in some "sal de gusano" (literally worm salt–a mix of ground worm larvae, ground chili peppers and salt). While I could never stomach swallowing a slimy worm, I found that when dried and pulverized into a powder, worms are quite delicious.
To recreate the full Mezcal experience back home, hit a large liquor store in Mexico for the best selections (we liked the well-stocked one in the new mall in the heart of Playa Del Carmen). The array of Mezcal selections can be dizzying, so if in doubt, find a helpful staff member to provide recommendations. You can also pick up some tasty worm salt here, a must for the true connoisseur.
****************
Souvenir Finder Bonus Tip: Don't Miss La Cueva del Chango in Playa del Carmen
When visiting Mexico's Riviera Maya, don't miss dining at La Cueva del Chango, one of the area's oldest restaurants. We drove directly here after touching down at Cancun airport, en route to Tulum— it's the perfect pit stop and easy to get to from the main road. While La Cueva del Chango is famous for their breakfasts (locals and tourists alike line up out the door) I can vouch that their lunch of authentic Mexican dishes was fabulous– my favorite meal of the entire trip. Watch our slideshow for some of our tasty dishes we enjoyed:
This slideshow requires JavaScript.
Have you tried Mexican Mezcal? Tell us about it in the comments below!
Thanks to Riviera Maya Tourism Board and La Cueva del Chango.
[box style="rounded" border="full"]Souvenir Finder Shopping Tip Sheet
What to Buy: Mezcal and (worm salt)
Where to Get it: We hit a large liquor store in Playa Del Carmen for a large assortment of artisan liquors, but you can find Mezcal all over Mexico.
What to Know: To make your souvenir more meaningful, sample Mezcal with a pro first– we loved our tasting (and decadent lunch) at one of Playa del Carmen's oldest restaurants, La Cueva del Chango.[/box]