The London Underground, London Buses, Black Cabs– you really can't go wrong with any of London's transport options.
But the Tube is my favorite. As a New Yorker, I should be bragging that the New York city subway runs all night and costs next to nothing, but my heart lies with the London Tube.
Why this New Yorker Loves the London Underground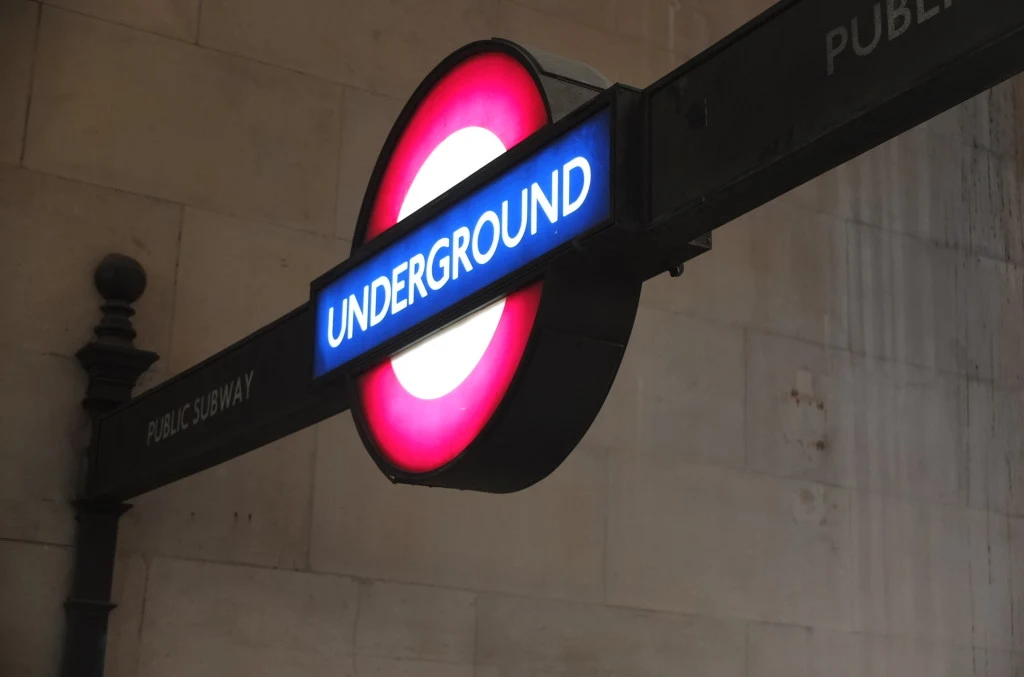 1. The London Underground is visible. Is there a tube nearby? No need to consult a stranger or an app. Just take a quick look to the left or to the right– like a beacon alerting you to save that cab fare, the tube's iconic rondel design is visible from several blocks away.
2. The London Underground's stations and lines are given real names. It always gives me a secret thrill to hop on the royal sounding "Jubilee" or "Victoria" lines instead of on the more mundanely named 4/5 line. And who wouldn't prefer to get off at the grand sounding Marble Arch Station instead of the ho-hum 59th Street? Love the names as much as I do? Try learning this song from comedian and musician Jay Foreman:

Video by Jay Foreman, used with permission. Click here to see Jay's YouTube feed.
3. The London Underground is (mostly) quiet. That goes for both the trains themselves (far less screeching) and for the overall din of the crowds. And I never have to worry about an impromptu "performance" on a train involving someone performing back flips mere centimeters from my face.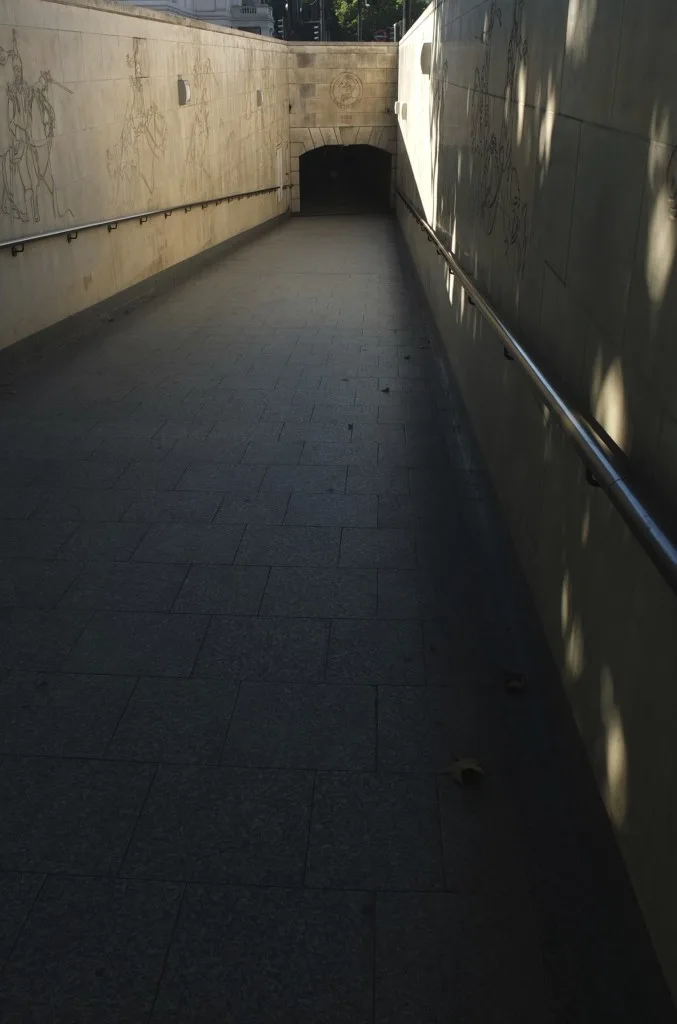 4. The London Underground has wide, clean passageways. While you might encounter an occasional busker, it's unlikely you'll trespass on the home of a full-time resident.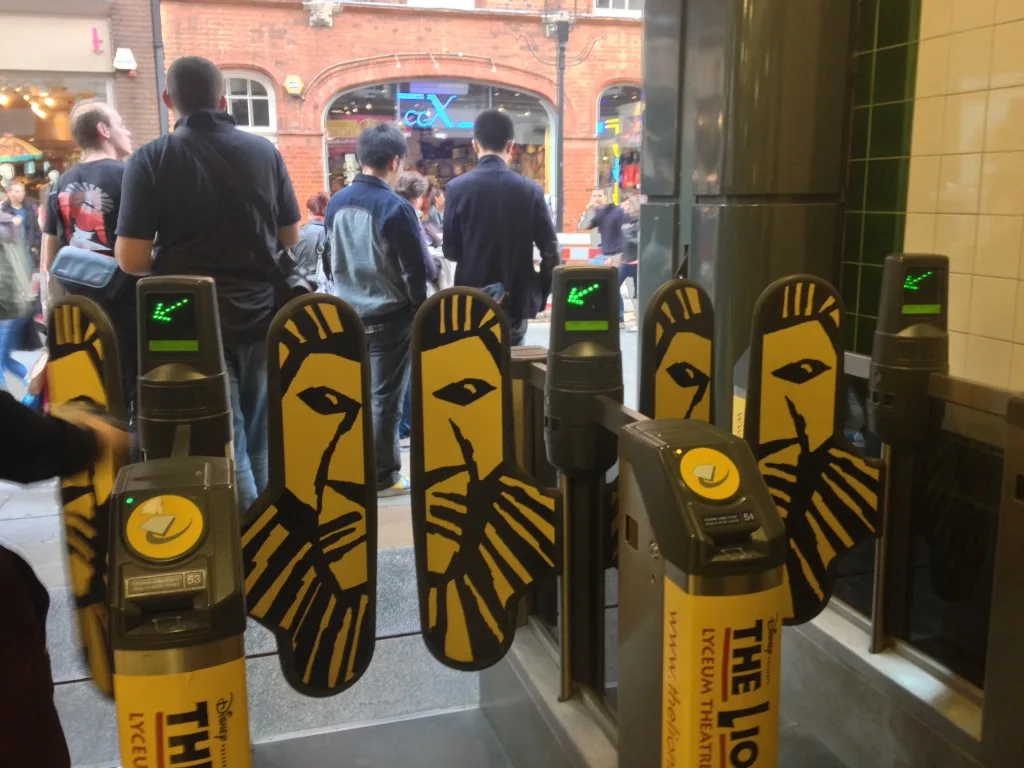 5. The London Underground's easy to use, "slap and go" Oyster card ensures the gates open every time. If you've ever mis-swiped your card and slammed into a NYC turnstile you'll know what I mean here.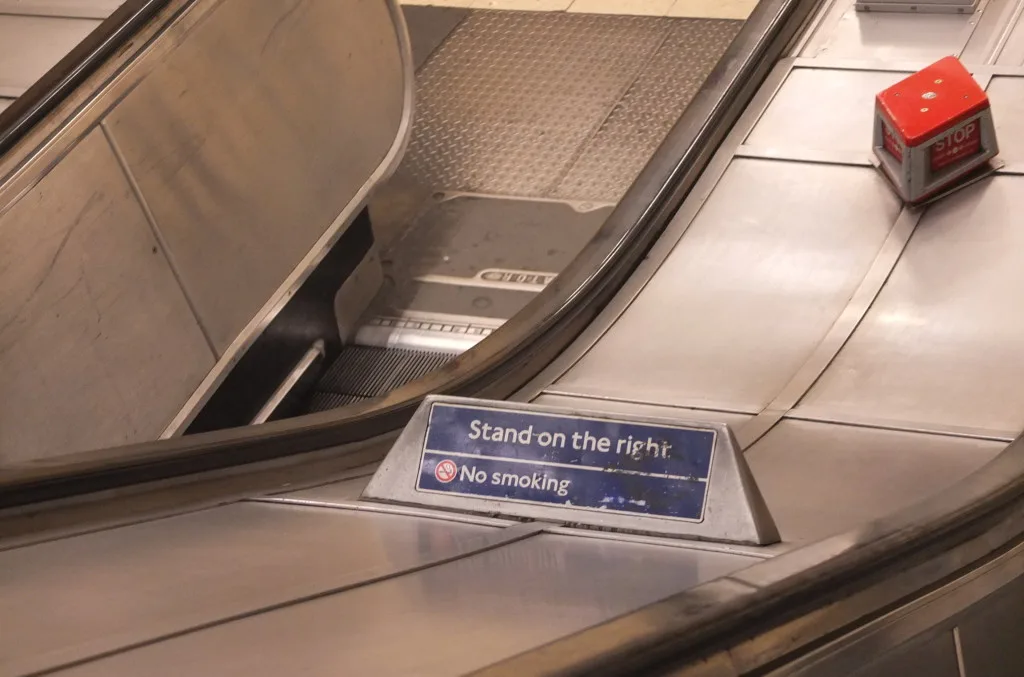 6. The London Underground does not allow lollygagging tourists to clog its escalators. Why can you quickly run up a London escalator but not a NYC one? Because of this simple sign directing people to "stand to the right." In the absence of said sign, non-commuters tend to take up as much space as possible by drifting to the middle of the escalator or by standing side by side, both equally annoying. Be prepared for dirty looks if you try to get by.
7. Charmingly, the London Underground has signs requiring you to carry dogs on its escalators! I struggled to find a dog to carry so as to comply with the rules but was unable. Fortunately, I have since learned that if you can't find a dog on short notice there is now a rental service.


8. The London Underground's countdown clock is awesome. I am obsessed with watching it tick down and love the ridiculous frequency of trains. Oh I missed that one? There's another in two minutes.
9. The London Underground's Fluffers. Just like magical elves, an unseen cleaning crew called "fluffers" works through the night polishing the train top to bottom. I can't help but picture this crew joyfully whistling and swirling giant feather dusters as they go about their duties.
10. The London Underground's "way out" signs. Have you ever been tricked by a parking garage's "exit" sign? You follow the sign and realize you're not really at the exit. You see another exit sign and hope for the best. Nope, not yet. You might see a dozen exit signs before you actually get out of there. The Brits have no time for this tomfoolery and rightly call the sign exactly what it is– the "way out".
Although the Tube is my favorite form of transport, London buses are not far behind.
Sit on the upper level and get a great tour of the city through the big picture windows.
While buses are fun to ride during the day and evening, avoid the notorious "night bus". I learned what this meant when we missed the last train and experienced the night bus ourselves– as an overly affectionate stranger stroked my friend's hair, we started to consider other options.
Always there in a pinch, what more can I say about London's beloved Black Cabs?
I love stepping into the spacious cab, making chit-chat with the driver, never concerned that my knowledge of the city streets might be better than his. If I I could afford it, I'd have a black cab sitting at the ready as my personal chauffeur and never worry about driving again.
When you think of how much-loved these London transport options are, you'll want to learn more about them at the London Transport museum. We'll let you read about the museum in your guidebooks, or better yet, let you discover it on your own.
After touring the museum, the London Transport Museum shop is a great place to bring back memories of one of the best things about London, its transport.
Many of the items in the London Transport Museum Shop are made from moquette– you know, that heavy-duty, thick pile woolen fabric you'll find on Tube and bus seats. When I read this, I thought– seriously, fabric from bus seats? But when you see the items in person and realize that moquette design has a long history behind it, you'll understand why it is loved by visitors and locals alike.
The fabrics are still woven in Yorkshire, using traditional techniques that are required to match exacting standards. What can you buy made out of moquette?
If you are looking for something softer than moquette but still crave the iconic tube and moquette designs, these scarves, made in local mills, are a great option.
The London Transport Museum has rescued a few original 1960s luggage racks from decommissioned trains. I can see these racks working perfectly in my hallway to toss my bags and hats on when I come in. If you aren't already at your carry on limit, one of the racks could fit in the overhead compartment. Prices start at £75.
Finally, if you have £4000 to spare, consider snapping up this fabulous Anthony Hartley chair, combining the colors of the tube lines with the eccentricity of British design– yes, they'll ship. The rest of us can just gawk and admire it.

What do you love about the Tube, London buses and black cabs? Have you ever bought transport related souvenirs? Share in the comments below!
Want to read more London posts? Start here:
Fashion Forward Brits Declare Love for the Onesie– Not just for Babies
Big Ben, the British Flag and a Telephone Box: Why we love British Kitsch
I got it at Primani, dahling. Why frugal tourists love London's Primark.
A walk through the Harry Potter gift shop at Platform 9 3/4, London
London Transport Museum shop souvenir shopping details:
London Transport Museum Shop
Covent Garden Piazza
LondonWC2E 7BB
Sunday – Tuesday 10.00 – 18.30
Wednesday, Thursday and Saturday 10.00 – 19.00
Friday 11.00 – 19.00
Special thanks to my TA friends, Original_Bobelinks, Bluebreezer54, parklandwalk, Wansteader, LauraRW, FlannerUK and SunriseEspresso! And to everyone else who participated in way out v. exit discussion.