Guest author Sonia Frieder of Sonar Travels shares her experiences souvenir shopping in Boston as an LA transplant.
From L.A. to Boston
When you step foot in Boston you can feel the history oozing from every corner– and that's not just because the Back Bay was built on a landfill. Home of the American Revolution, the Boston Tea Party, and Bunker Hill, Boston's history comes alive around every corner. So when I first moved to Boston from Los Angeles, I knew I had my job cut out for me. There was so much to see and so much history to take in. As I settled into Boston, bringing home little souvenirs from my new city helped make me feel like a part of it all.
Go Red Sox! My first Boston souvenir
One of the first things I did when I moved to my new city was to take in a Red Sox game at Fenway Park. I must admit, it felt a little wrong.
All those Dodgers game I went to! All those Dodger dogs I ate! It was like I was cheating on LA. But when in Rome…..so I bought my very first Boston souvenir, grabbed a Fenway Frank, and cheered "Let's go Red Sox!"
Sports and Boston go together like peanut butter and jelly. You simply cannot visit Boston without picking up a hat or jersey featuring a beloved Boston team. Just one word of caution, don't even think about showing up in the opposing teams jersey!
Picking up Souvenirs along the Freedom Trail
Boston may be famous for its sports enthusiasm but it's even more famous for its historical significance. So it's only fitting that one of the most popular things to do in Boston is take a walking tour of the Freedom Trail. The Freedom Trail is a 2.5 mile, brick-lined route that takes you along various historical sites in downtown Boston.
Pick up the Freedom trail at its starting point in the Boston Common, the oldest public park in the country.
While there, check out the Frog Pond, guarded by adorable frogs.
Then make your way to the Public Gardens, located right next to the Commons. Though not an official stop on the Freedom trail, the Gardens are a must see for their swan boats,
the world's smallest suspension bridge,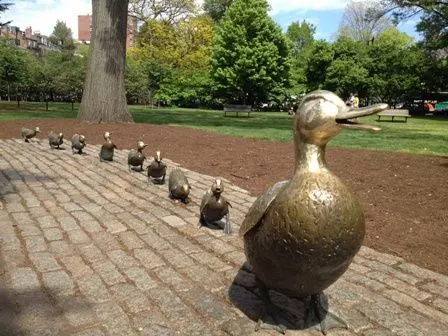 and of course, everyone's favorite (and a top 10 Boston attraction), Mother Duck and her eight ducklings. Inspired by the award-winning book Make Way for Ducklings, about a duck family living on an island in the garden's lagoon, the statues will have the little ones scrambling for their photo opp. Ok, and maybe the not so little ones too. The Make Way for Ducklings book is a great souvenir to top off your experience and bring the memory home.
Boston's Best Edible Souvenirs
Boston has some of the most delicious food I've ever eaten.
Some of these treats are not souvenir friendly and should be enjoyed on site– like Omni Parker House's famous Boston Cream Pie.
Boston's Best Cannolis
But my absolute favorite Boston treats are the cannolis in the North End, one of the oldest residential neighborhoods in America and home to hundreds of Italian restaurants. More importantly, the North End is home to the most famous cannoli feud ever– Mike's Pastry versus Modern Pastry. Folks line up around the block for a taste of these famous cream cheese delights. The heated debate over who has the best cannoli continues to this day. When visiting Boston you can have your own taste test on the spot and decide for yourself. But can you bring these delicious cannolis back with you to share with family and friends back home?
If you've ever left a cannoli out for more than an hour or so you probably know the answer to this– usually you can't take a cannoli with you or you'll just be left with a soggy mess. But there is a way around this, as Mike's has come up with a brilliant to-go souvenir– cannoli kits! All of the separate bits of the cannoli (including trimmings and powdered sugar) are packed separately, with the perishables set on dry ice. Just take home and re-assemble for the perfect Boston souvenir.
What are your favorite Boston souvenirs? Share in the comments below!
Want to read more about Sonia's favorite (and least favorite) things about Boston? Check out her post on Sonar Travels!
Boston Souvenir Shopping Details:
Omni Parker House Restaurant, 60 School Street, Boston, MA
Mike's Pastry, 300 Hanover St, Boston, MA 02113,
Hours: Mon-Tue, Sun 8 am – 10 pm Wed-Thu 8 am – 10:30 pm Fri-Sat 8 am – 11:30 pm
Modern Pastry, 257 Hanover St. Boston, MA 02113
Hours: Mon-Thu, Sun 8 am – 10 pm Fri 8 am – 11 pm Sat 8 am – 12 am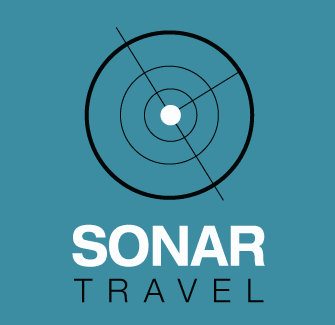 Loved this post? Sonia is not the traditional travel planner– as the owner of
Sonar Travel
, Sonia creates personalized, highly detailed travel itineraries based on your personal interests and budget, that you can book yourself. Sonia recognizes that while travelers can easily book their flights online these days, it's the details of the day-to-day activities that make or break the trip. Sonar Travel's custom itinerary will tell you where to go, when the best time to visit is, how to get there, where to purchase your tickets, and more. Never worry about wasting valuable vacation time missing a train or standing in lines. Sonia and Sonar Travel can help you plan a long weekend in Boston or a honeymoon in Paris! Sonar Travel was even mentioned in the December issue of
Condé Nast Traveler
!
Read more about Sonia's services on the Sonar Travel website, click here for more information.
Photo attributions:
Photos by Sonar Travel except:
# World's shortest suspension bridge – Boston Public Garden / CC BY 2.0