When I visited Dublin's Trinity College I was feeling pretty inspired. Exploring the idyllic campus and watching the students walk to class, I was nostalgic for my own university days.
Of course, in my rose-tinted memories, there are no stressful exams or papers to write, instead I imagine myself sitting on the quad, leisurely reading the classics.
After a turn around the campus, I visited the Old Library with its illuminated manuscript, the Book of Kells. Yes, I was definitely in the land of saints and scholars now. Like most Dublin attractions, the library exits through the gift shop.
Feeling quite scholarly, I easily bypassed these "souvenir" buses.
I even resisted some of the cuter items that might have otherwise tempted me– like these well-cut Trinity College tees.
Or these rugby balls (perfect for recreating that toss on the quad).
Nope, not today. I headed straight for the bookcases. It was pretty easy to decide what to buy when I saw one of my favorite poets on the shelf.
But was this just an aspirational souvenir, one I was buying because I was caught up in the moment, wanting to be the type of person who reads poetry?
Would it be read once, then end up buried in my stacks of books, quickly forgotten with the others?
While I have been guilty of other "aspirational" souvenirs, this time, Yeats was a keeper. I keep my copy on my nightstand, and it was soon joined by other forgotten favorites from my stacks. Now, instead of reading in bed by the light of blaring ipad screen, I gently lull myself to sleep with a favorite verse.
Flip the book open to one of my favorite poems and you'll see why– Yeats was not only a revered poet, but also a very accessible one. Fortunately, as of 2010, Yeats' work entered the public domain, so I can reprint it in full here:
When You are Old by William Butler Yeats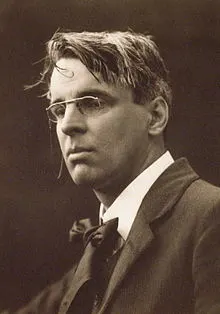 When you are old and grey and full of sleep,
And nodding by the fire, take down this book,
And slowly read, and dream of the soft look
Your eyes had once, and of their shadows deep;
How many loved your moments of glad grace,
And loved your beauty with love false or true,
But one man loved the pilgrim soul in you,
And loved the sorrows of your changing face;
And bending down beside the glowing bars,
Murmur, a little sadly, how Love fled
And paced upon the mountains overhead
And hid his face amid a crowd of stars.
Like this post? Keep up with the latest posts by liking us on Facebook!
Have you ever been inspired to bring home literature from from a trip? Share in the comments below.
Dublin, Ireland Souvenir Shopping Details:
Trinity College Library Shop
Trinity College Dublin
College Street, Dublin, Ireland
You might want to check out these other Dublin, Ireland shopping posts:
Shopping Irish Supermarkets for fun Souvenirs: What to bring back
Hit the Park, Shop for Knits, Get a Drink– the perfect Dublin Itinerary
Candy-colored woolens from one of the world's oldest mills: Souvenir Shopping in Dublin
Shopping Dublin, Ireland: Sheridans Cheesemonger for the best in local Irish cheese
Shopping Dublin: Refined Irish design all wrapped up at Bow
Where to shop in Dublin for great dresses and jewelry by Irish indie and vintage designers
All photos by Souvenir Finder except:
#5 By Hannes Ambrosch Trinity College Library / Dublin / CC BY-ND 2.0
#13 This image is not subject to copyright in the US (life of the author plus 70 years).