Looking for things to do in Dublin that will be the highlight of your trip? Follow my picks for the perfect shopping afternoon in Dublin– take a stroll through St. Stephen's Green, shop for woolens then top it off with cocktails at the Shelbourne Hotel.
1. Things to do in Dublin: First, hit the park.
In any city, I always recommend taking a walk through the local park. It takes you away from the tourist-only zones you've been stuck in while visiting museums and attractions and lets you feel like you're hanging out with locals, even if you are just watching them walk by.
Dublin's St. Stephen's Green is pretty much the perfect city park because it's small, located right in the city center, and is loaded with great scenery like duck ponds and wooded paths.
2. Things to do in Dublin: Second, shop for souvenirs–great handknit goods made right in Ireland
Exit the Green at Kildare street and you'll be ready for the next stop– shopping.
Cleo's is the perfect one-stop shop for Dublin souvenir shopping and is conveniently located right off the park. Cleo's has a huge variety of gorgeous handmade items– sweaters, knit hats, felted wool toys, tweed bags, men's ties, linen blouses and even ipad cases.
SF Shopping Tip: For a primer on everything you ever wanted to know about Irish sweaters, check out Susan from VibrantIreland.com's fantastic post here. Susan distinguishes handknit from hand-loomed from hand finished and offers some great shopping suggestions.
All of Cleo's products are handmade by traditional Irish craftspeople and Irish designers from all over Ireland. Just ask and the shopkeeper will happily recite the fascinating back stories behind any item.
What can you buy at Cleo's? I snapped photos of some of my favorites:
Adorable mini sheep and yummy soap that smells like Christmas (4 euros).
Cozy sheepskin throw and handknit men's ties.
Finely knit fingerless gloves (40 euros)– perfect for handling a camera or iphone in nippy weather.
A large selection of children's items– like these handknit baby shoes
Beautifully made ipad covers, a bargain at 24 euros.
Loved the herringbone weave of these scarves.
Great color combinations.
Who doesn't want a pile of adorable tweed mice? 7 euros a mouse.
These are real fisherman belts made on the Aran isles using traditional methods. Some fashion savvy shoppers double wrap them to use as a unique belt.
3. Things to do in Dublin: End the day with drinks at the Shelbourne Hotel
Once you've filled your shopping bags with all your great Dublin souvenir finds, it's time to continue the buzz with a celebratory cocktail. Just around the corner from Cleo's you'll find the No. 27 bar at the Shelbourne hotel. Light-filled and spacious, there is plenty of room to unload your shopping bags. Enjoy fabulous views of the park outside through the large picture windows and inside, check out some of the best people-watching in Dublin.
4. Back at home, enjoy your souvenirs and the memory of a perfect afternoon in Dublin.
The best part of this itinerary is that every time you use your Dublin souvenir, you can enjoy the memories of your perfect Dublin afternoon.
I love this plaid satchel I picked up at Cleo's (65 euros). Great details like the big leather clasp and the silky green lining set this bag apart.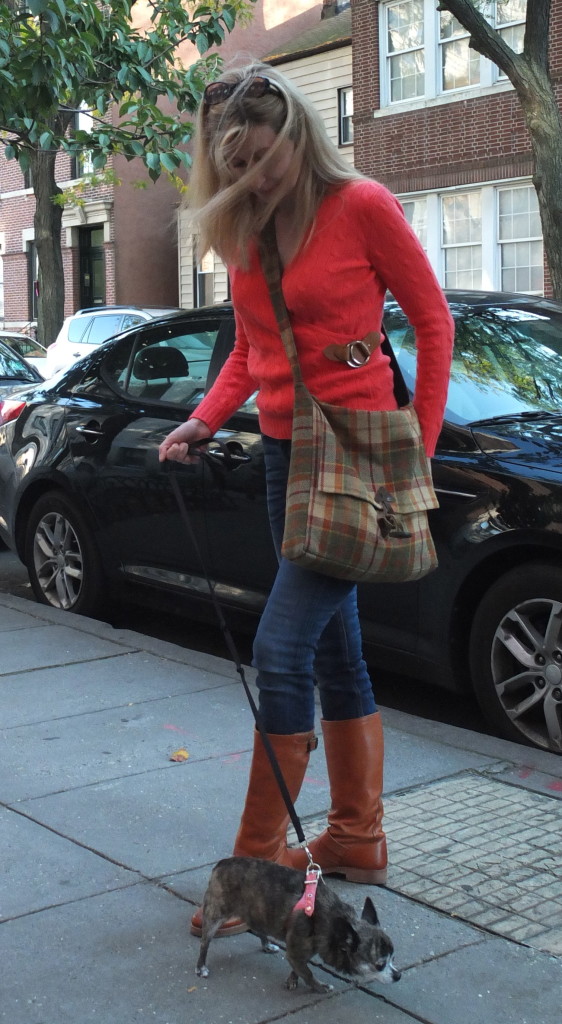 It's the perfect bag to grab when walking the dog in the neighborhood or for another shopping spree (it's deceptively spacious, I fit a day's worth of shopping finds and my camera in here).
Have you been to Cleo's or another great shop in Dublin? What are your favorite things to do in Dublin? Share in the comments below!
Dublin Souvenir shopping details:
Cleo's
18 Kildare Street
Dublin 2, Ireland
Monday – Saturday: 9:00am – 5:00pm
Closed for Lunch: 12pm – 1pm
Drinks
Shelbourne Hotel Great post-shopping stop or for evening cocktails.
27 St. Stephen's Green · Dublin, 2 Ireland
Here are some other Dublin shopping posts you might want to check out:
Shopping Irish Supermarkets for fun Souvenirs: What to bring back
Candy-colored woolens from one of the world's oldest mills: Souvenir Shopping in Dublin
Shopping Dublin, Ireland: Sheridans Cheesemonger for the best in local Irish cheese
Shopping Dublin: Refined Irish design all wrapped up at Bow
Where to shop in Dublin for great dresses and jewelry by Irish indie and vintage designers