I recently took an amazing road trip through all five of Utah's National Parks. I can't quite pick a favorite park since they were all so different and incredible in their own way.
But to me, Zion National Park represents everything a US National Park should be– breathtaking vistas, unique scenery and one of a kind hikes. Of all the Utah national parks, Zion has the best selection of souvenirs to choose from, so you can bring your memories home with you.
What I loved about Zion National Park (and why it's worth bringing home a souvenir)
Jaw Dropping Scenery
Zion's massive sandstone cliffs glow in an array of colors that need no photo editing. The best way to take in these glorious cliff vistas is from some elevation.Because the hikes mostly start at the bottom of canyon, it's hard to get an overall feel for the majesty of Zion from below (unless you are doing the more ambitious climbs like Angels' landing).
For the less adventurous of us, the drive on the scenic road through the park provides some amazing views without the perilous climb. The scenic drive starts with the mile long tunnel carved into the cliffs– windows along the walls offer a preview of what's ahead.
If you're in an RV like we were, officials will hold back traffic and allow you to enter the tunnel all by yourself, a pretty cool experience.Once on Zion's scenic road, with its reddish asphalt blended into the surrounding, be prepared for switchback after switchback.
With each turn, the views will make you gasp. Fortunately, there are plenty of pull off points to take in the vistas and snap some photos.
Hikes for all levels
I like to know what I'm getting into when I take a hike. If it's more than an hour or two, I might want to take a snack or avoid the heat of midday. Planning for the heat was especially critical on our July trip, when temperatures can rise into the low 100's.
We wanted to avoid heat exhaustion so we planned a few shorter, easier hikes for the morning and pre-sunset (Weeping Rock and Emerald Pools were both easy though a little crowded).
Later we dove into the famous Narrows slot canyon hike (more on that next).
Unique Hiking Experiences– the Narrows Slot Canyon
I didn't really know what the Narrows hike was about before taking it on, other than reading you could go as little or as far as you wanted to, then turn back. That sounded reasonable enough so off we went on the pleasant Riverwalk hike which served as the entry point to the Narrows.
When we arrived at the start of the Narrows I noticed a couple of things. First the hike was entirely through the river. Second, every single person except for us had a walking stick for navigation and balance, and most had special river shoes (you can rent them in the park). Whoops.
While it turned out that balancing on the slippery, bowling ball like river stones wasn't so much of an issue, not having a wet bag to carry my belongings was. At some points waist high in water, holding my backpack over my head, the prospect of losing my pricey camera to an errant footstep was terrifying.
We ventured as far as I dared, hoping at each bend that the crowds would dissipate, but it was not meant to be. You have to hike pretty far to thin the crowds out and get to the famous slot canyons, something I was unwilling to risk my camera for. Still, it was an amazing experience– next time, I'll come better prepared.
Souvenir Shopping in and Around Zion National Park
As I learned when traveling to Utah's National Parks, for better or worse, park locations can be very isolated. Zion, though not exactly in a densely populated area, had a couple additional things going for it beyond the park itself. First, it's not so remote that it's cumbersome to get to (Vegas is only 160 miles away).
Second, immediately adjacent to Zion is the cute village of Springdale filled with shops and restaurants. After a long day of hiking the park, we had so much fun rummaging through the artsy shops and grabbing southwest tacos in town.
What Souvenirs to Buy in Zion in Springdale
In Springdale (and in most towns around parks in Utah) you'll find a preponderance of local art. Some of it is great, other stuff is kind of meh, but the overall quantity is overwhelming. We browsed a few galleries, and while nothing in my brief review stood out to me as a great souvenir, I encourage you to check out the local art scene for yourself.
Rocks
What did intrigue me, however, were the several local rock shops. Since Zion is nothing more than a collection of rocks that come together in a spectacular way, a rock souvenir seems appropriate. Of course you don't want to help yourself to the rocks in the park (that's illegal by the way) but purchasing a beautiful souvenir rock is easy and cost effective.
I am no expert in rocks, but the sheer quantity and diversity of rocks on offer guarantees you'll find what you're looking for. Crystals are always a good gift, and hyper local stones directly from the region are interesting too. A huge rock might make for a cool decorative accent, and small ones might be something you keep on your nightstand as a reminder of your trip.
Souvenirs at the Zion Gift Shop
The gift shops at National Parks tend to look the same after awhile, offering similar merchandise with a different park name emblazoned on it.
There are of course the National Park patches, which many visitors collect from each park. Then you'll have the coffee mugs and t-shirts. While I would have loved a well-fitting t-shirt, I didn't see any women's styles at any of the Utah National Parks I visited– only boxy unisex styles. For men or those who prefer this straighter cut, there were lots of cute options.
Prickly Pear Cactus Products
I liked the inclusion of local edible products– prickly pear cactus can be found throughout the Southwest and is made into candy, drinks, tea, jam and syrups.
Handmade items from Local Indian Tribes
In many of the southwestern park gift shops including the one at Zion, you can find traditional items made from nearby Indian tribes. I was given a dreamcatcher, a perfect souvenir. You hang it by your bed at night and it catches the bad dreams.
Interesting Local Crafts
Of all the Utah parks gift shops, Zion had the most local crafts. Each craft had a description of the traditional method and bio of the artist. I wish I had better photos for you but the light was streaming in and backlit the souvenirs. In person they were quite beautiful,
Locally Made Elk and Bison Jerky
If you are a meat eater, you can sample locally made jerky and sausage from elk and bison.
Housewares with Local Designs
I find housewares one of the easiest souvenirs to buy because you can always find a use for them back home. These pot holders, corkscrews and kitchen towels with Southwestern flair will find a place in my kitchen.
Pin it For Later: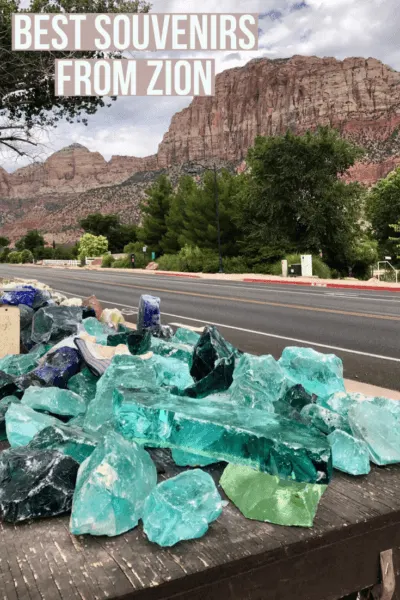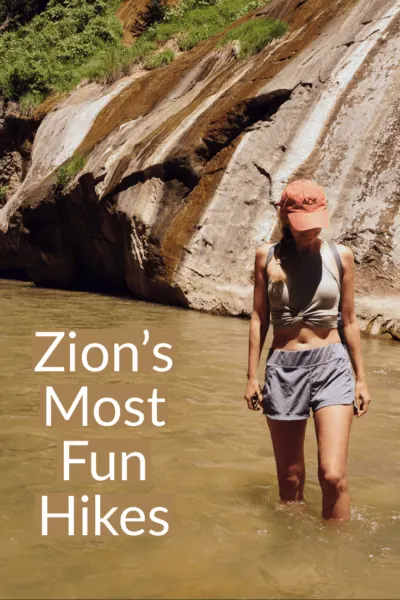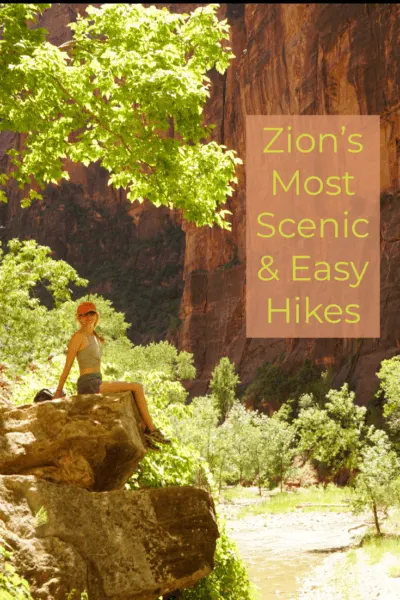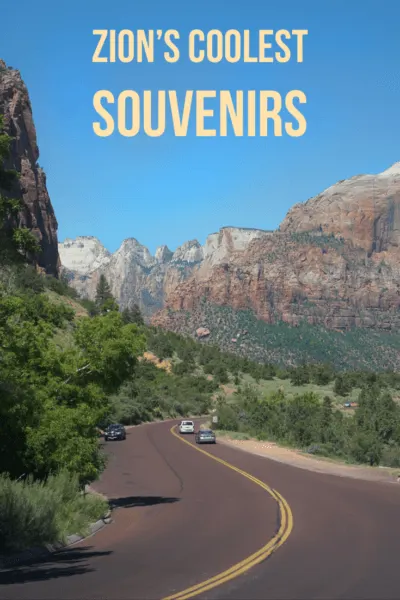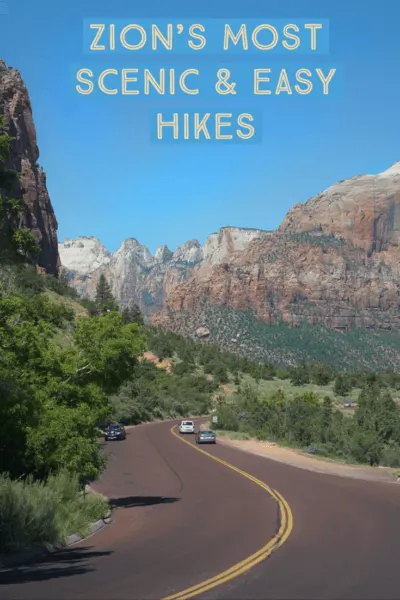 Have you been to Zion National Park? What are your favorite hikes and souvenirs?