Before venturing too far out of your way on an Alabama road trip, you might wonder whether it's worth it to visit the Unclaimed Baggage Store. My mom and her husband (traveling via RV) made a recent side trip here while staying in nearby Guntersville (for more on what to do and where to stay scroll to the end of this post).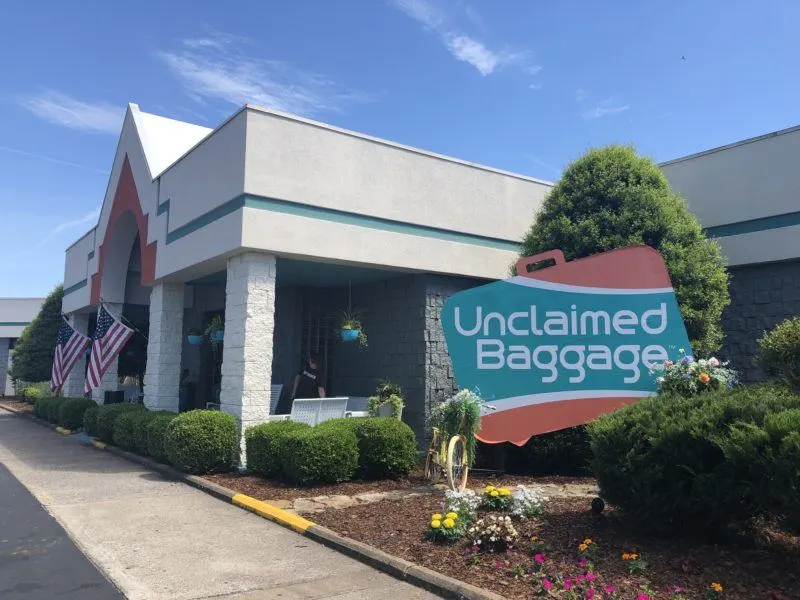 We thought it was worth a visit to the Unclaimed Baggage store if only to satisfy our curiosity of what we might find there.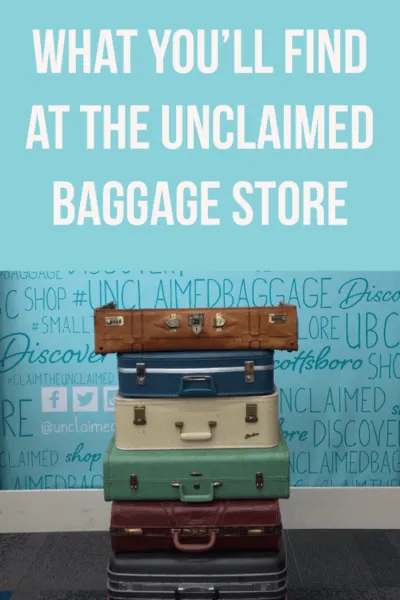 What is the Unclaimed Baggage Store about anyway?
For the uninitiated, the Unclaimed Baggage store is not an ordinary store with a clever name. It is an actual repository for lost, forgotten and unclaimed luggage, all priced to sell at steep discounts. To my knowledge, there is no other store like this anywhere in the world. For our curious minds, that was reason enough to pay a visit.
We were not the only ones intrigued by the lore of Unclaimed Baggage Store. It's actually one of the top tourist attractions in Alabama. Open since 1970, the store occupies a massive 40,000 square foot space, with its own cafe on site.
The concept of lost/abandoned luggage is intriguing. These aren't the unwanted items you'll find at thrift or pawn shops. Afterall, someone decided these goods were worthwhile enough to take up precious suitcase space on a trip or vacation. I don't know about you, but I only pack my favorite things for vacation and would be devastated if I lost them all in one fell swoop.
While we at first wondered if you could sort through entire lost suitcases like a treasure hunt, we learned that was not the case. And for good reason. First, before anything hits the sales floor, each item is carefully vetted and cleaned (or trashed if not up to standards).
Next, items are sorted and displayed by category, which makes it easy to shop if you're looking for something specific like a dress or a pair of sunglasses.
What You'll Find at the Unclaimed Baggage Store– Our Photo Guide
Because we always like to see plenty of photos of shops before deciding whether to include them on my itinerary, we took our own photos to give you a better idea of what to expect. Overall, our impression was the Unclaimed Baggage store was clean and well organized, filled with helpful sales assistants, and offered a wide variety of goods at all price points.
Like anywhere, shopping can be hit or miss on any given day. Stock is replenished daily so you'll never know what you might find.
Wedding Dresses
We were shocked when we saw the racks of wedding dresses at the Unclaimed Baggage store. If this happened to me I know I'd be on the phone with the airline until my dress was tracked down, come hell or high water. I like to think that perhaps these dresses were lost after rather than before the wedding.
Suitcases and Luggage
As you might expect, a store called Unclaimed Baggage has lots of baggage. You'll find stacks upon stacks of suitcases, rolling bags, duffel bags– pretty much any kind of travel bag. Prices are super low.
Sunglasses
Understandably, sunglasses are possibly one of the most forgotten/lost items ever. Whether you left yours on the plane, in a suitcase or at security (which I've done) those lost sunglasses eventually find their way here. It's a good place to stock up on actual designer sunglasses and cheap knockoffs (presuming you can tell the difference).
Electronics
If you aren't skeeved out by used headsets, this is a great place to pick up a pair on the cheap. Also look for ipads (often left in the seat pocket).
Shoes and Sneakers
Sneakers, pumps, walking shoes, you name it they will likely have it here.
Coats
We don't have a photo of the coat supply, but apparently coats are some of the best bargains here, starting at $8.
Books
I wondered if the book supply would be mostly vacation reading with frothy titles more popular than serious works.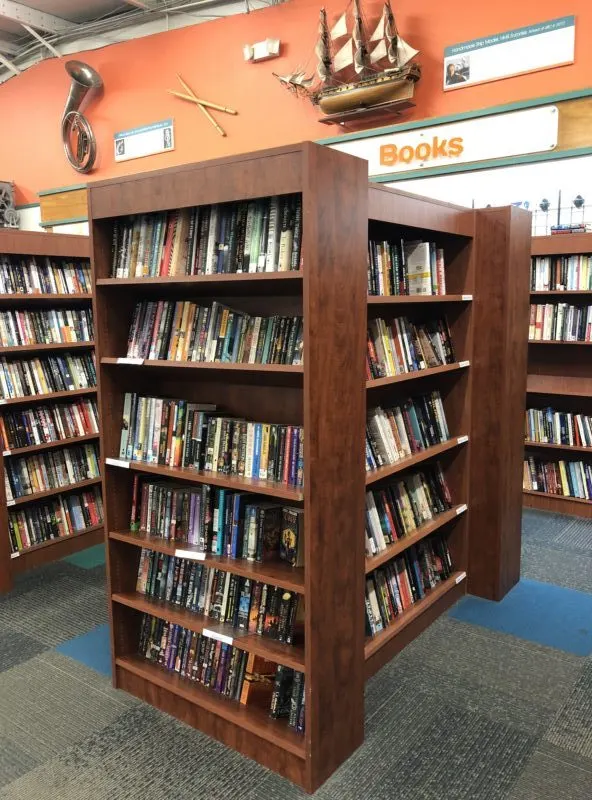 Watches
We saw mostly cheaper models (people still wear watches?) but rumor has it a Rolex makes an appearance now and then.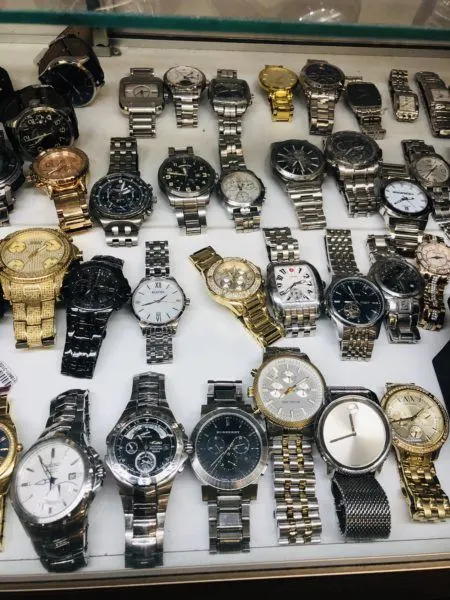 Hats
I can only imagine how easy it is to forget a hat placed in the overhead bin of a plane. You'll find lots of vacation-ready straw hats here.
Jewelry
I read that the jewelry is listed at half the appraised value.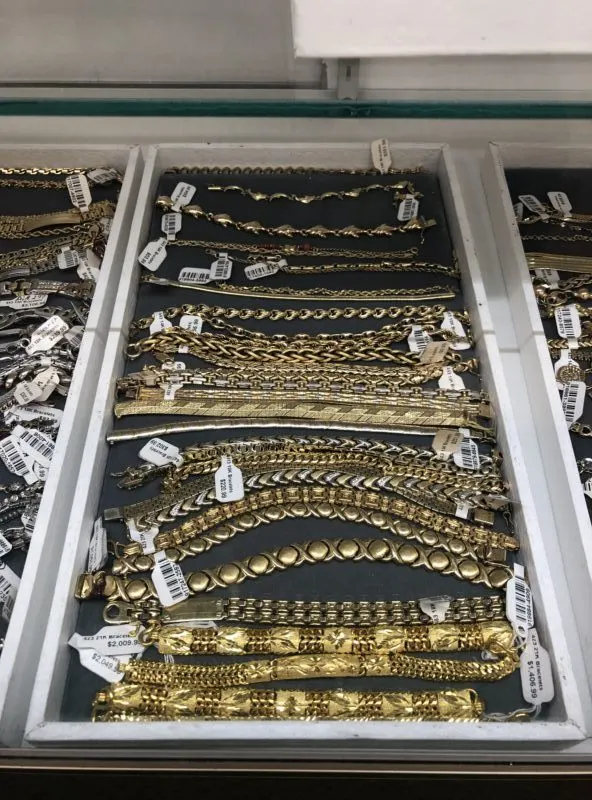 Just for fun
Make it a Vacation: Where to Stay and What to Do near Unclaimed Baggage
If you are still wondering whether it's worth a trip to Unclaimed Baggage you might want to consider what attractions are nearby. My mom is currently traveling the country in her RV and was planning her interior drive through Alabama.
When picking areas to stop, my mom prefers not to zigzag or veer too far off route. After exhaustive research (like mother like daughter) mom settled on the area of Guntersville, which promised lots of natural attractions, but most importantly, was very convenient to their chosen route.
It was only after they arrived in Guntersville that they realized what a hidden gem it was– they had a blast exploring lakes and estuaries and ziplining through the tree tops. My mom gives the area a big thumbs up as a fantastic unexpected vacation destination.
Unclaimed Baggage Hours:
Mon-Fri 9-6, Sat 8-7
509 W Willow St, Scottsboro, AL
Pin It for Later: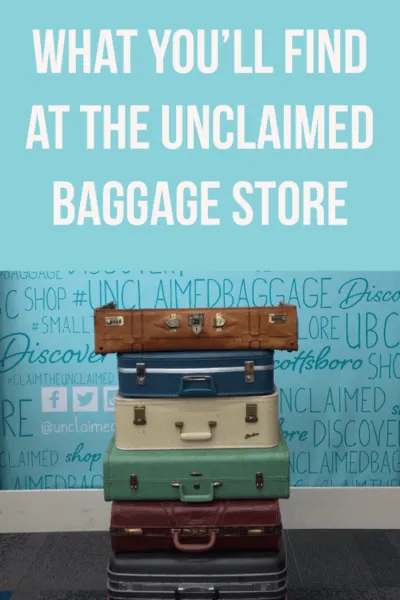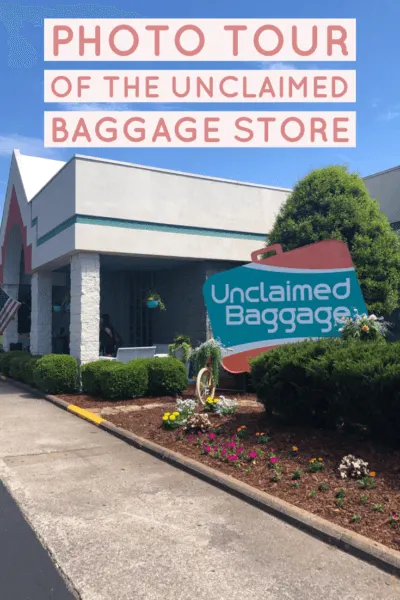 Have you been to Unclaimed Baggage? Tell us about your experience in the comments!