Babka, I hear, has made a comeback, splattered all over Instagram with modern versions and recipes incorporating this traditional dessert.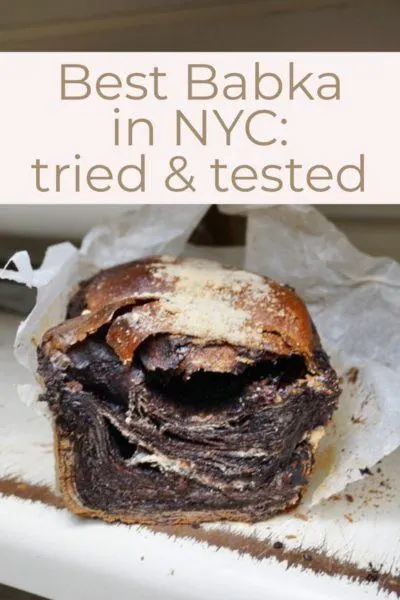 For those unfamiliar with this sweet treat, babka is a cross between a cake and a bread, with chocolate or cinnamon infused between flaky layers.
As a staple at New York's traditional Jewish bakeries, it makes sense to include babka as a top New York City food souvenir. You may find babka elsewhere in this country, but in New York City, there is a sense of longstanding tradition that goes along with it. Also, babka keeps for about a week, is easily packable, and requires no refrigeration, making it an ideal souvenir.
When I considered the question of which New York City babka to recommend, I decided some taste testing was in order. I definitely wanted to consider the well-known babkas made by traditional Jewish bakeries, but made some room for newer versions. I also limited my search to more easily accessible areas that a tourist might visit on a trip to New York.
Finally, I only taste tested at bakeries that make their own babka. You can find babka at some specialty shops, like Dean and Deluca, but they outsource babka production to a Brooklyn purveyor.
Best Overall Chocolate Babka: Oneg
188 Lee Avenue, Williamsburg, Brooklyn
Oneg's babka is for chocolate lovers– the layers of fudge-y chocolate are the predominant flavor in this super dense, super rich babka. Fellow blogger Dani described this babka "like crack" and other taste testers agreed.
Visiting Oneg, located in the Hasidic neighborhood of Williamsburg, Brooklyn, was an interesting experience. You'll catch a whiff of amazing bakery smells as you walk by, that alone will tempt you inside. The bakery is very bare bones, its shelves stacked with just baked goodies. I saw no big industrial machines here, just a lone baker hand rolling dough in the back. The service was friendly, but I was also overcharged until I pointed out the ridiculous price ($30 for $15 worth of babka) Still, I would go back here in heartbeat and stock up.
Budapest Bakery: Prettiest Chocolate Babka
1631 Second Avenue (at 84th Street), New York, NY
I added Budapest Bakery to the list because i) it had made a few other NYC "best babka" lists and ii) it was closest to my apartment on the Upper East Side. Despite being conveniently located in my hood, I had never actually bought anything from this bakery before.
I scanned the shelves of Budapest Bakery seeking the classic babka loaf and saw nothing that resembled it. I wondered if they still carried it. To my surprise, the shop attendant pointed out babka shaped in a pretty mold. This extra large babka ran $14, so I was glad they also sold still-fresh slices from yesterday's batch.
The babka was tasty, not too dry and well-balanced. An all around a good performing babka.
Breads Bakery: Tastiest Twist on Chocolate Babka
multiple locations
Breads bakery's babka has an advantage over traditional babka because it infuses a heavy dose of nutella into the babka. If you love nutella, you will love this babka.
Mekelburg's: Best Variations on the Chocolate Babka (including Beer)
293 Grand Avenue, Brooklyn, NY
Mekelburg's chocolate babka is what started my "best babka" quest. Mekelburg's babka is very moist with lots of chocolate-y flavor, and was a distinct departure from other much drier babkas I had previously tried. In fact, I was practically set to crown Mekelburg's babka as the best (until I tried Oneg's). Still this is an excellent chocolate babka, and perhaps the best traditional babka out there.
I love that Mekelburg's has taken the scrumptious babka flavor and added it to its own new creations. The chocolate babka beer (have one at the bar or bring a can home) is delicious. My other favorite are the babka "menschkins" a riff on Dunkin' Donuts Munchkins doughnut holes. These cinnamon coated balls are served hot with a gooey center.
Orwasher's Bakery: Best Non-Chocolate Babka
308 East 78th Street, New York, NY
Babka generally comes in two flavors, chocolate and cinnamon. I'm not a huge fan of the cinnamon version, which is why this list is focusing on chocolate babka. However, I did want to mention the one non-chocolate babka that I tried– Orwasher's sticky bun babka. The sticky bun interior gave a great moistness to this babka, so it's a nice alternative to the chocolate version.
Orwasher's is a great all around bakery, worth a visit for their classic New York rye– read all about it in my post here.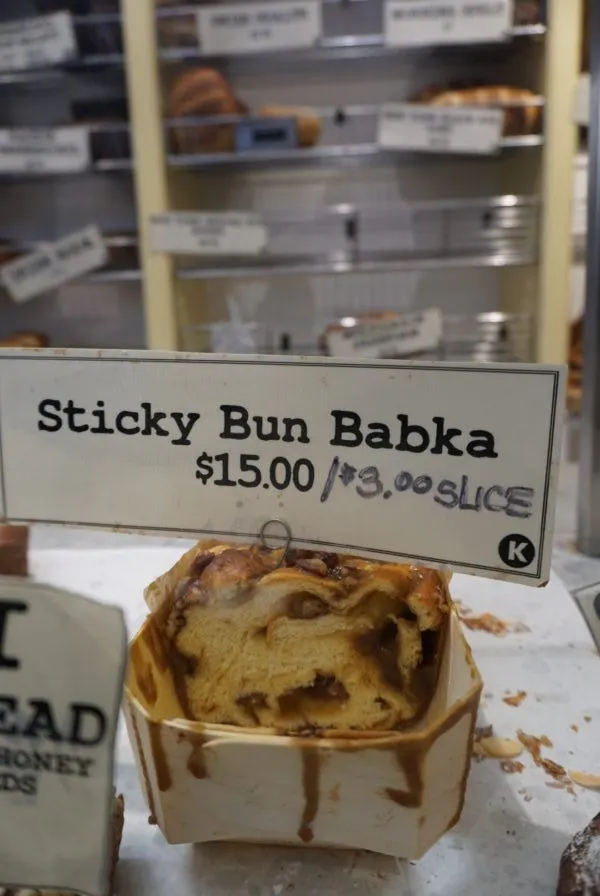 Have you tried babka? Where is your favorite?
Pin it for later: