Mexico City is known for its shopping. But after some research and asking friends who live there, I learned the shopping, as fabulous as it was, was mostly geared to higher end designer fashions– with prices to match.
As always, I seek out the more accessible shopping, interesting souvenirs that are representative of the region. In Mexico City, I heard there were great outdoor markets that offered a lot of inexpensive shopping all in one place.
We didn't have time to scope them all out, so we skipped the vegetable markets, the markets only open on Sundays, the voodoo market (yes it exists). We instead focused on a large, well-located market in Mexico City, known for its diversity of vendors and rock bottom cheap prices, La Ciudadela.
La Ciudadela is a great place to shop all of Mexico in one market. Mexico's distinct regions are known for different kinds of crafts (see my comprehensive post on ALL the best souvenirs to buy across Mexico). Vendors from all over Mexico come here to sell their artisanal goods.
La Ciudadela is also the best market in Mexico City because of its location– conveniently located in the Centro Histórico neighborhood. The stalls are mostly divided by vendor type, so you'll find clothing or embroidery all in one area, for example.
While I've read advice that you should devote an entire day to this market, we had plenty of fun spending a couple of hours here (that included time sitting down for a snack and drink and taking all the photos you see here). Prices here are pretty low, but bargaining is also accepted.
I had a hard time knowing what to expect at the La Ciudadela market, as there weren't many high quality photos online, so I made sure to take plenty of photos of the diverse crafts and souvenirs available.
Looking back and writing this post, there are several things I wish I had bought at the time (I was hit with the oh I'll see this again later in the trip, but alas did not).
Some Quick Shopping Tips for La Ciudadela, the best market in Mexico City
Bring cash, credit cards aren't readily accepted
Plan to spend 1-3 hours depending on whether you are want a quick browse or a serious shopping trip
There are restaurants in the market, I definitely recommend taking a shopping break and stopping for some fresh guacamole and an agua fresca
Stalls are somewhat organized by vendor type. Prices may vary slightly by vendor for similar goods
Bargaining is expected
Here are some of the more interesting souvenirs you might find at La Ciudadela market:
Cute Authentic Mexican Dresses
Clothing is one of my favorite souvenirs, as you are guaranteed to use it back home. Very traditional clothing, however, like some of the Mexican dresses, can be tricky to pull off so you might want to think more creatively on how you might wear or alter the dress.
Some of the more flowy styles can be worn as beach cover ups. Other Mexican dresses can be made more wearable by taking them to the tailor and modernizing the look. Sometimes just adding a belt and more modern accessories is enough to make it a more city look.
There are tons of dresses to choose from at La Ciudadela market, so you'll have lots of options.

Embroidered Mexican handbags
I adore Mexican embroidered handbags, and have collected them as souvenirs on various trips. I always get tons of compliments on them back home. There were stalls upon stalls of beautiful embroidered handbags.
Huipil blouses at La Ciudadela
I haven't quite figured out how to wear a huipil souvenir back home without looking costume-y but would love to see how others style them.
Locally Made Textiles
Mexican textiles are always a win for a great souvenir when you aren't sure what to get. Pillow cases, table cloths and blankets are all easy to find a place for back home.
Hats and Sombreros
While hauling a giant sombrero souvenir home might be a bit impractical, there were plenty of beach and fedora styles to choose from at bargain prices.
Mexican Leather Shoes
I have a pair of hurache style sandals I bought in Valladolid a few years back that I still wear and adore. Shoes run about $20-30 a pair.
Mexican Woven Hammocks
Hammocks are a great souvenir from Mexico and come in an array of colors. The quality of some of the less expensive hammocks at the market was a little iffy so make sure you spend a little more or hang it low, with soft bed of grass underneath- just in case.
Cute Mexican Pinatas
I brought home a smallish pinata to bring back as a souvenir, but we couldn't bear to actually break him open, he was too cute! This guy was the equivalent of $5 or so. A nearby stand sold local candy to fill him with.
Mexican Pottery
There were tons of pottery styles to choose from here.
Handbeaded Jewelry
I loved the intricate beading on the jewelry and sorely regret not bringing home more for gifts.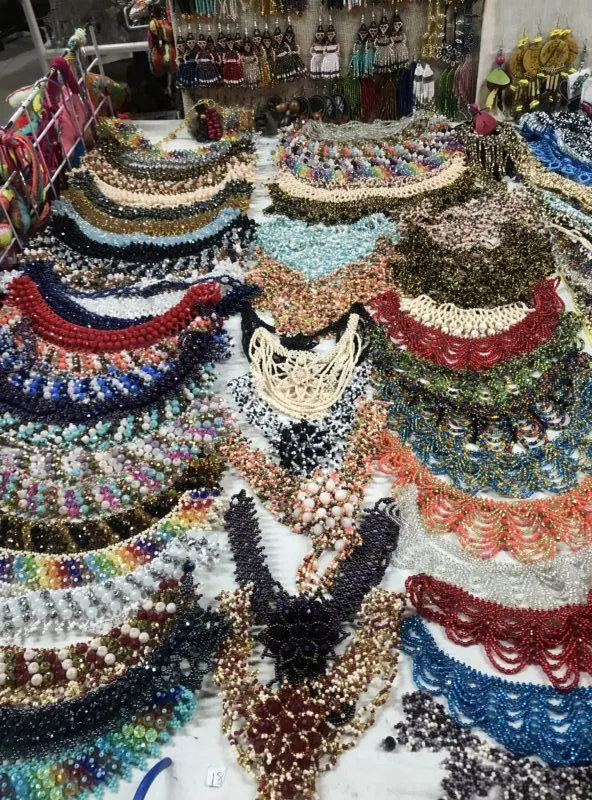 Beautiful Mirrors
Odds and Ends
There were a lot of random items at the market that defy categorization. Some examples below: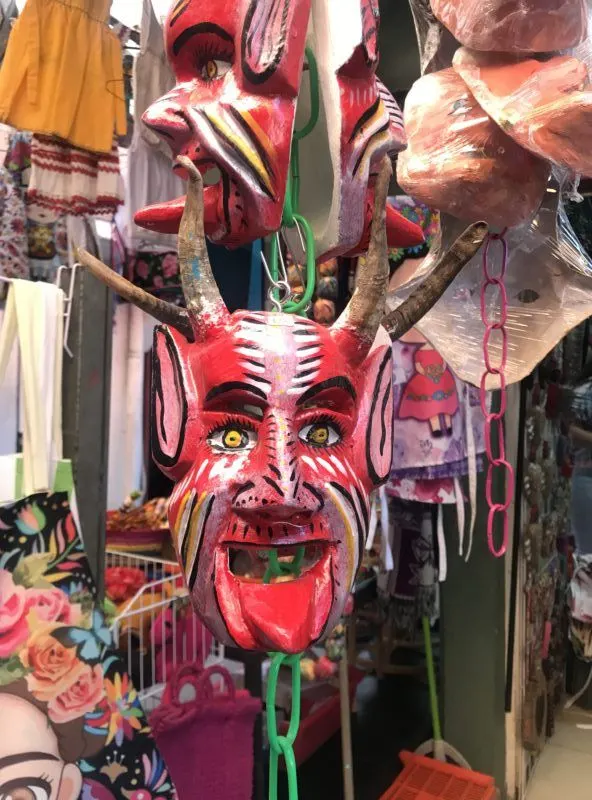 Have you been to any of the markets in Mexico City? Tell us about your favorite finds!