New York has a lot of museums. I should know I live smack in between the Guggenheim and the Cooper Hewitt, with another half dozen museums (including the Met) within a few blocks.
But one of my favorite New York museums isn't even in my neighborhood (anymore anyway– it moved from the Upper East Side in 2015). But nonetheless I still happily make the trek downtown to visit the Whitney Museum of American Art. A refreshing change from the crustier uptown museums, the Whitney is perfectly located in a modern, brand new building in the meatpacking district. Bonus, the Whitney is also right next to the Highline park so you can easily combine the two.
A Visit to the Whitney Museum of American Art
Confession: I like to visit museums just as much for their spaces as for the individual art works they house. With its soaring ceilings and multiple terraces with city and river views., the Whitney museum is definitely among those museums worth visiting for the space alone. I also loved how open and welcoming the Whitney feels– no need to stare reverently at the art or use hushed tones here. It's the kind of place you can wander, whether slowly or quickly, and take away from it what you like.
That said, the Whitney Museum of American Art does have important works of art that even the museum going neophyte will appreciate. Some of the "big name" artists here include Jackson Pollock, Jim Dine, Mark Rothko, Edward Hopper, Alexander Calder and Georgia O'Keeffe among others.
Don't Forget to Go Outside and Explore the Whitney Museum Terraces
What really sets the Whitney Museum of American Art apart from its uptown siblings are the fantastic outdoor terraces and oh-those-views. I was lucky to see a fantastic art installation on one of terraces, MPA: Red in view (on exhibit through February 2017).
One thing I love about installation art is that it is you are usually allowed to touch it. I visited with Dani of Globetrotter Girls who snapped my photos here. Although I didn't plan the matching red dress, I did slip my Stuart Weitzman heels in my bag to use for the photos (to buy a similar style check these out).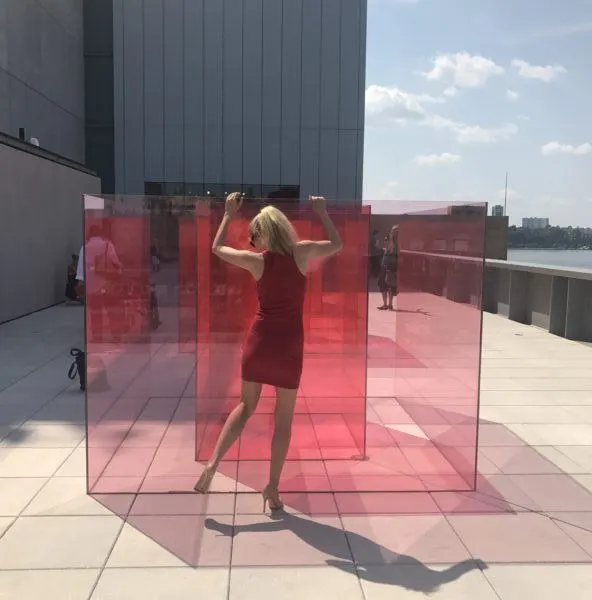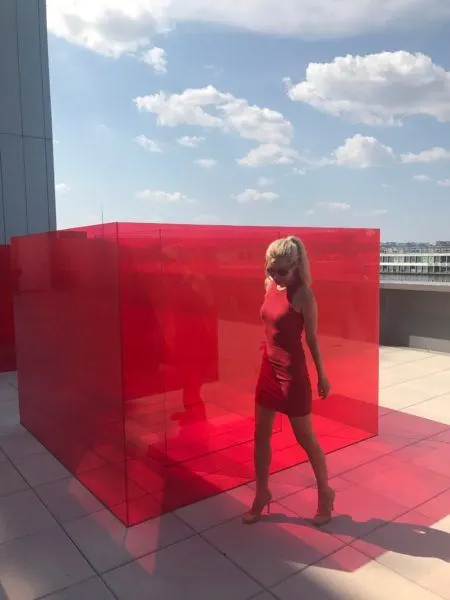 Visit the Whitney Museum of American Art Gift Shop and Bookstore
Don't miss the Whitney Musuem of American Art's gift shop for unique souvenirs to remember your museum experience. A brief overview of what you'll find in this cool gift shop (no cheesy tote bags here!).
[box]Where to go: Whitney Museum, 99 Gansevoort St, New York, NY 10014
Hours: Sun, Mon, Weds, Thurs 10:30am–6pm, Fri–Sat 10:30am–10pm.
What to Do: Check out noted American artwork along with fantastic views from the terraces
What to Buy: Kenny Scharf floaties, Keith Haring baby rockers, Narcisco Rodriguez silk dress
What to Know: Grab a bite at the delicious onsite cafe run by Danny Meyer. Afterwards, stroll the Highline next door.
[/box]