Ghent is an easy day trip from Brussels, but as I learned on my way-too-short visit, it's worth an overnight or two. The canals, stunning architecture, historic pubs and unique shopping all make Ghent more than just a pit stop. Ghent is the kind of place I could see myself basing for a future visit to Belgium– more charming than big-city Brussels, but livelier and more real than almost too cute Brugge.
In the few hours I spent in Ghent, I managed to cover a lot of ground with the help of expat and local guide Larz Lapin who showed me around.
Ghent: Worth More Than a Day Trip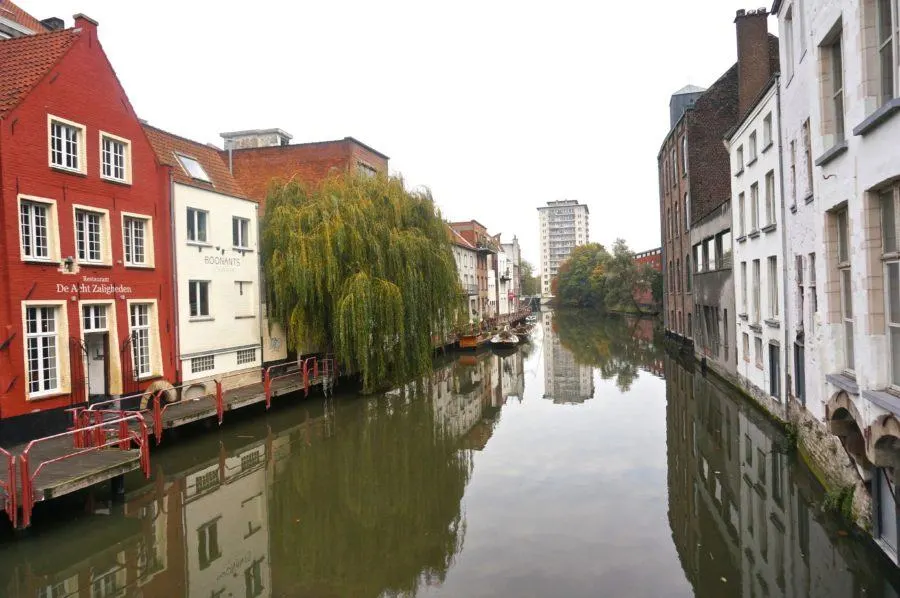 Best Shopping in Ghent for Souvenirs
Taste Test and Bring Home Fresh Mustard at Tierenteyn-Verlent
Groentenmarkt 3
9000 Gent
The best shopping in Ghent is this century-old mustard shop, Tierenteyn-Verlent, where the mustard is made on the premises. If you've never had fresh mustard before you'll be shocked at how different it tastes from the jarred kind– so much more pungent, complex and satisfying. There are a few varieties of mustards to choose from, ranging from strong to way strong. There are a range of sizes to choose from, along with different container types. The most economical options are simple (but still pretty) plastic jars, but the painted ceramic jars are more gift worthy. The staff will expertly wrap everything for you.
While the mustard does need to be refrigerated since it's fresh, I just kept mine in my hotel's mini bar. On the flight home it was fine left unrefrigerated for a few hours.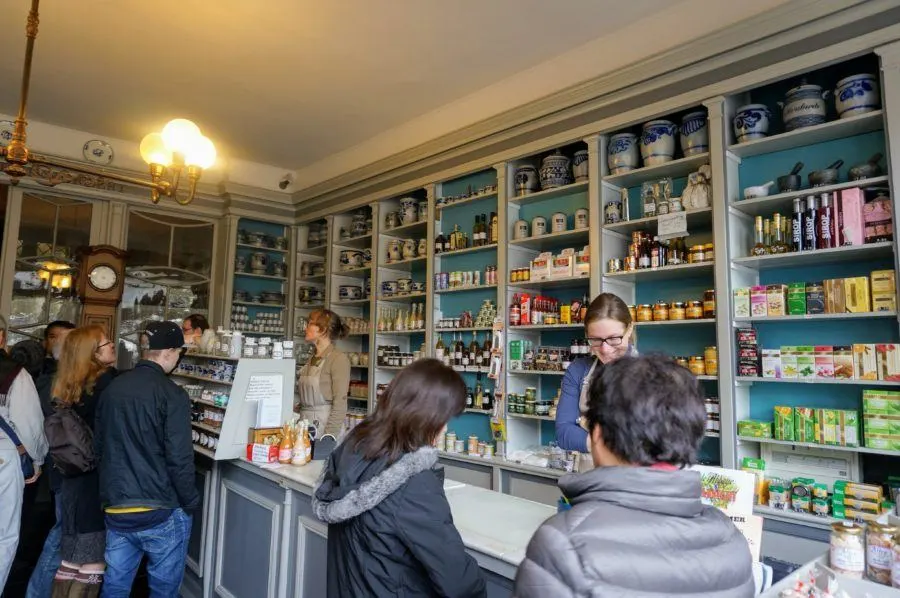 Watch How the Chocolate Gets Made and Bring Home Belgian Chocolate Souvenirs
Chocolatier Luc Van Hoorebeke
Sint-Baafsplein 15, Ghent
This family owned chocolate shop is located right in the heart of Ghent on a pretty plaza. If you have any doubt whether your chocolate is made locally, just look down– a plexiglass panel in the shop floor reveals the chocolatiers below busy at work. I was more interested in the final product– especially the elaborate praline selection. I filled an entire box of assorted chocolates here as a souvenir gift for myself. For more on how to buy Belgian chocolate, check out this post.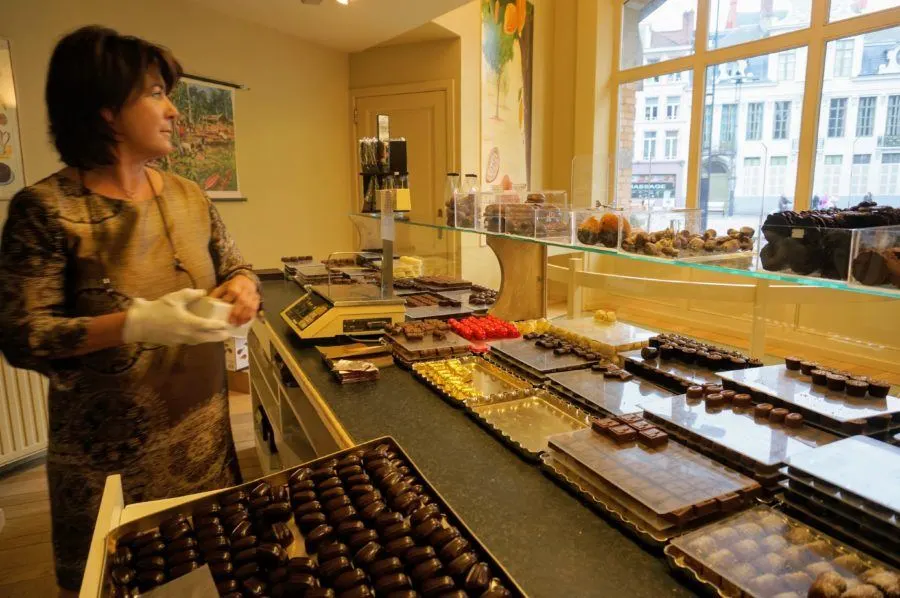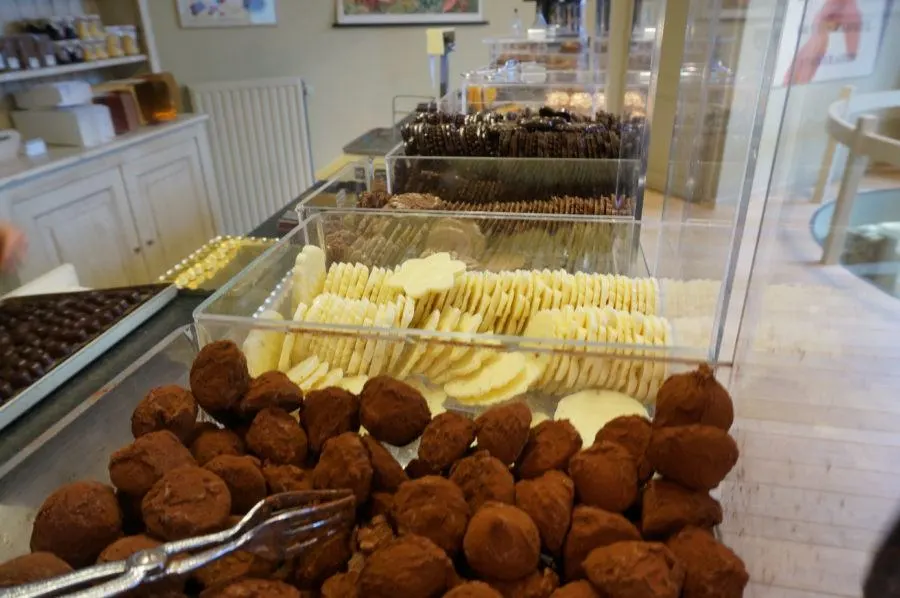 Pralines are chocolate shells filled with fruits, nuts, caramel or other fillings– these are the "signature" chocolate of Belgium.
Enjoy a Waffle on the Street and Bring Home a Bundle of Waffles from a Local Bakery
Belgian waffles come in two varieties, liege and gaufre, and both are divine (for a primer on Belgian waffles check out my guide here).
Larz guided me to this waffle stall (located right near the mustard shop), and it was the absolute best waffle of my trip. Piping hop with those big crystals of sugar and a satisfying crunch, come here even if you are completely stuffed, I promise you'll have no problem polishing off this waffle.
Himschoot Bakery
Groentenmarkt 1, 9000 Gent

The shelves of Himschoot Bakery are filled with fresh bread, pastries and delicious looking savory pies. But the bakery's most souvenir-worthy items are definitely the plastic bags of just-baked waffles. While these waffles are preservative free and won't last quite as long as the packaged supermarket version, if you are heading home in the next few days they are worth picking up (and if for some reason you don't devour them immediately they do freeze nicely).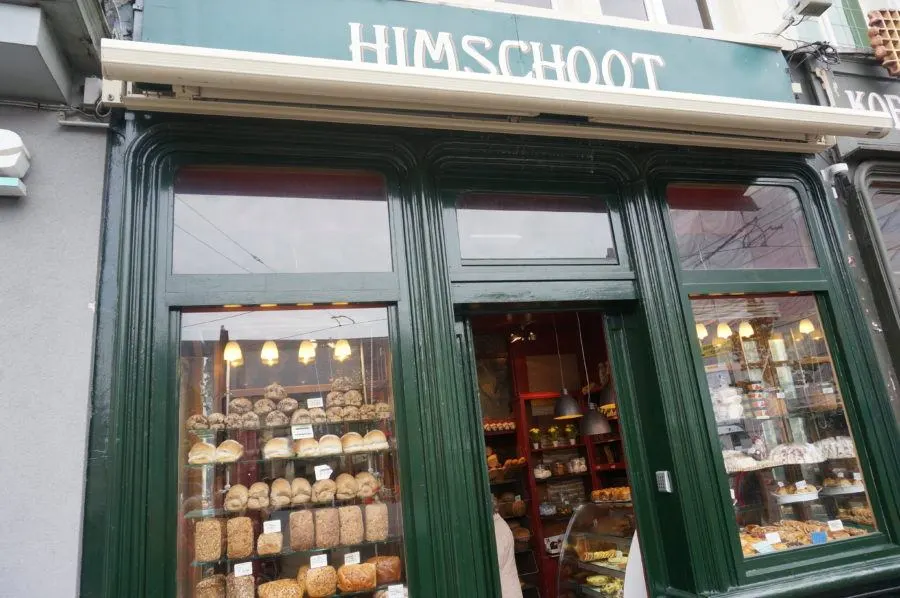 Visit a Cuberdon Cart for Local Souvenirs
Cuberdons are a Belgium specialty– you won't find these treats anywhere else. Cuberdons are a purple, conical-shaped candy, made with sugar paste ​​and filled with fruit syrup.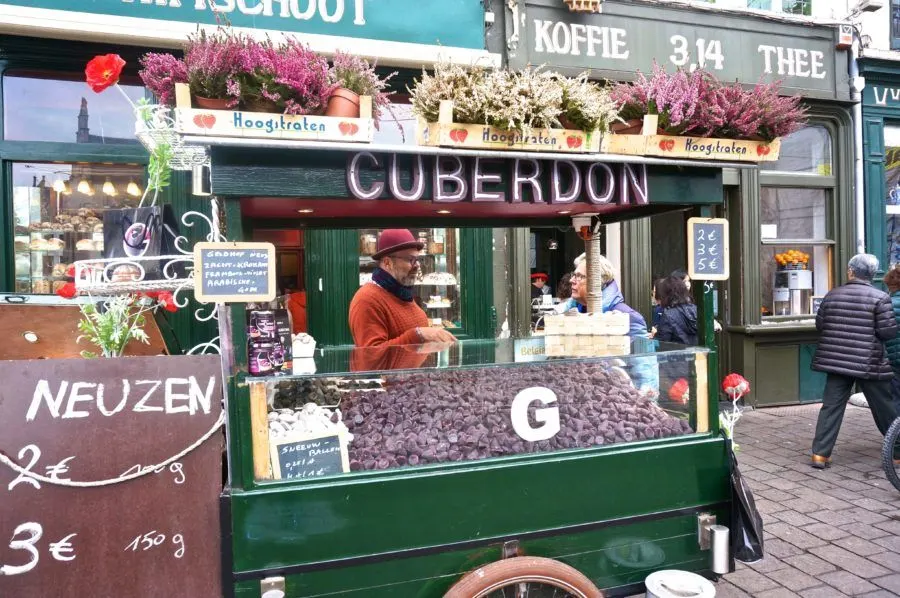 Hit an Historic Pub and Bring Home a Local Belgian Beer
'T Galgenhuisje
Groentenmarkt 5

,

Ghent 9000,

Belgium
As Larz took me around to her favorite historic pubs, I thought about how fun it would be to make Ghent your home base and come back to one of these cozy pubs each evening. A particularly memorable pub, Galgenhuisje, was housed in a former gallows house (you can easily imagine the past goings on as you look up at the high ceiling). But the best part of this pub was the expansive terrace, perfect for people watching.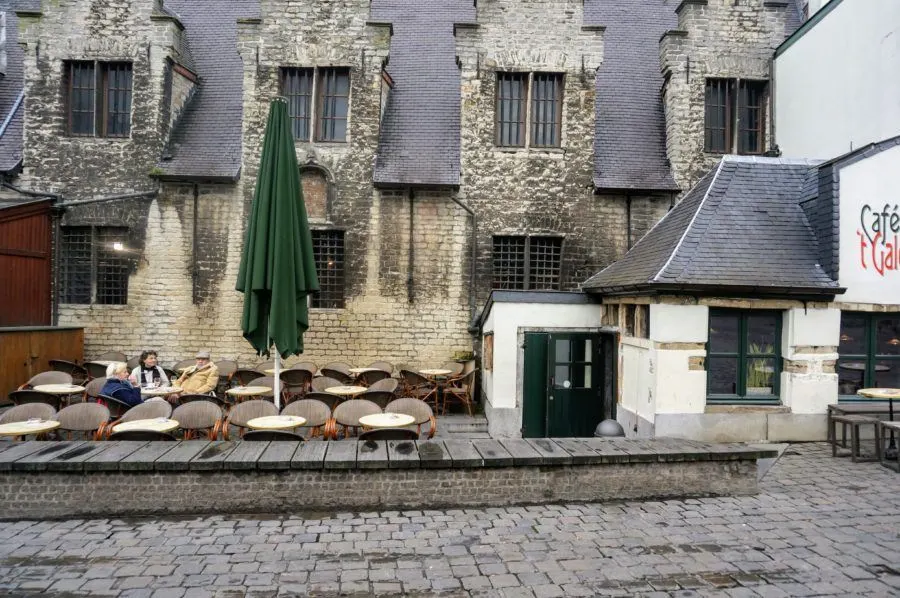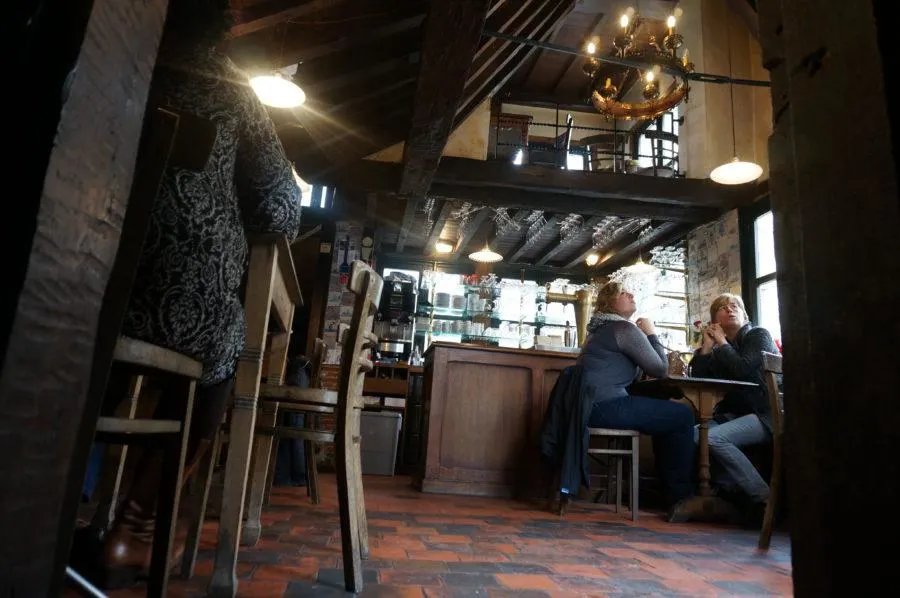 While it might be unweildy, why not bring some local beer to enjoy back home. Ghent is known for a local beer specialty vcalled gruut, which replaces the traditional hops with a secret mix of spices. Check out Gruut brewery to sample and bring home.
Shop Local Products at Great

Butchers Hall (het Groot Vleeshuis)
For more regional shopping options, hit Great Butchers Hall, which dates back to the 15th century.

Advocaat
Try some advocaat, a traditional custard-like Dutch alcoholic beverage made from eggs, sugar and brandy.
The alcohol content ranges from 14% and 20%– strong to my palate.

Have you been to Ghent? What are your favorite shops and Ghent souvenirs?
Larz Lapin will be offering tours starting in Spring 2018– contact her directly for details: [email protected]