When traveling, I never miss a visit to the local supermarket. It's a chance to both step into local life and bring home some bargain souvenirs. While my favorite foreign supermarkets are in France, Italy comes in at a close second.
The Italian grocery store is a wonderland. Sure we get plenty of Italian food products at our supermarkets back home– and what my local market doesn't have I can probably pick up at Eataly. But those fancy imported pastas come at a price. Not only that, I actually have a preference for supermarket everyday brands over the gourmet version. For this post, I visited a regular supermarket in Florence, and needed a shopping cart to load up all my Italian supermarket finds.
While of course you can aimlessly roam an Italian supermarket when you visit, it helps to know what's available to buy at so you know what to look for. If I hadn't planned to pick up truffles or porcini mushrooms, for example, I would have totally missed them. I didn't have quite enough time to visit the grocery store in Italy (it was quite busy when we went) so please let me know if I missed anything.
1. What to Buy at an Italian Supermarket–Pocket Coffee
My number one pick for an Italian supermarket souvenir is the intriguing and highly portable "pocket coffee." First there's the name– pocket coffee–it just sounds cute and irresistible. Next let's get to the actual product– pocket coffee is a shot of espresso wrapped in a chocolate shell casing. Plop the chocolate in a mug of steaming water and the chocolate and espresso melt and meld into a delicious hot drink. I buy a big box of pocket coffees (look for them near the register) and dole out the individually wrapped pocket coffees to deserving friends.
2. Cured Meats at the Salumiere Counter
At the Italian supermarket I visited there were three areas to shop for cured meats like prosciutto, salami, mortadella and other favorites– the meat counter (salumiere), where everything is sliced to order, a big refrigerated case with packaged meats, and randomly, a meat station that was just plopped in the middle of the store, in the cracker aisle. I'm still not sure how this third area differed from the main meat counter.
As far as US customs goes, I'm well aware that we as Americans can't bring cured meats back into the US. But rules are different for my readers from other countries, and for everyone else it's worth buying meats here to enjoy while in Italy– a loaf of bread and some local prosciutto will be an excellent snack to keep in your hotel room or airbnb.
3. Italian Cheese from a Supermarket in Italy
As you might imagine, the cheese department at an Italian supermarket is pretty phenomenal. But when at a foreign grocery store, it's not usually the fancy stuff that intrigues me– I am much more interested in the typical, more generic brands. I skipped all the fancy gourmet cheeses and brought back some inexpensive parmesan cheese– both in a wedge and also a baggie of pregrated parmesan cheese. While the wedge was delicious as expected, so was the cheap already-grated cheese– leagues above the stuff in my local supermarket.
4. Dried Pasta from a Supermarket in Italy
The dried pasta aisle at the Italian grocery was mesmerizing. So many different pastas! I spent quite a bit of time exploring all the unusual pasta shapes I hadn't seen before. I loaded up my cart with dried pastas I can't normally find back home, like pici and flavored pastas (I bought lemon and truffle flecked linguine). All of the pastas I brought home were phenomenal and I have no regrets about bringing home so much pasta.
5. Italian Supermarket Baked Sweets
I was curious to see what kind of prepackaged baked sweets I'd find on the Italian supermarket shelves. There were plenty of packaged cakes and cookies and an entire section of biscotti.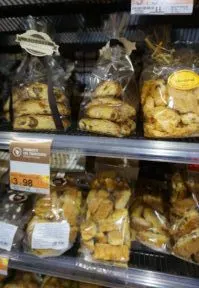 6. Italian Jarred Truffles
I am not an expert on Italian truffles, other than I think they are delicious. I am also well aware that they are expensive and hard to find. Black truffles are signficantly cheaper than white truffles, so I focused on my supermarket shopping on those. The supermarket I visited didn't offer actual whole truffles, only jarred versions. The jarred black Italian truffles came in various preparations– sliced, whole, and pulverized into cream sauces. I bought them all. My favorite version was the presliced black truffles– I served these simply over pasta with olive oil and parmesan.
7. Packaged Porcini mushrooms
Another great item to pick up at Italian supermarkets are those very pricey porcini mushrooms. You will find them jarred as well as dried in a bag. I purchased dried porcini mushrooms, reconstituted them, and served them with pasta– absolutely delicious.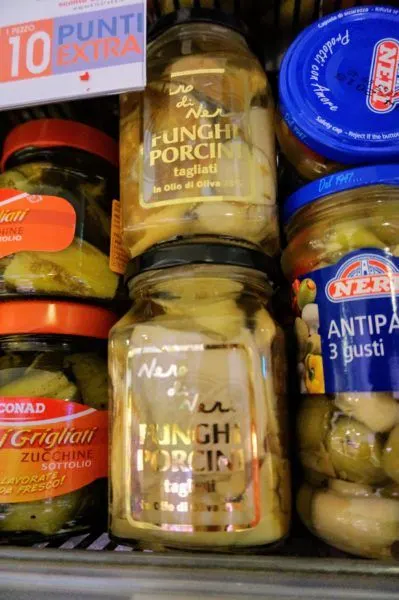 8. Local Dried Beans
Italian beans are very popular in local dishes and vary greatly by region. You'll find a huge selection of beans in the supermarket, some of which might be harder to find at home. Tuscany is a particularly popular bean eating region.
9. Pane Carasau
I had no idea what this was when I saw it in the supermarket, but snapped some photos and googled it when I got home. Turns out that Pane carasau is a traditional flatbread from Sardinia, originally enjoyed by shepherds who were away from home for months at a time. Pane carasau can last up to one year so it makes for an excellent long-lasting edible souvenir.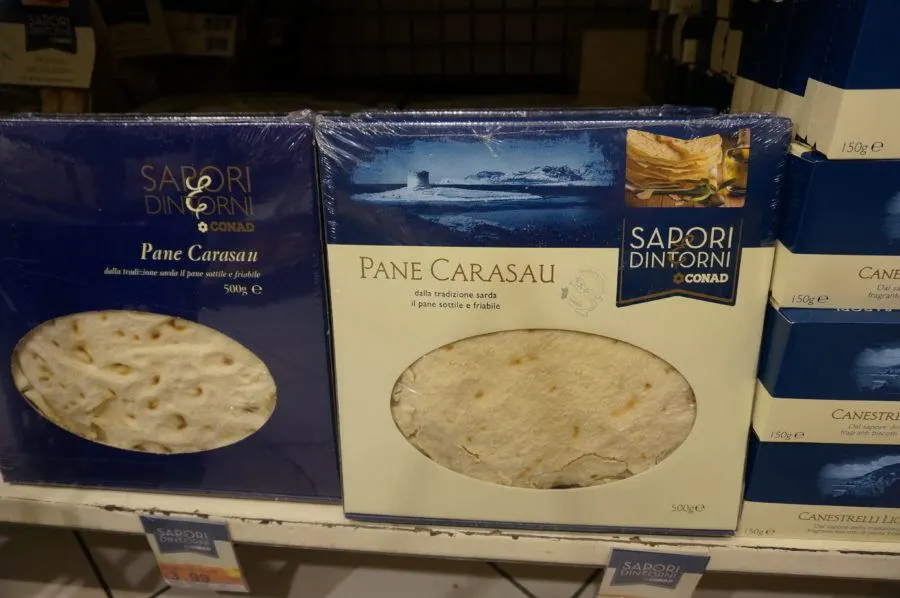 My friend's eight year old daughter, Amanda, saw this post and unlike me, immediately recognized these Sardinian flatbread treats. Amanda shared these snaps from one of her favorite restaurants in Miami Beach, Enoteca Sardinia Ristorante, to demonstrate how Sardinian flatbread is traditionally served. Photos by Amanda Danielle Mijares.
10. Marvis Toothpaste
I love Marvis toothpaste– it looks pretty and tastes great too. While I can easily buy Marvis toothpaste at my specialty drugstore in Manhattan, the prices are outrageous (twelve bucks!). Stock up at an Italian supermarket for a fraction of the cost. Although I haven't tried them, other toothpaste brands available only in Italy have their fans (inclusing an anchocy toothpaste).
11. Italian Tubes of Tomato Paste
While cans of jarred tomatoes or sauces might be a little ridiculous to bring back (yes even for me!), tubes of tomato paste are very suitcase friendly.
Back home, I use my Italian tomato paste to add more zing to my sauces, including my bastardized version of bolognese sauce (which doesn't call for tomato paste, but I add it anyway because I love the flavor).
12. Italian Polenta (Farina)
I'm a big fan of polenta (also called farina), and became an even bigger fan on my recent visit to the Lombardy region, where I must have tried polenta served a zillion different ways. Quality definitely matters, and fortunately, a huge sack of polenta is ridiculously cheap (but on the heavier side). I received this giant sack as a gift from the tourism board but trust me there is plenty on offer at any supermarket, not just in Lombardy.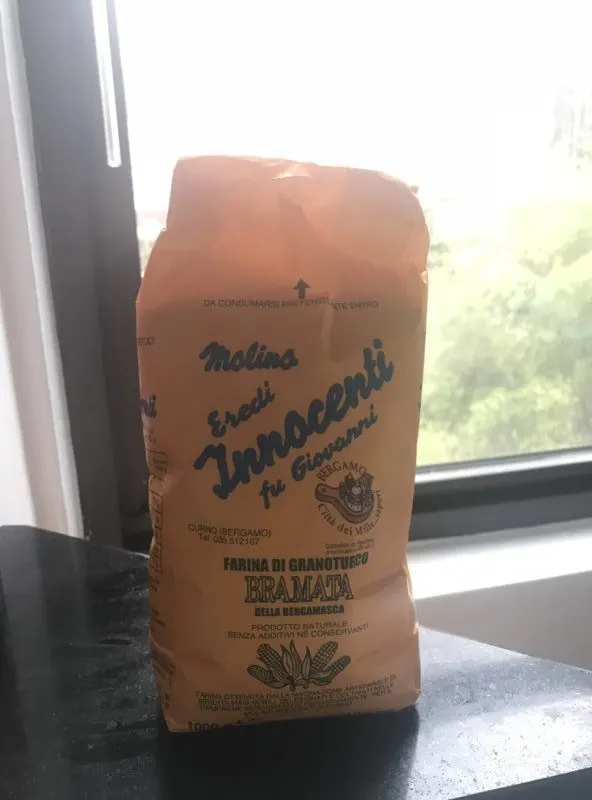 13. Italian Olive Oil and 14. Balsamic Vinegars
Olive oil is something I like to buy from the Tuscan agriturismo I stay in. It helps bring the memories back of the fantastic meals I enjoyed. But if I'm not visiting the Italian countryside, I usually just pick up both olive oil and balsamic vinegar on the way out at the airport. That way, I don't have to deal with packing it and I'm not super picky about the options (I find they're always good). That said, you will definitely have more and cheaper options for shopping both Italian olive oil and balsamic vinegar at the grocery store.
15. Arborio Rice for Risotto
I didn't pick any up on this last trip, but I love making risotto and would consider bringing a specialty version back.
Other Items recommended by our readers:
Spray Truffle Oil recommended on popcorn (yum thanks for the tip Stamie!)
Pocket tissues (apparently they are thicker and better such that they are a known "thing" to stock up on)
Olive paste— olives in a tube, how can you go wrong
What did I forget? Tell us your favorite Italian supermarket finds in the comments!