Thai elephant pants are practically the official uniform of the female backpacker in Southeast Asia. Worn loose and flowy with a certain boho insouciance, the pants work perfectly everywhere from sacred temples to white sand beaches.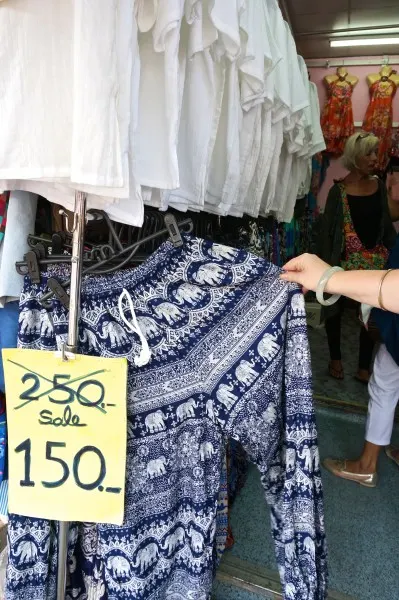 Elephant pants are ubiquitous in Thailand– you'll find these iconic printed pants with banded elastic cuffs at every market, usually for under $5. But while these billowy pants feel hippie-chic in their natural environment, can they really be worn back home? Or do they suffer the same fate as bridesmaid dresses, suitable for the occasion, but never really meant for everyday wear?
These are the questions that came to mind as I shopped elephant pants at Chatuchak market in Bangkok. For five bucks, I figured it was worth the gamble to take the elephant pants home for a road test and see if I could make them work on the cut-throat fashion streets of Manhattan.
Until, that is, I arrived back home, unpacked my suitcase and realized I forgot to buy the darned pants (note: buy it when you see it, a rule I preach and should follow more often). Fortunately my shopping buddy Anne came to my rescue (see how Anne styles her pants below) and gifted me an authentic pair she bought on the streets of Bangkok.
For this Thai elephant pants challenge, I was hoping to get a few takes so I reached out to my my traveler community in search of participants. The response was not exactly overwhelming, but two fellow travelers agreed to share the results of the challenge here.
My Road Test: Can Elephant Pants Work on Streets of One of the World's Most Fashionable Cities– New York?
My first impression when I tried on the elephant pants– damn these are comfortable.
My second impression– these pants are the single most unflattering thing I have ever put on.
Plain and simple, I looked like I was wearing clown pants. I made my best effort to "tone down" the clown look. I added a crisp white shirt. Clown goes to the office. I tried a hip moto jacket. Clown fashion fail. But it seemed like no matter how I styled the elephant pants, I couldn't get the circus out of my head.

Finally, I gave up on finding something edgy to pair the pants with and went for straight-up simplicity, settling on a plain, fitted tube top. With a few adjustments to the pants (I rolled over the waistband and tucked the telltale drawstring out of sight), the pants did deflate a bit, and if I squinted I could almost pretend they were palazzo pants.
Like any good fashion blogger, I decided to go for the "high/low" look, showing off my skill for effortlessly pairing five dollar pants with spendy accessories. I added my most expensive shoes (sample sale Manolos) and some gifted bracelets (Hermes and Julie Vos) and headed out the door.
Following in the steps of my favorite fashion bloggers, I present my "modeling" poses– melancholy blogger carrying notebook for spontaneous sketching (Hermes natch) and the classic, three-quarter turn-to-make-these elephant-pants-look-as-slim-as-possible pose.
So did the outfit work? In New York, everyone is so self-absorbed I doubt anyone noticed what I was wearing. That said, I'm not sure I'm brave enough to test this outfit out at a fashion event or a super trendy restaurant– it might just be a home office day kind of thing.
How did the other travelers fare?
West Coast: Color and that Laid Back California Attitude
San Francisco resident Anne Lowrey has been traveling to Thailand and wearing elephant pants for years. But it's one thing to wear elephant pants in Thailand or in the privacy of your home office. I challenged Anne to take her elephant pants out onto the chic streets of San Francisco.
Anne easily pulled it off in that West coast, carefree kind of way. I love how Anne's slim, but colorful tank adds a pop of color. The flip-flops keep it California casual. In this case, West coast definitely beats East coast.
Erin Discovers the Wrong Size is the Right Size
Elephant pants are one-size-fits-all and are usually huge– like so enormous that you could gain thirty pounds and not even notice because they would still fit perfectly (which sounds pretty dangerous). So when I saw travel writer Erin's slim looking elephant pants, I wondered if they were actually the same pants at all.
Erin explains that she thinks they actually bought children's pants by mistake, noting they are also not quite long enough. In any case, Erin loves her Thai elephant pants and didn't have much of a problem styling them to wear back home in Oregon (pictured here on the grounds of the state capitol). Erin pairs her pants with a sleek, bright top (a perfect foil for the baggy pants) and even obliged my request to go "glam" by bringing out a pair of slingbacks (Erin notes "it's only proper to be a little dressy when visiting the capital.")
How did Erin feel wearing her elephant pants back home? Well it is Oregon, where wearing unique outfits/combos is a trend and people actually want to be noticed for their non-conformity, so it's hard to raise any eyebrows. While Erin felt a little silly a first, she ended up enjoying the look, and reports that "people looked at my pants and smiled or nodded and I started feeling less silly. It was fun and we ended up running a whole bunch of errands before going home. I think it's good to change things up and try something new every once in a while."
Nicely done, Erin. Pro-tip– look for children's elephant pants for a sleeker fit.
The Kid Takes it For the Win
While Erin looked pretty chic in her kid-size elephant pants, how would the pants look on an actual kid?
Travel writer and mom Sally didn't want to find out. Sally was mortified when her own mother gifted her ten-year-old daughter Alannah a pair. Sally had planned to use the pants as a dust rag, but when she saw my request, agreed to let Alannah style the elephant pants for this post.
Sally gave Alannah complete creative freedom in styling her elephant pants while on a camping trip. Instead of going for an obvious matchy-matchy look, young Alannah thinks outside of the box and deftly pairs her elephant pants with a baby blue dog tee-shirt. This eclectic street style look, topped off with a pop of color in her turquoise footwear choice, reveals Alannah's potential as an edgy fashionista along the lines of Chloe Sevingy.
Alannah is not only naturally chic, but practical too and reports that the pants survived an action packed day filled with bike riding, sand sculpting and other camp activities. Who knows, Alannah's look might inspire today's children, ever seeking more comfortable clothing into a whole new look.
Elephant Pants: Are US retailers Already onto this Trend?
As soon as I started writing this post, I noticed that pants very similar to elephant pants were showing up everywhere in New York. Was this some new trend, started on the streets of Bangkok, that was now taking over fashion circles? I'm not sure but the reinterpreted pants definitely seem to have a sleeker cut and better fit. While I'll still wear my elephant pants around the house (and maybe down the block to the bodega) I'd probably opt for a more updated version for a night on the town.
Featured: Michael Kors pants, Allen allen print pant, Lucky brand orange pants
Thanks again to Anne Lowrey of Part-Time Traveler for sending me the pants, and Erin of Traveling thru History and Sally and Alannah of Our3kidsvtheworld for their modeling shots!
Readers, we want to hear from you– elephant pants back home, yay or nay?