The question about what to wear on an overnight flight can be a hotly debated one. Among my own crowd of travel-loving friends, there is a deep division as to what outfits are appropriate for overnight summer travel.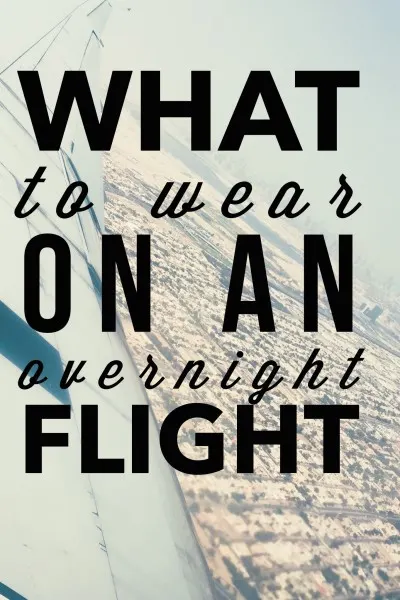 Some insist on traveling in style and wearing only their most fashion-y outfits, no matter the length of flight. Unsurprisingly, these friends also usually fly business class.
Others look at me like I'm insane– why would you wear anything on an overnight flight but your oversize comfy college sweatshirt and yoga pants, they ask, clearly confused by the question.
Like most people, I fall somewhere in the middle. I prefer not to look too unkempt. But on the other hand, there is no reason to suffer through a seven hour (or most recently, 22 total hour) overnight flight for the sake of vanity. Comfort is key.
Since everyone's idea of what's comfortable varies, these summer travel outfit ideas are just my personal suggestions. As an overall guide, I look for outfits free of hard seams (so jeans are out), don't cut into the waist or chest, and are soft with some stretch.
1. Most Comfy Travel Shoes for flights and on the ground– Sneakers
The most important piece of any travel outfit is of course your shoes. I used to wear comfy sandals like these much more often, but my current default is sneakers, which are better for things like biking, scootering and hiking. I own all the sneakers mentioned in this post, bought on my own dime.
A Word on Socks
Socks are a must when walking a lot. Here in NYC, everyone is wearing little ankle socks with their sneakers (shocking for those of us with memories of scrunchy socks in elementary school). These are the specific socks that went viral, and though it might take some getting used to the look, you will be on trend.
If your heart still lies with no see socks, I recommend these cushy padded ones, they don't slip and are the best no see socks I have ever tried.
If you are fashion forward and want the most comfortable travel sneaker imaginable: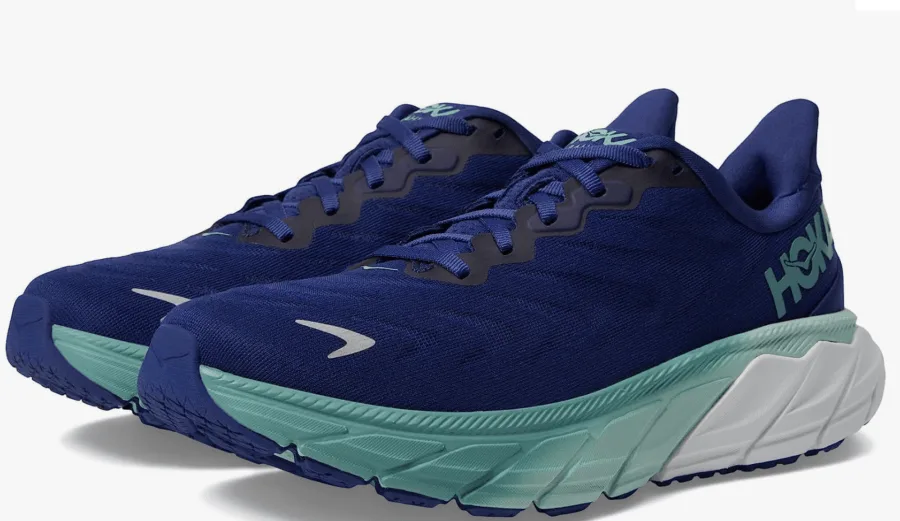 I adore these Hoka sneakers— it took me awhile to give in to the viral hype about them (touted as "the most comfortable shoe")– but I'm happy to report the hype is real. Once considered "dad shoes" when paired with street clothes, I'm thrilled that it's now considered stylish to wear athletic shoes with dresses, pants and everything else.
Hokas are known for their gorgeous bright colors so I went for purple, which is great for a pop of color (they also come in neutrals).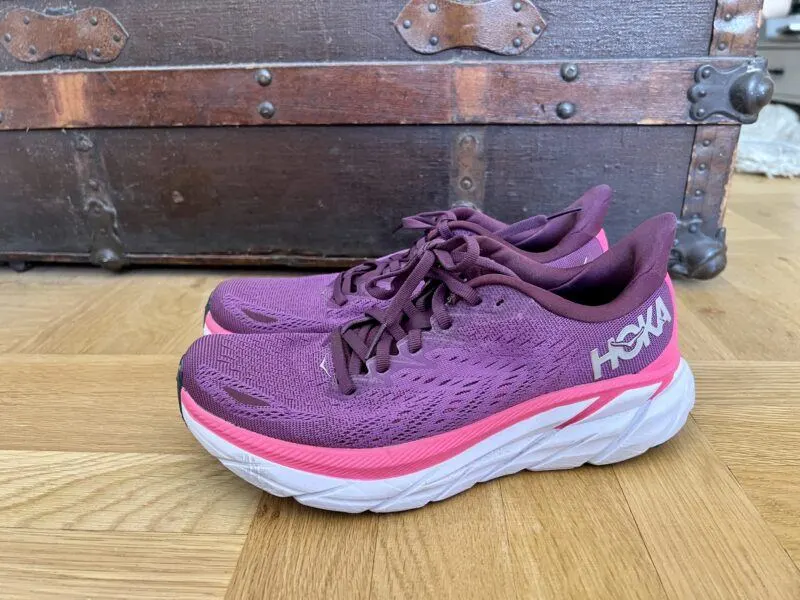 If you want travel sneakers that blend with any outfit and offer supreme comfort level try these low platforms:
Dr. Scholl's Low Platform Sneaker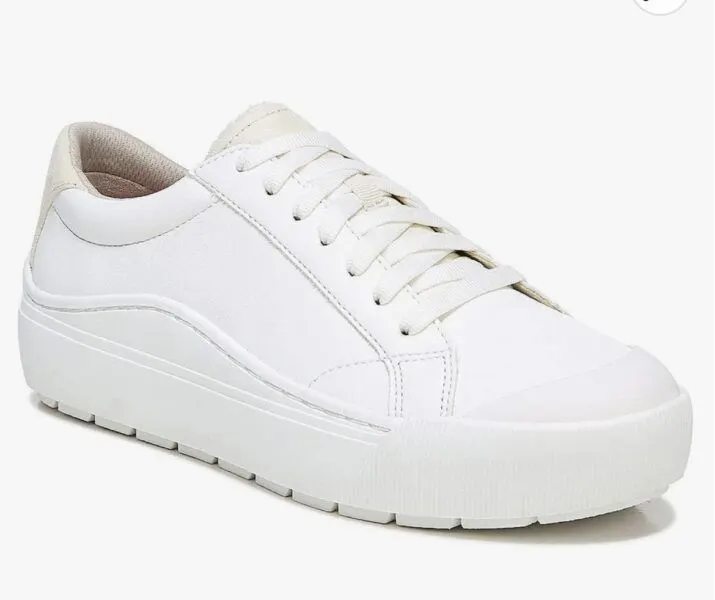 These Dr. Scholl sneakers went viral on TikTok and quickly sold out– but I see they are back in stock. The low platform is low enough to be stable but high enough to add that critical extra cushioning.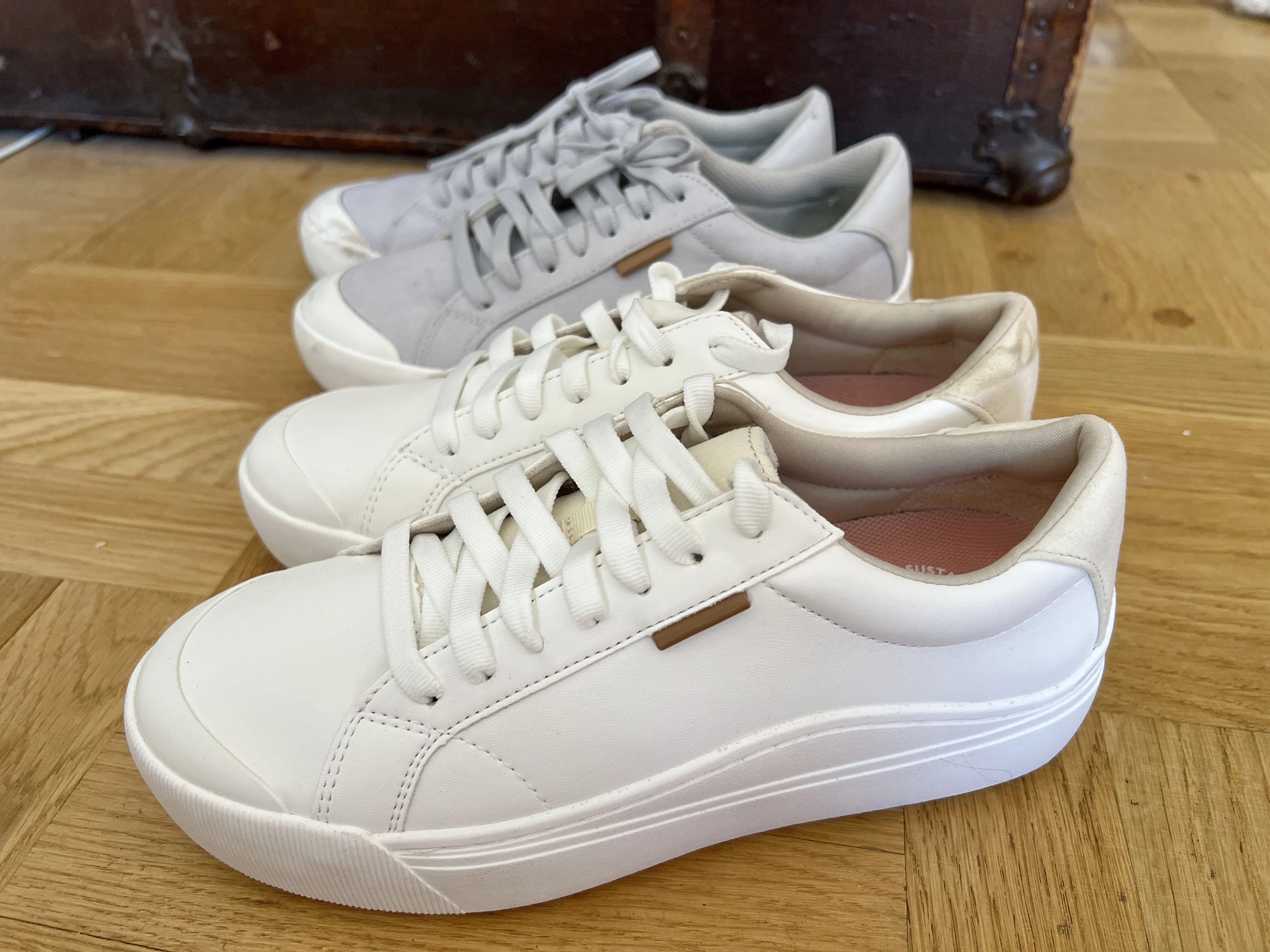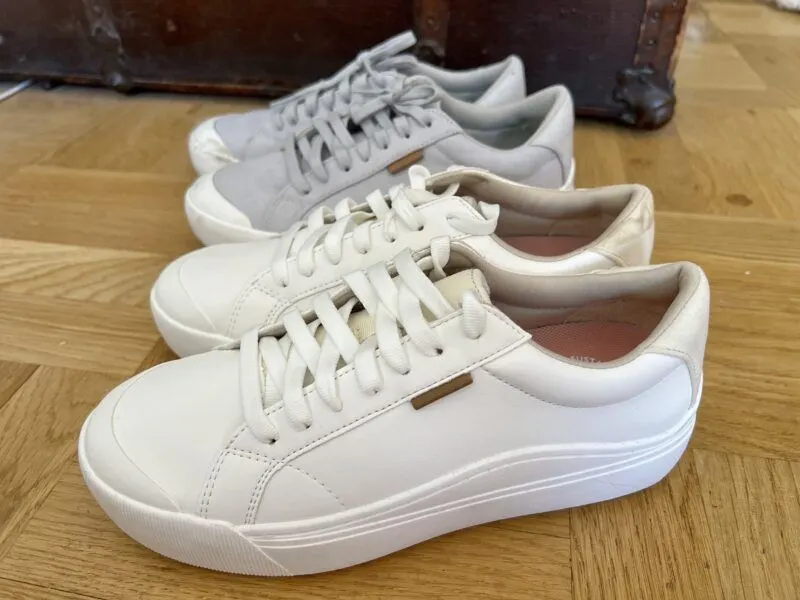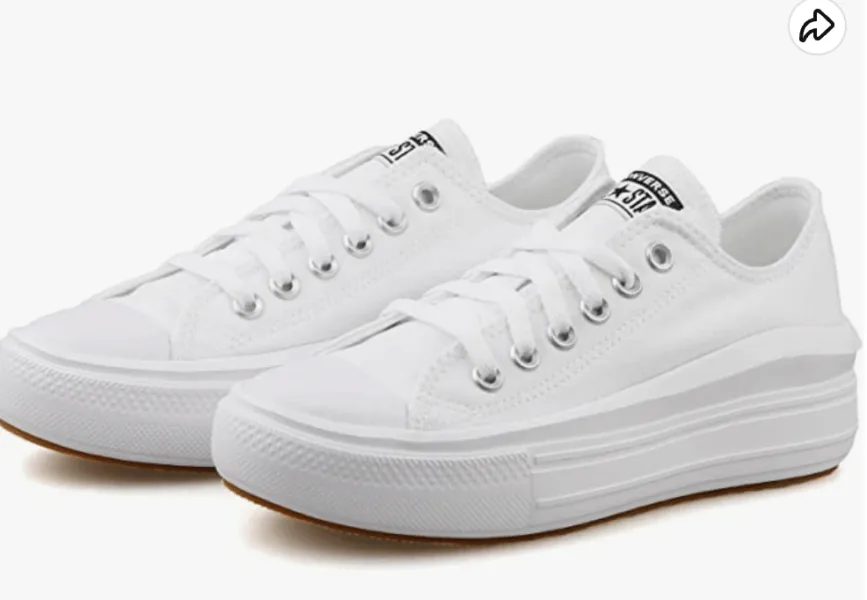 I can't decide which sneaker I prefer, the Dr. Scholl's above or this Converse low platform. Dr. Scholl's might have a slight edge in comfort while Converse has a slight edge in style. I own both pairs– the Converse in white, the Dr. Scholl's in a versatile light grey.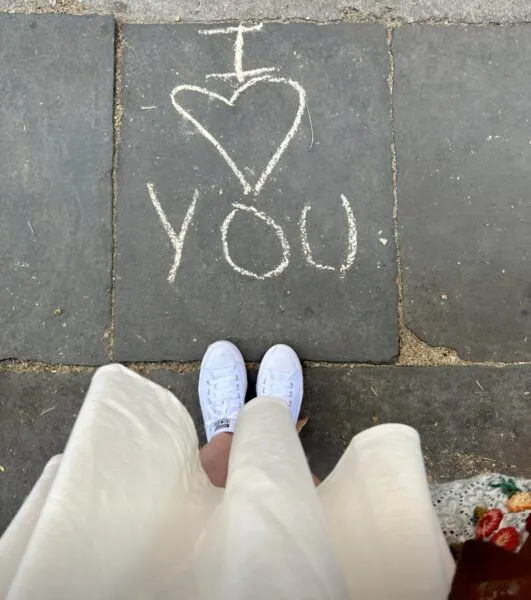 2. Comfortable Travel Dresses for Planes
A dress is the perfect stress-free summer travel outfit– no coordination is required, just throw it on and go. Because planes are usually chilly, I always throw on a hoodie, wrap or cardigan with my travel dress, and just peel off the layers on arrival.
Depending on the length of the skirt, I sometimes add cropped leggings so I contort myself into any necessary position to sleep in your seat without fear of flashing anyone (see my picks below).I own a slew of travel dresses (bought on my own dime). I updated this post to include the ones that are still available online below.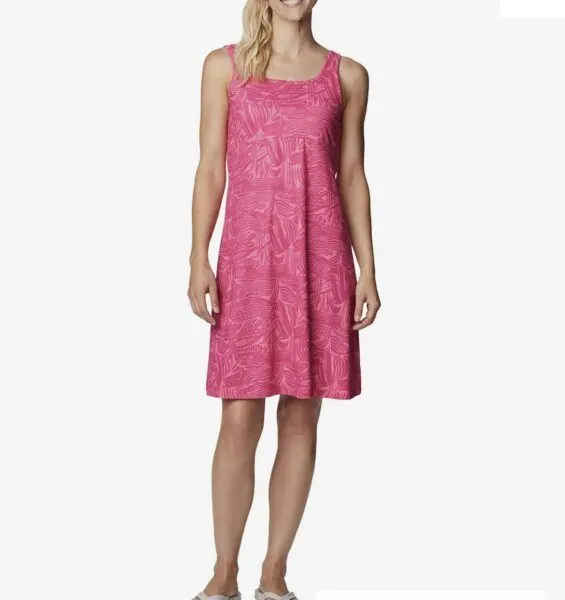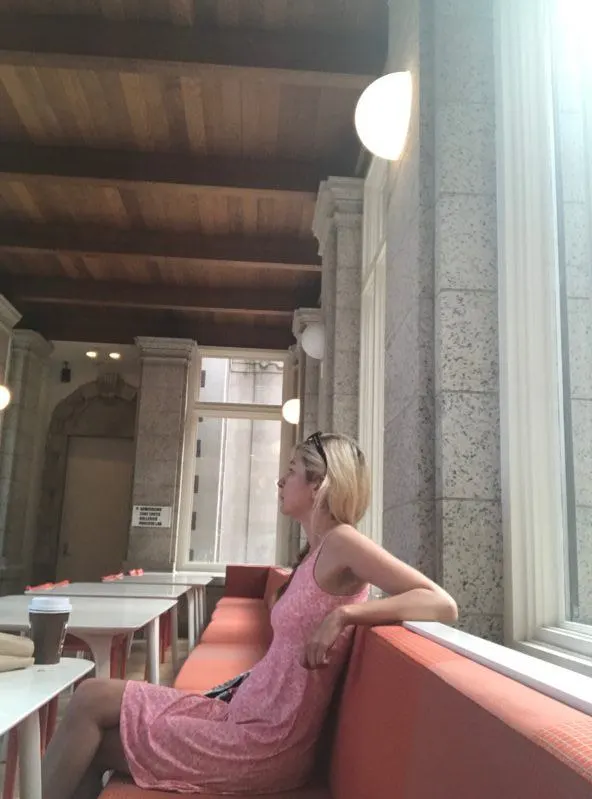 This adorable travel dress comes in multiple colors, has a built in bra and is wrinkle free (and a bargain at $43 last I checked in June 2023). Buy it here.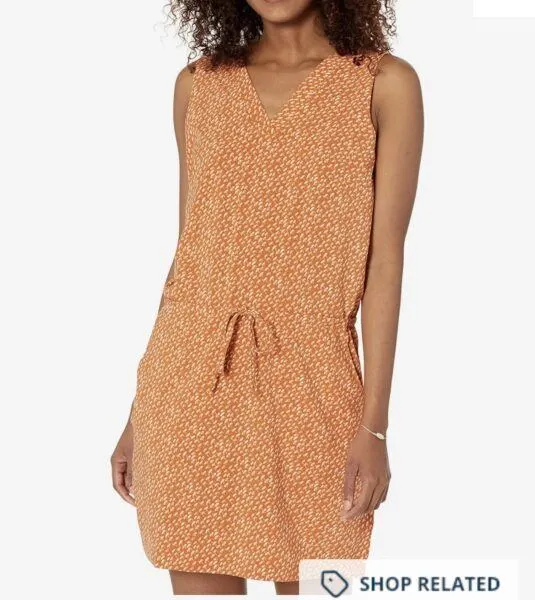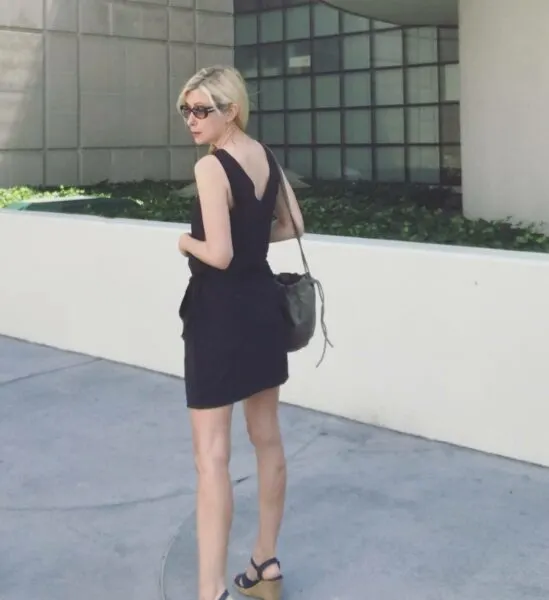 This travel dress is blousy and comfy (you can un-cinch the drawstring waist when you nap on the plane, and cinch it back up when you're ready to deplane), it actually looks chic enough to wear out on the town. Buy it here.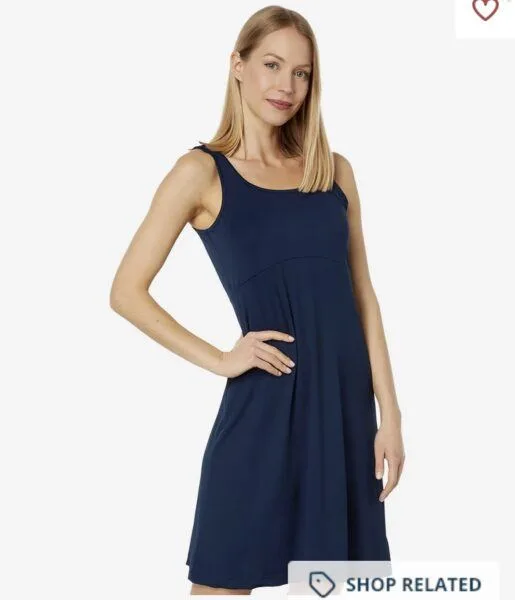 This super soft jersey Prana dress feels like pajamas, but still looks chic on the street. It comes with a built in bra. Buy it here.
Cute Short Sleeve Travel Dress, knee length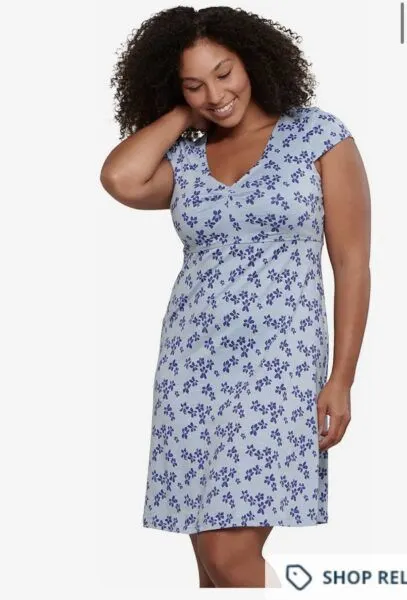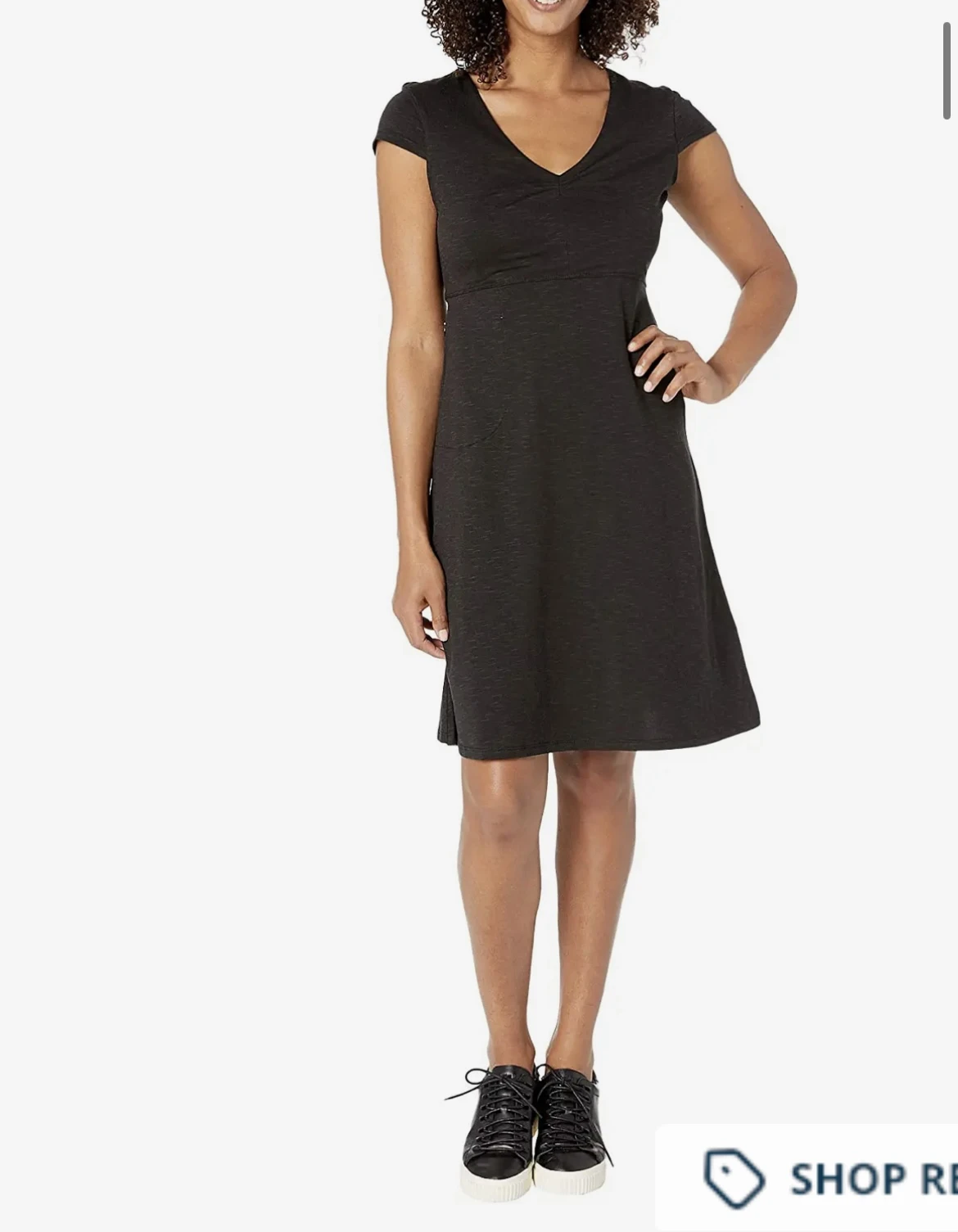 This dress has more coverage with the sleeves and is knee length.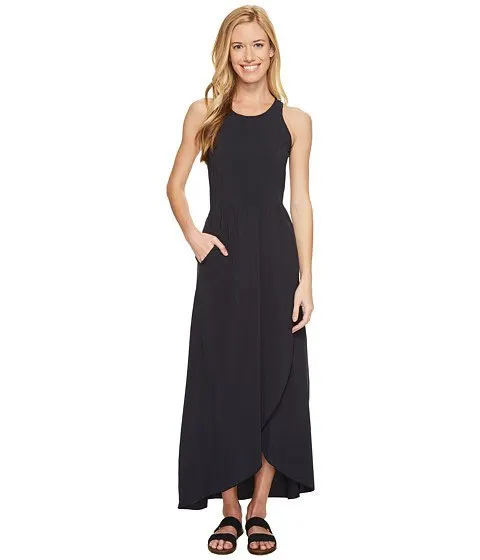 A long maxi dress can be the perfect travel outfit to curl up in on plane. The key with making a maxi dress work is the weight of the fabric and the way it drapes– make sure the dress is feather light.
Featured: Maxi Dress buy it here.
Add Capri Leggings
To make any of the above styles airplane ready, just slip on some comfy capri leggings.
My favorites:
3. Summer Travel Outfit for Overnight Flights: Wide leg linen pants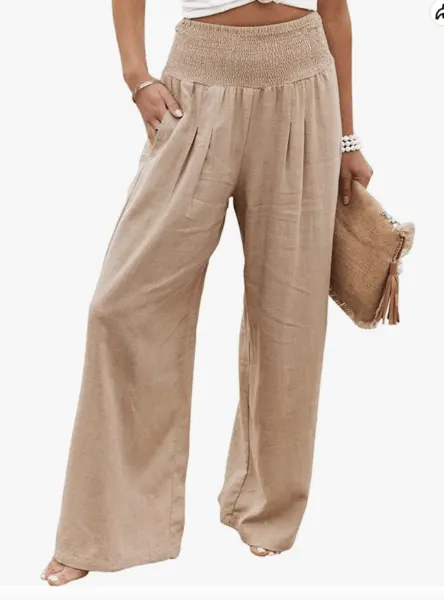 The wide, stretchy waist on these linen pants makes them perfect start to a travel outfit. A bargain and a slew of colors for only 29.99 on Amazon. Check them out here.
Most people don't realize that linen pants can be as comfortable as your most ratty sweatpants– except you can actually wear them in public and look like you put some thought into getting dressed. The key to finding comfortable linen pants for travel is all in the waistband– I look for super wide, stretchy waists (not drawstring)
Add Tank Top or Fitted Tee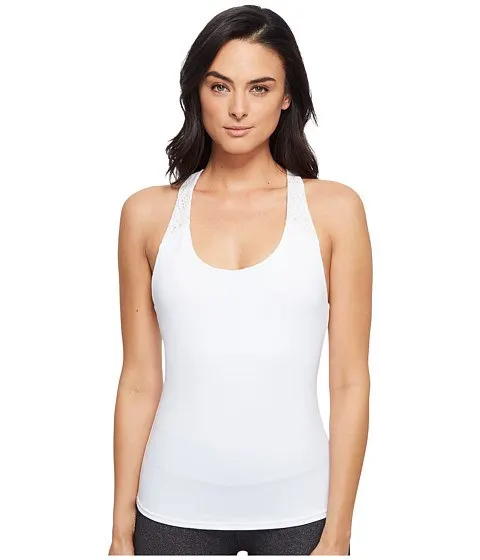 Featured: tank top with built-in bra (several colors)
I prefer to wear a fitted top with loose pants, so a simple tank top works for me– especially one with a built-in bra.
Add a Wrap, Cardigan or Hoodie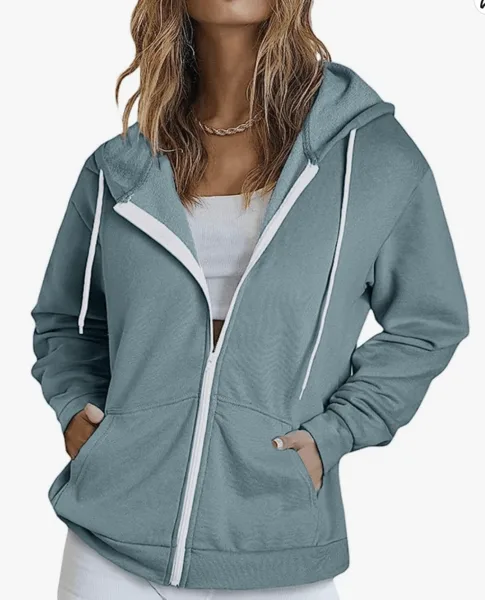 I prefer a zip hoodie over a cardigan sweater to cuddle up in on a long flight. A cute pattern or pop of color keeps the hoodie from looking like you're heading to the gym.
Featured: Blue lightweight hoodie from Amazon (comes In 18 colors, only $32 as of June 2023) or this star hoodie.
4. Cropped Joggers
You no longer have to head to your athletic store to find comfy pants– you'll find them at regular stores (at higher prices, but mercifully, far better fits).
I'd pair these slim cropped joggers with a slouchy but stylish tee or tank and finish the look with a lightweight cotton scarf (see some ideas below).
5. A scarf to tie your travel outfit together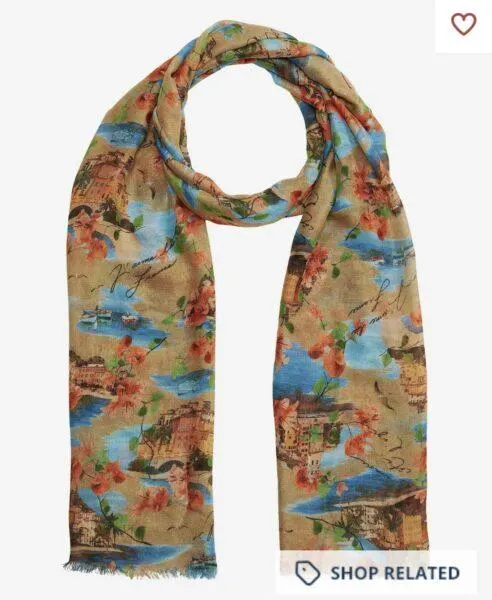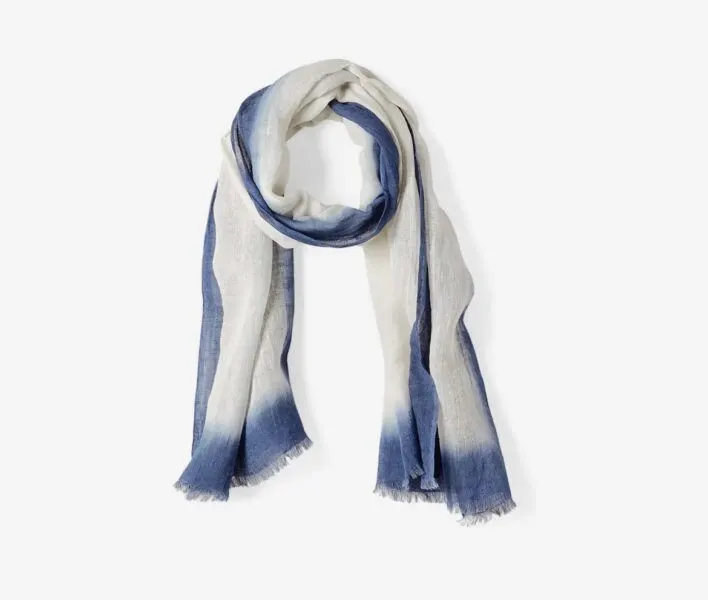 Sometimes all you need to pull together a look and take it from leisure wear to travel wear is a great lightweight scarf. Europeans (especially Parisians) wear them all summer long, even in the most stifling heat. While I toss my scarf when the mercury rises, I like to wear one on a plane and on chilly evenings.
Eileen Fisher scarf (blue and white)
And Finally, Why Your Summer Travel Outfit Matters
Upgrades aren't always an urban legend– it can happen!
I woke up for my early morning flight from Bangkok to New York and considered wearing the very yoga pants I slept in straight on the plane (thoughts like "who cares, I'll never see these people again!" did run through my mind).
When I arrived at the gate, I practically cried with joy as Emirates handed me an upgraded business class boarding pass. My first thought? Thank god I didn't wear yoga pants.
You never know who might be your seat mate
You could land a seat next to that cute guy (or girl) or even a potential business prospect. Granted, this never happens to me, but it did happen to a friend whose now husband fell in love at first sight. And no, she was not wearing yoga pants.
You want to be ready to go when you arrive at your destination
I've tried the old "change at arrival." It's a hassle. As many overnight flights land early morning, well before check in, there is no need to find a changing room, I just drop my suitcase off and go.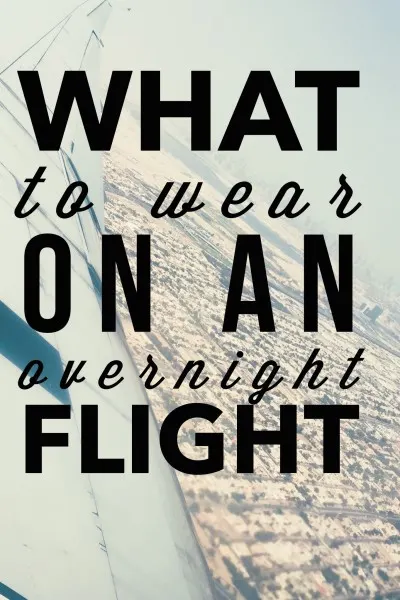 What are your favorite travel outfits to wear on a long plane ride or overnight flight? Share your best tips in the comments!
This post contains affiliate links including from Amazon which are no cost to you but earns me a tiny commission that supports the maintenance of this site. Thanks so much for your support!