When I arrived in Charleston, South Carolina I was thrilled to learn that the city's number one tourist attraction was a huge, centrally located market called City Market.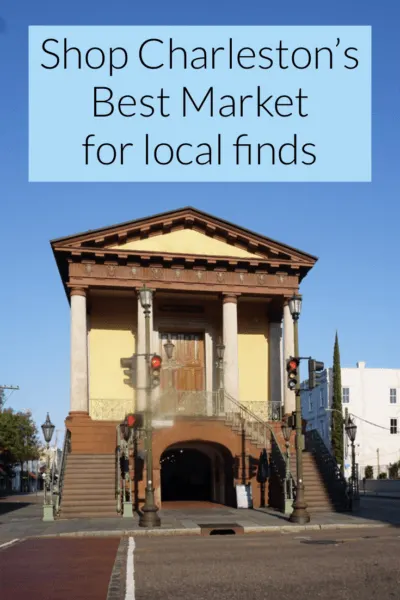 Charleston's City Market is a great venue for finding gifts and souvenirs, or just browsing and learning about local goods. The market itself is located right on Meeting Street– one of the main drags in the historic district of Charleston.
Why I loved Charleston's City Market
Not every destination's markets are worth a visit– I avoid those cluttery, out of the way markets that make shopping a chore. Charleston's City Market is pleasant to shop, conveniently located with quality goods, and has some excellent small bites that make it worth a visit.
Convenience
You won't have to go out of your way to see City Market, you will likely walk right past it while exploring the area. This makes it great to dip in and out of when you have time. Unlike some markets that have limited opening hours, City Market is open seven days a week from 9:30-5. A special night market with different vendors and live music is open Fridays and Saturdays from 6:30-10:30 pm.
Open Environment
Shopping City Market for Charleston souvenirs is a pleasant experience. The market is bookended by a striking historic building and snakes out to the Great Gallery, with open air sheds on either side. The market has a giant skylight for a roof, letting all the natural light in (but none of the elements).
The vendor stalls are spacious and well organized– you won't feel cramped or cluttered shopping here. Unlike flea markets with their jumbled tables of stuff, market vendors have a clean aesthetic.
Mostly Locally Made Goods from Charleston and South Carolina
While not every single City Market vendor has local goods (some mass markets are mixed in), it is easy enough to bypass those that don't, and they don't detract from the overall shopping experience. You won't have to hunt for the good stuff, it's everywhere.
Helpfully, Charleston's City Market makes it easy to recognize the local souvenirs by providing "seals" so you know you're getting the real deal.
Great Local Snacks
I had a long list of Southern specialties I wanted to try while in Charleston– shrimp and grits, friend green tomatoes and biscuits all topped my list. Fortunately, I was able to knock biscuits off my list at the market. City Market has an outpost of Callie's Biscuits, one of my most memorable eating stops on my visit (more about that below).
What Souvenirs to Buy at Charleston's City Market: a Photo Tour
You don't need to dedicate any particular amount of time to shopping the market. While diehard shoppers might want to spend a couple of hours, casual browsers may be content with a quick walk through of one of the galleries.
Here's a photo sampling of what souvenirs you can expect to find. (Note: if the items are available online I've also provided the link so you can restock your souvenirs later).
Sweetgrass Basket Souvenirs
Charleston's best known and most unique souvenir is the sweetgrass basket. Sweetgrass baskets are a Gullah tradition brought over from West Africa. The baskets have been hand-woven with local marshgrass for over 300 years.
The expertise that goes into the sweetgrass baskets is evident– they are true works of art. Expect to pay accordingly, with smaller and less intricate baskets less pricey than larger, more elaborate ones.
The City Market is the best place in Charleston to buy sweetgrass baskets directly from the artisans (the other option is less convenient without a car– vendors also line up along Route 17). There are multiple stalls selling the sweetgrass baskets throughout the market– some of the stalls are even manned by the artisans themselves, weaving the baskets right in front of you.
Charleston Shoe Company Sandals
I love wearable souvenirs as they never sit on a shelf. The preppy sandals from Charleston-based Charleston Shoe Company are a great way to bring back some Charleston style.
Unlike residents of my home city of New York, Charleston locals are not afraid to wear color. Charleston Shoe company reflects this Southern penchant for vibrant, creative styles with a definite preppy twist. Shoes start at $120 and up. Or buy your shoes in advance of your trip and wear while in Charleston– I loved these best-selling Cooper Sling-Back Sandals.
Benne Wafers
It's pretty unusual to find a delicious local food specialty in a US city that hasn't yet infiltrated the rest of the country. But Benne wafers are just that, making them the perfect Charleston souvenir. A sweet and salty sesame cracker, these little round discs are completely addictive. The recipe for benne wafers dates back to colonial times and are still made by local bakeries.
Grits
Shrimp and grits is one of my favorite South Carolina dishes. But I love grits any old way– with butter for breakfast, as a side dish, extra spicy, it's all tasty. The quality of grits does make a difference, look for local smaller mills for the best tasting grits. City market has small batch grits in all sorts of flavors and preparations (with a choice of white or yellow). If you don't have room to lug your Palmetto farms grits home you can buy your grits here.
Local Charleston Cookbooks
My cookbook collection is all over the place– from aspirational cookbooks like French Laundry to specialty cookbooks like Lobel's Meat Cookbook. But the cookbooks I reach for over and over again aren't from famous chefs and don't have complicated ingredients. When I cook for others, it seems like my most loved recipes always come from those local community sourced cookbooks.
You know the kind– from a church group or the junior league, with simple recipes that are handed down over generations. Charleston's City Market had an abundance of those local cookbooks. My favorite was this classic junior league of Charleston Junior League of Charleston cookbook (buy it here too).
Biscuit Mix from Callie's
Even if you don't intend to do any shopping, it's worth visiting the market for a taste of Callie's biscuits. These are unlike any other biscuits I've tried. Besides being the perfect combination of flaky and cakey, the add-on ingredients they offer (gravy, honey, etc.) put these biscuits over the top.
Callie's offers a dozen different biscuit varieties and it can be hard to choose. Fortunately, Callie's offers minis so you can try a few (I found the minis to be not so mini and quite filling).
Callie's most popular biscuit is the country ham. I had mine with a side of gravy. My other favorite biscuits came with a pile of bits of peppery bacon.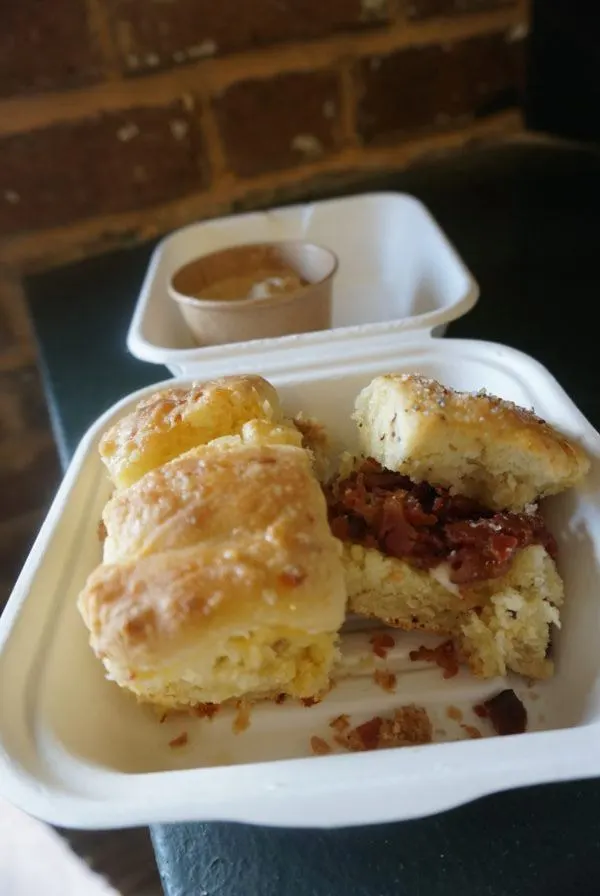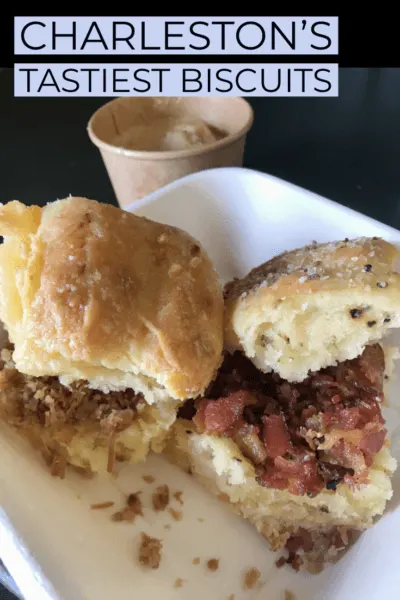 To remember your Callie's experience, you can try to replicate the biscuits back home. The easiest thing to do is pick up their own biscuit mix (you can order Callie's Buttermilk Biscuit Mix here). The flour used in biscuits does make a difference and the types of flours available down South aren't available here in the North.
I also loved the cookbook– Callie's Biscuits and Southern Traditions: Heirloom Recipes from Our Family Kitchen
, pick it up here.
Divine bath and body products from Old Whaling Company
I wondered what a Southern brand was doing with a very Yankee name– the Old Whaling Company– far more reminiscent of New England than the South. It turns out the owner is a New England transplant, but rest assured the company is completely local.
While the soaps are what started it all, the body butter moisturizers are whipped creamy and smell delicious.
Pick up one of their most popular scents here: Two 8oz Seaberry Body Butter
.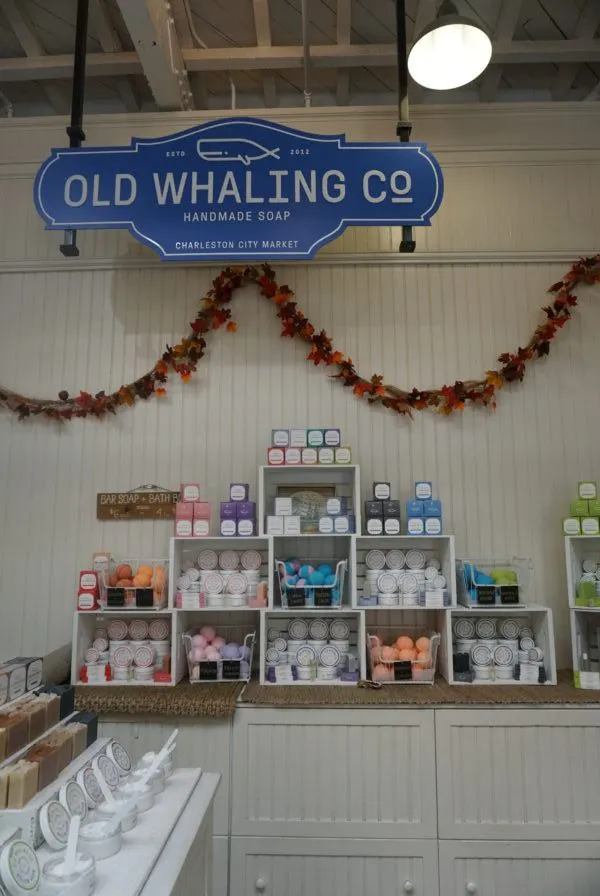 Fashion Accessories Featuring South Carolina's Palmetto Tree
The Palmetto tree is the state tree of South Carolina, easily identifiable by its ubiquitous silhouette. I saw plenty of tasteful items emblazoned with the palmetto tree that would make for lovely souvenirs. Boxers, woven belts complete that Charleston preppy look. You can buy a preppy chic men's Charleston belt here.
Dried Okra Chips
Okra is not a vegetable I think about often, but it is a staple on Southern tables. I was surprised how tasty these dried okra chips were– a nice alternative to those ubiquitous kale chips. Okra Chips are also available online here.
Pineapple motif housewares
Pineapples are a symbol of the South and work great on home decor items. I saw cute pillowcases emblazoned with the classic pineapple, perfect to pack easily and stuff back home.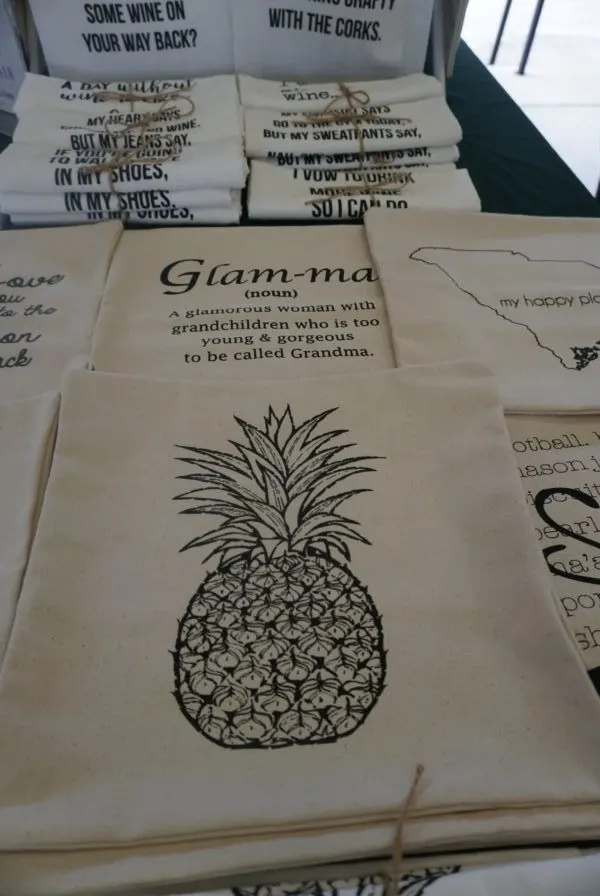 Southern hats
Southern women know how to rock their hats, so it makes sense to pick up a straw wide-brimmed hat as a souvenir while you're here. Hat vendors ranged from high-end to more mass market (but with cute, cheap styles).
What are your favorite souvenirs from City Market?
Pin it for Later: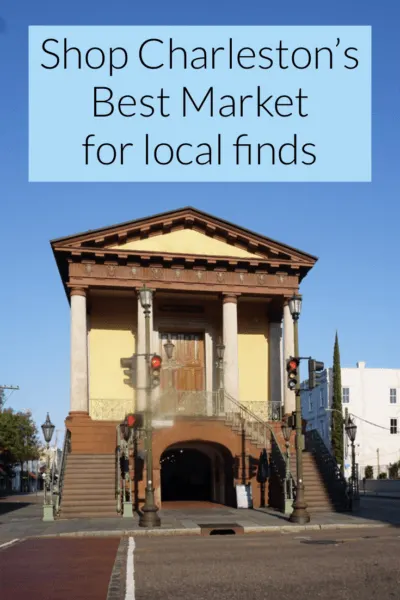 Souvenir Finder is a participant in the Amazon Services LLC Associates Program, an affiliate advertising program designed to provide a means for sites to earn advertising fees by advertising and linking to amazon.com.