Liberty London is my favorite department store in London– in a past post we took a virtual photo tour of this unique store and souvenir shopped the iconic print accessories and British gifts, click here to read Part I. Today we check out the goods Liberty London is most famous for– the Liberty Art fabric colletion.
Liberty of London: the Experience of Shopping in an 18th Century Townhouse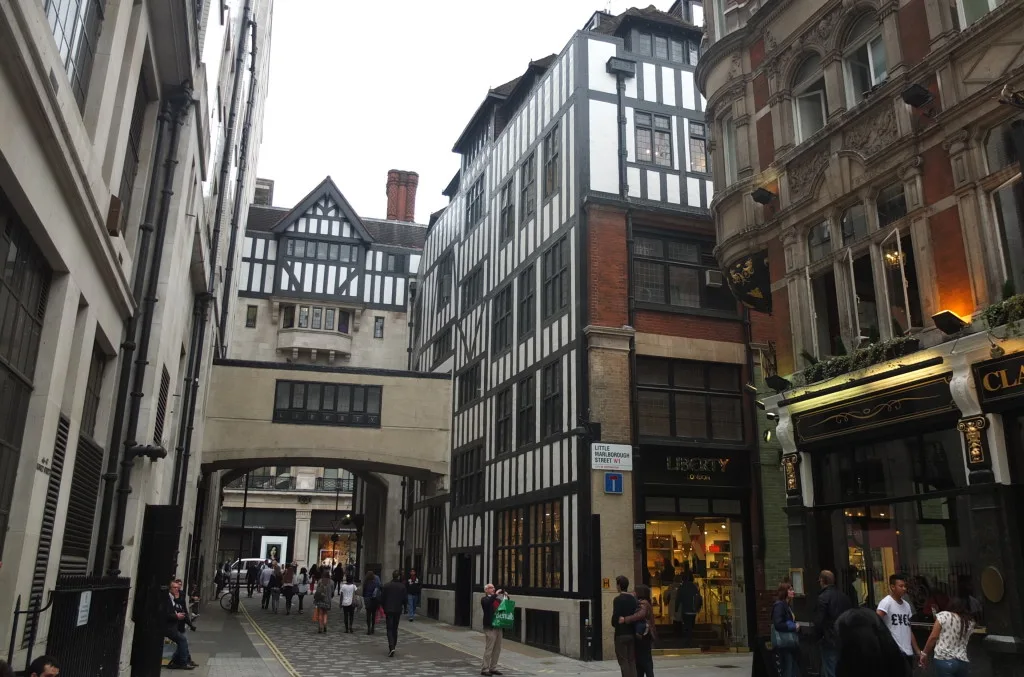 The experience of Liberty London begins even before you enter the mock Tudor store front– I love how Liberty feels like it's tucked down a secret back alley, when it's really right in the center of one of London's busiest shopping areas.
I would visit Liberty London just to walk up this creaky, near century-old staircase. Head up to the third floor, home of the iconic Liberty Art print fabrics, ready-to-wear shirts and haberdashery.
Liberty of London Fabrics by the Yard
I don't know the first thing about sewing, but I love browsing the reams of gorgeous Liberty Art print fabrics, sold by the yard. Some of these prints date back to the 19th century, while others are from more modern designers.
Liberty's third floor is also home to its haberdashery department, a haven for crafters, knitters and sewers. I try to forget that I can barely thread a needle as I sift through the buttons, ribbons and other notions. Do I need tiny sewing scissors? Technically, no, but they do come in an adorable Liberty print pouch.
Liberty of London Ready-to-Wear
Not up for a DIY project? Fortunately, there are plenty of ready-to-wear options made from Liberty Art fabrics.
I head directly for the the Liberty of London shirt rack to select my next purchase. For men's Liberty London print shirts, head down to the basement level.
I love Liberty London print shirts— fitted enough to be flattering but loose enough to be comfortable. There are fitting rooms nearby if you want to try them on first. Don't forget the labels reflect US sizes– I bought a UK size 8 (equal to a US size XS or 4).
My favorite Liberty pattern is a William Morrow design called "Strawberry Thief." The cotton fabric itself is lightweight but very durable, I'm not exactly sure of the care instructions, but I toss my shirt in a cool wash and even the dryer and it seems no worse for the wear. I'm sure a pass with an iron would help but it's not essential.
Menswear– Shirts with English Flair
If you're a fan of the (now cancelled) UK televison show Top Gear you may have noticed presenter James May sporting Liberty print shirts. Floral shirts are "having a moment" right now in men's fashion and are very wearable, even for less sartorial gents.
I found the men's sale clerk at Liberty to be very helpful in pointing out the popular patterns and offering styling tips (for one, keep the rest of your outfit simple). I bought this lightweight summer shirt as a gift for a guy– he wears it casually in the summer the same way you might a linen shirt– loose, untucked, sleeves rolled and a couple buttons undone– for a preppy but slightly unconventional look. If your guy wants something less bold, ties, boxer shorts and swim trunks are great options too.
What are your favorite Liberty of London patterns? Share in the comments below!
[typography font="Trocchi" size="34″ size_format="px"]Pin it! [/typography]