When I visited the coastal province of Trang in Thailand, I thought I knew what to expect. I had ogled enough online photos of turquoise waters, jutting rocks and silky sands to know this was a tropical beach paradise, rarely visited by Westerners. But what I wasn't prepared for was the unexpected lushness of Trang.
From palm-fringed roads to the forest-covered hills, Trang will envelope you in its tropical jungle.
Trang's Tradition of Wood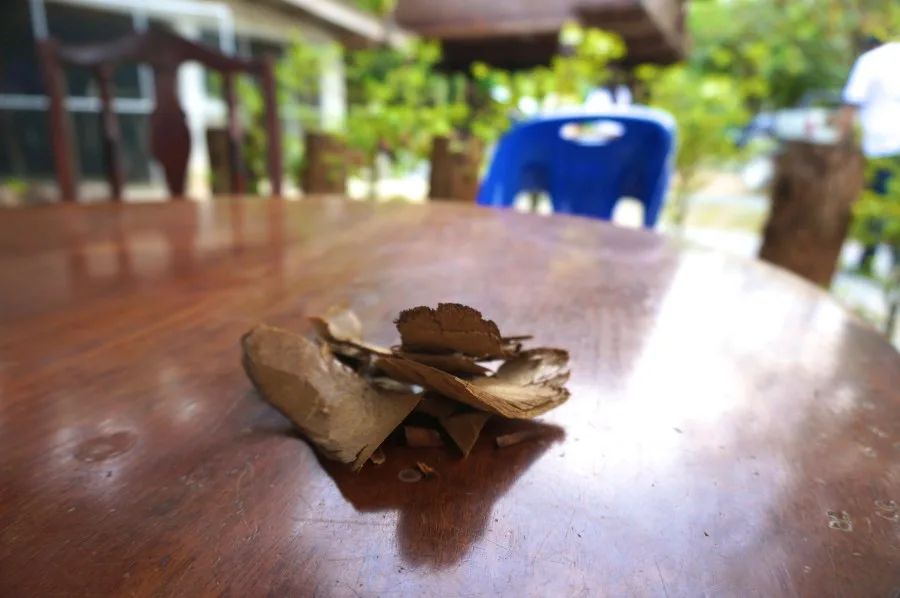 As I learned more about Trang province, I began to understand the role of the dense tropical forests in the economic development of the area. For example, Thailand's very first rubber tree was planted in Trang, sparking an entire industry.
But I was most interested in the small family businesses that thrived in the area, using local trees to create works of art which are then sold all over Thailand. We stopped by one of these family workshops on a recent visit.
Visiting the Thep Tharo Wood Carvings Workshop
When you visit Thailand, you soon realize that nothing here is ordinary. Everything is a least a notch above what you would expect, whether it's the extra-juicy, fresh mangos from the street vendors or the incredibly relaxing Thai massages.
So I wasn't surprised to learn that the Thai wood carvers here don't use just any old tree for their handiworks. Local craftsmen exclusively use the Thep Tharo tree, a local variety of a pine tree that is best known for its heavenly cinnamon-y scent. If you're in a hurry (which is hard to imagine in laid back Trang) you can head straight to the gift shop to pick up some aromatic hand-carved souvenirs. But we recommend you walk around the back to watch the family at work.
The Thep Tharo wood carving workshop is a multi-generational operation, in business since the 1980's.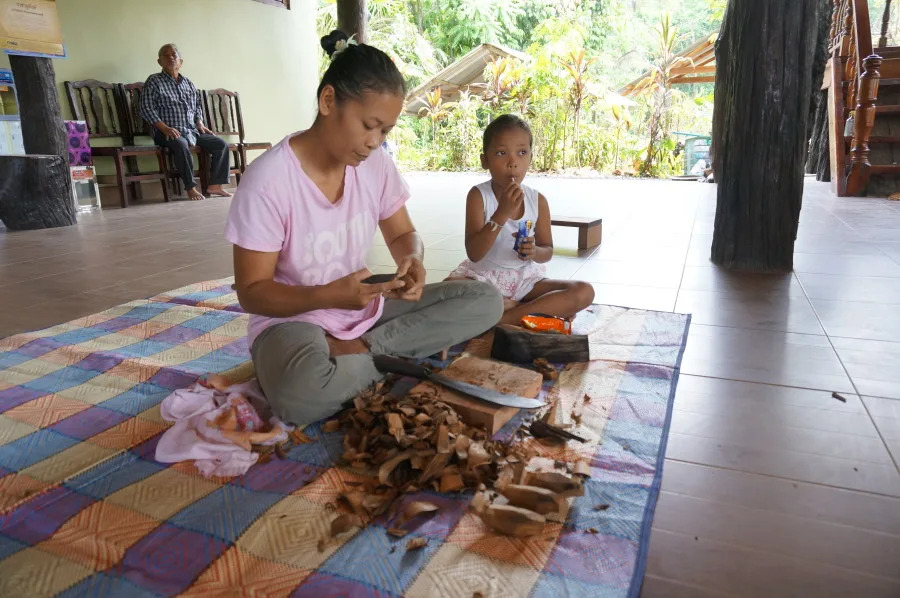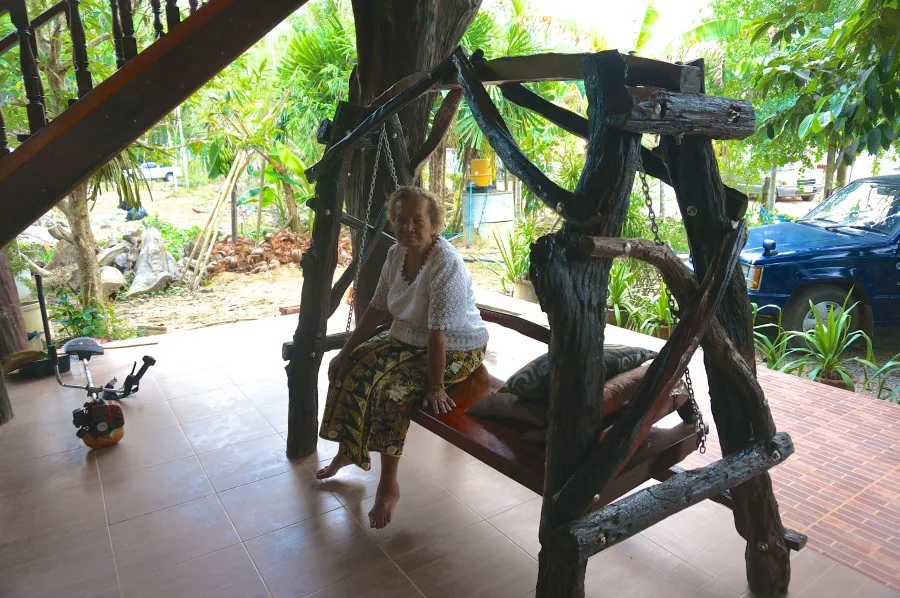 If watching the skilled wood carvers at work inspires you to give it a try, then you're in luck. You can actually carve your own DIY souvenir here (with guidance from the pros). I took one look at those sharp blades and decided I should leave the carving to the experts, so I opted to paint a ready-to-go souvenir.
I was surprised at how fun it was fun to dip a brush and go crazy with the color options– something I hadn't done since my kindergarten days. My choice to paint my little man blue amused the locals here, who praised me for creating an "avatar" look.
Hand-Carved and Other Thai Souvenirs at the Gift Shop
When at last it was time to visit the workshop's gift shop, I was blown over by all the gorgeous and useful souvenir finds. While there were plenty of striking objets d'art suitable for display, there were also plenty of souvenirs I could easily use back home– kitchen utensils, jewelry, handbags and toys were just a few of the unexpected finds. And it's worth mentioning that everything here was downright cheap– from 20 baht to smaller items to just a few hundred baht for larger masterpieces.
To help you pre-shop (and to make sure you save enough room in your suitcase), I snapped some of my favorite souvenir finds:
1. Hand-Woven Bags
What I loved about the handbags was how they spoke of the region (using native materials and methods) but were chic enough to bring on a Hamptons weekend. The prices here were outrageously cheap– about $3 for small bags and less than $10 for most large ones–with the most expensive bags topping out at $24.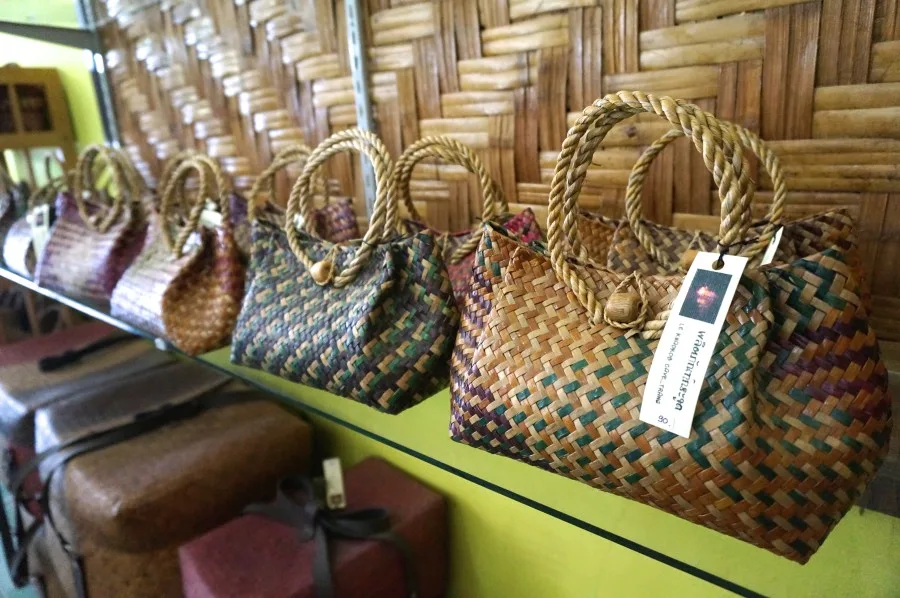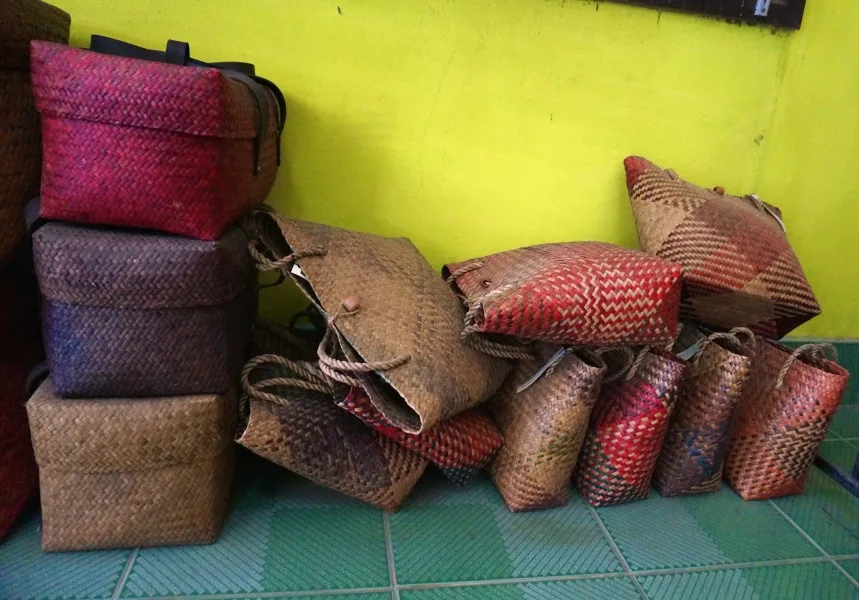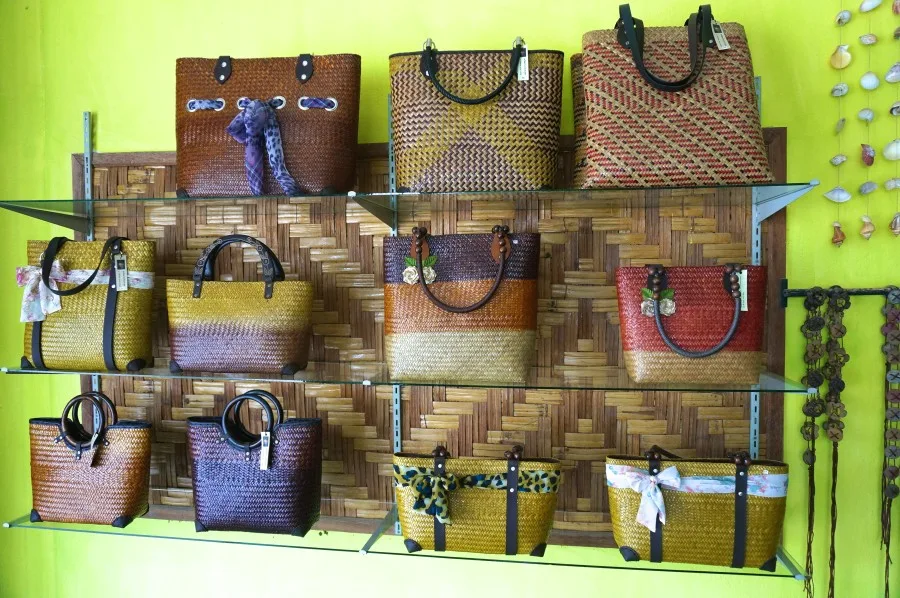 2. Traditional Thai Wood-Carvings
I don't have room for decorative objects, so I took a pass at some of the larger carved items here. But there were plenty of smaller souvenir options sturdy enough to toss into any suitcase or backpack without a second thought. Bonus: several of the souvenirs represent good luck or a long life, making them even more irresistible.
3. Toys
Thai puppets guided by wooden sticks and other traditional toys are the perfect souvenir gift for the kid who has everything.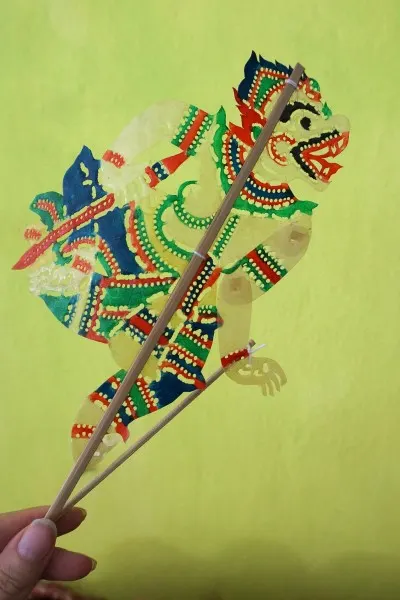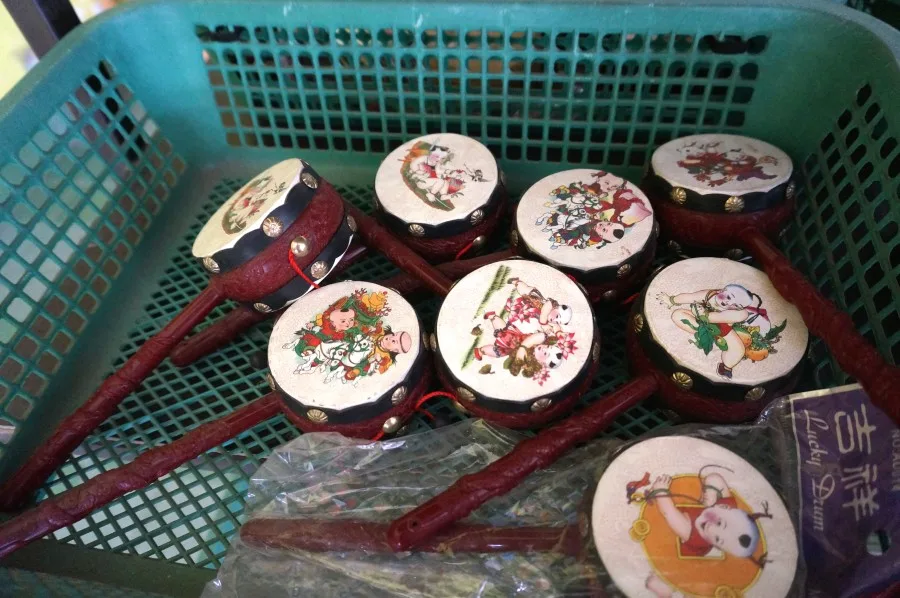 4. Home Decor and Accessories
Woven baskets and bins, hand-carved vases of every size– I can see many of these tasteful items punctuating my decor back home.
5. Hand-carved Jewelry and Hair Accessories
6. Kitchen Utensils and Accessories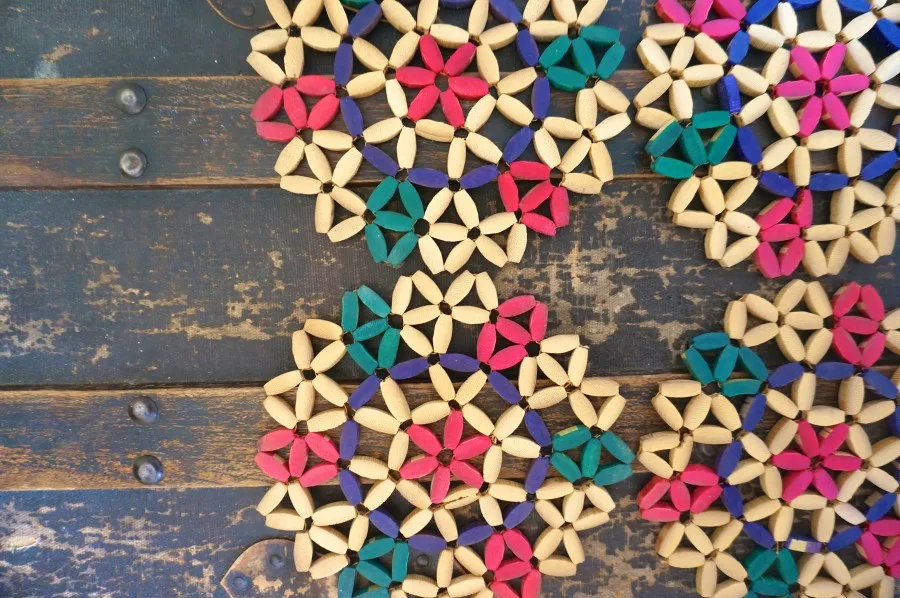 These colorful wooden trivets were my favorite find– lightweight and easy to pack, they make a pretty (and useful) gift. We scooped up several each.
Have you bought crafts in Thailand? What were your favorite finds?
While this trip was sponsored by the Thailand Tourism board, all shopping was done on my own dime. Or Baht.