I love a good diner. Those laminated mega menus offer everything you can think of, including an all day– and sometimes all night– breakfast (I can confirm that pancakes are much tastier after 9 pm). Growing up in the Northeast, home to some of the best diners anywhere, it's hard to imagine living anywhere without a diner around the corner.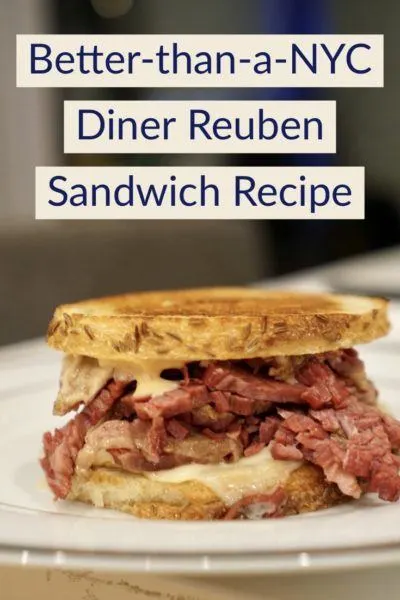 Fortunately, in New York City where I live locally owned diners still thrive. If you visit New York, try to squeeze in a meal at a diner (pretty much any neighborhood diner will do, just avoid anything in the vicinity of Times Square).
Choosing from the hundreds of options at a New York City diner can feel overwhelming.
I recommend sticking with a classic New York City dish like the reuben sandwich. A simple sandwich with a only a few ingredients (corned beef, swiss, sauerkraut and Russian dressing on rye), the reuben is the perfect blend of flavors and textures that make a sandwich crave-worthy.
Although there is some controversy over where the first reuben sandwich was invented, there is no question that the reuben has long been a New York City institution.
Bring Home Local Ingredients to Make Your Own Reuben
After sampling a local New York City reuben sandwich, you can pick up local ingredients as a souvenir and recreate the experience back home. Even better, if you buy the right ingredients, your homemade reuben will be even better than the one you tried at that corner diner.
In my experience, the quality of the ingredients (specifically the corned beef and the rye bread) make or break a reuben. The actual assembly and cooking of the reuben is a no brainer. After a very successful trial run, I've included my tips and a foolproof recipe below.
New York City Corned Beef from a Jewish Deli
Critical to the perfect Reuben is the quality of the corned beef. To find the best corned beef, hit any of the classic Jewish delicatessen and place your order to go by the pound. While you can go to a famous spot like Katz's deli, if you seek out a neighborhood deli you can avoid the mad crowds.
Out of sheer convenience, I frequent Pastrami Queen on the Upper East Side where I live (more on buying NYC pastrami in a future post). While not exactly unknown (Anthony Bourdain, who also lived in my hood, loved Pastrami Queen) it's not nearly as chaotic as the "biggies" (Katz's, Second Avenue, Barney Greengrass, Ben's etc).
Be warned, you will experience sticker shock (my corned beef rang up at $36/pound, which is about the going rate).
But it's still cheaper per pound than buying a sandwich at the deli, and as most Jewish delis are kosher, you can't even order a Reuben there (Katz's is an exception as they are not kosher). When ordering your corned beef, be sure to ask for a hefty side of Russian dressing.
New York City Orwasher's Rye Bread
The other make-or-break-it reuben sandwich ingredient is the quality of the rye bread. While diners might use whatever mass-produced rye bread is on hand, you have the option of bringing home local rye bread from a classic Jewish bakery.
Once you try the crusty on the outside, soft on the inside, deeply flavorful rye bread at Orwasher's bakery, you'll rethink what rye bread should taste like.
Recipe: Better-Than-a-NYC-Diner Reuben Sandwich
While the corned beef and rye bread should be purchased at a specialty deli if possible (see above), the remaining reuben ingredients (swiss cheese and sauerkraut) are fine to get at the supermarket. For our reubens I used thin, freshly sliced swiss and packaged Boars Head sauerkraut (refrigerated, never canned).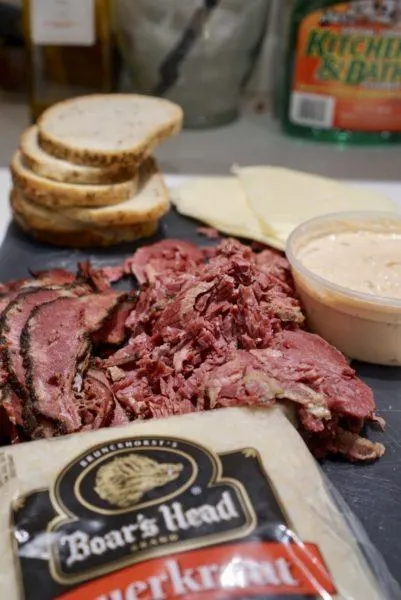 Makes 2-3 Reuben sandwiches (depending on how stuffed you like your sandwiches)
Ingredients
1 Pound Deli Corned Beef
1 Loaf Jewish Rye Bread, seeded or unseeded (Orwasher's preferred)
Russian Dressing for spreading
Pat of butter
Sauerkraut (prefer Boar's Head)
2-3 thin slices Swiss cheese per sandwich (less if thick sliced)
Instructions for NYC Reuben Sandwich Recipe
1. Steam the corned beef by placing a small amount at a time (1/4 pound or so) in a damp paper towel and placing it in microwave on high for 30 seconds. This is the method explained to me by the counter person at Pastrami Queen and it worked perfectly.
2. Heat sauerkraut according to package instructions or place covered in microwave for about a minute or until heated through
3. Butter one side of each slice of rye bread.
4. Place buttered bread on heated skillet or grill pan (medium heat, adjust if needed). Slather other side with Russian Dressing.
5. Layer warmed sauerkraut, corned beef and cheese as desired. You can pile the corned beef sky high like they do at those famous delis, but I find a smaller sandwich easier to eat and the flavors more proportionately balanced. Slather other slice rye with Russian dressing, place on top sandwich.
6. Heat until bread slightly browned and crispy and cheese melted, about 2-3 minutes per side.
7. Slice and serve with pickles and Dr. Brown's celery soda (a classic accompaniment). If you have leftover corned beef, add it to scrambled eggs for breakfast the next morning.
Pin it for Later: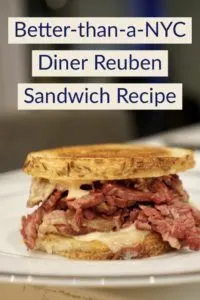 Have you had a NYC Reuben sandwich? Tell us about your experience in the comments!