"What souvenirs should I bring back from New York City?" It was a question that often stumped me. As a longtime New York City local, I never thought about what to bring home, because I was home. But when I started this blog, I started to pay closer attention to the bounty right here in my own backyard and to slowly compile my list of New York City's Best Souvenirs.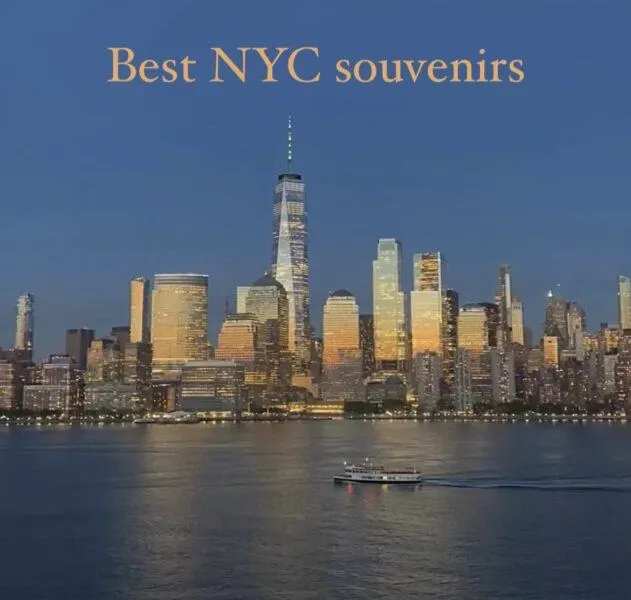 What Gifts and New York City souvenirs made the Top List and Why You Should Trust my Suggestions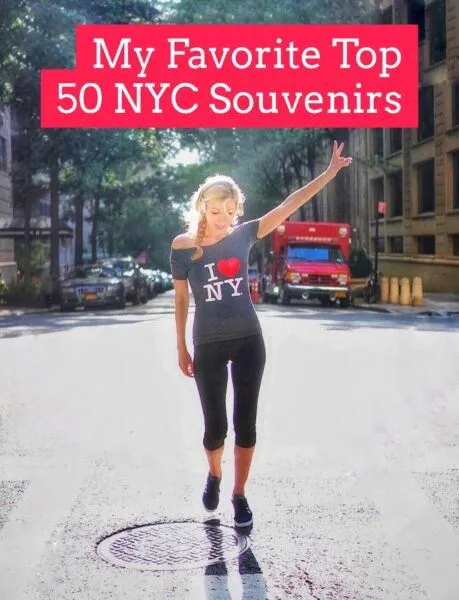 When creating this master list of the best and top 50 New York City souvenirs, I wanted to include (i) iconic and unique NYC souvenirs that represent the city (ii) food souvenirs; (iii) souvenirs for kids and (iv) NYC themed gifts for friends and family back home. I also wanted the NYC souvenirs to be affordable, so no NYC gift listed here is over $50 and most are well under $10.
This is the most comprehensive list of unique NYC souvenirs you will find. I know because I googled to see what else is out there and only came across generic listicles using stock photos, defaulting to lazy recommendations like "something from the MOMA store." Yeah, not helpful, thanks.
I have personally vetted each souvenir in my best of NYC list, taken nearly every photo, taste-tested, researched and visited each place. I've written and linked to the many NYC posts I've already written and added a couple dozen more to make this top 50 NYC souvenir guide.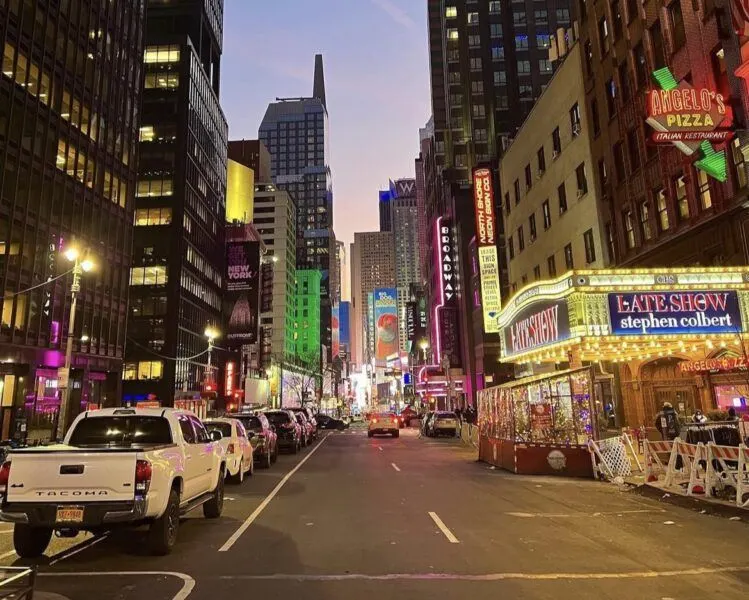 Top 50 Best NYC Souvenirs and Gifts, a Comprehensive List
As I live right here in New York City, I will continue to update this list, so check back for new additions. If there is a cool NYC souvenir you think deserves to be on the list, please share in the comments!
1. The Classic I Love New York T-Shirt: the Most Iconic NYC Souvenir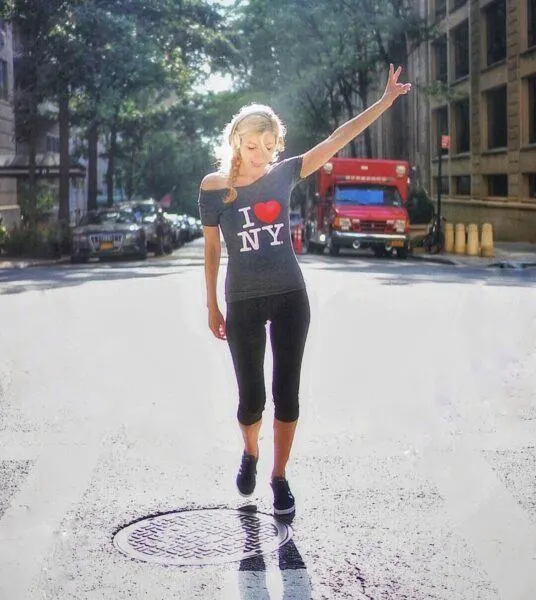 Iconic NYC souvenir
Available at souvenir shops and here online for women, men/unisex and kid
You've heard the famous slogan, remember the catchy jingle and may even have a souvenir mug at the back of your cupboard with the recognizable around-the-world phrase "I love New York." So kitschy it's cool, you can't go wrong with this tee, available in the classic white or colors, traditional or tapered fit.
2. New York Yankees Cap Souvenir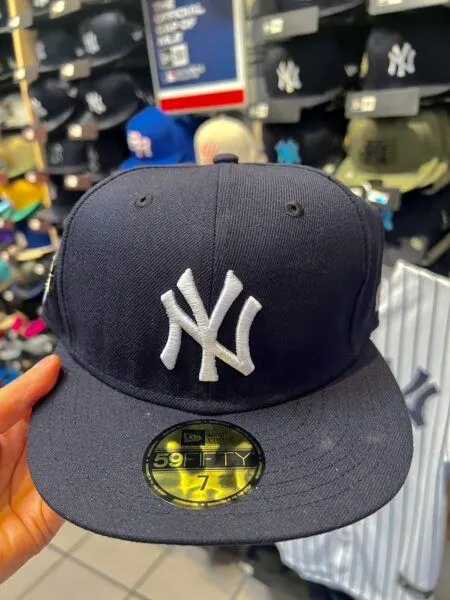 Iconic NYC gift souvenir
Suitable for Adults, teens, kids
Available at Yankee stadium, souvenir shops and here online
The New York Yankees may or may not be your favorite baseball team, but one thing everyone can agree on– the Yankees logo is one of the most recognizble sports logos worldwide. If you travel anywhere in this world with a Yankees hat, people will know exactly what that is.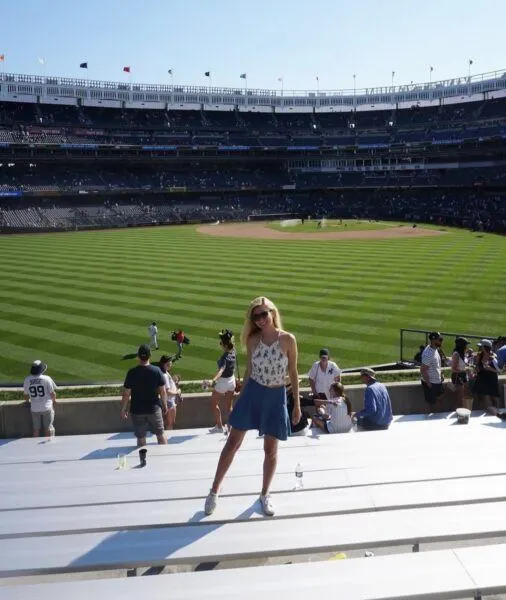 3. Patience and Fortitude Bookend Souvenirs from the New York Public Library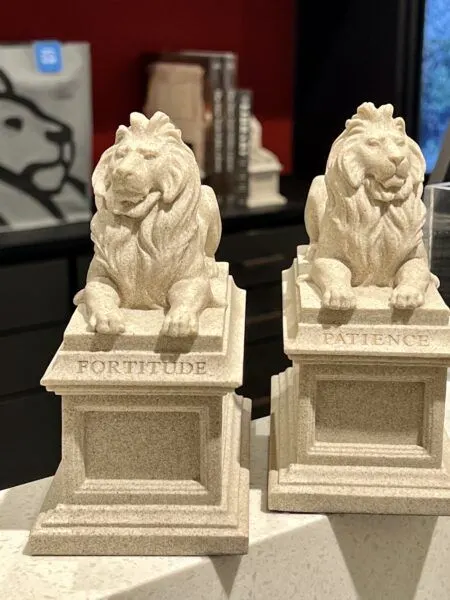 Iconic symbol of the NYPL and NYC
Good gift for book lovers
The pair of lions that guard the entrance of the New York Public Library, named Patience and Fortitude, are a well known symbol of the city– and make a great souvenir in the form of classic bookends. Read about what to do at the NYPL and what other souvenirs to find there here.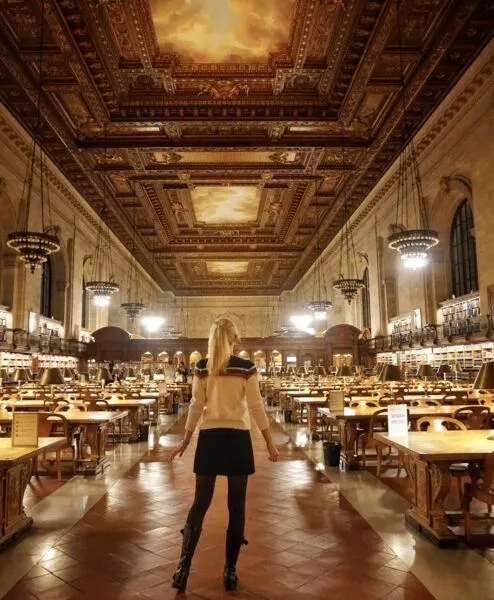 4. Strand Bookstore Tote Souvenir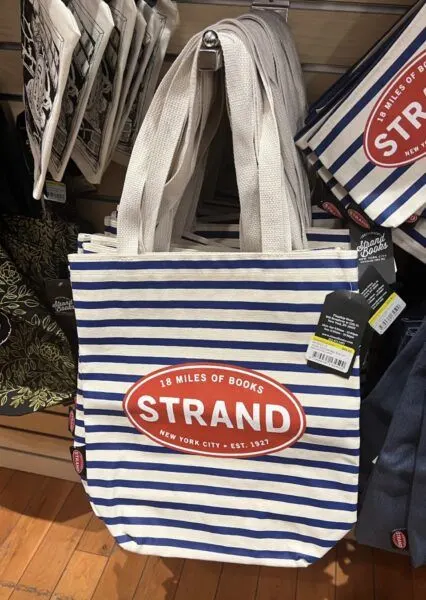 Not just for tourists, used by locals too
Available at Strand Bookstore
The Strand Bookstore, founded in 1927 and still family owned, is the only remnant of New York's Book Row still standing. Every book lover will appreciate the Strand Book Tote bag, available in many designs, including those with the famous slogan "18 miles of books."
These totes aren't just for tourists, you'll see the Strand tote bags slung over the shoulders of locals on the bus, stuffed with produce at the farmers markets and even at times used to lug actual books.
5. The Iconic New York Bagel Souvenir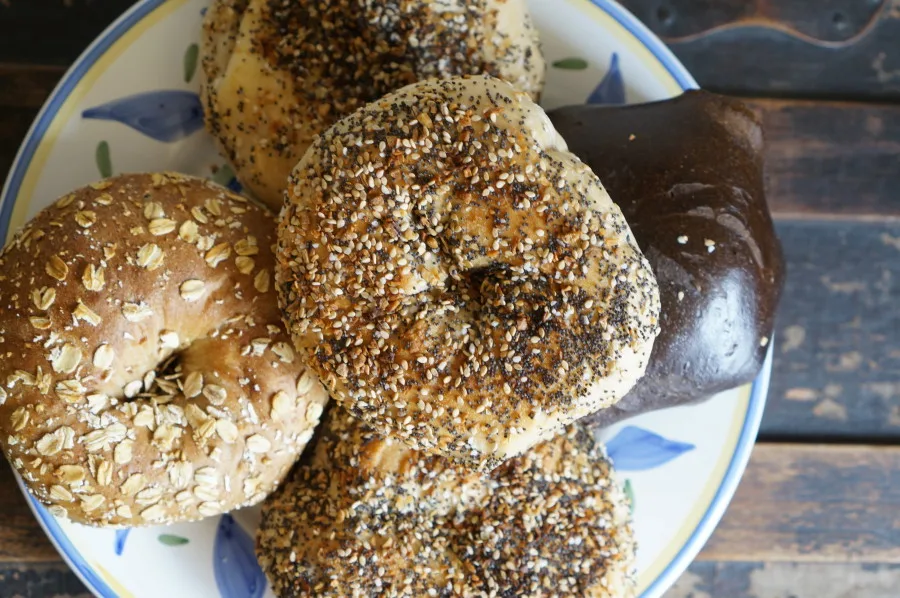 Food souvenir, perishable, so purchase at end of trip (can be frozen)
Good gift for carb lovers
I wrote all about my love for bagels, including how to order one and what a flagel is, in an earlier post here. New York City bagels top my list of best food souvenirs because they are truly unmatched. Pick up at your favorite bagel shop (or try my favorite, Ess-a-bagel).
6. New York City Ceramic Anthora Coffee Cup Souvenir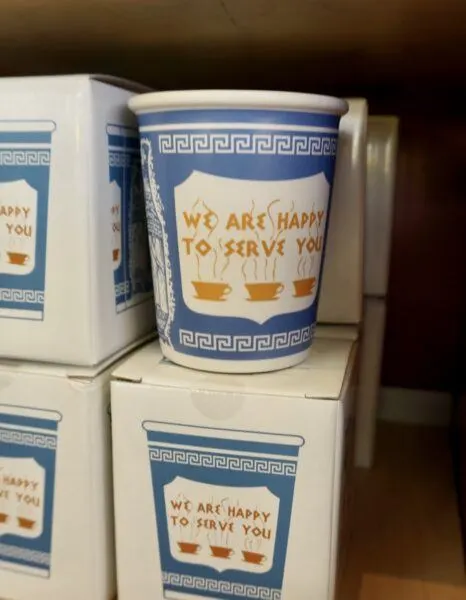 Back in the day, you could spot a NYC takeout coffee cup (known as the "Anthora" design) by its iconic blue, white and gold colors. While it's harder these days to find a traditional Greek Anthora cup (blame Starbucks), they remain a great nostalgic piece of NYC history and an iconic only-in-NYC souvenir.
7. FDNY (Fire Department of New York) Souvenirs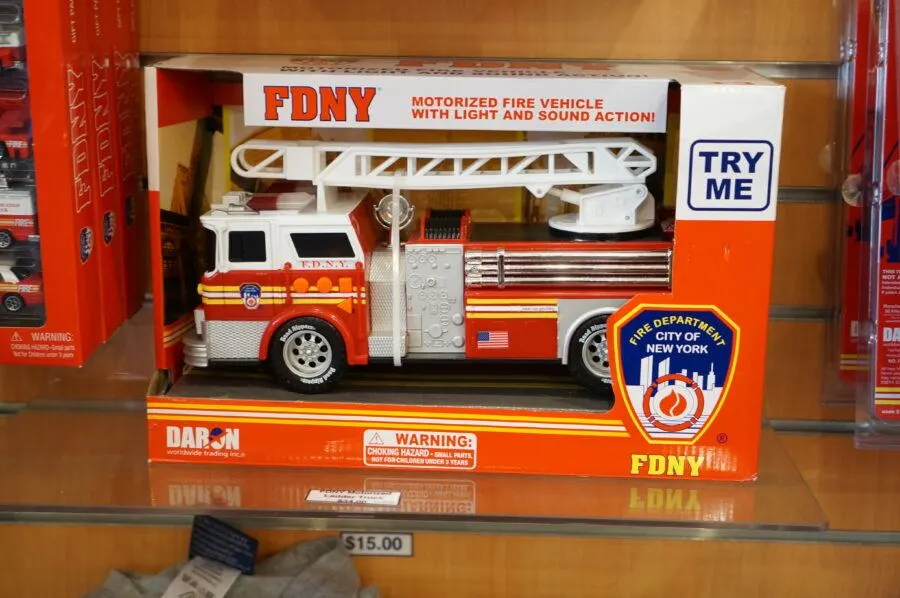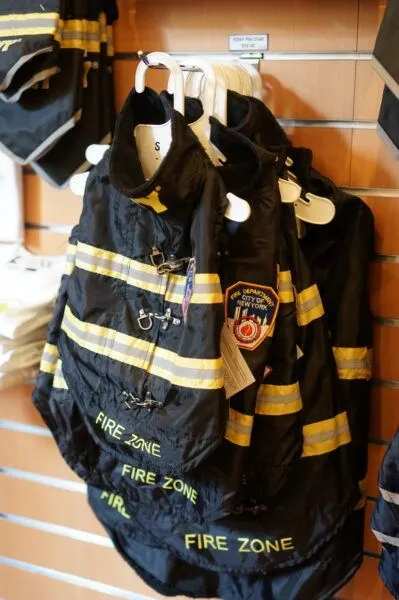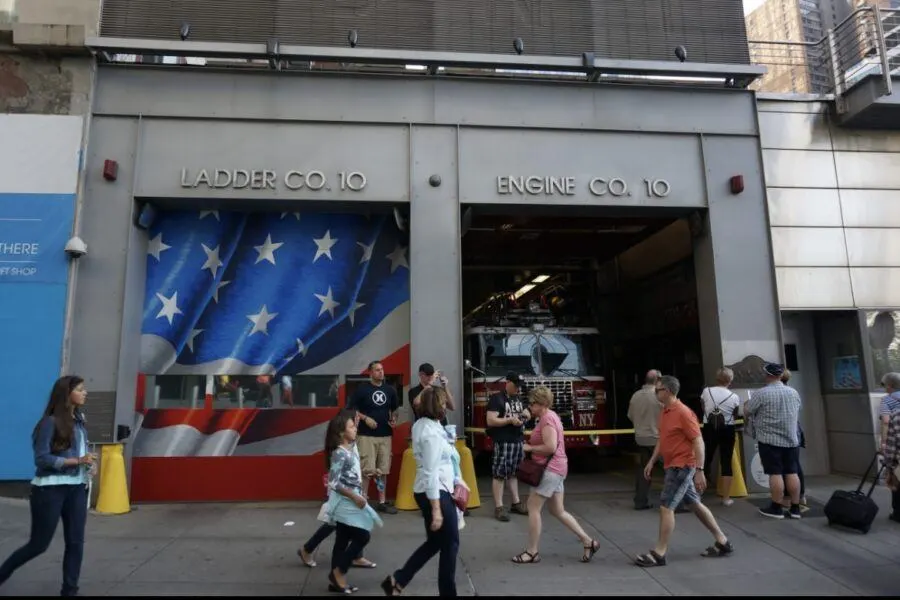 Buy souvenirs from the Fire Museum or an authorized gift shop like City Store to ensure it benefits the FDNY (souvenirs are NOT sold at firehouses)
Excellent gifts for kids
When you were a child, did you have dreams of being a fireman? Or a firetruck? Live out those dreams and honor the brave men and women of the FDNY by visiting the fire museum for a great learning experience and pick up some fun fireman related souvenirs like a truck, cap and kid size fire jacket.
Note: Although it's fine to take unobtrusive photos of local firehouses from the outside, under no circumstances should you ask for a tour, these are working fire houses, not tourist attractions.
8. New York City Souvenir Black and White Cookie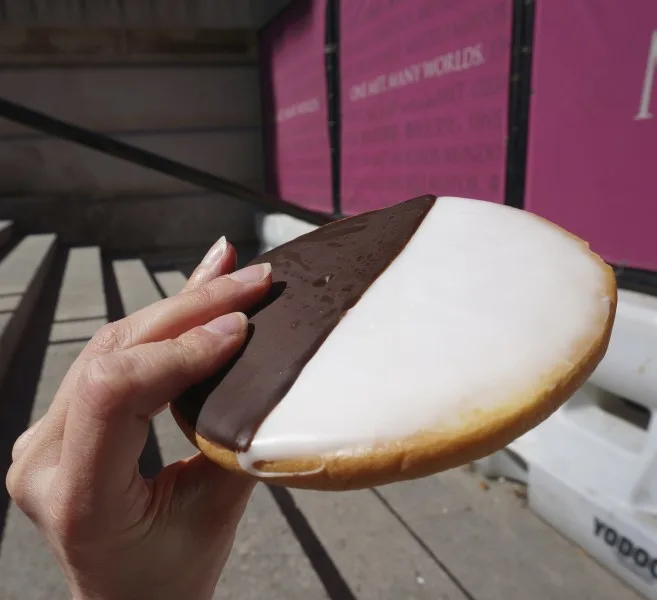 Iconic New York City Souvenir
Food Souvenir
Comes wrapped for easy transport and better shelf life
These delicious cookie-cakes can make a great New York City souvenir, but only if you get them at the right place (William Greenberg is my favorite). I wrote all about the black and white cookie in an earlier post here.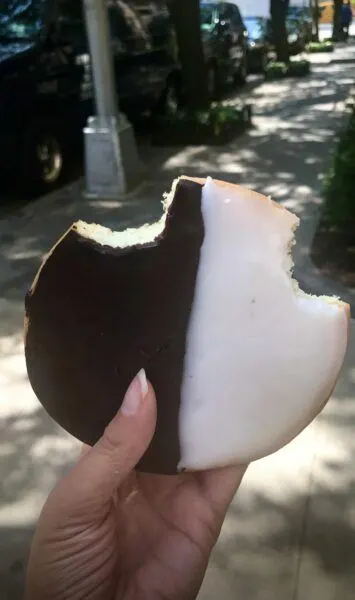 9. Quirky Gowanus Canal T Shirt Souvenirs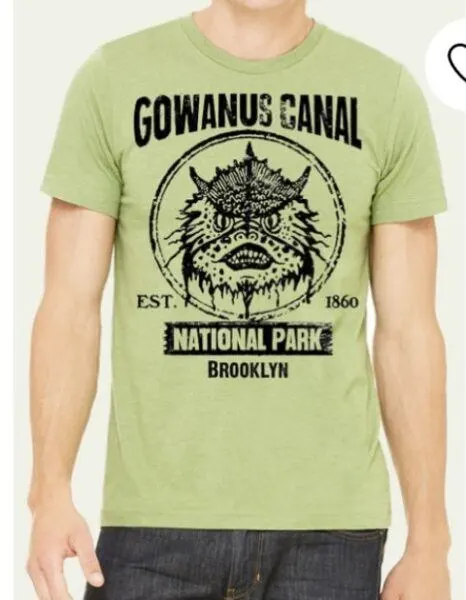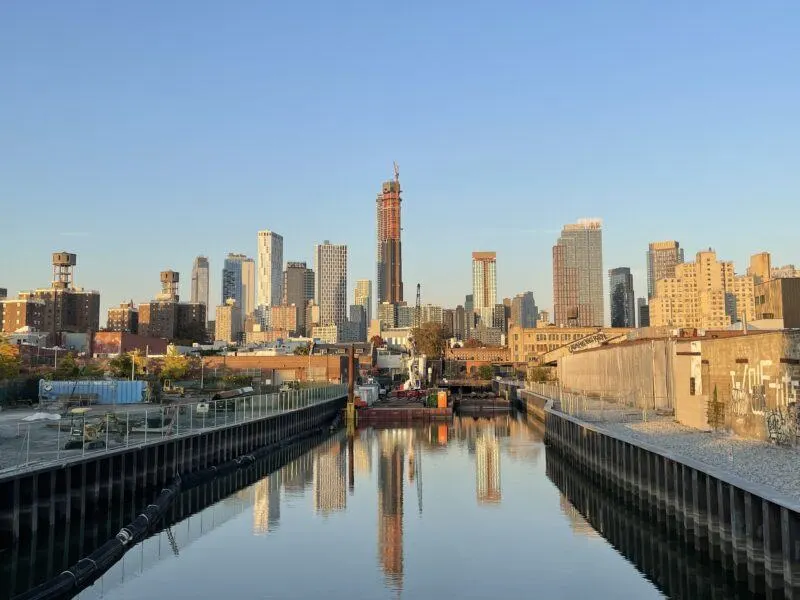 Fun Brooklyn gift for adults/teens
Available at local gift shops in Gowanus Brooklyn and here online
The Gowanus Canal, a tidal estuary in Brooklyn that flows into the New York Harbor, was built during the Civil War for transportation purposes. It's now a Superfund site and considered one of the most polluted waterways in the country.
Despite the cleanup still ongoing, scores of artists and eclectic shops have set up in the area and apartment prices are sky high. The hardy tourist can explore this canal via a guided canoe tour, or just take a stroll through the neighborhood and buy a tongue-in-cheek souvenir like these Gowanus canal T-shirts.
10. Roosevelt Island Souvenir Replica Tram Car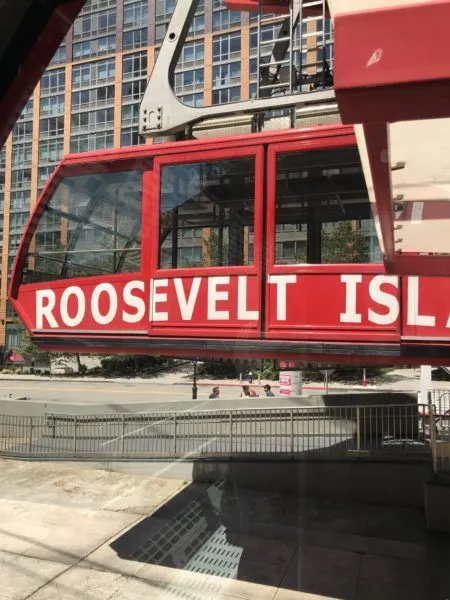 Unusual NYC Souvenir idea
The Roosevelt Island tram is positively thrilling– it feels as close to an adventure as you can get in Manhattan, soaring 3100 feet in the air over the East River (yes we do have actual islands that are part of Manhattan!) Check out my post for how and where to catch the tram, what to do on Roosevelt Island and a full review of the gift shop.
The gift shop right off the tram exit has a very unique NYC souvenir– a replica bright red tram car.
11. Roosevelt Island Asylum for the Insane Mug Souvenir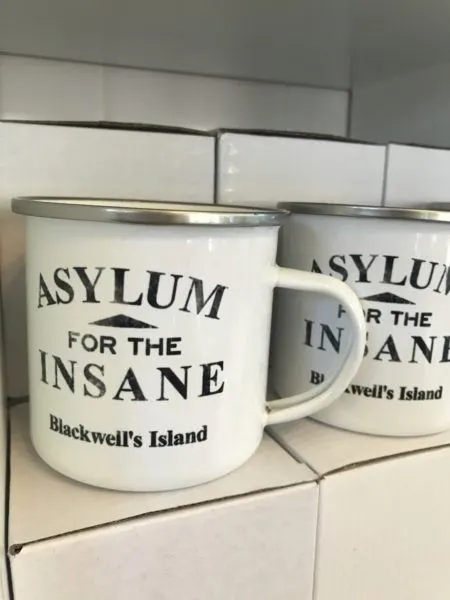 Unique and unusual NYC gift
Available at Roosevelt Island gift shop
I couldn't help but add a second Roosevelt Island souvenir because of a bit of sometimes forgotten NYC history.
The New York City Lunatic Asylum, opened in 1841 (when Roosevelt Island was called Blackwell Island), was the subject of an exposé by Nellie Bly in her 1887 book Ten Days in a Mad-House. You can still see the original octagon shaped entrance on the island, now serving as the entry to luxury apartments.
12. Manhattan Special Espresso Coffee Soda- Cult Following Souvenir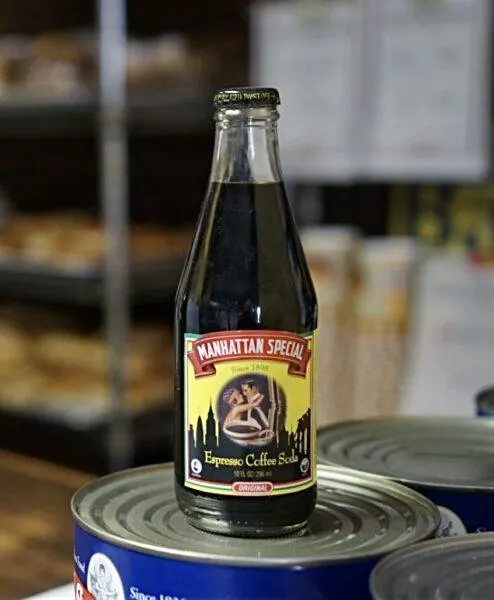 Great for coffee lovers
Available at some local bodegas and here online
Founded in 1895 in Williamsburg, Brooklyn, Manhattan Special Espresso Coffee Soda is made with espresso beans, seltzer water and sugar. The soda has a cult like following, best enjoyed straight up, with milk or Sambuca.
13. Dinosaur Puppet Souvenir from the American Museum of Natural History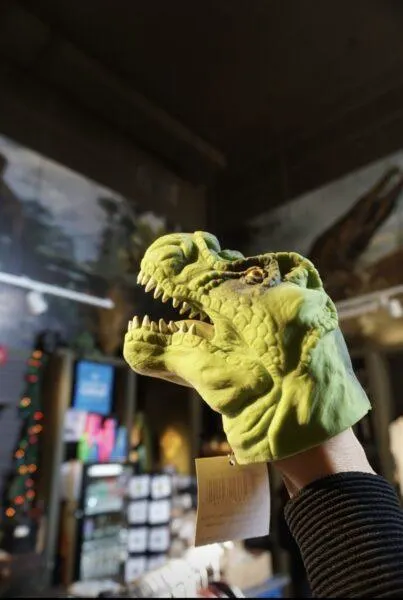 Good gift for teens and kids
Available at the museum gift shop
The American Museum of Natural History is chock full of artifacts and exhibits, but bar none the most memorable are the full-size dinosaur exhibits. I loved this cute dinosaur puppet souvenir in the gift shop.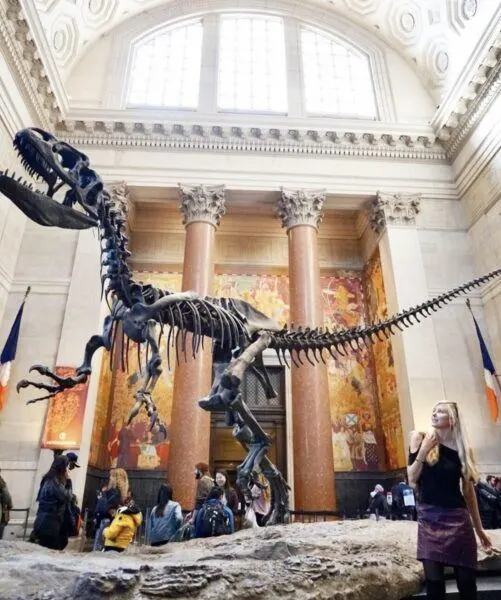 14. A Souvenir Beaker Styled Measuring Cup from the New Gilder Science Center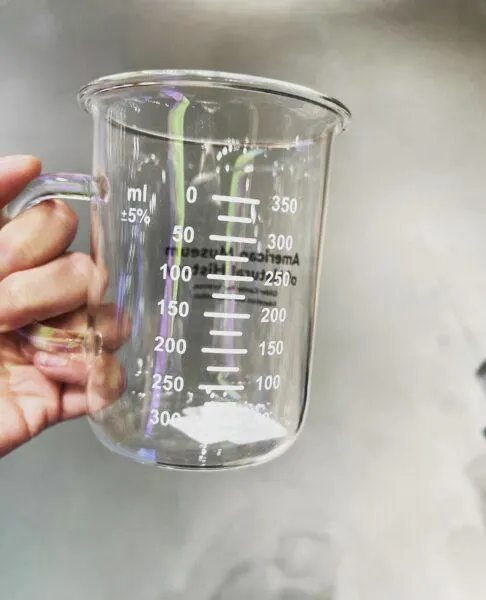 Useful souvenir (can be used as actual measuring cup)
Just opened Gilder Science Center (March 2023)
The brand new Gilder Science Center (connecting to the American Natural History Museum) is a must do for the fantastic Gaudi-esque building and cool exhibits.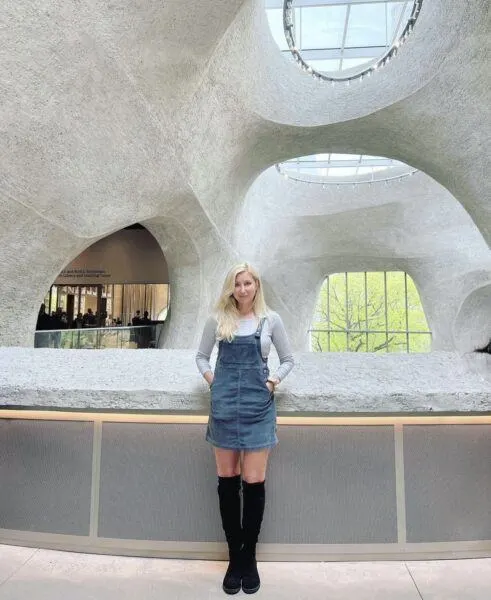 15. Lloyd's Carrot Cake Souvenir (Harlem)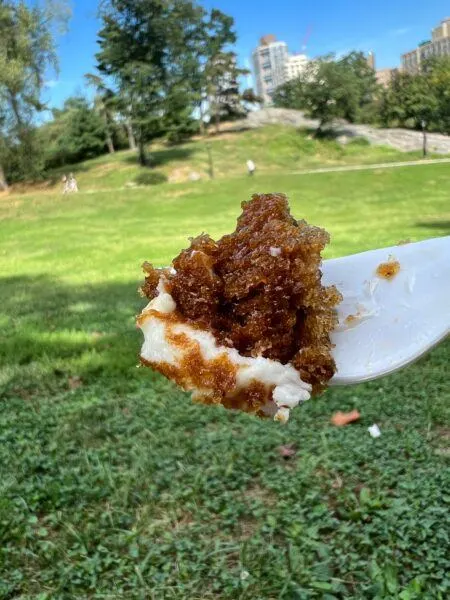 Lesser Known NYC food souvenir
Available at the two Lloyd's locations
Read all the details about where to go to get this scrumptious carrot cake and read the story behind this black owned family business in my recent blog post dedicated to this shop. Available by the whole cake or slice, with or without raisins and nuts. Although carrot cake is Lloyd's specialty, they have other cake flavors available as well.
16. El Barrio East Harlem Souvenir Hoodie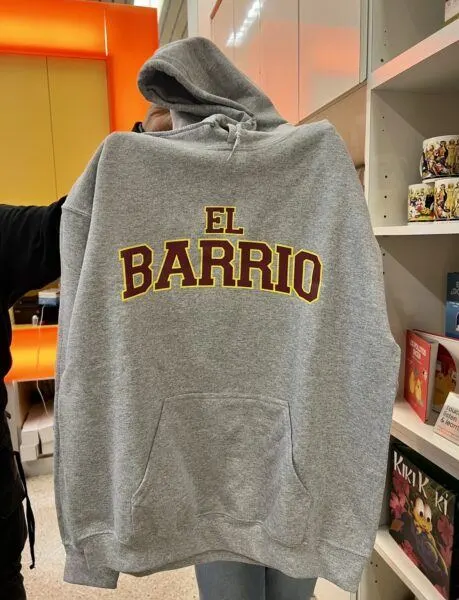 Local East Harlem Souvenir
Hoodie available at the gift shop at El Museo del Barrio
East Harlem, also widely known as El Barrio ("the neighborhood") is a mix of thriving cultures, a nice change from the more staid Upper East Side that it borders.
For a first timer, I recommend visiting the amazing Conservatory Gardens of Central Park at 105th Street, hitting the latest exhibit at El Museo del Barrio across the street (and grabbing this cool souvenir hoodie) then trying one of the great restaurants (my favorites are Taco Mix and Sidewalk Tacos, Earl's Cheese, Bar Goyana, Cascalote Latin Bistro and Lloyd's Carrot Cake).
17. Metropolitan Museum of Art Replica Etruscan Bracelet Souvenir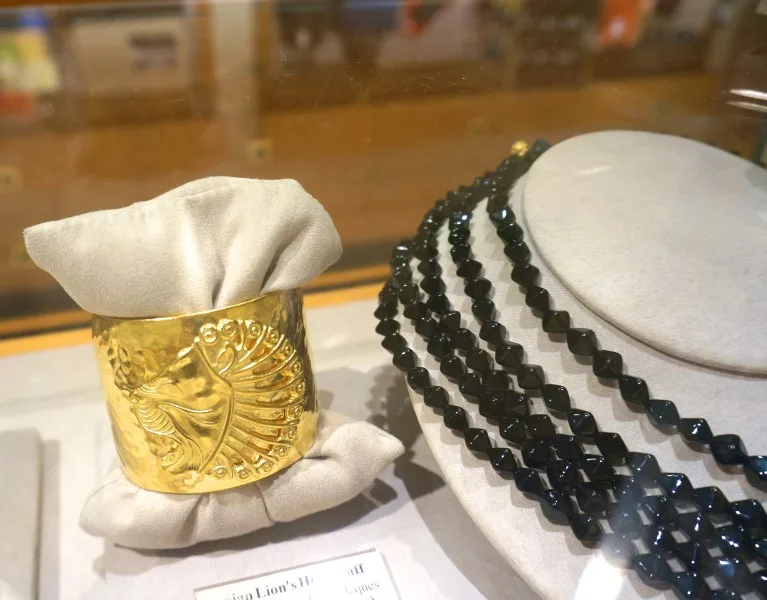 Unique NYC gift
Available at the Met gift shop
The Metropolitan Museum of Art (the "Met") is a must see for tourists. As a local, I visit often sometimes just to see one thing or breathe in the atmosphere. Read all about my top picks on what to see at the Met and a rundown of the best souvenirs here.
I've browsed through the jewelry exhibits and lusted after gorgeous designs of the the ancient artifacts. While the Met's jewelry collection isn't available for loans, you can find a beautifully made replica souvenir at the Met's gift shop.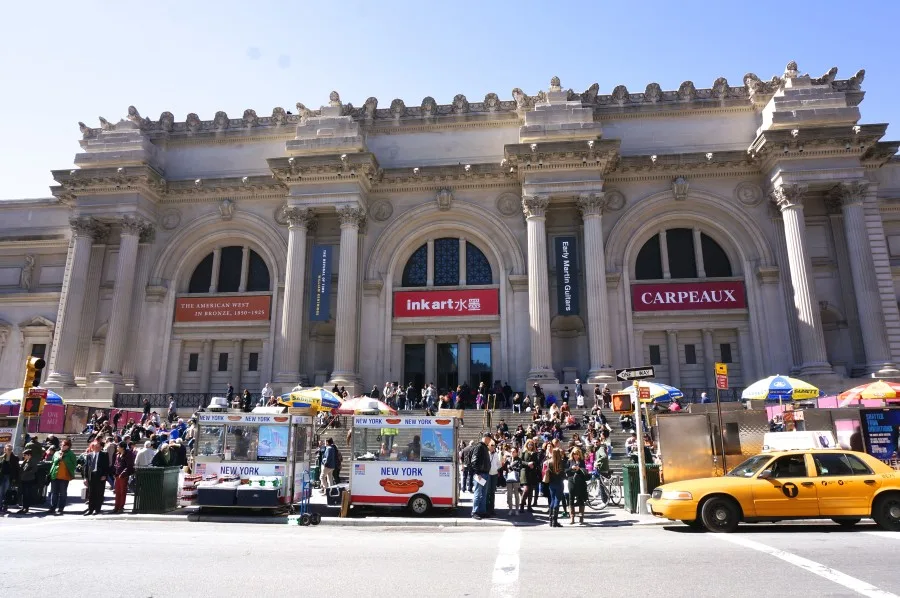 18. William, the Met's 4000 Year Old Blue Mascot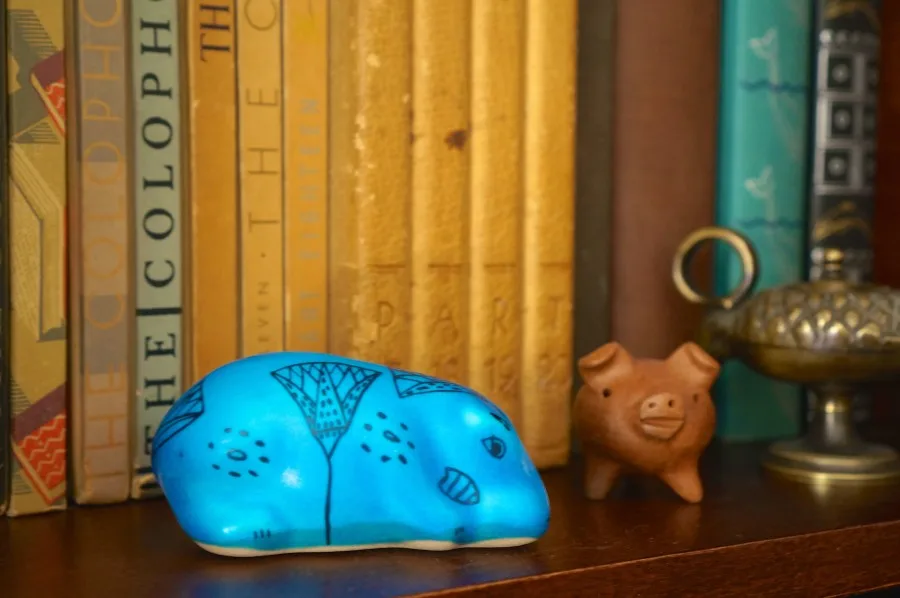 Unique NYC gift
Available at the Met gift shop
I don't often buy "tchockes," but made an exception for adorable William. William has been the Met Museum's unofficial mascot since 1917 (though he is actually over four thousand years old). Now he is my mascot too, and takes pride of place in my bookcase (see my post on the Met here).
19. Chinatown Souvenirs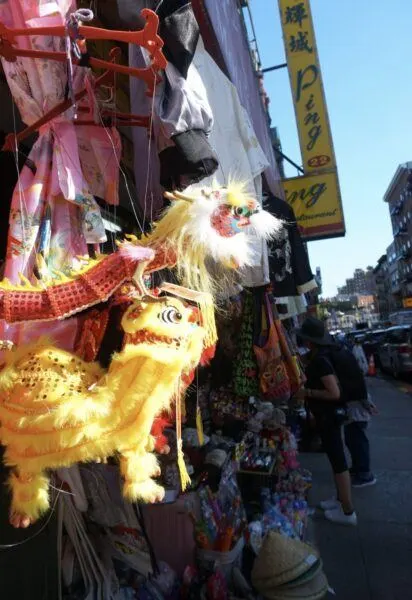 Lesser known NYC souvenirs
Fun to browse Chinatown for unique finds
Chinatown is a fun area to dine and browse for unique NYC souvenirs and see what you come across. If I was going to recommend something specific to look out for, I love the tea sets, plates, and colorful decorative souvenirs like the Chinese New Year Dragon.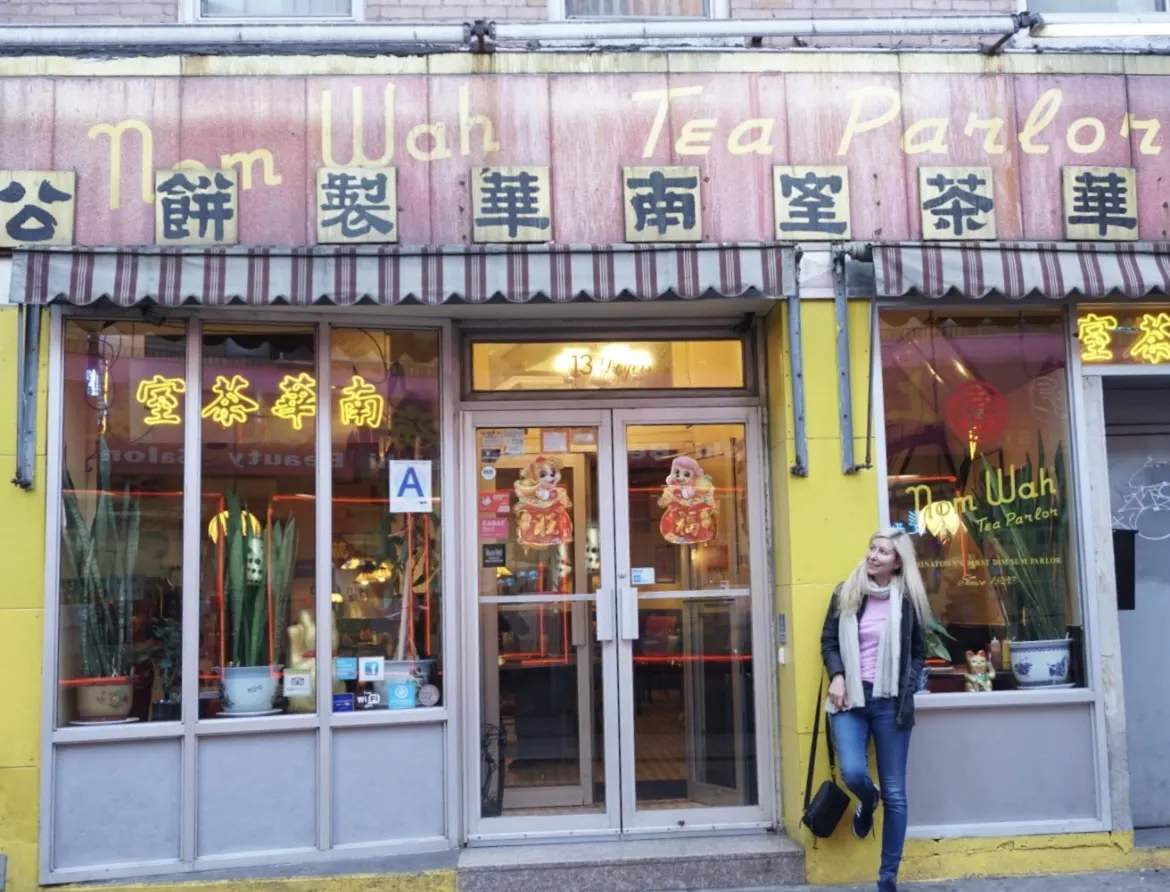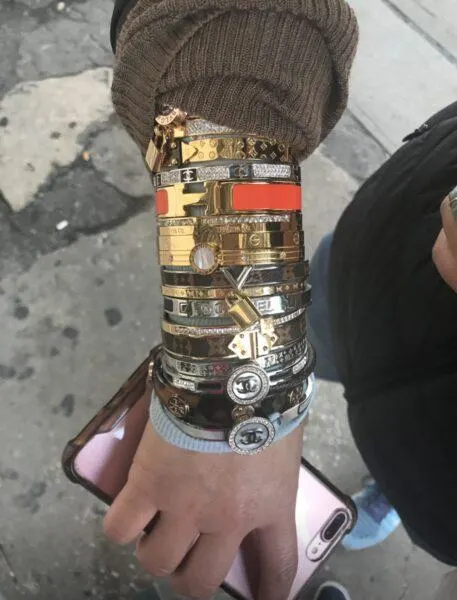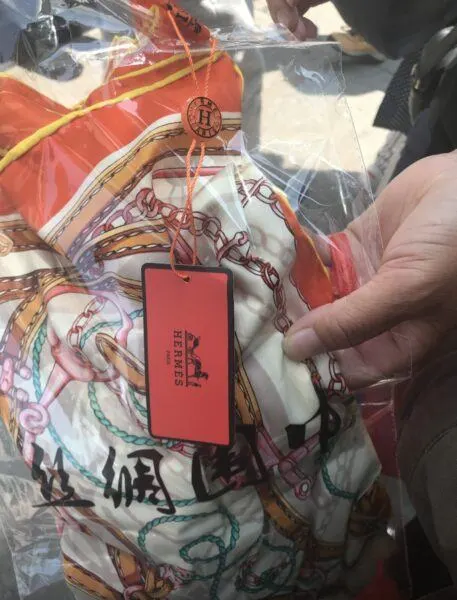 Along Canal Street you can find lots of handbags, jewelry and scarves on the cheap of dubious origin.
20. New York Souvenir Babka (especially Chocolate Babka)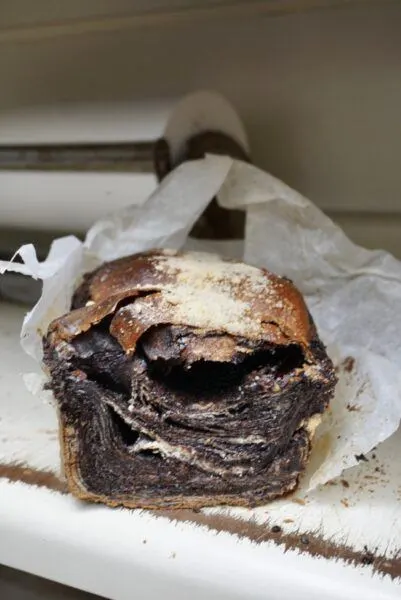 Iconic NYC food souvenir
Available at many bakeries
A staple at New York's traditional Jewish bakeries, babka is a delicious cross between a cake and a bread, and comes in regular and chocolate versions. Check out my prior post where I taste tested five of the city's noted chocolate babka's here.
21. FAO Schwarz Bear Toy Soldier Souvenir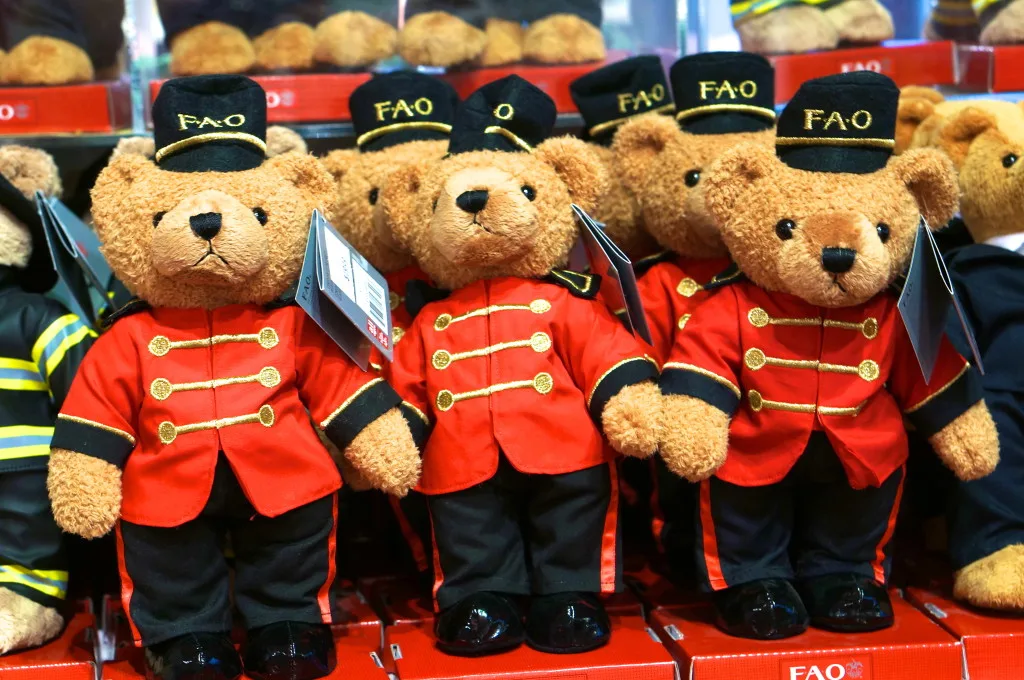 Iconic NYC kid's gift
Available at souvenir shops and here online
FAO Schwarz is a unique, only-in-NYC shopping experience (read my two part post here), decked out with life-size props, spot lighting and music, and a big piano musical keyboard, all creating a theatrical shopping experience. For an iconic souvenir, pick up the FAO Schwarz toy soldier bear.
22. S&S Cheesecake (Bronx)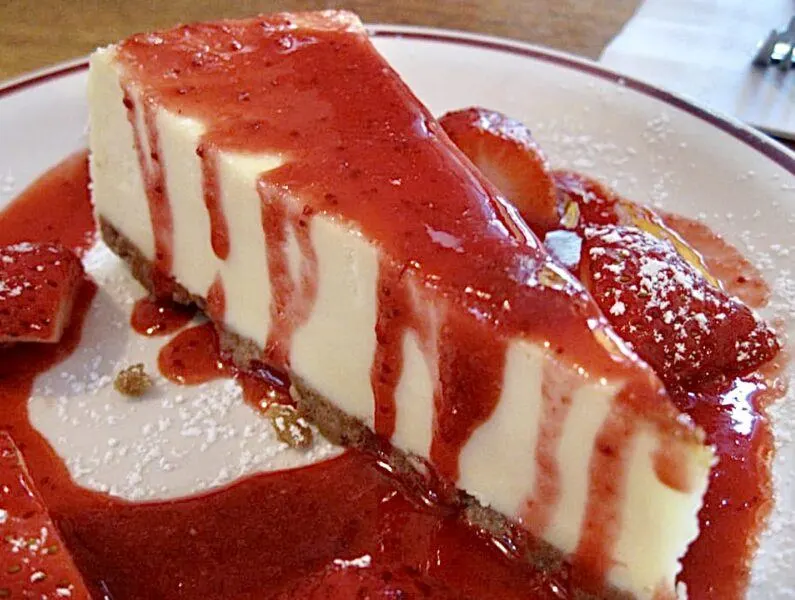 Lesser known NYC food souvenir
Bronx location
S&S Cheesecake is still family owned, using the same original 1960 recipe for their luscious cheesecake. It's a local institution, and truly qualifies as a hidden gem, known little outside of the city. While the shop is a bit out of the way for a tourist on limited time, it is located directly off the train stop.
23. Levain's Cookies: a Great Hostess Gift from NYC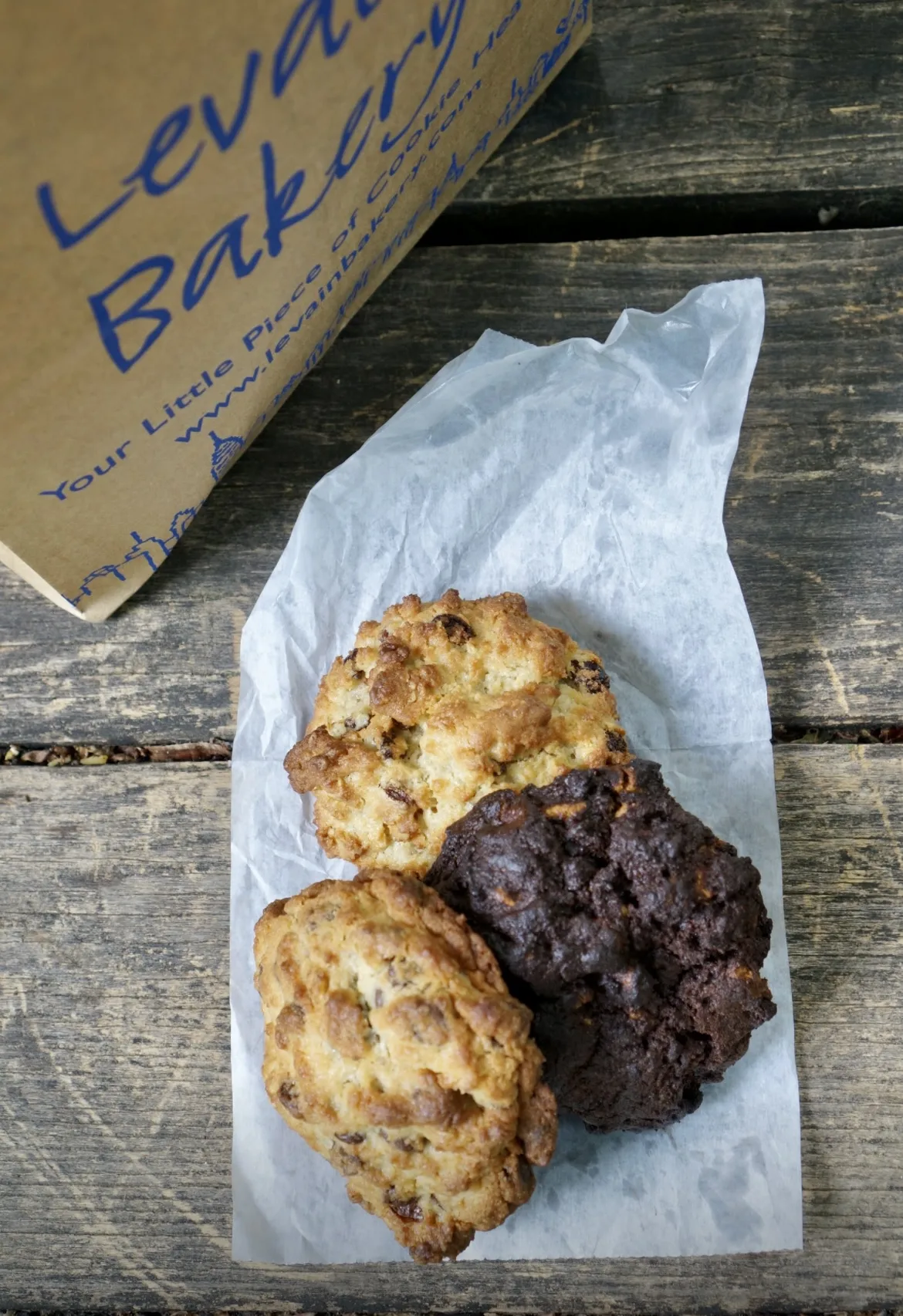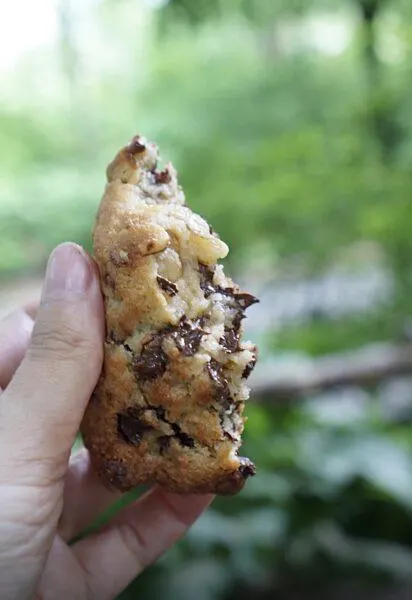 Crowd favorite for a gift from NYC
Levain's remains my personal NYC cookie favorite (I wrote about them here) and my go-to hostess gift. Thse mammoth cookies are baked to perfection– crispy on the outside, properly gooey on the inside.
24. Orwasher's Rye Bread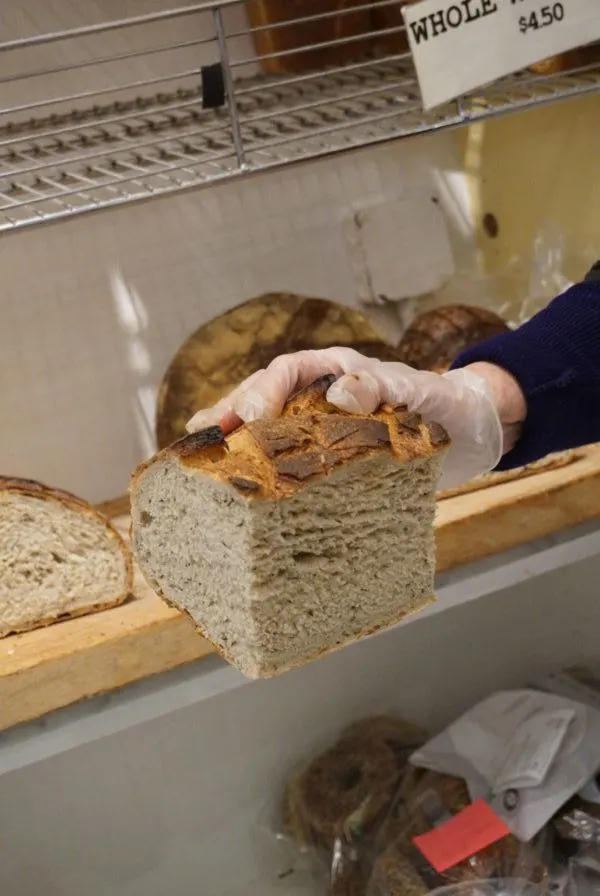 Iconic NYC food souvenir
Available at Orwasher's Upper East Side bakery or specialty groceries throughout the city
When you buy a local rye bread in New York (with seeds or without), you'll immediately taste the difference from those packaged mass produced brands. Check out my post on legendary Orwasher's bakery.
25. Harlem Candle Company Souvenir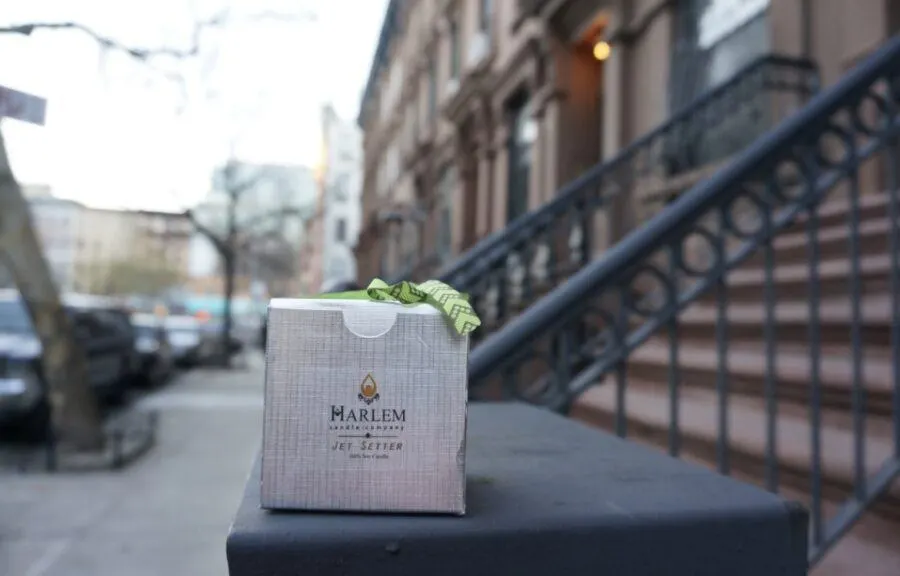 Locally owned Harlem based company
Available at Bloomingdales, Nordstrom, Macy's and here online
My current favorite scent is the Speakeasy candle.
I've been friends with Harlem Candle founder Teri Johnson for nearly ten years now, as we are both in the same travel writing community. Teri served as my mentor in those early days, and has shared her own amazing collection of souvenirs (that's me in the photo below taking pictures in her Harlem apartment).
I remember the early days when Teri was pouring candles and creating intoxicating scents from her Harlem apartment. Since then, her candles have taken off and grown into a multi-million dollar business, trading local markets for luxury retailers.
Teri not only creates candles that look gorgeous and smell divine, but she also generously supports other aspiring women, whether in the travel or business world.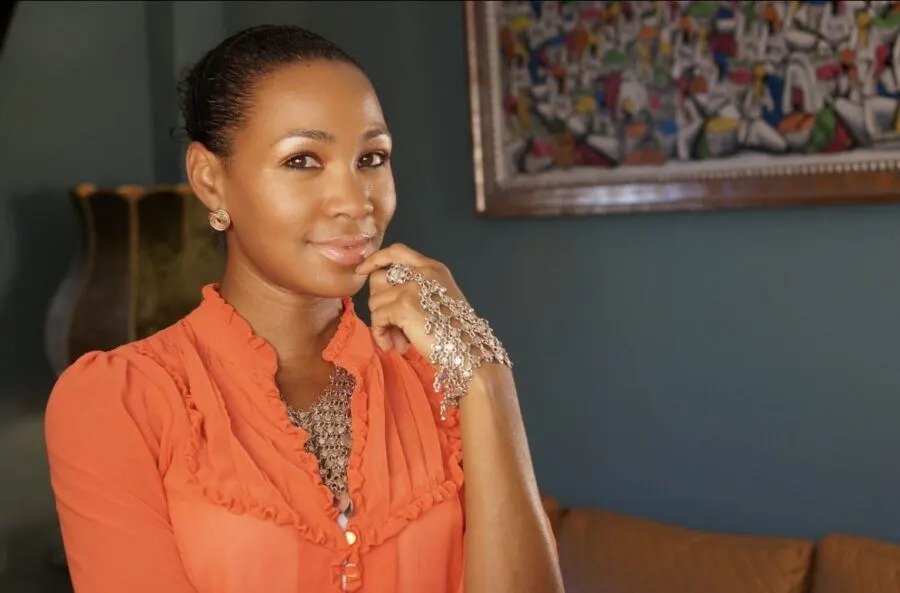 26. Central Park Musical Souvenirs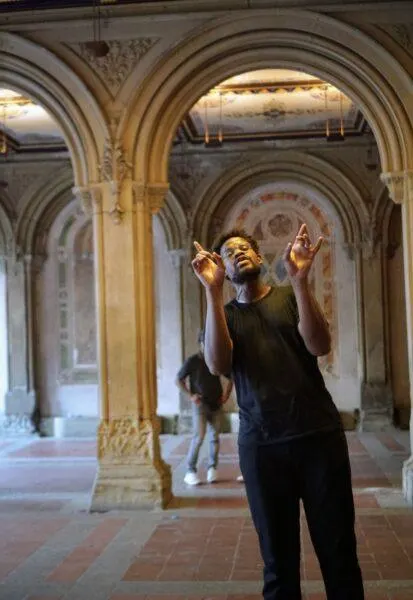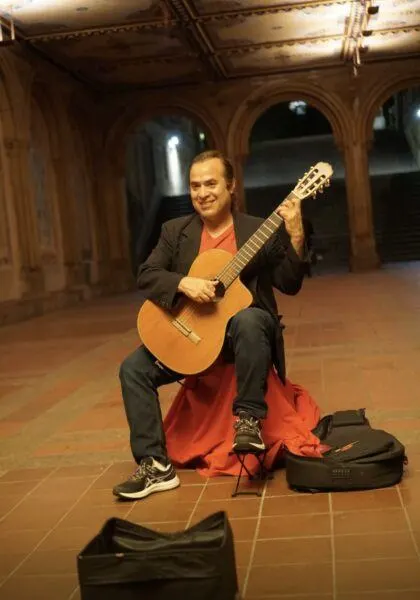 Only in NYC souvenir, an experience like none other
Bring cash to buy Carlos' CD
I wrote all an extensive post about my favorite Central Park musicians and how and when to see their free concerts in the park here. Take a bit of the experience home with you by picking up one of Carlos' CDs or merch from Abraham's band, Infinity Song.
27. Central Park Imagine Blanket Souvenir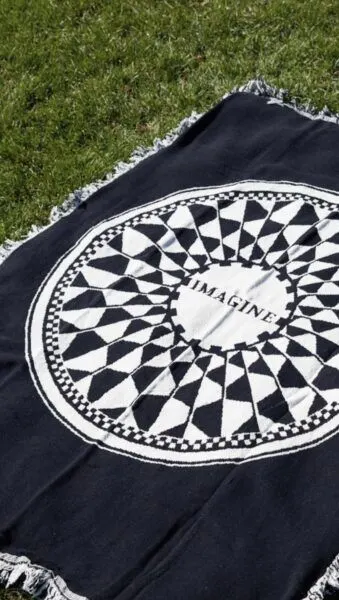 Use your souvenir for a picnic in Central Park
Available at the onsite gift shop at the Dairy
I loved this souvenir so much I bought it for myself. Based on the Park's Imagine mosaic, this blanket is perfect for park picnics.
28. Handcrafted Artisan Pin from Local Artist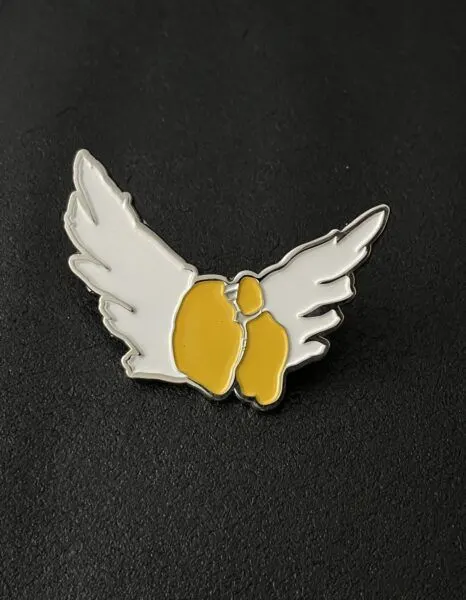 Support a local NYC emerging artist
Cool, original art. Small pieces like pins are great to attach to backpacks and bags
Lubay is a charismatic and super talented local artist who often sets up shop at Bethesda Terrace in Central Park, where he sells his original paintings and handmade pins. Find Lubay on Instagram here.
29. Brooklyn Blackout Cake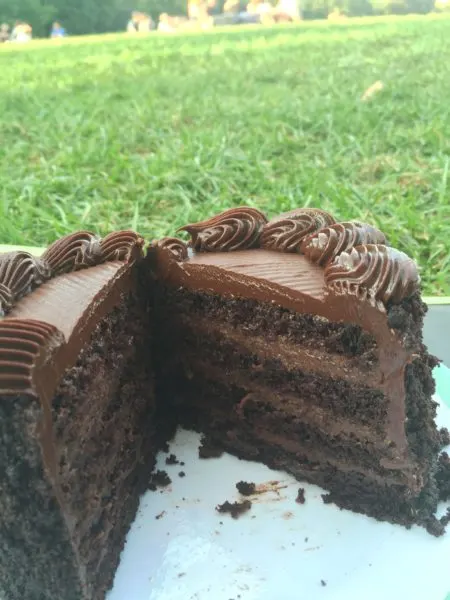 Iconic NYC food souvenir
Available at many bakeries throughout the city
If you are a chocolate fanatic may I introduce you to the chocolate-y goodness of Brooklyn Blackout cake, a rich chocolate cake filled with chocolate pudding. I wrote more about Brooklyn Blackout Cake in this post.
30. Fish Eddys NYC themed Dish Towel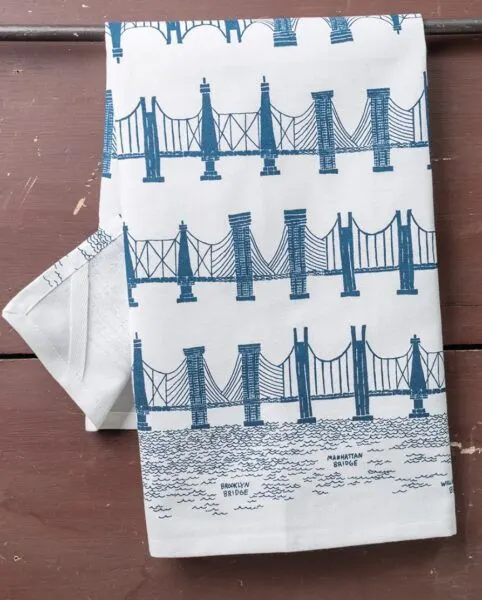 Great all purpose gift item from NYC
Fish Eddys is a housewares store known for its one of a kind vintage dinnerware, sourcing its stock from defunct restaurants. It can be fun to rifle through their found stock, but for a less fragile souvenir, pick up one of their new items like these NYC themed dish towels.
31. NYC Sewer Coasters Souvenir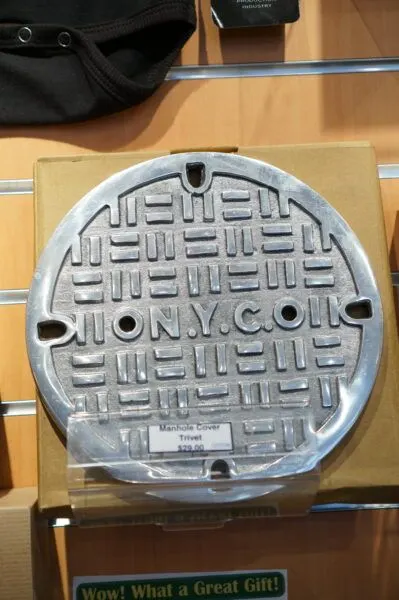 Available at City Store
Quirky NYC souvenir
I love souvenirs that are useful on a day to day basis, and these NYC sewer coasters fit the bill.
32. New York Pastrami Souvenir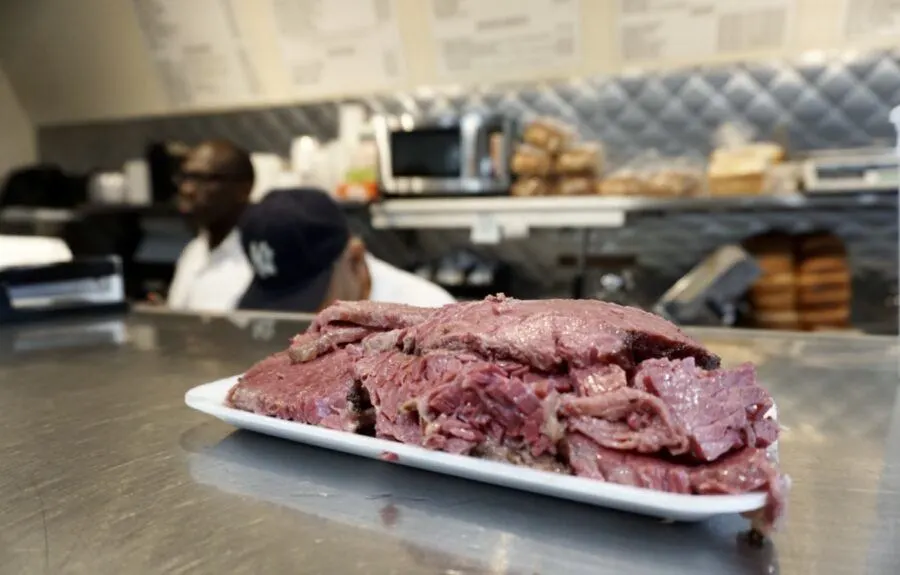 Iconic NYC food souvenir
Grab a loaf of Orwashers rye, some pastrami and make sandwiches at home for a fraction of the price of one sandwich
To sample delicious New York City pastrami, hit any of the classic Jewish delicatessens and place your order to go by the pound. Famous spots like Katz's deli often have mad crowds, whether it's worth the wait is up to debate. I prefer to seek out a neighborhood deli (like Pastrami Queen in my photo above, a favorite of the late Anthony Bourdain) that never has a long wait.
33. Magnolia Banana Bread Pudding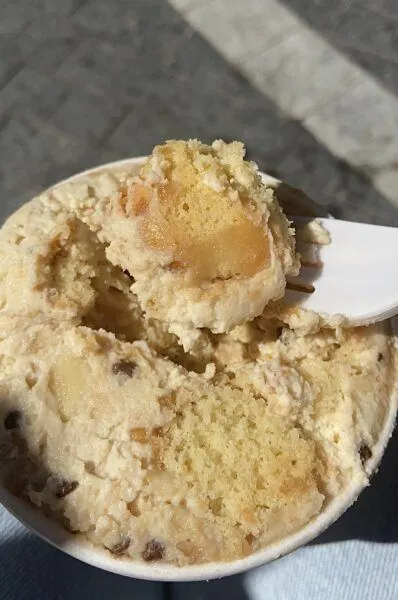 Popular NYC cult food item
Magnolia Bakery may be better known for their cupcakes, but I know plenty of people who are obsessed with Magnolia's Bread pudding, including a friend who has been known to pack several containers in her suitcase to take back to Germany. They usually have a the original banana bread pudding along with a special limited time flavor, which keeps pudding addicts coming back for more.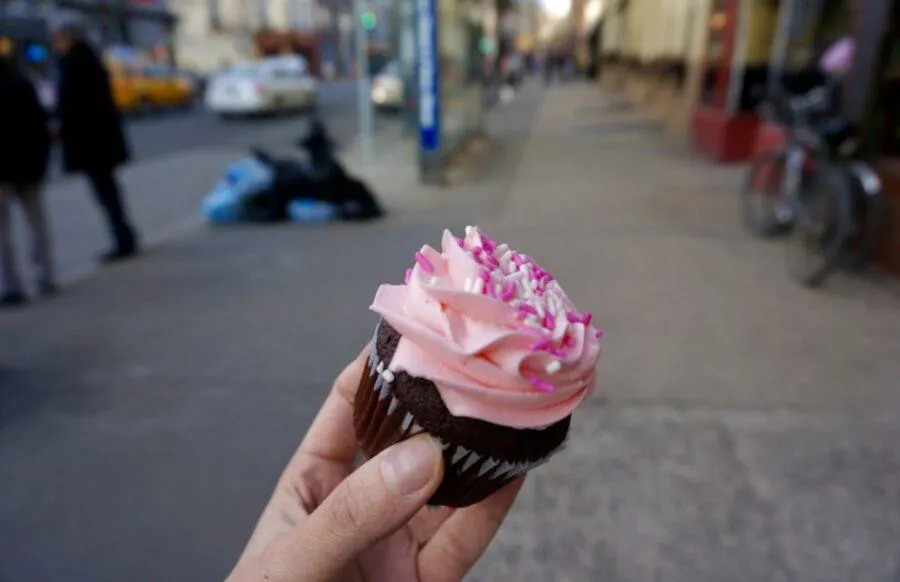 34. King Kong Souvenir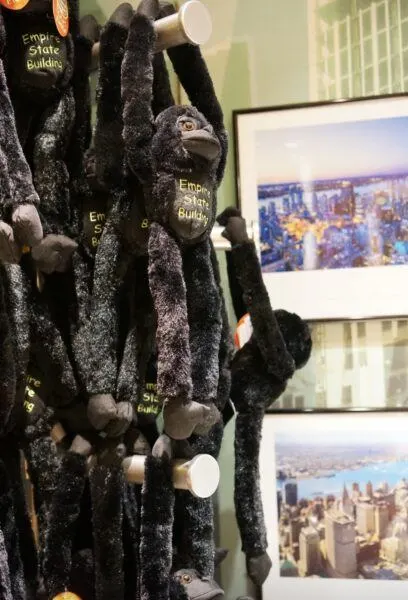 Iconic NYC souvenir for kids
This cute King Kong plush toy is designed to dangle wherever you attach him and makes a great kid gift after visiting the Empire State Building (available in their gift shop).
35. Mini Binoculars Souvenir from the Edge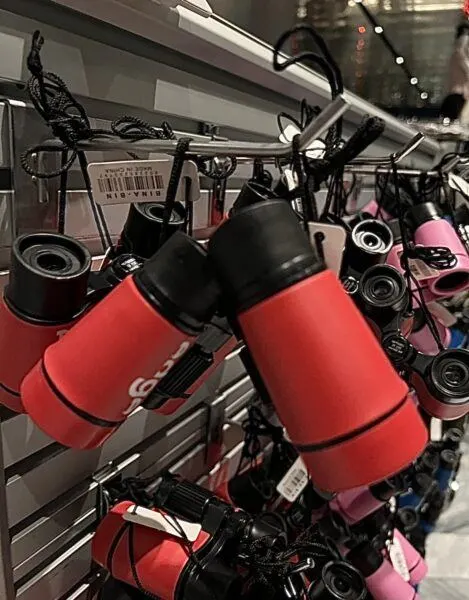 If you aren't afraid of heights, the best views in my opinion are from the Edge in Hudson Yards. To better hone in on the details, pick up a souvenir pair of Edge branded mini binoculars.
36. Cannolis (or DIY Cannoli kit) from Veniero's or Ferraro's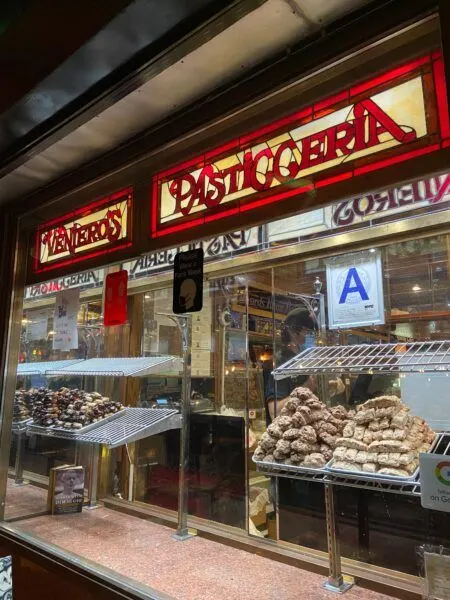 NYC food souvenir
Bring home fresh cannolis or a DIY frozen cannoli kit to assemble at home
I love cannolis and there are lots of places to get excellent ones in NYC. My two favorite places are old school Italian bakeries, Veniero's Pasticceria (since 1894) and Ferrara's (since 1892). I'm not going to quibble over which is better, I recommend going to both.
37. NYC Bialy Souvenir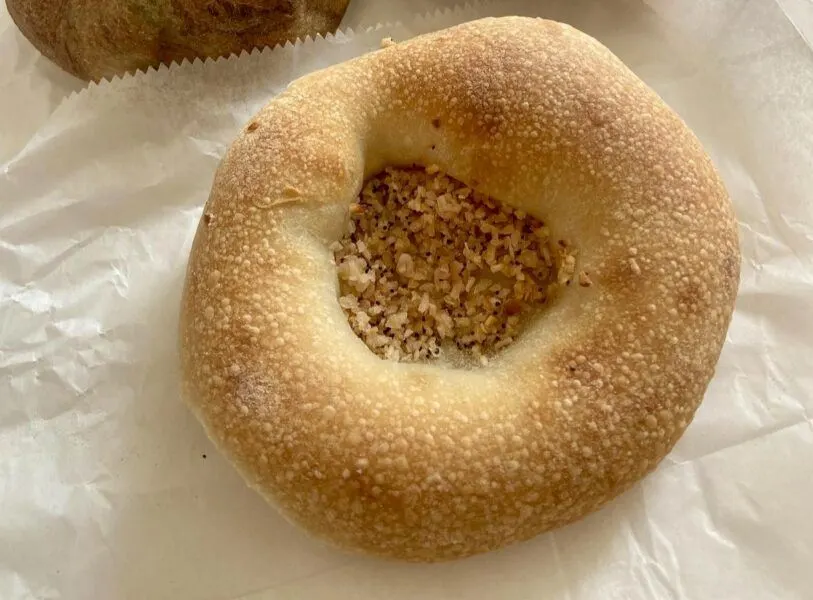 Iconic NYC food souvenir
Available at most bagel shops
A near cousin to the bagel, bialys are similar in circumferance but easily distinguished by the flatter shape and a depression (typically filed with onions or other toppings) instead of a hole. Unlike bagels which are boiled, bialys are only baked, resulting in a –less dense and somewhat fluffier texture.
38. NYC Knish Souvenir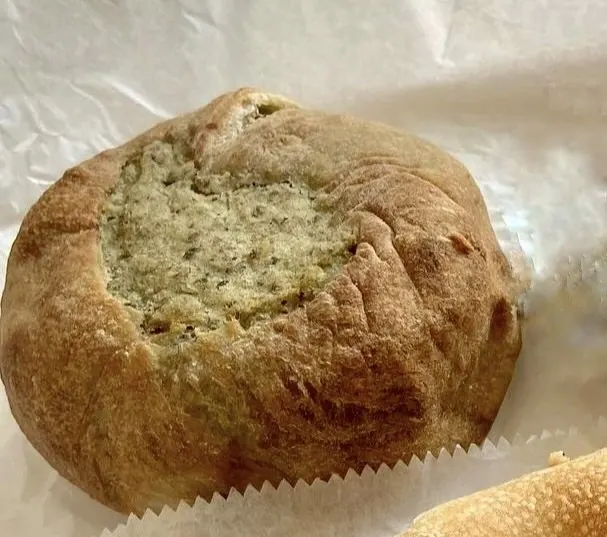 NYC food souvenir
Available at Yonal Schimmel Knish Bakery for the biggest variety, or any bagel shop
A knish is a traditional snack food where a thin pastry coating envelops a filling (typically mashed potatoes, but it can vary).
39. NYC Water Tower Salt and Pepper Shakers Souvenir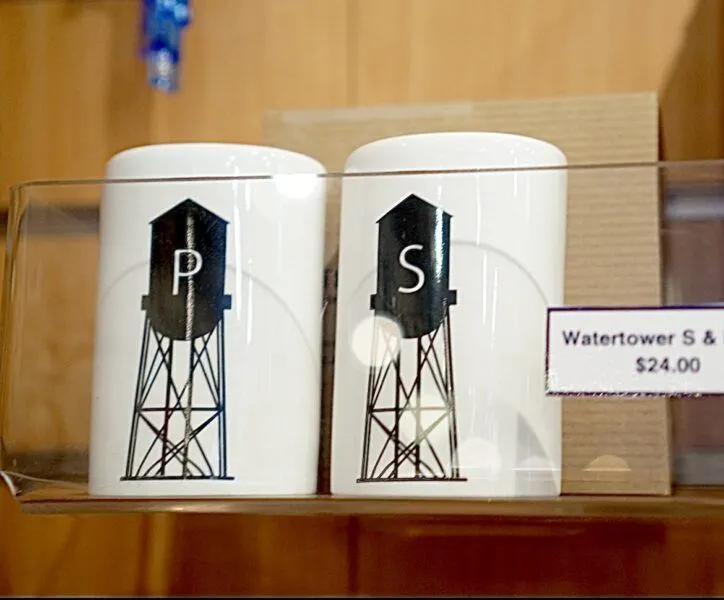 Quirky but practical NYC gift or souvenir
Available at City Store
Love them or hate them, those water towers looming on NYC buildings are a part of the New York skyline. These practical water tower salt and pepper shakers make for a quirky but useful NYC souvenir.
40. Eloise at the Plaza Souvenir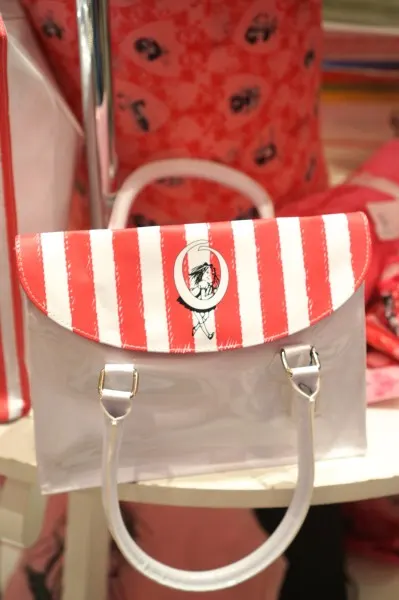 Iconic only-in-NYC souvenir
Available at Eloise Shop at the Plaza Hotel
"I am a city child. I live at the Plaza." So says the pint-size heroine of one of the greatest children's books ever written, Eloise at the Plaza.
I've previously written about a special Eloise tea at the Palm Court at the Plaza Hotel, followed by shopping for Eloise themed souvenirs at the gift shop (favorites are Eloise's pinafore dress, bathrobe and handbag).
41. NYC Pizza Dough DIY Souvenir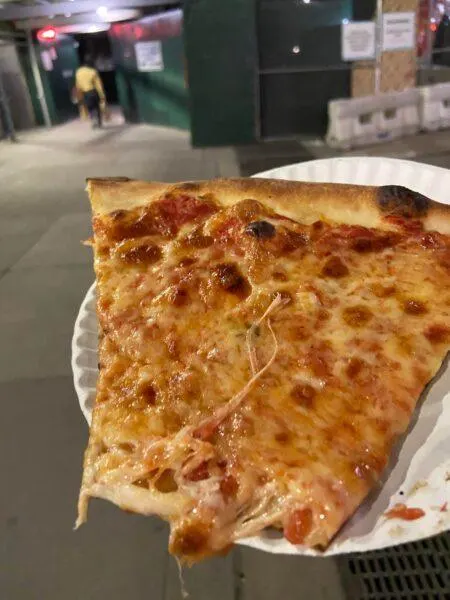 NYC DIY food souvenir
Keep the dough packed in a cooler back to stay fresh
I can't recommend bringing NYC pizza home as a souvenir– unless you live in the tri-state area and are eating it on the way home.
But a little known secret among New Yorkers: many pizza shops will sell you the dough right from their shop. Some will even sell the sauce and cheese. My friend Dani noted that a couple from Germany on her Pizza Walking tour picked up dough from Best Pizza in Brooklyn to bring home to Europe.
42. NBC Pillow Souvenir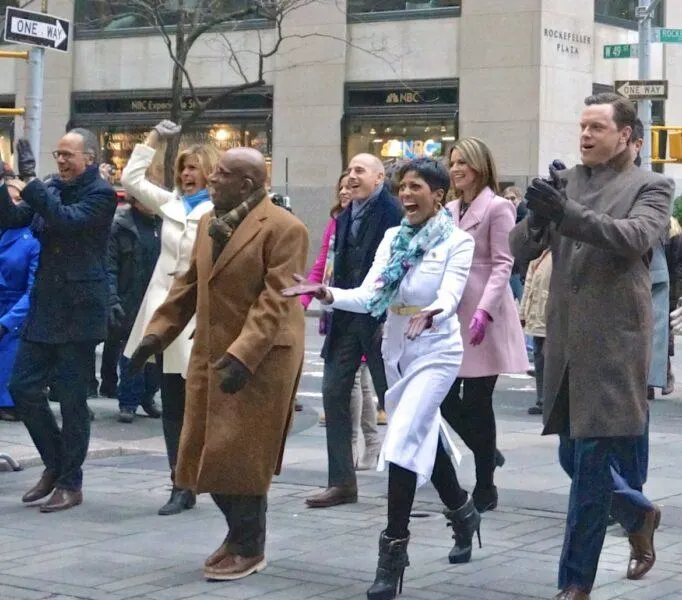 If you've every watched the Today Show, you will know that it is filmed in New York, at the famed Rockefeller Center. The Today Show encourages viewers worldwide to join in the broadcast live, with no need to secure advance tickets, just stand outside and join in the fun.
Right nearby in the plaza you can visit the NBC experience store for a NBC themed souvenir, like this cute NBC peacock pillow.
Thanks to Anna for this idea!
43. Limited Edition Beer from Brooklyn Brewery Souvenir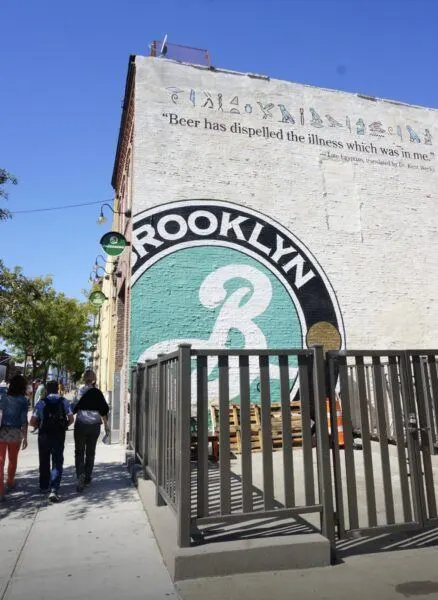 Limited edition, only in NYC souvenir beers
Fun tours and tastings
Take home options best for those who arrive by car
Brooklyn brewery is a fun visit, complete with tours and tastings. While you'll find their beers nationwide, the brewery location has special limited edition bottles you can't find anywhere else and make a nice souvenir for the beer lover.
4. NYC Broadway Musical Souvenir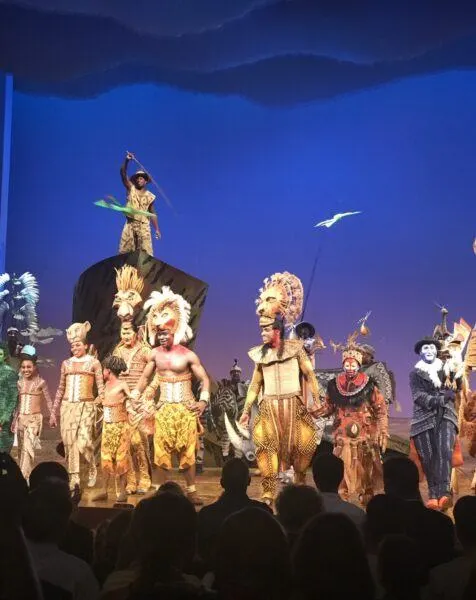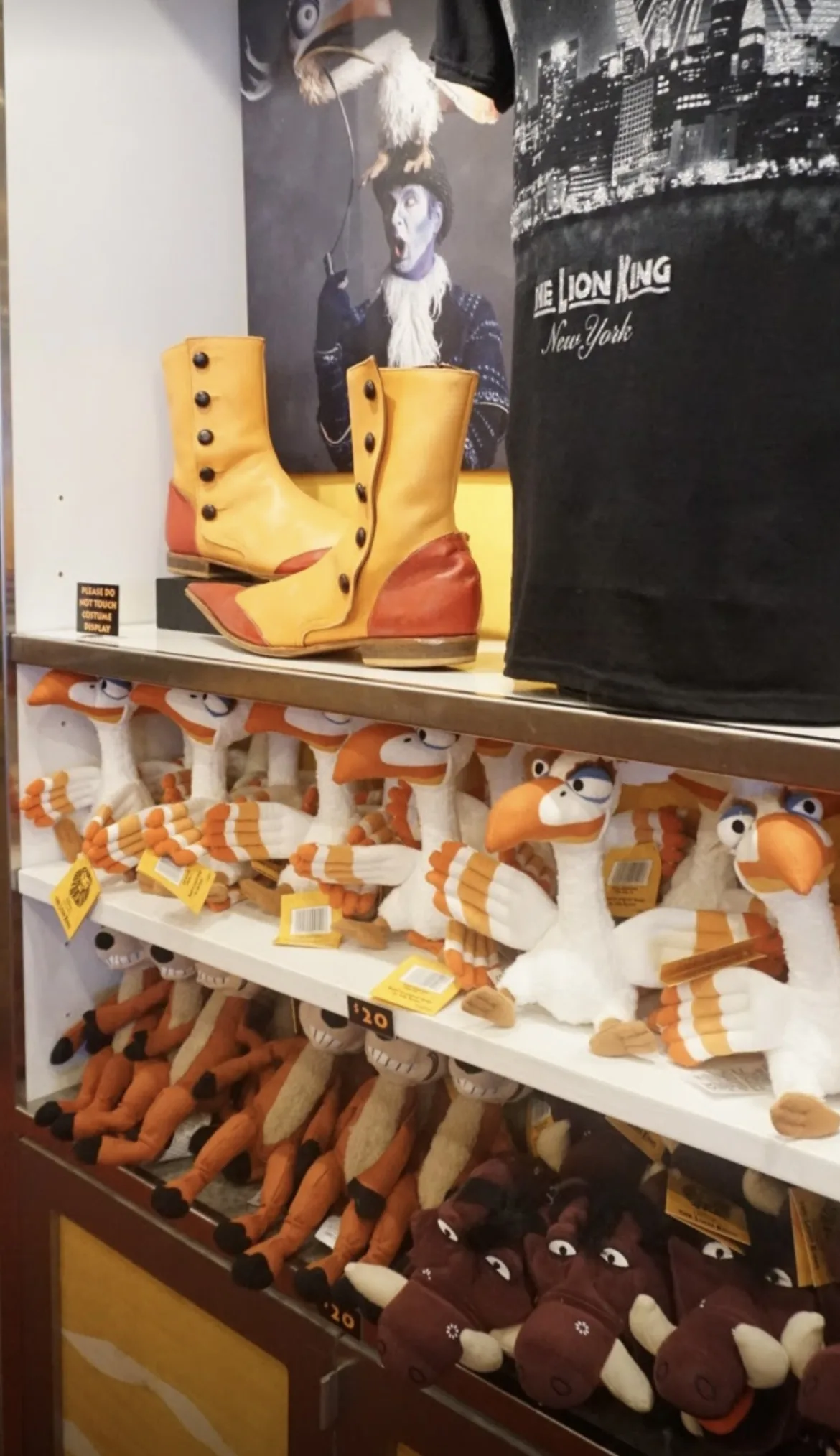 Seeing a Broadway show is a special NYC experience, whether you bought your tickets in advance or scoured the discount sites last minute. To max out the experience, along with your playbill, why not bring home a souvenir unique to the show. Every large show will have a show specific gift shop with memorable items to bring home (like the cute Lion King plushies above).
45. U-Bet Chocolate Syrup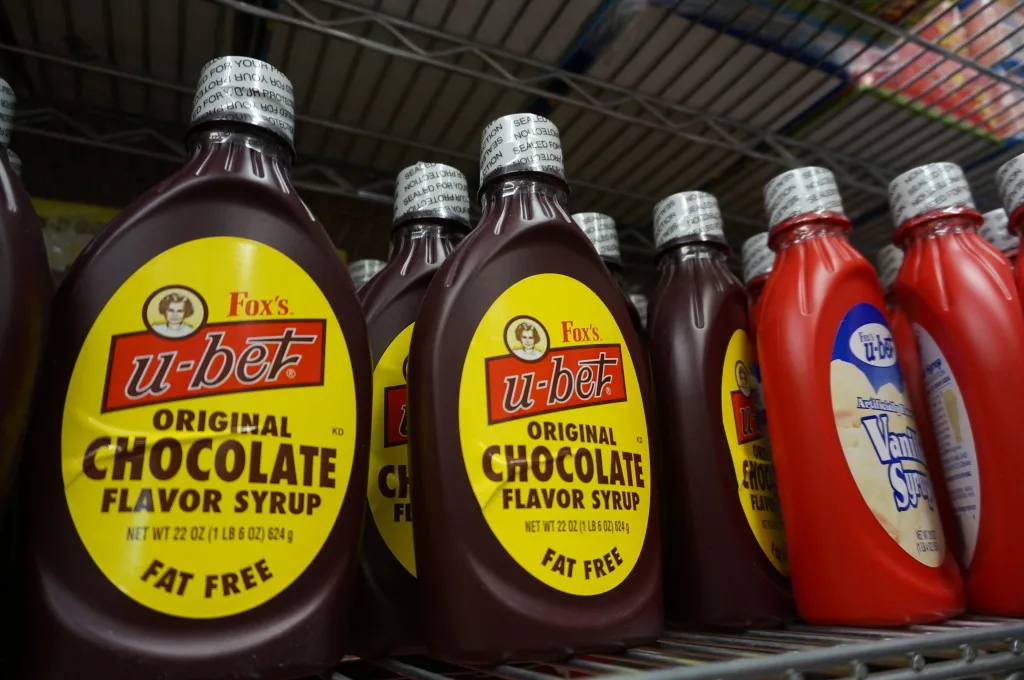 NYC food souvenir
Available at Economy Candy, some grocery stores and here online
Long before Tiktokers "discovered" the charm of Lexington Candy Shop and their old school soda jerks, my readers knew exactly where to find the best egg cream when I published my blog post in 2014 (beating the craze by seven years!). To replicate the perfect egg cream soda like they make at old fashioned soda counters, pick up some Fox's U-Bet syrup.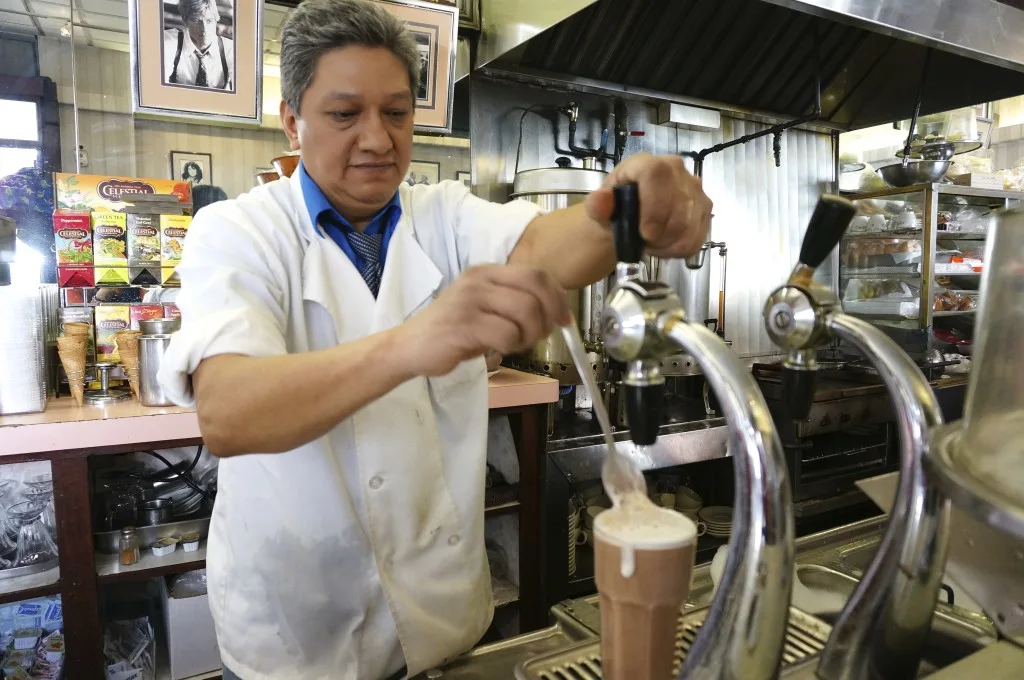 46. A Bag of Nostalgic Candy from Economy Candy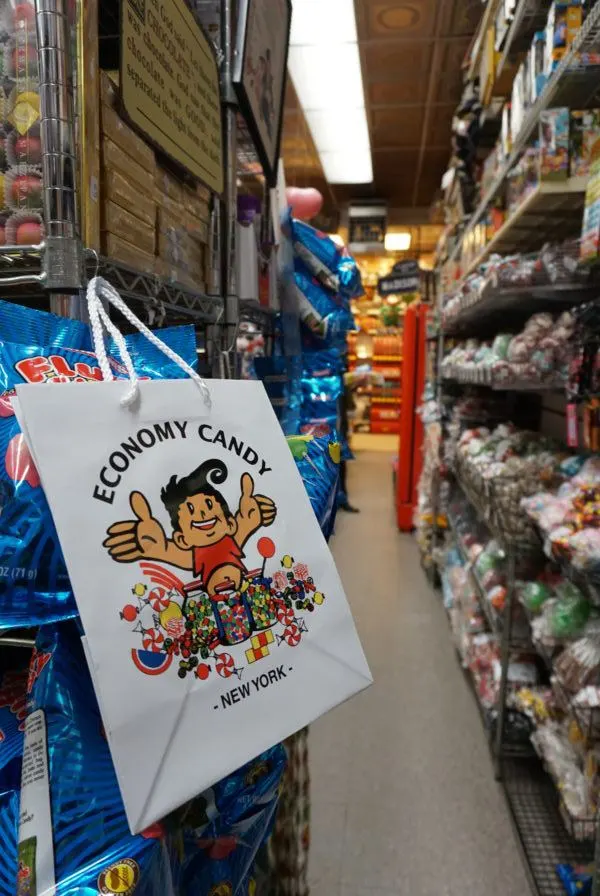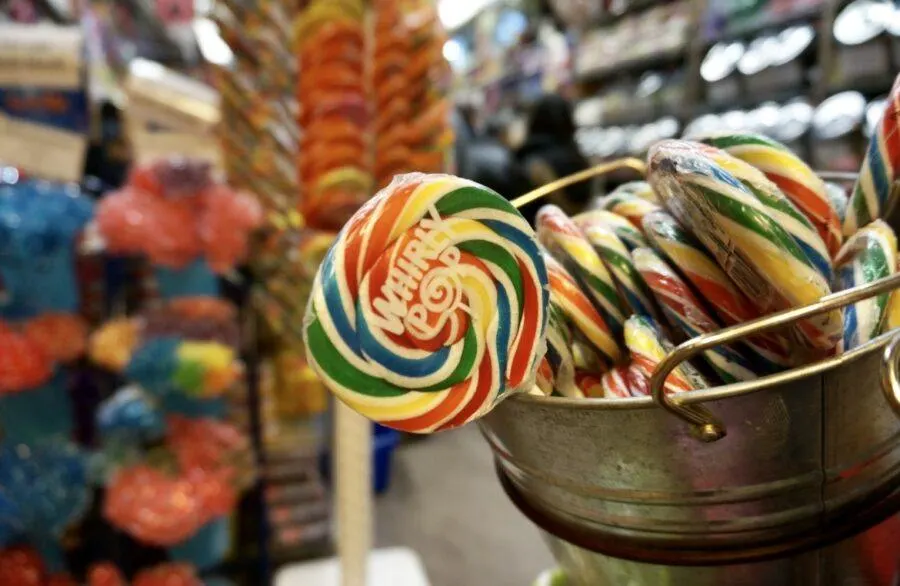 NYC edible food souvenir
Great treat for kids or kids at heart
Available at Economy Candy (since 1936!) on the Lower East Side
Whirly pops? Candy cigarettes? Marathon bars? Say no more, get your own dose of nostalgia at the always fun to browse Economy Candy Shop (preview the shop in my post I wrote here).
47. NYC Christmas Ornament Souvenir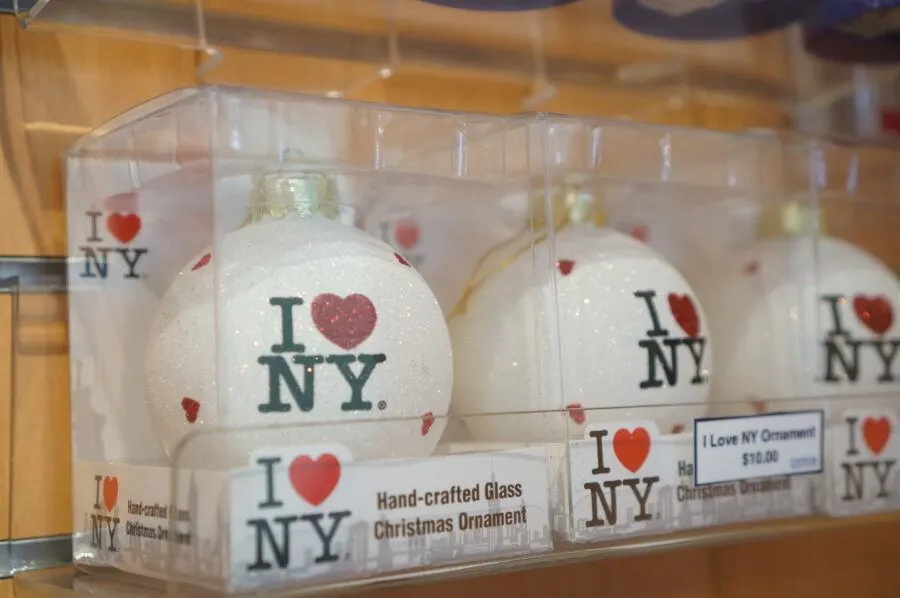 Great for collectors of souvenir Christmas ornaments
Available at souvenir shops, museum gift shops and here online
Of my readers who collect specific types of souvenirs, the number one collection category is Christmas ornaments, you'll find plenty to choose from at every tourist site.
48. NYC Kitschy Mini Trinket Souvenirs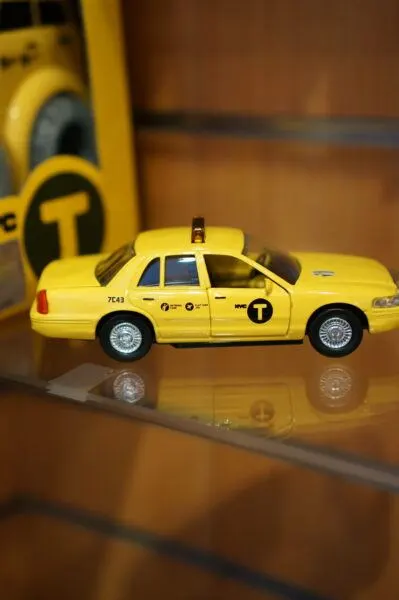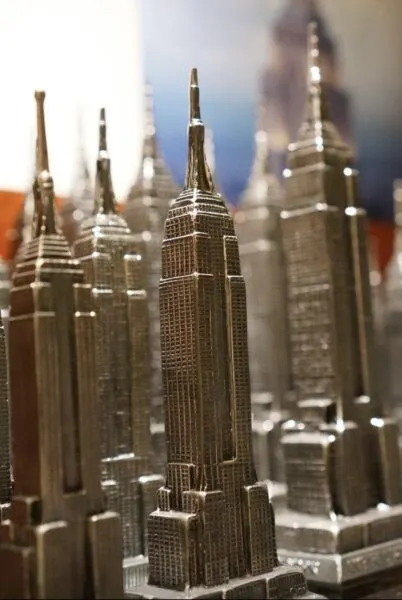 Fun inexpensive NYC themed toys for kids
Can be used desk gadgets or ring holders
Available at souvenir shops and online
I've bought a little yellow NYC taxi car as gifts for kids and also as a fun addition to an adult gift bag. Any souvenir shop will have a version of them but I'm partial to this one with working lights. I like these mini Statue of Liberty and Empire State Building for holding rings.
49. LiLac Chocolates
NYC food souvenir
Locations throughout the city
L4-Lac, Manhattan's oldest chocolate shop, has been making small batch chocolates by hand since 1923. Sample one of the best sellers– nonpareils, butter crunch or salted caramels.
50. NYC Starbucks Mug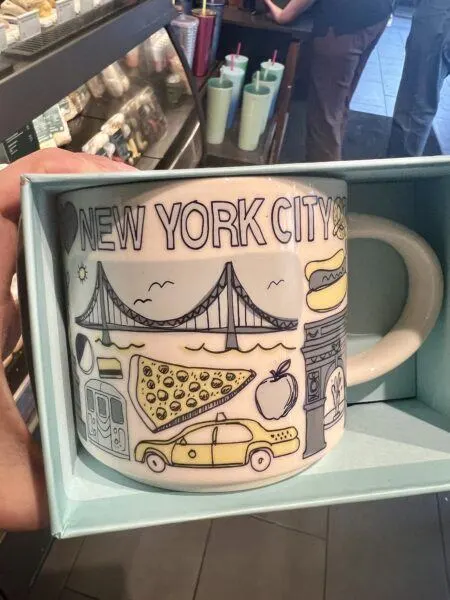 For coffee lovers and Starbucks souvenir mug collectors
Available at NYC Starbucks shops (designs may vary)
For those of you who collect Starbucks mugs when you travel– you know who you are, and we may have a guest post on said mugs written by a well-traveled writer friend– I am including the New York City mug as a nod to your obsession.
What Did We Miss? Comment below!
Souvenir Finder is a participant in the Amazon Services LLC Associates Program, an affiliate advertising program designed to provide a means for sites to earn advertising fees by advertising and linking to amazon.com. There is no extra cost to you for using these links, thank you for your support and allowing me to provide you with high quality content at no charge to you.