Downtown Los Angeles (commonly called "DTLA") is full of interesting sights, delicious food, photo opps and unique souvenirs. It's an especially great area if you are looking to cover a lot of very different sights in one afternoon, as they are all within spitting distance of each other.
I was planning on doing exactly that, with several places earmarked– Walt Disney Concert Hall, the Broad Museum, Grand Central Market, the Bradbury Building and the Last Bookstore. With Chinatown noted as a "maybe" if time permitted.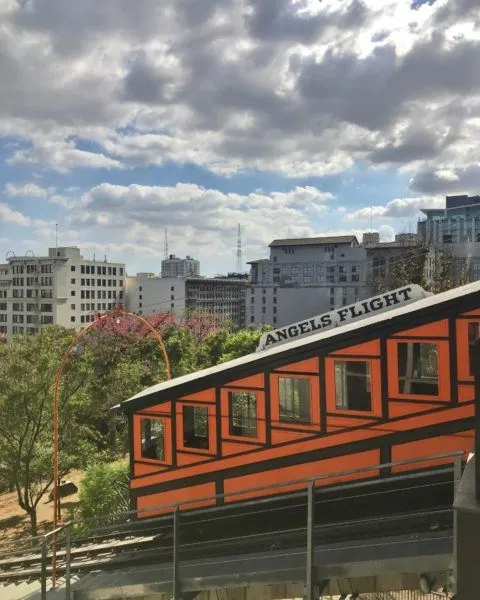 But when I was wandering downtown LA, heading for Grand Central Dining Hall, I walked past a striking orange gate and did a double take. An adorable little orange train was chugging straight up a track that couldn't be more than a block long. What had I stumbled across? This little train wasn't on my "best of DTLA" list.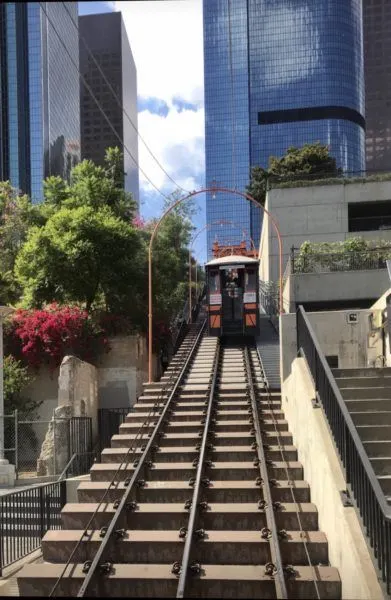 A quick google check revealed that this miniature track was Angels Flight, the shortest railway line in the world. The bold colors of this funicular aren't for Halloween– they date back to 1903. Rides only cost a dollar each way and are totally worth it, both to save yourself the steep walk up the hill and for the one of a kind experience.
Angels Flight's two funicular tram cars even have their own names– Olivet and Sinai. It has been closed and reopened several times over the years (most recently closed in 2013 and reopened in 2017).Angels flight has appeared in many films and TV shows over the years, from 1918 in Good Night Nurse to 2016 in LaLa Land (while technically closed, Angel's flight opened for one day to film the scene).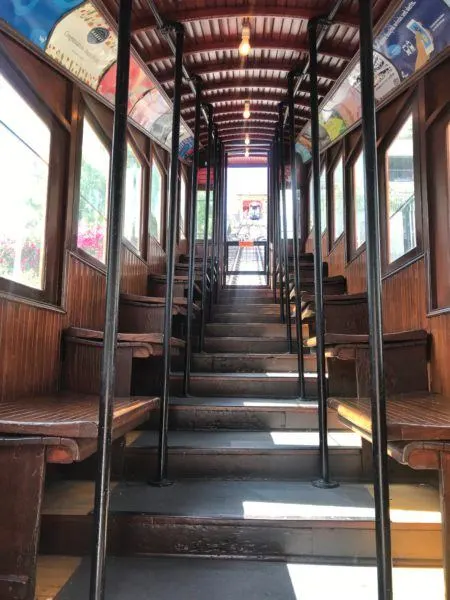 Today, Angels Flight has been restored to its original beaux art splendor, riding its wooden tram feels like you are riding back in time. I can't think of a more unique experience that is practically free in all of LA. To commemorate your ride, I recommend an Angels Flight souvenir. While they typically have more items available, currently they are stocking the cute tote bag (my favorite) and stickers.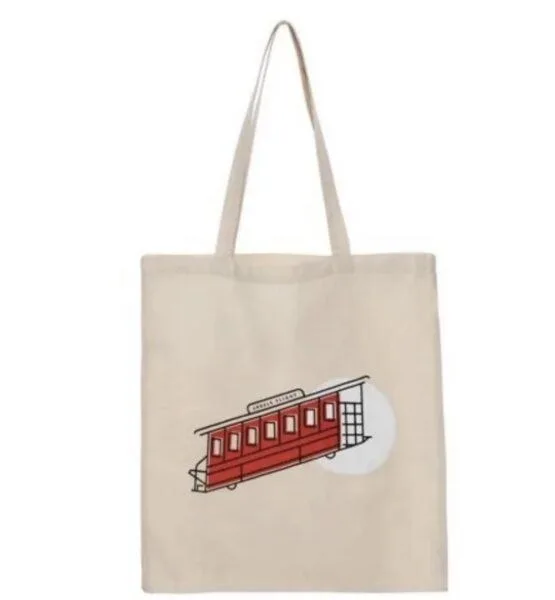 Angels Flight runs daily from 6:45 am to 10 pm, including holidays (I haven't done a night ride but want to on my next visit). On the bottom level you are across the street from the diverse vendors at LA's Grand Central Dining Hall. I was hoping for an equally interesting reveal at the top of the hill, but sadly it was a very ordinary plaza.