How to get the best Mardi Gras and Fat Tuesday Souvenirs and Throws (New Orleans, Louisiana)
Now that Mardi Gras and Fat Tuesday are over and done, did you come home from New Orleans with more than just a hangover?
Collecting Mardi Gras and Fat Tuesday souvenirs during this month-long party is an essential part of the entire New Orleans Mardi Gras experience. If you came home with a just a few strings of beer-soaked beads, you need to read our souvenir and "throws" guide written by local experts. It's never too early to start planning for next year!
Start your Mardi Gras experience off properly by looking the part– pick up some elaborate souvenir masks and hats (feathers and harlequin designs a plus)– then for the best parade viewing, head to the Uptown routes.
Next, buy a color-splashed King cake, a tasty Mardi Gras tradition. If your slice has the hidden baby figurine baked inside, you "win"– and get to buy the next cake.
Then hit any local souvenir shop for armfuls of Mardi Gras beads. Sure you can "earn" some beads later during the "throws" (more on that in a bit) but you'll want to pile these on to wear to the Mardi Gras festivities.
Now that you have your pre-Mardi Gras souvenirs in order, you're ready to join in the main event– I consulted some New Orleans locals for help.
An Insider's Guide to Mardi Gras– Tips from New Orleans Locals
1. The best Mardi Gras and Fat Tuesday souvenirs are the ones thrown at you. New Orleans native Rachel Trommelen knows a thing or two about enjoying Mardi Gras– she's been attending for years. As a member of a parading group (called a "krewe"), Rachel helps decorate the floats, create the "throws" — those items that krewe members riding on floats literally throw to parade-goers as they pass by– and ride on the float on parade day. She is a Riding Member, which is different than a non-riding member (and is more costly). It's kinda a big deal to ride on a float.
Mardi Gras throws can be anything from the classic strings of beads to balls, stuffed animals, cups, doubloons or garters, among other trinkets.
Each Mardi Gras parade krewe also has their own signature throws– on Rachel's all female krewe, Nyx, they craft the much in-demand Nyx purse. Rachel's krewe rides the Wednesday before Mardi Gras.

Krewes are judged by the Mardi Gras community on both the quality and the quantity of what they throw, with certain krewes well-known for their highly coveted signature throws. Some of most wanted throws include Rachel's krewe's purse, Muses' shoe and the holy grail of all throws, the Zulu coconut.
What makes throws the ultimate Mardi Gras souvenir is the fact that you can't buy them– you have to earn them. As the krewe members ("riders") pass by on their floats, you have to convince them to toss you their throw. How do you stand out in the hordes of other revelers all trying to do the same thing? Rachel shares her insider tips on how to get a rider's attention–
Pay attention to the upstairs riders. Many of the floats are double-decker, with riders both on the top and lower decks. Parade-goers often mob the lower decks, ignoring the riders above eye level. Break from the herd mentality and look up– you'll have an easier time getting their attention (and their throws).
Make eye contact. A rider is looking to make a personal connection, both to reward your interest and to ensure your safety– they want to be sure that you'll actually catch their throw (and not knock you in the head with it while you check your iphone).
Make a sign. A creative and witty sign might be the extra nudge to grab a rider's attention.
Wear a costume. Anything goes, but avoid something gory which would be more appropriate for Halloween. Consider group costumes and themes. Riders appreciate it when parade goers make an effort, and the reward comes in a shower of throws.
Beads for flashing= a total lie and cliché. Follow Rachel's tips and you won't need to strip down for the best stuff.
2. Take a break from trying to catch throws to just appreciate the sheer beauty of the floats. Krewes spend lots of time and money preparing the floats, take a few moments to appreciate it.
3. Have a plan for everything at the parade– drinks, toilet, food, and transportation/parking. Mardi Gras is crowded but fun, and more fun is had when you have a plan and things go smoothly.
4. Try to catch the parade uptown (with the locals) for an authentic experience.
5. Make friends with the people around you. Mardi Gras is all about spending time with people, and the includes partying with a total stranger.
6. Wear comfortable shoes. Self-explanatory.

7. If you want to wear something crazy, like a wig or tutu, go for it! Locals love to dress up at all times, and often do, so therefore if you wear something a little crazy you will not be out of place. Just own it and love it.
8. Don't make your first trip to NOLA for Mardi Gras. The city has so many great cultural and historical things available, and Mardi Gras can make that logistically difficult to enjoy. Make Mardi Gras your 2nd, or better yet, 3rd trip to the city.
9. *Bonus Tip* Former NOLA resident Heather offers this critical piece of advice– make sure to pack a bottle opener/corkscrew and a roll of toilet paper. You won't be sorry.
[typography font="Trocchi" size="24″ size_format="px"]Pinterest-Friendly Images[/typography]
[pinit]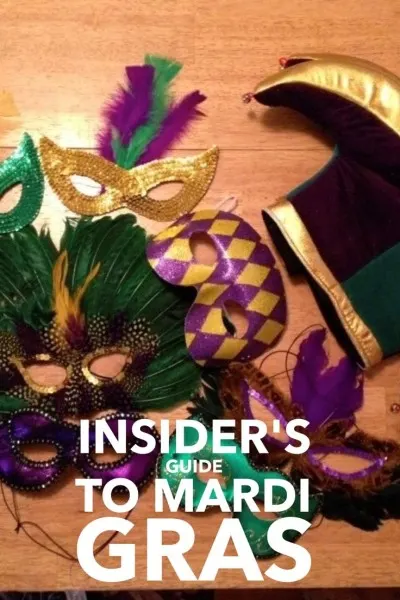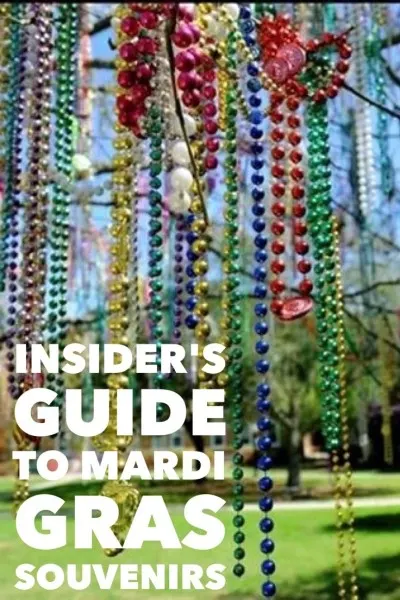 Have you been to Mardi Gras? What are your favorite souvenirs and throws? Tell us about it in the comments below!
Special thanks to guest writer Rachel Trommelen and guest editor Heather Yanak.
Mardi Gras Masks, DF Francis, Copyright 2014, all rights reserved, used with permission here.
Kings Cake and Bead Tree, Heather Yanak, copyright 2014, all rights reserved, used with permission here.
All other photos courtesy of Rachel Tommelain, Copyright 2014, all rights reserved, used with permission here.