Barclays Premier League: Everything a tourist needs to know to see a live soccer match (and bring home a souvenir kit)

Football in England– A tradition with a long history

Football (also called soccer in the US) is the most popular sport in the world. But even given its worldwide popularity, football still holds a special place in England's history, where evidence of a "kicking game" played in London dates back to medieval times.
Over the last thousand years, football's popularity in England has only grown, with over 40,000 association football clubs, more than any other country.
Seeing a football match in England as a tourist allows you to join locals in taking part in a beloved historic tradition, and gives you an inside view of this sport that has become a part of British culture. So get your tickets and join the estimated 900,000 tourists a year who attend British football matches each year.
England's football league system is based on a sometimes complicated (to an outsider anyway) pyramid structure, based on the principles of promotion and relegation. Because of the widely televised matches, most tourists (especially Americans) are familiar only with the highest level league at the top of this pyramid, Barclays Premier League Football.
1. If you aren't already a huge fan, take some time to learn about English football.
Maybe you aren't a footy fan yet, but have a love of sports or played soccer when you were young, and are curious about what this football business is all about. If you are interested in learning more about English football, it's definitely worth reading up on some of the intricate rules beforehand– it will make seeing the live match a lot more fun when you can join the others in letting that ref know how your striker couldn't have been offside.
Also, if you don't already, start watching English football matches on television. In the US, Barclays Premier Football league games are broadcast on NBC Sports Network. Better yet, find a local bar that plays the matches and get to know other fans.
Perhaps most importantly– pick a club to support and stick with them. The Brits are not known to be fair weather fans.
2. Time your trip to England to coincide with your favorite Barclays Premier League football club's schedule
Keep in mind that matches are subject to change, particularly in the second half of the season due to conflicts with the FA Cup and Champions League.
It's recommended that tourists avoid certain local football derbies (pronounced "darby/darbies")— tickets are hard to come by anyway, and the atmosphere may be more "tense."
3. Choose your Premier League Football tickets wisely.

What you need to know about the availability of Premier League football tickets:

The availability of tickets will vary based on the club, but is not always directly tied to the club's popularity. While popular clubs have more fans, they also have larger stadiums to hold those fans.
Tickets are usually first made available to club members, with any remaining then going on general sale. Whether you should join the club before buying tickets will again depend on the club (membership with ticket buying privileges usually involves a fee, we paid 45 pounds to join our club). You may want to call the club directly to ask whether it's worthwhile to join the club, especially if you're only planning to see one match. You can also check out various online forums (Reddit has subforums, called "subreddits," for each Premier League Club).
If you can't get tickets through official channels, you can always try third-party sellers like Stubhub or Viagogo (but be wary of sites like Craigslist, which are full of scams).
How to choose your seats for a Barclay's Premier League Football match:


Do not, under any circumstances, sit in the opposing team's section. If you're seeing your club at their home stadium, this means turning down any seats in the "away" section, even if they are better than any other available seat in the home section.
The most ideal seats for viewing the match are dead in the middle of the stands, side-on to the pitch. These are usually held by season tickets holders and may be hard to come by.
The most ideal seats for atmosphere are (usually) end-on to the pitch. Because the most fervent supporters often tend to sit here, the is a great place to sit if you want to join in on the singing and chanting. Some home fans are known as being particularly loud and fond of singing, e.g. Liverpool, Crystal Palace, Tottenham, while others have a reputation for being quieter, whether deserved or not, e.g., Fulham, Arsenal.
Whether you want a high seat or low seat is a matter of personal preference. As when choosing seats at the ballet, sit high if you want to see the big picture view and formations. Sit low to see the expressions of the players and the hear the slap of the ball.
3. Plan your route to your Barclays Premier League stadium

If you're staying in central London, some stadiums may only be a short tube ride away.
Fulham's ground is Craven Cottage, located on the north bank of the Thames in Hammersmith
Aresnal's ground is The Emirates, located in Northwest London
Chelsea's ground is Stamford Bridge in West London
Crystal Palace's ground is Selhurst Park in South London.
West Ham United's current ground is Boleyn in East London at the Boleyn (but will soon move to the Olympic Stadium)
Other grounds may involve a few modes of transport, including buses, the overground and walking, so check out sites like HopStop for door to door directions and time estimates.
4. Hit a pub by the stadium with the locals before the game
It can be fun to get revved up for a football match at a pub with other supporters near your club's home stadium. Most of the pubs near the grounds are segregated and will only allow in one club's fans– entry is restricted to those with a home ticket or proof of club membership. There are usually signs outside the pubs (and a big doorman) to prevent the wrong club members from accidentally wandering in.
5. Entering the Premier League stadium– Don't bring these forbidden items
If you're an American, you may be familiar with NFL rules limiting large bags in stadiums. English football stadium rules don't focus so much on bag size as on restricting specific items (especially any items that can be thrown at players). Some of the forbidden items include:
weapons or any article that might be used as a weapon
musical instruments (including trumpets and drums)
Flags and banners
Flares, fireworks and explosives
Bottles and cans
Prams and strollers
6. Tips for Getting the Most out of your Match Day Experience

I surveyed some Americans who have attended London matches as well as some local supporters for their tips on match day etiquette rules that may not be completely obvious to a first-timer. Here's what they had to say:
Don't drink within sight of the pitch (the field), it's strictly forbidden. Americans who are used to drinking beers in the stands may be surprised at this– there is absolutely no drinking anywhere in the stands. The rule of thumb is if you can see the pitch, you can't drink. The only place you can drink right is outside the stands in the concession area or in the executive boxes.
Don't expect the food to be delivered to your seat. In an American baseball game, the slow action is broken up by a visit from the hot dog guy. Followed by the peanuts guy. Then maybe the ice cream guy. In English football, there are no vendors delivering a buffet of snacks to your seat. You'll have to hit the concession stand yourself.What kind of snacks can you expect? Sausage rolls, pies (the English kind), cups of steaming Bovril or tea and of course a pint are traditional. One of the signature odors at a match is Bovril and pork pie. Almost everyone eats at a match (or just before at one of the burger carts surrounding the stadium).
Get to the stadium early and watch the your club warm up.Watching the players warm up is great way to extend the match day experience.


Forget looking out for cheerleaders, other than a few rare exceptions, you won't find any. In English football, the fans lead the cheers through songs and chants. Feel free to join the locals in hurling amusing and inventive insults, or sing along to traditional songs (often with new lyrics improvised on the fly). Instead of just witnessing the match as a spectator, you can become part of the game.Don't stand up unless everyone else around you does (stewards can get a bit peeved at times).
Don't wait for a long timeout to hit the loo. Unlike American sports known for long, drawn out tv timeouts, in English football there are no long breaks in the action. Plan on being present for the full 90 minutes.
Do keep your eyes on the field for the action. Unlike in American football, there are no "fancams" or annoying music competing for your attention. The real action is on the field.
7. Show your club support by loading up on football souvenirs and wearing your kit proudly
Buying souvenir English football items is all part of the football experience. Like sport fans everywhere, English football fans love to show their support by wearing their club's shirt (and other items from the club's "kit," or uniform). But what separates football fans from fans of other sports is the century-old tradition of wearing scarves with their club's colors.
While the storied tradition alone is reason enough to buy a football scarf, it also makes an ideal souvenir for purely practical reasons. When you're sitting in the stands on a brisk day, with piles of layers hiding your favorite football shirt, you can still show off your club pride with your colorful scarf.
Even the club's managers along the sidelines, smartly suited up, favor a colorful team scarf on match day. While there are no real rules about how to wear your football scarf, on game day you may want to drape over your shoulders so you can easily hold it up over your head at the match to show your support.
Not sure what Barclays Premier League Football Club to support? I asked some fans to show off their club's shirts and kits tell us why you should consider supporting their favorite club.
Don't see your club represented here? Send me a photo and I'll add it to this post!
Swansea City
If any club epitomises triumph over adversity, it's Swansea City! In the last decade, the Swans have gone from almost being relegated to the semi professional leagues in 2003, to becoming the first Welsh team to reach the Premier League in 2011 and then winning the Carling Cup last season.
Unlike local rivals Cardiff who've been cringingly 'rebranded' by their millionaire Malaysian owner, it's all been overseen by a group of Swansea fans that took over the club back in the dark days. And, if that isn't enough reason be a Swansea City fan, don't forget Swansea is the furthest west team in the league, so they're every American's 'local' Premier League club!
Tickets go on general sale for many home games – try and be in the Croeso Stand for the best atmosphere.
Follow Adam Evans' fantastic travel blog at Adam off the radar and on twitter @adamofftheradar.

Manchester City
Manchester City supporter Kyle D. wears his club's shirt while on a guided stadium tour.
When asked why he supports Manchester City, Kyle simply responded, "the club chooses you."
Arsenal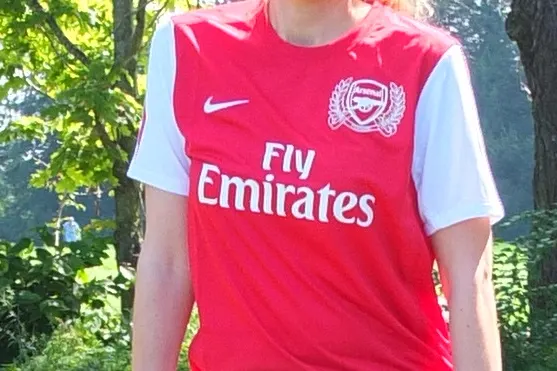 Arsenal (also known as the "Gunners") is one of the most successful clubs in English football– which makes it difficult to get tickets to their matches, as they nearly always sell out. To gain a perspective on Arsenal fans, watch the excellent film Fever Pitch (the British version, NOT the American version), based on Nick Hornby's book.
Tottenham Hotspurs
Tottenham Hotspurs (called "Tottenham" or "Spurs"– call them Hotspurs and you'll give yourself away as American)– are known for their "attractive attacking football." Motto: Audere est facere– to dare is to do.
Have you checked out a Premier League match while visiting England? Do you have a favorite club? Tell us about in the comments below!