Visiting Chinatowns in American cities is a fun way to get a snapshot of immigrant culture. Even though my home city of New York has a sizable Chinatown of its own, it doesn't hold a candle to San Francisco 's Chinatown– which is often called the largest Chinatown outside of Asia. While New York's Chinatown always feels cramped and chaotic, San Francisco's Chinatown feels spacious and open— on some hilltops you'll even have wide open views of the Bay.
I recommend arriving by cable car and hopping off near the cable car museum to begin your Chinatown tour.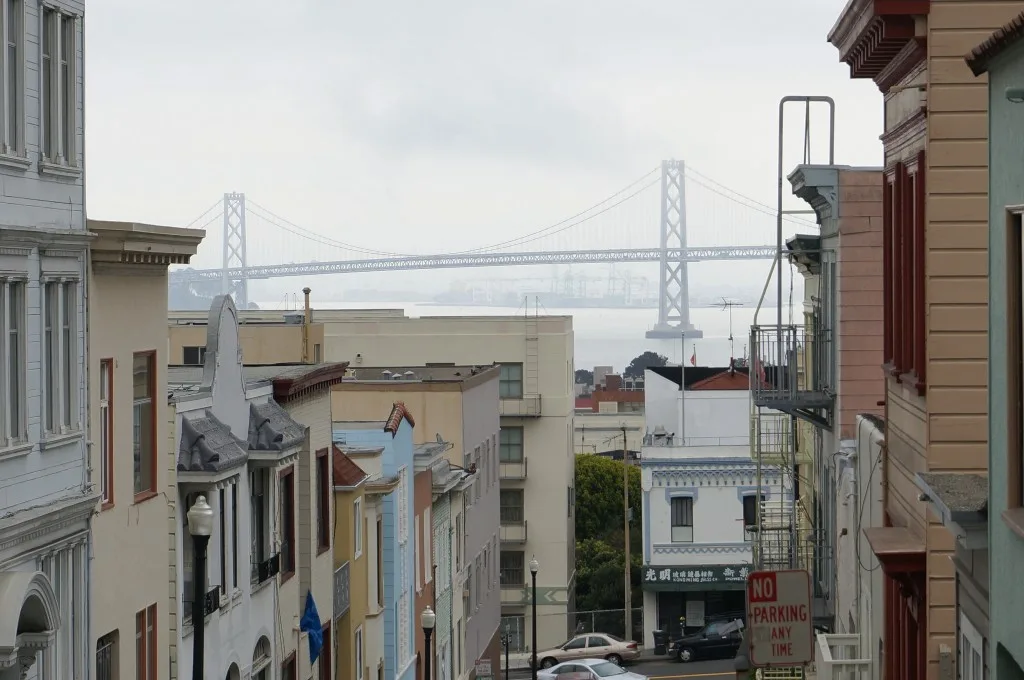 Wind your way down Chinatown's broad avenues and hidden alleyways. Explore the selections of exotic vegetables and sample some delicious pork buns. You'll want to skip most of Chinatown's so-called souvenirs though– they're mostly plastic junk not worth the room in your suitcase.
But there is a unique place in Chinatown where you can witness a decades-old Chinatown tradition and pick up some tasty souvenirs to bring home– the Golden Gate Fortune Cookie Factory.
Golden Gate Fortune Cookie Factory
Today's fortune cookies are distinctly American– you won't find anything like them in China. The actual fortune cookie recipe (flour, sugar, vanilla and sesame seed oil) isn't even Chinese– it's derived from a Japanese cracker, later adapted by Chinese American immigrants.
Today, most of the fortune cookies you get with your Chinese takeout are made in industrial factories in pockets around the US. But in San Francisco's Chinatown, you can still walk into a small factory and watch them made in front of you.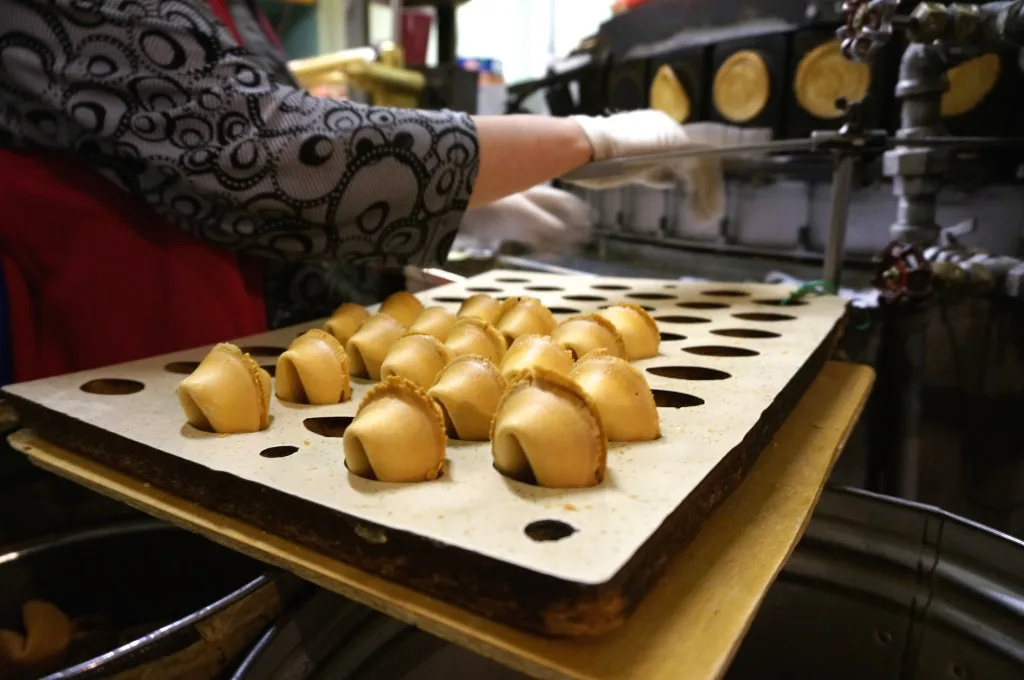 You can walk right into Golden Gate Fortune Cookie Factory and watch workers remove hot cookies off the griddle press, place a fortune inside, then fold it into the traditional fortune cookie shape. We found it fascinating how meticulous the workers were– any tiny imperfections in the spherical cookie discs caused them to be tossed into the "reject" pile, where they were rounded up and sold fortune-less at a reduced rate. Rejected cookies were also thrust into our hands as free samples.
I would have loved to stay a little longer and watch the cookie-making operations, but I was tired of being jostled by the various foodie tour groups that shoved their way into the shop. I picked up a bag of mixed standard and chocolate-flavored cookies and took my cookies home with me.
[box type="info" style="rounded" border="full"]Souvenir Finder Shopping Tip Sheet

What to buy: freshly made fortune cookies in standard, chocolate and almond flavors. "Adult" and custom fortunes also available. In tupperware, cookies will stay fresh for about a month.
Where to get it: Golden Gate Fortune Cookie Factory, Ross Alley, San Francisco California.
What to know: to discourage looky-loos, Golden Gate charges fifty cents to take photos.[/box]
What's your favorite Chinatown? Share in the comments below!