While New York City's Christmas and holiday markets don't hold a candle to Europe's (the only US Christmas market that even comes close is the Christkindlmarket in Chicago), they are still worth a walk through if you're in town for the holiday season. My first pick for a New York City Christmas market is the Union Square Holiday Market– read our comprehensive photo review here. If after braving the crowded Union Square market you are still up for more holiday cheer, head up to midtown's Bryant Park Christmas Market.
Bryant Park is an easy stroll from Union Square, fifteen minutes by foot if you walk briskly. We recommend stopping along the way though to check out the traditional Christmas windows at Lord & Taylor (Fifth Avenue at 38th).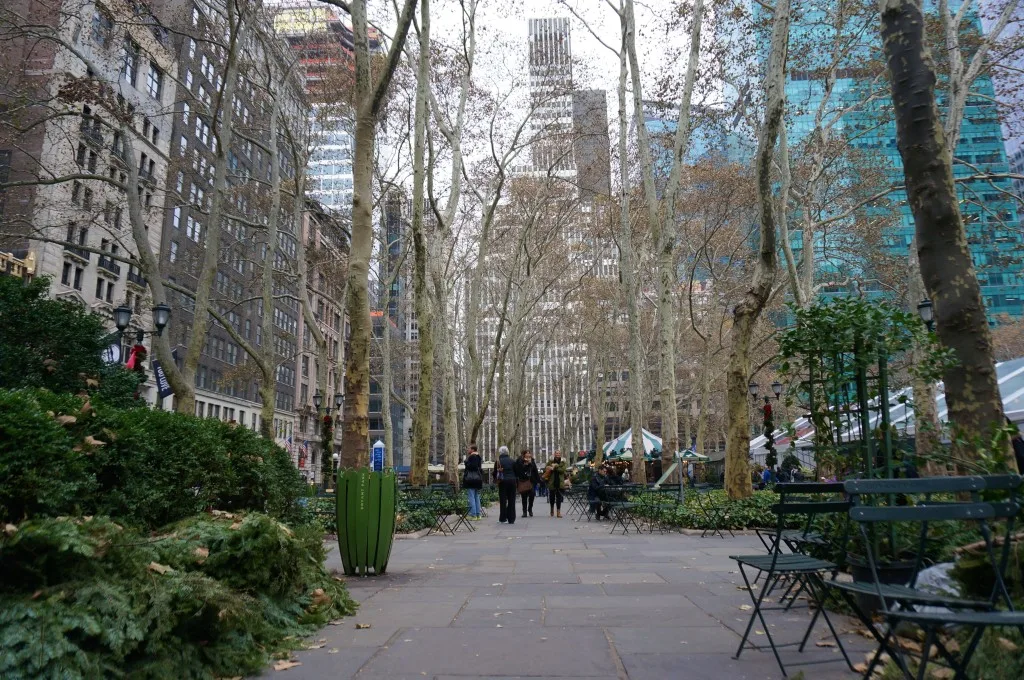 New York City's Bryant Park is a nice respite from the towering skyscrapers that surround it, a patch of green in the concrete jungle. Year round, it's a great place to plop down at one of the small bistro tables and take a break from the office. In the summer, stake your spot early with a blanket and wait until nightfall for Bryant Park's free movies in the park (a surreal experience that must be experienced at least once).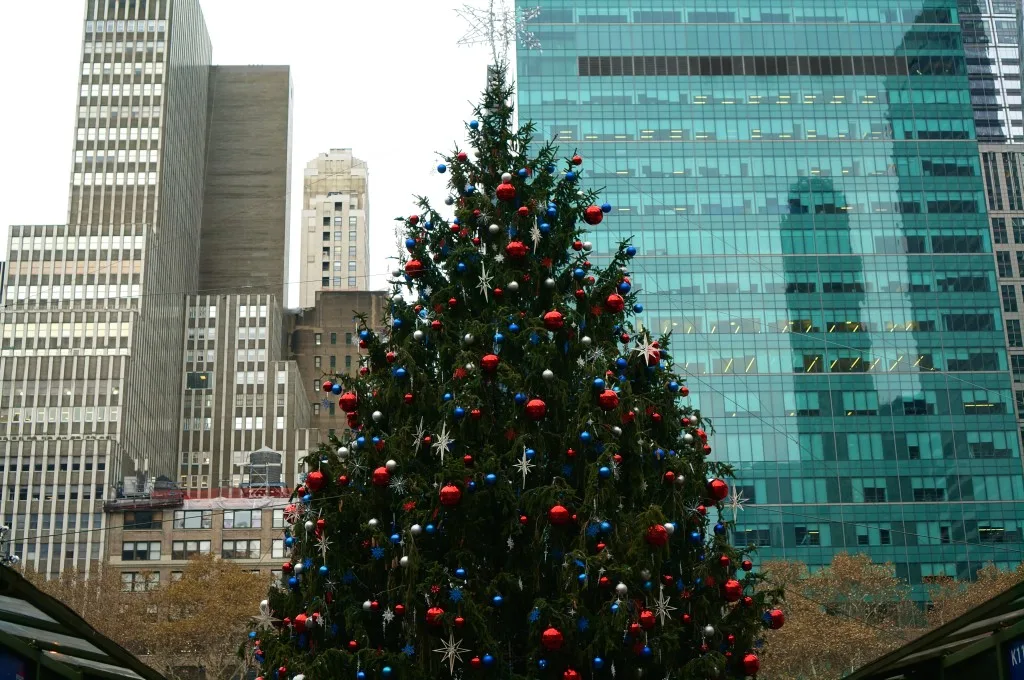 Come the holidays, Bryant Park is transformed into a winter wonderland. A decent-sized skating rink, garland-lined carousel and rows of little shops and eateries overtake the park, with a giant Christmas tree completing the holiday setting.
We visited on a recent Sunday hoping to skate the Bryant Park rink and enjoy a little holiday cheer.
As a longtime local, I really should have known better. As with every ice rink I've ever visited in New York City, the skating was a bust. A huge line of hopeful skaters wrapped around the park. But the biggest problem with New York City skating rinks isn't the waits, albeit long– it's the people the rinks attract. Somehow, every clumsy person (tourists and locals alike) who has never skated before decides that the best place to make their maiden skate is at one of the busiest, most crowded rinks in the country.
Like other New York City rinks, the rink at Bryant Park is positively dangerous– newbie skaters dropping left and right, tripping other skaters like dominos. Other first-time skaters hug the barrier for dear life.
Deciding to skip skating for fear of being knocked over, I thought I was safe posing for this photo just outside the rink. I was wrong– shortly after it was taken I took a hit from a flailing skater on the other side. My advice: forget skating all together, or go first thing in the morning on a weekday.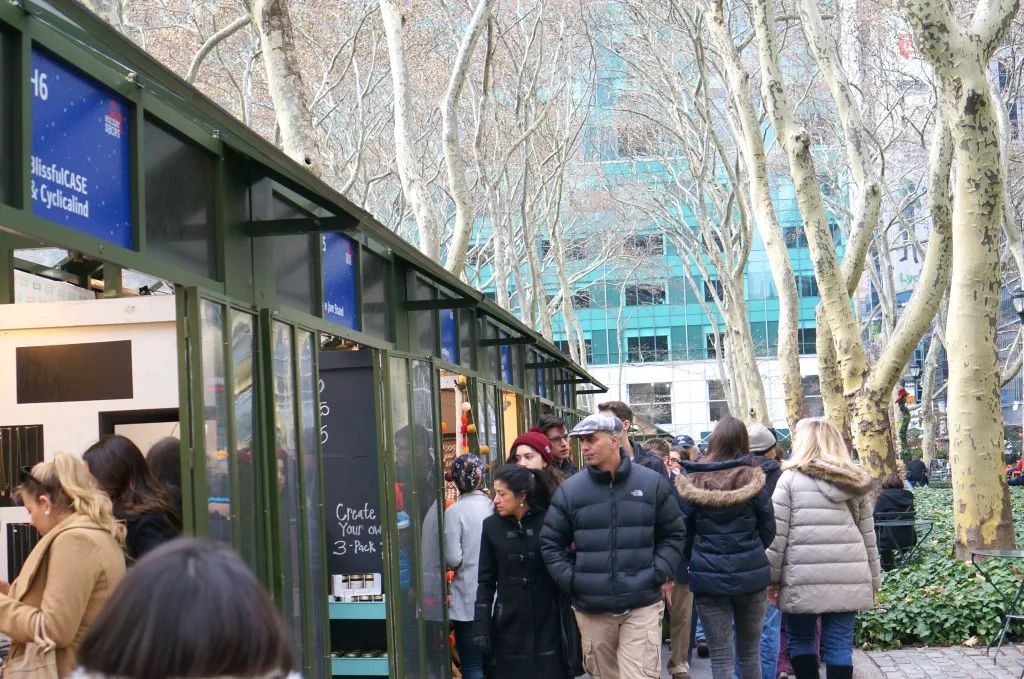 Discouraged by the skating scene, we headed to the main event, the Christmas market stalls and shops, and hoped to find a little Christmas cheer. Here were our favorites:
Bryant Park Christmas Market Vendors and Shops
Warning: beware this chocolate stall if you're saving your holiday calories. Max Brenner's, a chocolate shop/restaurant right off Union Square, had a sizable stall at the edge of the market. We stopped by just to take photographs, but it took all of our will power to resist the goodies here. Linds reluctantly walked away from the snowies (hazelnut praline cream rolled in white chocolate and pistachios) while I mustered the strength to resist the piping hot chocolate ganache served in a giant syringe.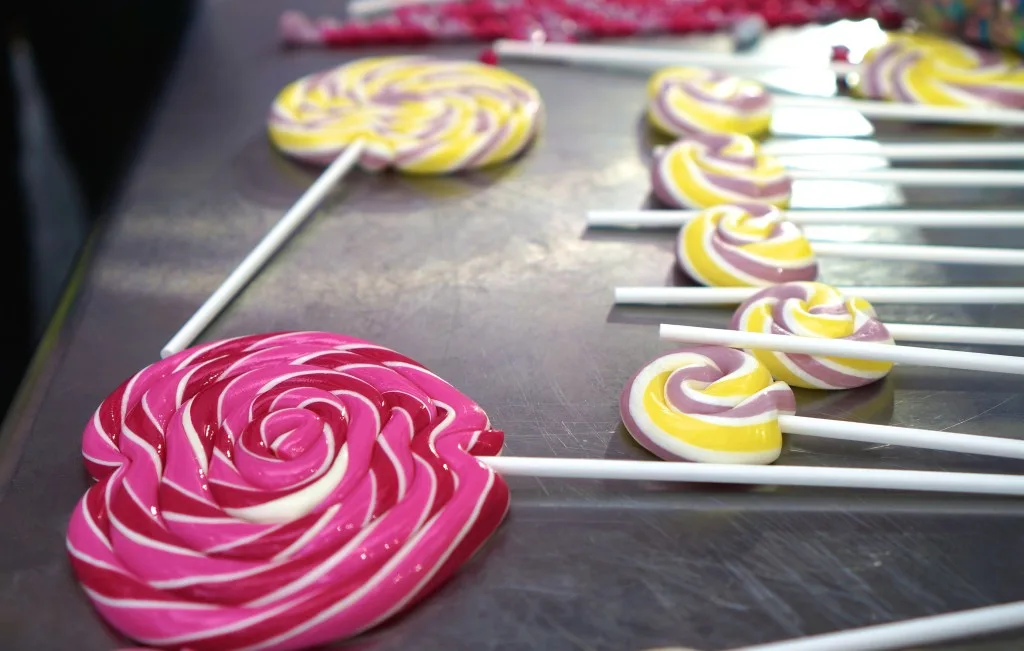 This Bryant Park candy vendor rolled his warm peppermint treats out right in front of us.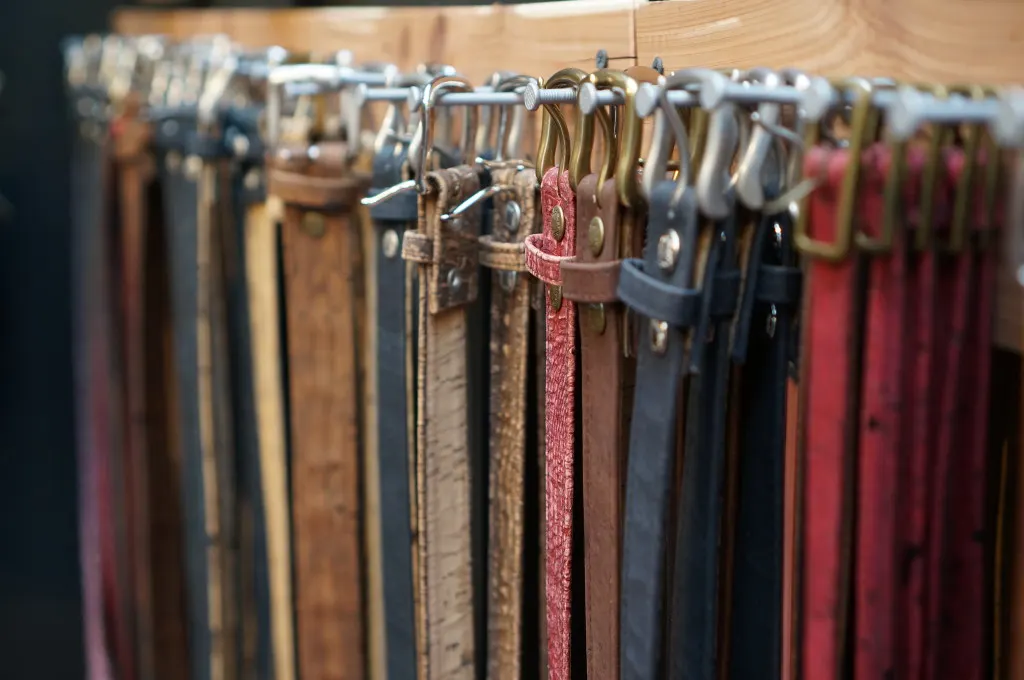 Guys can be incredibly hard to shop for. I thought these made-in-New York belts by Cliff would make a great gift. Most of these belts are actually made of eco-friendly cork some even incorporate old subway straps into the design.
Eating at the Bryant Park Christmas Market
We weren't overly impressed with the food selection at the Bryant Park Christmas Market. The best bet we saw here was the Belgian frite stall– cooked twice and made to order. Otherwise the market treats were glum or just plain odd. I saw some puff pastries that looked like they came straight out of a Costco box. The sausages looked a little anemic compared to the scrumptious ones I saw at markets in Budapest and Germany. And cold sushi was the last thing I wanted to eat at a holiday market.
And worst of all was something a market vendor dared to call chimney cakes. These pathetic rolls were not only wrongly sized, they were also mixed and rolled in advance and finished in a toaster oven. We tried a sample and can advise you to save yourself for the real thing.
Drinking at the Bryant Park Christmas Market
Your only option for drinking at the Bryant Park Christmas Market are family-friendly drinks like hot cider and hot chocolate. No alcohol is served within the market at all– while you can drink at Bryant Park's outdoor bar, it's not part of the market itself and doesn't feel terribly festive. Unsatisfied, we continued our holiday outing with a New York City pre-Christmas pub crawl.
Bonus Section: Best Pubs for Holiday Cheer in New York City
So while we don't generally cover our favorite watering holes, we felt this piece wouldn't be quite complete without some eggnog and seasonal beer. Click through our slide show to find out where to go for a little Christmas cheer during the holiday season. For a more detailed pub itinerary (complete with pub map!) check out my pub crawl buddy's post on Tripping Blonde.
This slideshow requires JavaScript.
Have you been to New York City over the holidays? Where are your favorite places to find some holiday cheer?