The Cake Boss and Carlo's Bake Shop: just my neighborhood bakery
Carlo's Bake Shop– yes that bakery, the one featured on the wildly popular reality show, Cake Boss— was once my neighborhood bakery, back when I lived in a quaint Hoboken townhouse just a few blocks from Frank Sinatra's birthplace.
I loved living in my Hoboken neighborhood, which seemed to me more traditionally Italian than even New York City's Little Italy, its shops virtually unchanged over generations. Whenever out-of-town guests came to visit, I took the opportunity to visit my favorite shops and show off the local products of my adopted neighborhood.
I had my shopping routine down– first, I'd make an early morning trip to Antique Bakery for their freshly baked "sticks" (baguettes) and sausage bread. Next, I'd swing by Fiore's for the best fresh mozzarella anywhere on this planet. Then I'd finish up at Carlo's Bake Shop and load up on flaky "lobster tail" pastries and cannolis, packed the old-fashioned way in cardboard boxes, tied up with a string.
Carlo's Bake Shop, Before the Cake Boss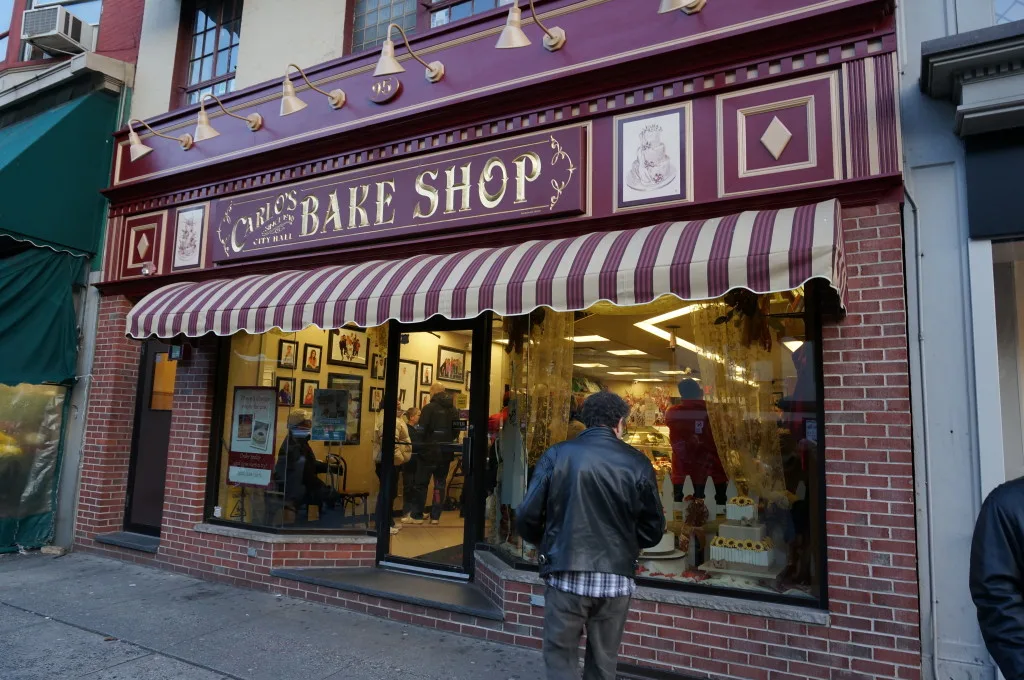 Carlo's Bake Shop has always been a local landmark in Hoboken, having served the local community for over a hundred years. Head baker (and now "Cake Boss") Buddy Valastro or one of his family members would usually be manning the counter, always providing friendly service and that old school Italian charm.
I eventually moved away from Hoboken back to Manhattan's Upper East Side, but never forgot my old Hoboken haunts. So when family recently visited and requested a trip to Hoboken to visit the Cake Boss bakery, I was happy to play tour guide.
How to get from New York City to visit the Cake Boss– Carlo's Bake Shop in Hoboken
Most New York visitors (and even some residents) don't realize how easy Hoboken is to get to from Manhattan– it's a quick ride on the Path train (10 minutes from the World Trade Center site, 15 minutes from midtown).
Riding the Path train is similar to riding the New York City subway– they sometimes even share the same entrances (look for the blue Path signs). You don't even need to buy a separate fare card– your New York City MetroCard also works on the Path, but is a quarter cheaper per ride ($2.50 as of this writing).

No matter which Path line you take (via 6th avenue or the World Trade Center), your stop is the same– Hoboken. The "Cake Boss" Bakery is a short walk from the train.
When we arrived at Carlo's Bake Shop, we were relieved to see no line out front. It didn't take us long to realize why.
This sign redirected visitors to the actual line, shifted a block away to ease congestion in front of the bakery.
The line may be long, but moves quickly. Even with all the new fame, Carlo's Bake Shop has not forgotten local residents, who are allowed to skip the line with proof of residency.
On this Saturday, I visited the shop with my very excited niece and nephew, Liz and Colin. They browsed the display case and picked out their favorites treats.
What's it like to shop at the home of the Cake Boss, Carlo's Bake Shop?
If you come on a weekend, it's likely to be crowded. Fortunately, the crowd was happy to be there and didn't seem to mind the wait– everyone was polite and civilized.
What treats can you look forward to ogling in the display cases?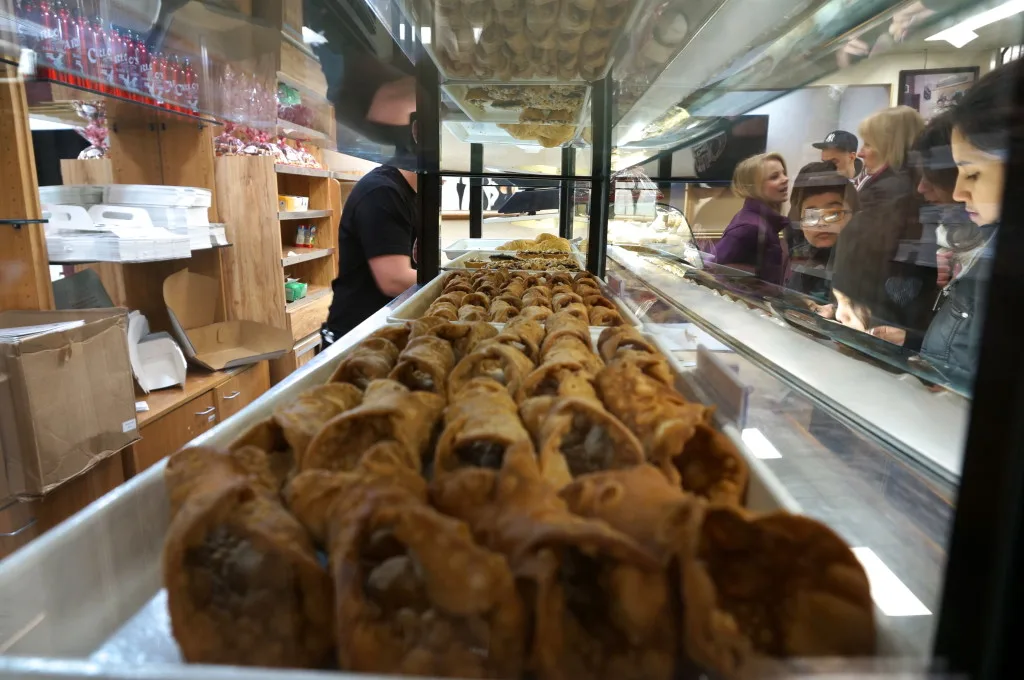 Italian pastries, my personal favorites. The bakery sometimes runs out, so get there early if you have your heart set on a lobster tail (the house specialty– a flaky puffed pastry filled with a decadent French cream and a touch of Bailey's Irish Cream).
Fabulous looking cakes. It's easy to see how Buddy earned the moniker "Cake Boss."
Cookies and more cookies. If you're coming in from out-of-town, an assortment of Italian butter cookies will be the easiest souvenir to bring home with you.
Jam sandwiches cookies, topped with powdered sugar.
You'll find other souvenirs too, like these Carlos Bake Shop mugs, chef jackets and Cake Boss-signed water bottles.
From what I hear it's rare to find Buddy the Cake Boss minding the shop these days, as he is off working on other projects. Fortunately, the current employees here maintain the same friendliness and neighborhood vibe that I remembered.
Heading back to Manhattan from Hoboken
The trip back to Manhattan on the Path train is just as easy as the way in, just walk a few short blocks to the station.
Liz and Colin rated the cannolis and lobster tails as top-notch souvenirs. They stored them in my fridge overnight and then brought them on a four-hour car ride home the next day.
Liz and Colin also recommend the colorful Italian butter cookies, which along with certain cakes, might make a more durable souvenir if you're traveling farther than a few hours away.
Have you been to Carlo's Bake Shop, or do you have your own favorite neighborhood Italian bakery? Share in the comments below!
Souvenir Shopping Details:
Carlo's Bake Shop (home of the "Cake Boss")
95 Washington St. Hoboken NJ
From Manhattan, take the Path train and walk three blocks.
All photos by Souvenir Finder, Copyright 2014.
Special thanks to junior editors Liz and Colin for assistance with this post.