Where I live in New York City, the shelves of my local supermarket are well-stocked with British food imports.
I don't need to book a flight to pick up Marmite, Heinz salad cream or HP brown sauce. My corner store even stocks my favorite British candy bars. Given the wide availability of British grocery items, I knew finding unique British food souvenirs at a local supermarket in England would be a challenge.
I checked out a couple of different English supermarkets for interesting British food souvenirs to bring back home. I'll be reviewing the slightly more gourmet chain Marks & Spencer in an upcoming post, but for my first trip I wanted to hit a typical, everyday supermarket.
The Tesco chain of supermarkets is about as ordinary as you can get. Tesco started back in 1919 as a group of market stalls and has since evolved into the second-largest retailer in the world (after Wal-Mart).
What British Food Souvenirs can you find in an English supermarket?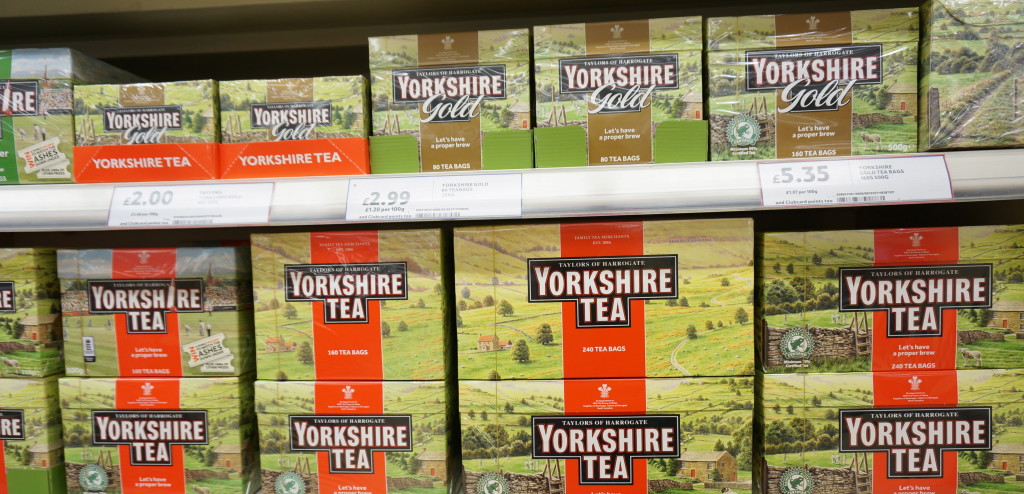 While plenty of British tea brands crowd US shelves, I'd never seen Yorkshire tea before.
I liked the patriotic packaging on these cans of British rhubarb.
I was intrigued by "strong flour" but a quick google search revealed it's identical to US bread flour, so you can skip this one.
I loved all the wacky flavors of British crisps, all worth a try for the novelty factor alone. Beef-flavored crisps? Prawn cocktail crisps? Yum! If you are committed to bringing your favorite crisps home with you, my best tip is to pack an empty shoebox so they don't get crushed.
This slideshow requires JavaScript.
If you love British chocolate candy like I do, you'll be amazed at all the options. I found a full stock of Cadbury chocolate in flavors not carried back home (the chocolate was fresher too). I also stocked up on several different Kit Kat varieties.
In England, cookies are known as "biscuits." Although I can find the popular biscuit brand McVities back in my local grocery store, there is a much larger selection in the UK.
I've never heard of pickled beet roots, which the packaging indicates are "delicious with salads."
More British Food Souvenirs: Chutneys and Relishes
I love sampling different chutneys, and was not disappointed by the huge assortment available.
A piccalilli is a relish made from pickled vegetables (often cauliflower) and spices like mustard and turmeric. The diced version is used as a sandwich spread while the chunkier version is served alongside sausages, eggs and toast.
Branston Original Pickle is a chutney worth seeking out– it's made from a mix of diced vegetables, then steeped in a vinegar and tomato and spice base. It's commonly used as a sandwich spread, and is especially tasty on cheese sandwiches.
While you'll find the ubiquitous HP sauce everywhere, British supermarkets stock an assortment of brown source brands and flavor options.
I've enjoyed mushy peas before with my fish and chips but didn't realize they actually sold peas pre-mushed.
An anglophile requested I bring back these items– Bisto gravy mix in onion flavor, artificial sweetener in a clickable dispenser and Prince's "sausage and tomato style" sandwich filling.
Yes, I was tempted by this Fairy Soap (called "washing up" soap in the UK) and almost tossed one in my basket for the adorable name alone, but came to my senses.
The Foreign Food Aisle
In the UK, our American food items are imports and can be found in the foreign food aisle. I always find it entertaining to check out what American products other countries find worthy of importing. While I can understand the interest in American peanut butter and even pumpkin pie filling for that once a year Thanksgiving pie, other items I was a little confused by. I'm not sure I know anyone who eats Fluff past the age of four. I thought American breadcrumbs were a strange addition too.
Do you have favorite British foods we missed? Share in the comments below!
British Food Souvenir Shopping Details:
Tesco (everywhere)
All photos by Souvenir Finder, copyright 2013, all rights reserved.