While most American children have fond memories of freshly baked Toll House chocolate chip cookies, I have fond memories of store-bought wafer cookies.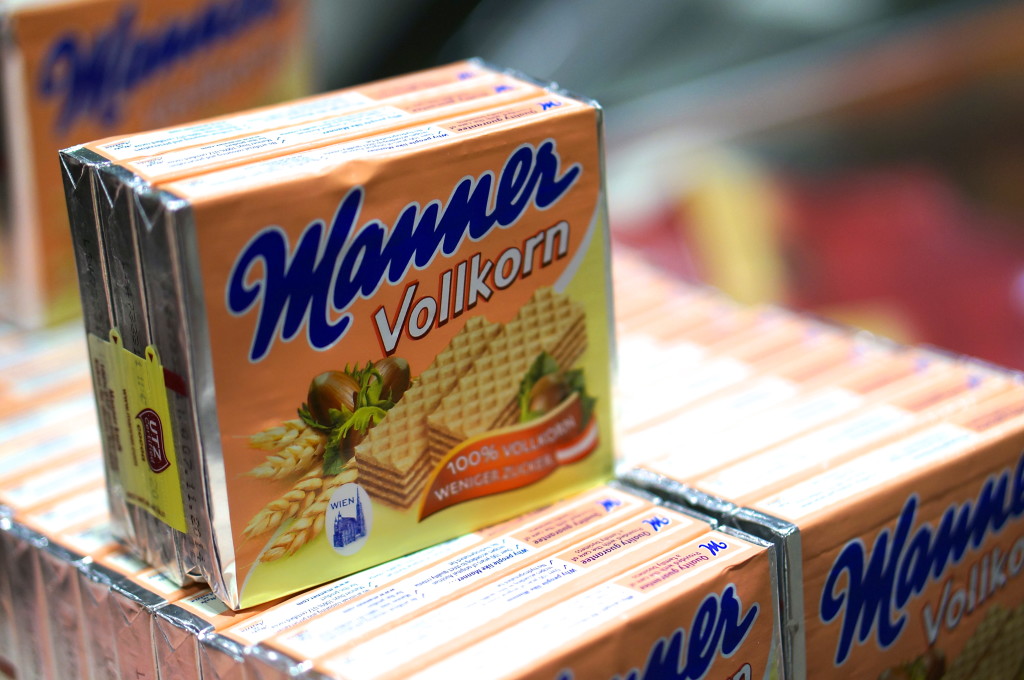 Whether it was because of my parents' European heritage or simply their disinterest in baking, those gooey warm cookies rarely made an appearance in our home. So instead of waiting for cookies to come out of the oven, I waited for grocery store bags to be brought in. I tore into them even before the bags were unpacked, with no worries about burning my tongue– unlike those poor children forced to eat fresh-baked cookies.
Over the years as I grew older and away from my European roots, wafer cookies fell by the wayside. Like most Americans, I whipped up my own batches of chocolate chip cookies, swapping out Toll House and Land-o-Lakes for gourmet chips and cultured butter. When I came across an occasional wafer cookie no sentimentality remained for they too had changed– dry and sawdust-y, nothing like the wafer cookies of my childhood.
So when I read about Vienna's Manner wafer cookies as a Vienna souvenir I didn't even bother to jot down the address of their flagship store, instead filing away the shop on my mental "if I happen to see it" list.
I never did see the Manner store on Vienna's city streets. But I did come across a Manner outpost right there at my terminal in the Vienna airport– the perfect last stop for a Vienna souvenir.

If you're wondering why a simple wafer cookie merits an entire airport shop– in addition to two flagships (in Vienna and Salzburg)– consider the historical role Manner has played in Austrian culture.
Back in 1898 Josef Manner, outraged that the average Austrian citizen could not afford to buy chocolate, came up with the brilliant motto "chocolate for everyone" and created Manner Original Neapolitan Wafers. To ensure everyone could afford to buy a cookie, Manner originally sold them individually. The wafer cookies have followed the same basic recipe for over a hundred years, sandwiching a luscious hazelnut-chocolate cream filling in five layers of crispy, paper-thin wafers.
Manner also owns the brand Casali producer of the famous Schoko-Banane. Intrigued, I bought a bar.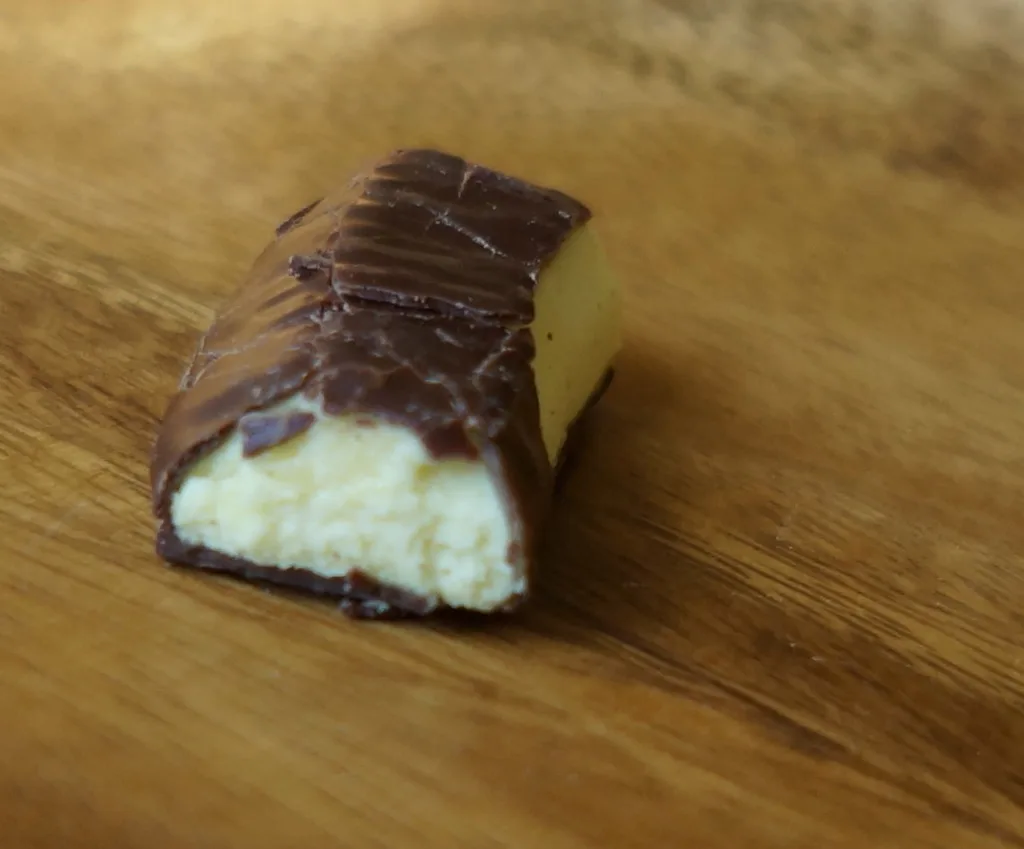 The Manner cookie filling is actually made with real Chiquita bananas–no artificial flavors or preservatives here– and has a very fruity, but firm creamy flavor.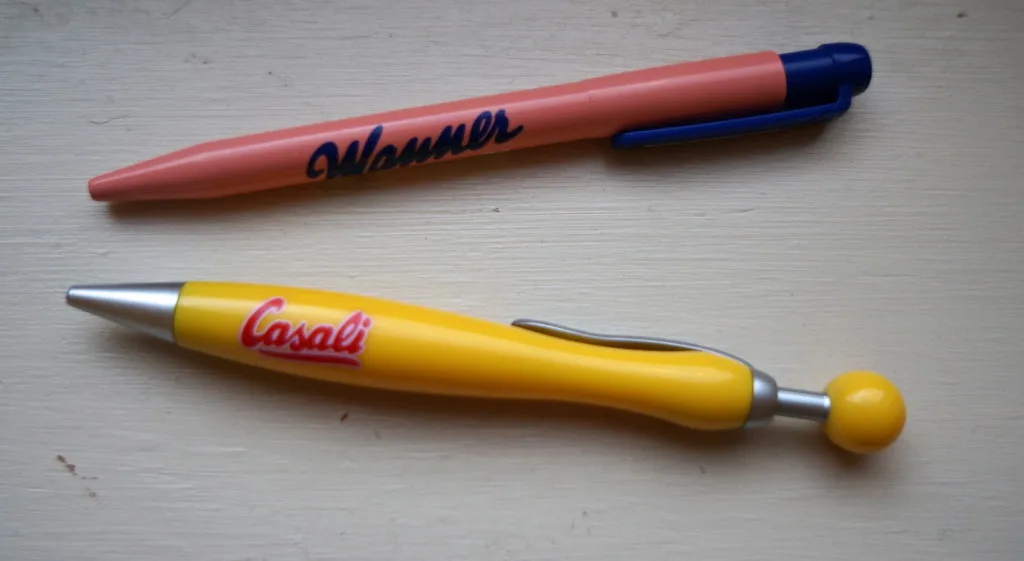 They had these cute pens by the register so I brought a couple of them home with me.
Wafer Cookies, Redux
So did the Manner wafer cookies live up to those childhood memories?
Uh, yes. I went through these Manner cookies faster than any of my other souvenir treats. I found all sort of ways to enjoy them– with an espresso in the morning, a mid-afternoon snack, an after dinner dessert. Pretty much any time of day, which is why they didn't last long.
Like this post? Keep up with the latest posts by liking us on Facebook!
Have you tried Manner cookies? Share in the comments below!
Vienna Souvenir Shopping Details:
Manner products are available in supermarkets, gift shops and in their shops at the Vienna airport, and their flagship stores: Manner, Stephansplatz 7, 1010 Vienna, Austria
Manner, Residenzplatz 6 5020 Salzburg, Austria
For more posts on Austria, check out:
The Elegant Dogs of Vienna– warning: cute dog photos!
How Austrian men stay warm and stylish
My favorite Christmas Market in Vienna
The best and worst of Vienna's Christmas markets: my unfiltered guide
All photos by Souvenir Finder, Copyright 2014 and may not be reused without express permission.